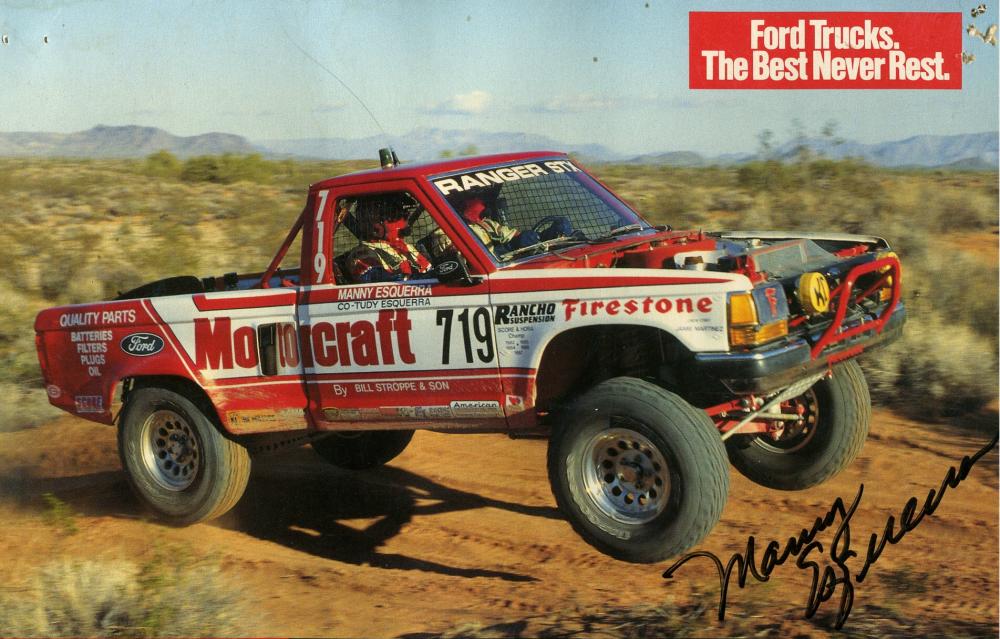 Born in 1942 and a native of Parker Arizona, Manny Esquerra began off-road racing in 1976. He built his Ford Courier race truck and obtained sponsorship from his sister, Dolores Esquerra and the family business Los Arcos Restaurant. That same year he placed first in his class in the SCORE Parker 400.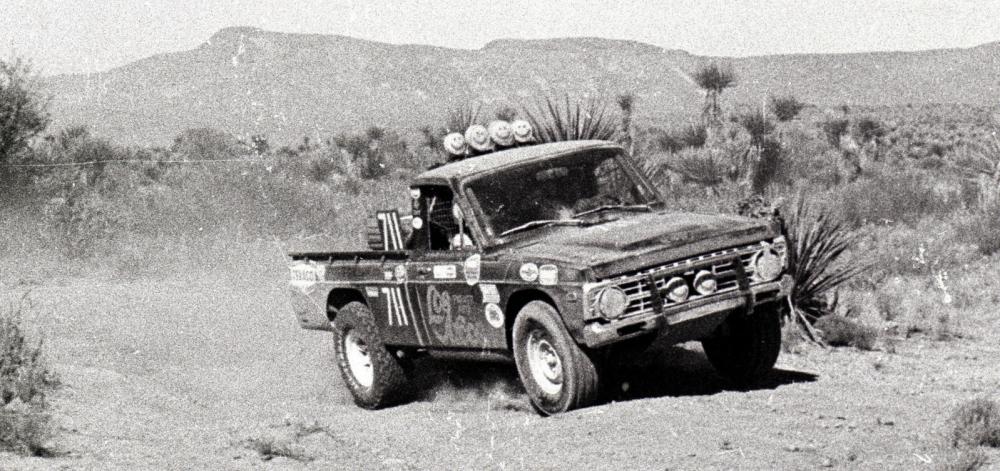 That win was the first of many for Manny. He ran the Parker race some 30 times, and he won his class 13 times. The last time he won his class was in 2006. Manny and his brothers, Tudy Esquerra and Gabriel Naranjo revived the old Los Arcos truck, and  won the 7100 Class.
Manny built his own Ford Couriers and raced successfully for many years before being hired to drive for Bill Stroppe. Manny was provided with (2) 1977 Ford Couriers that were built at Stroppe's shop in 1978. The original project was sponsored by Monroe Magnum Shocks, and Firestone Tires. Once the Ranger's were done and Manny made the switch, the Couriers were history. During the 10-years that followed, Stroppe and Esquerra became good friends, and one of the most formidable teams in off-road racing history.
Manny helped to develop the Ford Ranger brand and was supported by many national sponsors. Companies like 7-11, Chief Auto Parts, Ford Motor Company, Firestone Tires, Motorcraft, BF Goodrich, and Coors Brewing Company were some of his many sponsors.
Later, as part of the Ford Motor Company's Rough Rider team (1982-1992), Manny and Stroppe had the support of the best in the sport, and were part of an elite group of racing teams that may never be duplicated. The Rough Rider teams were some of the best in off-road racing and all capable of winning any race they entered. Support from major brands like Ford Motor Company, BFGoodrich, Texaco and others made the Rough Riders the first large coordinated joint marketing program in off-road racing, and has yet to be equaled in scope.
You could find Manny and his winning Ford Ranger in numerous nationally circulated magazine ads and articles during the eighties and nineties. Manny's face was everywhere promoting off-road motorsports, and his sponsor's products.
After the 2006 Parker race, Manny announced that he was retiring as a lead driver. He continued working with and mentoring young drivers, including Randy Merritt, Adrian Diaz Sr., Jim Beaver, Linc Gilbert and Larry Tunnell Jr.
Manny Esquerra's advice to young racers was, "A racer has to race the track, not the competition." He once said his toughest competition was the desert itself.

Races Won:
Parker 400 (13-Times)
Mint 400 (12-Times)
Frontier 500 (5-Times)
Baja 500 (5-Times)
Baja 1000 (6-Times)
Other Awards & Acknowledgements:
SCORE's season points champion eight times
SCORE Desert Series 1980 & 1981 Driver of The Year
Toyota "True Grit" awarded in 1986 for completing every mile of every race in a season
Inducted into the Off-Road Motorsports Hall of Fame on August 23, 2008
Member of the Screen Actors' Guild for all of the television commercials he did
Manny's Passing:
Manny Esquerra passed away of a heart attack at the age of 64, while driving 1400-class Trick Truck #18 in the BlueWater Resort & Casino – Best in the Desert Parker 425 on February 2, 2008. Other drivers and co-riders listed included Tracy Rubio, Robert Minor and Chad Klein, all of Kingman, Arizona.
Shortly after his untimely death, a group of close friends gathered in the desert, near the spot where Manny drew his final breath, and constructed a monument in concrete and steel. The plaque reads "King of the Desert Manny Esquerra 2/2/08….Makin' Tracks"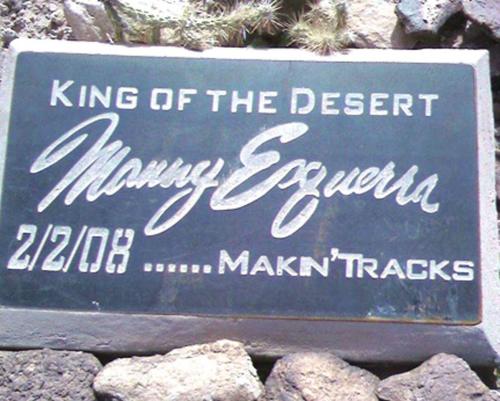 In February 2009, Curt LeDuc (below) drove the #18 Trick Truck of Tracy Rubio in the BITD BlueWater Resort & Casino Parker 425. The Class 1400 #18 truck was painted in the old Motorcraft paint scheme that Manny Esquerra had become famous for. Curt LeDuc said Esquerra was his inspiration to get into off-road racing.
Many years has passed since Manny Esquerra left us, but he will never be forgotten. This page is dedicated to his memory.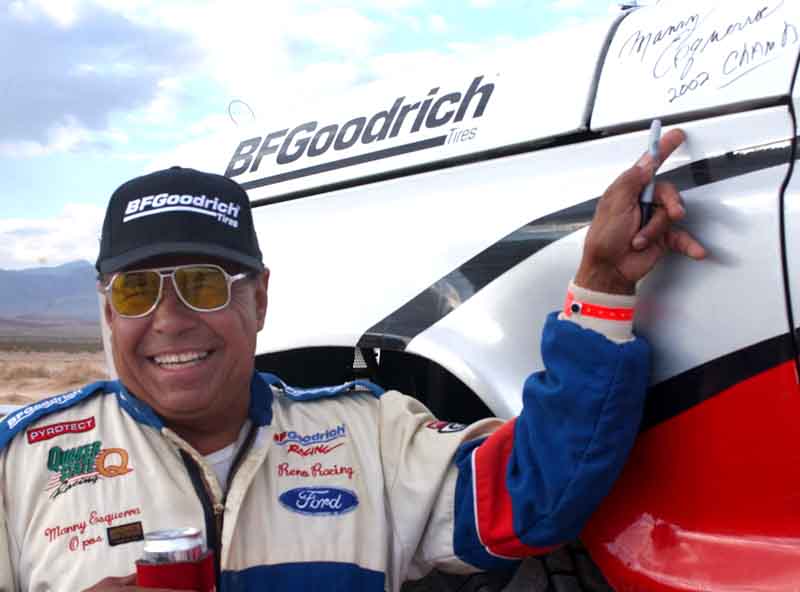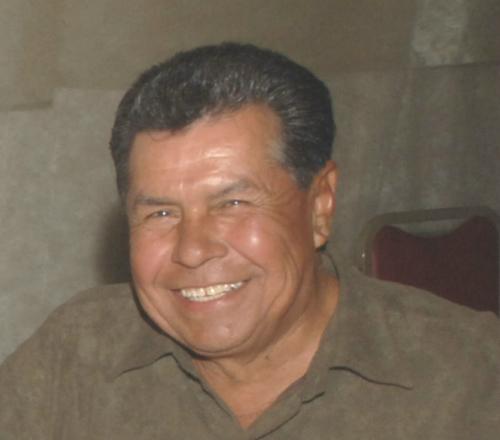 His Ford Ranger:
The engine was a 2.9L V-6 with a 5 speed transmission and 9-inch rear end with a Sandy Cone full floater. The rear leaf packs had dual hangers, but it was a three link set-up. It had a horizontally mounted uni-ball in the wishbone, that mounted to the top of the housing with rod ends. It pivoted off the inside of each frame rail on the opposite end. The rear brakes were JFZ calipers.
The trailing arms were a simple design with the rebuildable Rancho reservoir shocks mounted to them. The I-beams were built in Stroppe's shop, formed out of sheet, TIG welded, and ground smooth. They were works of art and very light weight.
The radius arms were tube and pivoted from the transmission cross member.
The truck utilized ball joints for the spindles, and had 16-inch wheels with the Firestone tires. Everything was bolted or mounted with poly bushings to the frame. Everything on the truck was built with weight in mind. It was amazing how light everything was, especially the unsprung weight. The only problem was the parts wouldn't last with a hard charging driver. Adding to that was the truck later getting the 4.5 V-6 and automatic transmission with coolers, 35's etc. Savage ended up designing and building new beams and arms for the front.
It was a well designed, light weight race truck, but it would bicycle easy, and could not take hard abuse. It's a testament to how well and smart Manny drove the truck all those years, to win so many championships.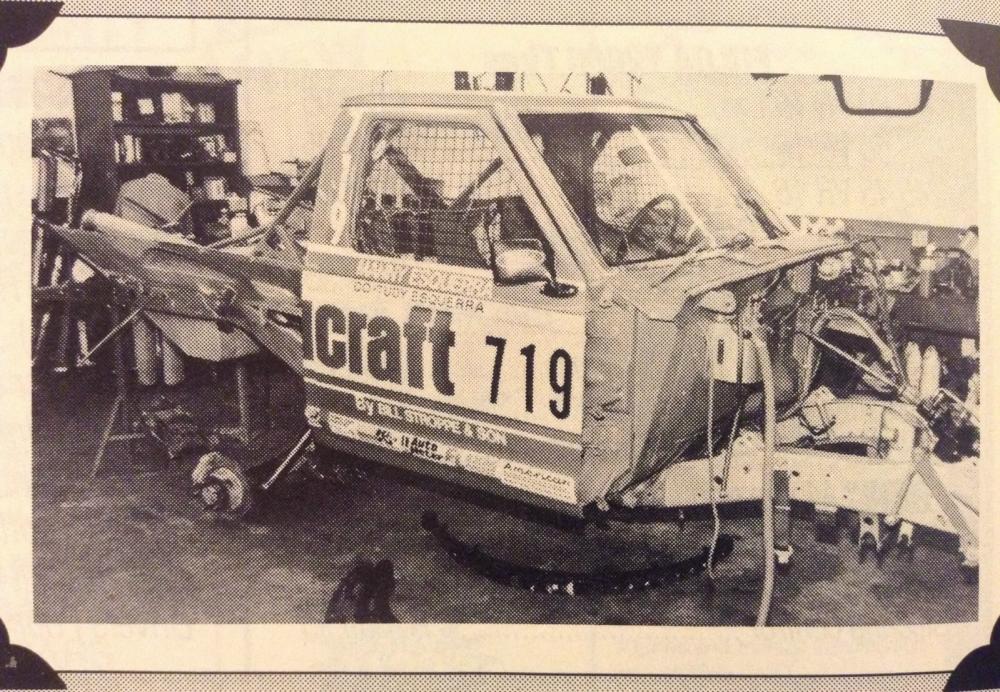 Note the sway bar for the front axle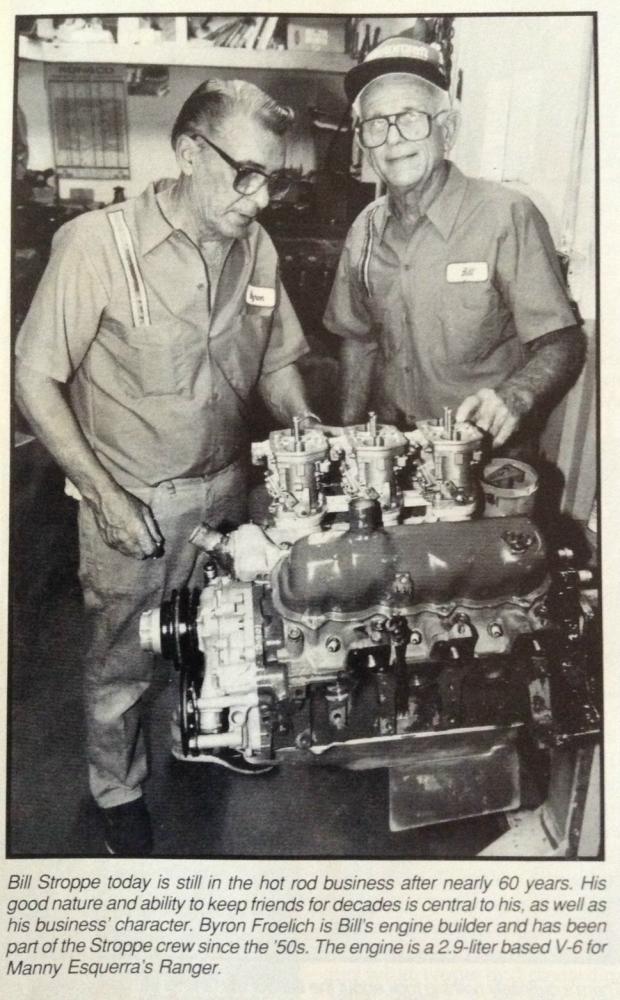 Check out this 2.9L engine
Videos:
Parker Tourism Commercial
Interview – This video has an interview with Manny starting at 1:49
Ford Commercial
More Photos:
Click the photos to enlarge – click the arrows to load more.