Searching online for the Ford Ranger Raptor is usually nothing but stories about whether or not it will come to North America. Want to look at the Ford Ranger Raptor without all the hype and drama? Here it is.
The Cockpit
Get dialed in for performance. Body-contoured sports seats include unique Raptor head rests, bolsters, and suede inserts for better body grip when driving off-road. Raptor stitching is featured on the steering wheel, soft top instrument panel, leather-wrapped shifter, and floor mats. A multi-intelligent instrument panel displays performance information on a low-glare, high-quality flat screen featuring 8-inch rear-view camera and multi-view satellite navigation.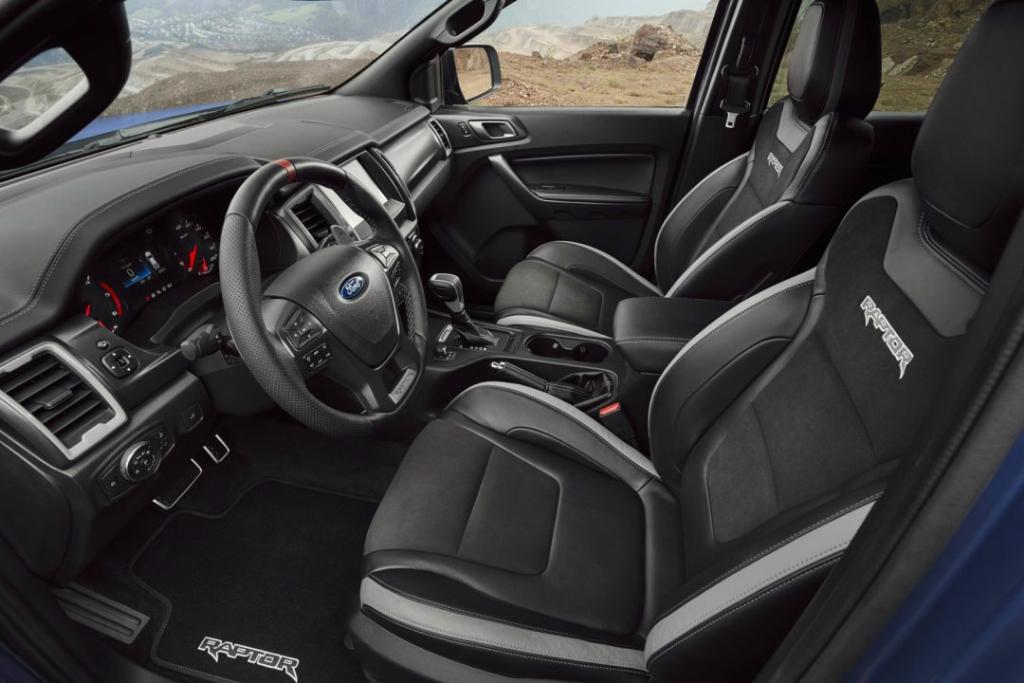 Exterior
Outside, there's a new grille and Xenon headlamps. The new bumper gets LED fog lamps and functional air-curtain ducts. Flared composite front fenders, side step boards that also protect from rock spray, and oversized wheels complete the look.
Bi-Turbo Engine with 10-Speed Transmission
Ranger Raptor does more than incorporate the latest Ford powertrain technology. It sets a new standard of performance. A cutting-edge bi-turbo engine has been carefully calibrated with Ford's latest 10-speed auto transmission technology to deliver more top-end power, more bottom-end torque, improved acceleration, and quicker gear changes.
This 3.2L turbo diesel features 157kW (210-horsepower) and 500Nm (368 ft-lbf)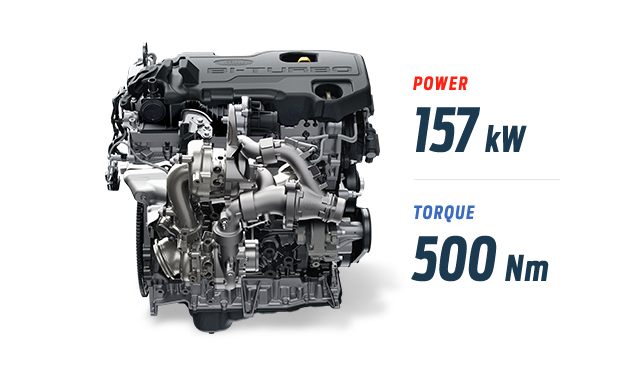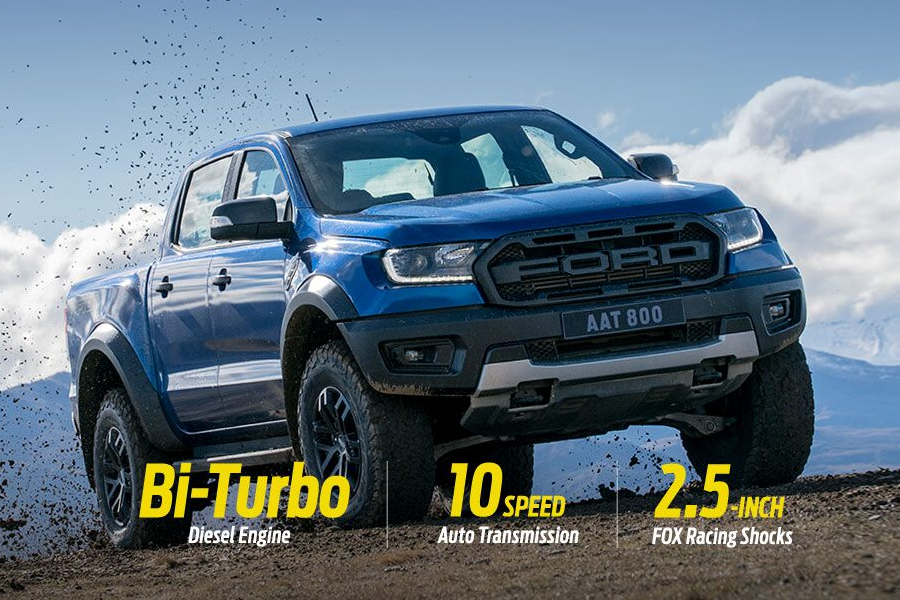 Chassis
The unique Ranger Raptor ladder frame chassis was re-engineered and strengthened with High Strength Low Alloy (HSLA) steel to meet the tough demands that off road performance driving commands. Tested extensively in the harshest desert environments in both Australia and the USA, the Ranger Raptor chassis delivers maximum toughness and high-spec performance.
Two recovery hooks rated at 4.5 tonnes can be found at the front, plus reinforced spare tyre mounting cross-members for the larger 17-inch Raptor rims.
Race-Bred Suspension
The Position Sensitive Damping (PSD) 2.5-inch FOX Racing Shox provide higher damping forces at full jounce and rebound to enable better off-road capabilities, and lower damping forces in the mid-travel zone for a class leading plush ride during on-road trips.
The upgraded suspension features forged aluminium upper arms and cast aluminium lower arms to facilitate greater suspension travel and optimized for performance and extreme off-road durability. The front accommodates strengthened protruding shock absorber towers. The new coilover rear suspension uses a Watt's link setup with solid rear axle to provide superior lateral control off-road while also helping improve ride and handling.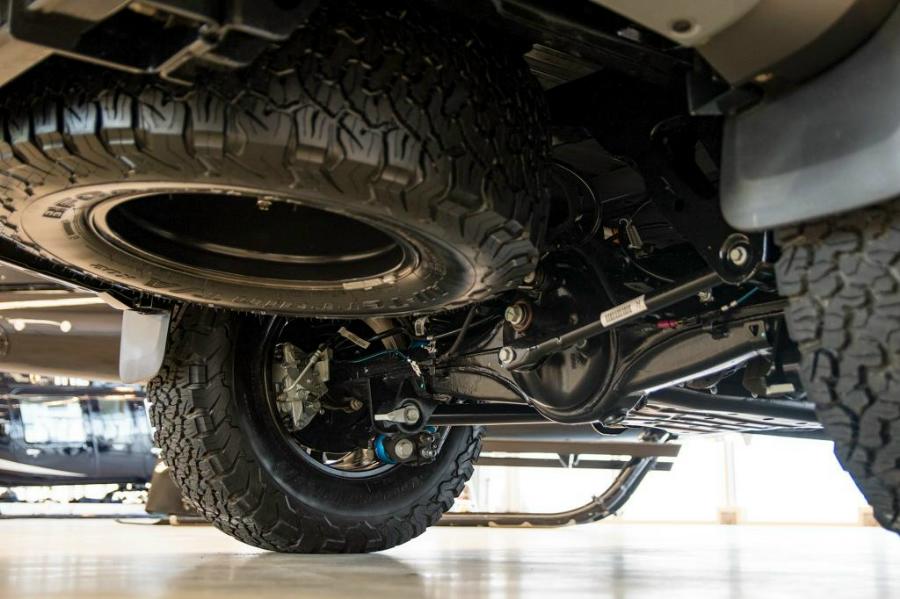 This upgraded suspension offers 30% more wheel travel than the stock Ranger, as well as larger 33-inch BFGoodrich All-Terrain tires.
The new truck touts 11.1 inches of ground clearance, which is 2.2 inches more than a stock Ranger. Helping with off-roading is the Ranger Raptor's 32.5-degree approach angle (with a 24-degree break-over and departure angle for the hardcore trail nerds).
Since the Ranger Raptor is designed for high-speed duties, a new bash plate is installed that's 0.9 inches thick and made from high strength steel. If you accidentally crash down on a rock, that should help.
Like the big brother Raptor, the Ranger variant is wider than the standard model. It's 5.9 inches wider to improve stability. Damper travel is also increased 32 percent up front and 18 percent in the rear. That's thanks to Position Sensitive Damping, a Watts rear coilover setup, and Fox Racing shocks.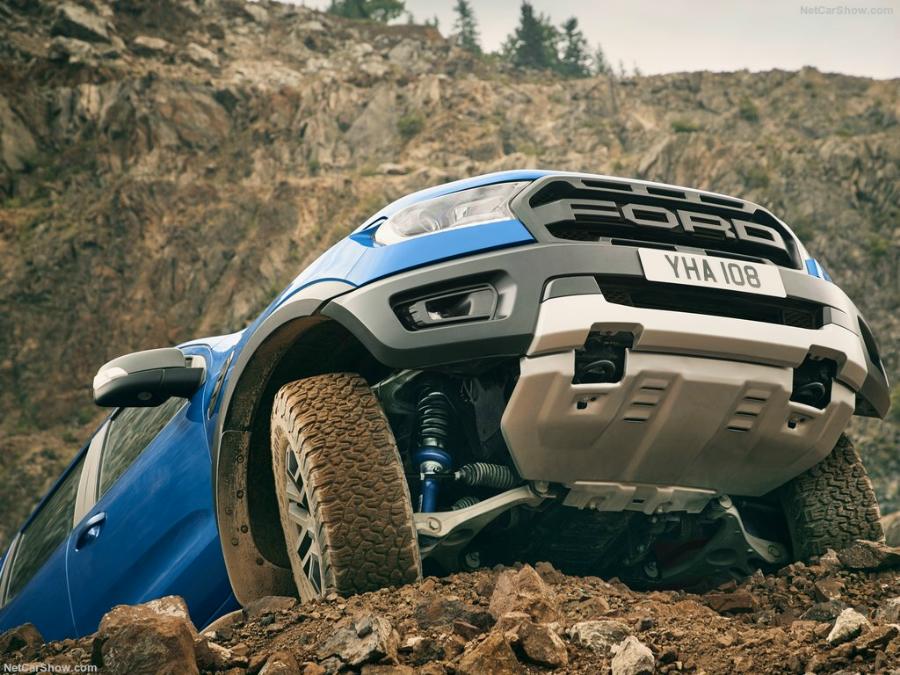 Terrain Management System with Baja Mode
Ranger Raptor comes with a Terrain Management System (TMS) offering six modes for various driving experiences, which can be selected via a dedicated five-button switch located on the steering wheel. Each mode has been calibrated to offer the best possible combination of technologies working in unison to tackle the chosen terrain or driving style with aplomb. These include:
On-Road Modes
Normal mode – Emphasizing comfort, fuel economy and driveability
Sport mode – Responsive for spirited on-road driving. This means fast, crisp gear shifts at higher engine speeds to aid throttle response. The mapping reacts to increased demand inputs from the driver by holding gears longer and downshifting more aggressively.
Off-Road Modes
Grass/Gravel/Snow mode – Designed to inspire safe and confident driving on off-road slippery and uneven surfaces. This is done through smoother gear shifts and second-gear starts, minimizing the probability of wheel slip.
Mud/Sand mode – Vehicle responsiveness is tuned for optimum traction and momentum in deep, deformable surfaces like loose sand and mud. This is achieved by maintaining lower gears with high torque.
Rock mode – Used specifically for low-speed rocky terrain where smooth controllability is key.
Baja mode – Vehicle responsiveness is tuned for high-speed off-road performance, just like drivers need in the famous Baja Desert Rally. In this mode, vehicle systems like Traction Control are pared back in terms of intervention to allow spirited off-road driving without fighting the vehicle's on-board systems. Gear selection is optimized for maximum performance, and the mapping will hold gears longer and downshift more aggressively.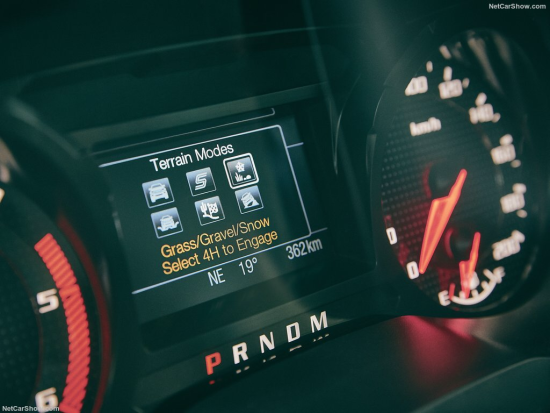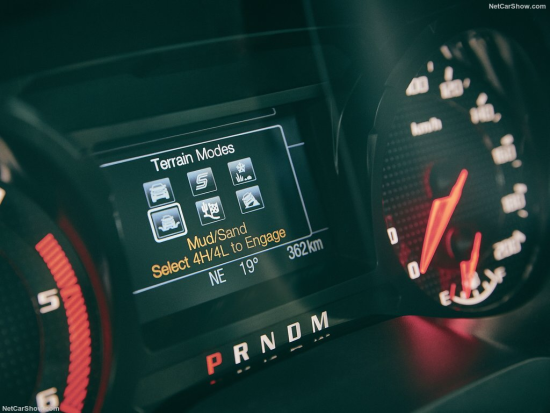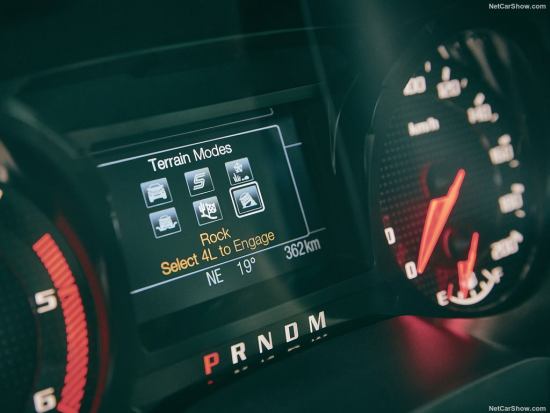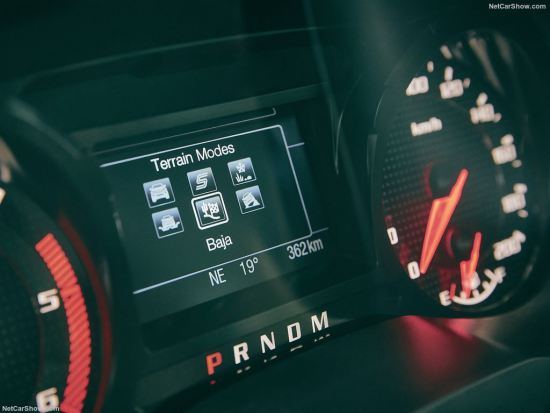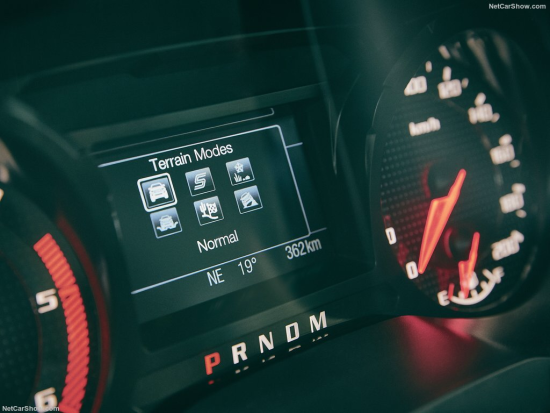 Ground Clearance & Unbeatable Water Wading
Off-road obstacles are no obstacle for Ranger Raptor. An elevated design puts 283mm (11.14-inches) between the truck and whatever gets in your way. Ranger Raptor's class-leading 850mm (33.46-inches) water wading capacity makes light work of river crossings, while an elevated ride height gives you a better view of your surroundings.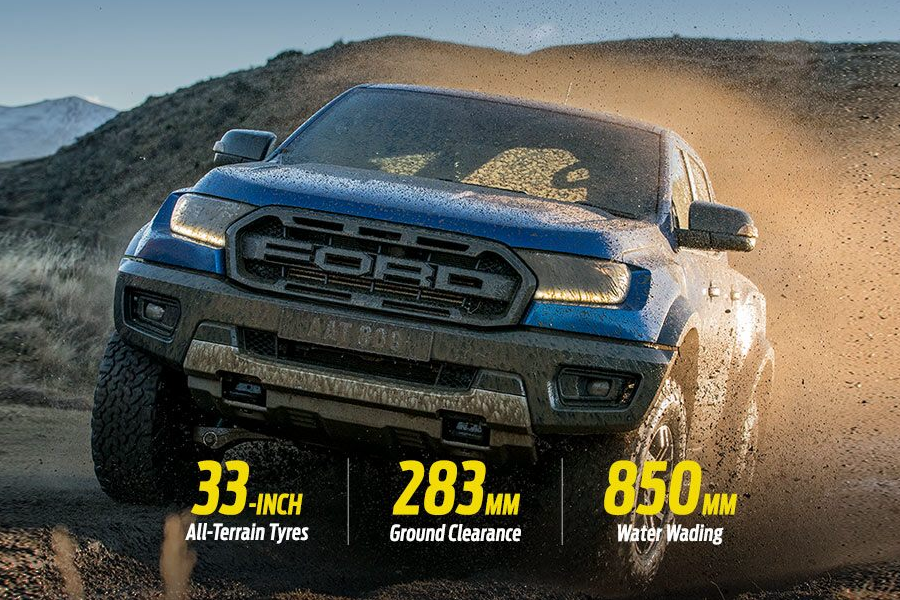 Practical Technology at Hand
Ranger Raptor comes with a host of advanced Driver Assist Technologies (DATs) at the push of a button which are not just cutting edge, but genuinely practical for everyday use.
Leading the way in connectivity, SYNC® 3 is a fully integrated, voice activation system that lets the driver use their favourite devices while their hands stay on the wheel and eyes on the road. The Satellite Navigation System comes into its own when off-roading in remote areas, even offering a 'breadcrumb' feature to leave a trail when entering unchartered areas – perfect for the serious off-roader.
High levels of active and passive safety have been designed-in from the outset, including the improved Ford Stability Control incorporating Roll Mitigation Function.
Ford's comprehensive Electronic Stability Control (ESC) system is also there to help in difficult cornering and braking situations. The impressive technology suite includes Trailer Sway Control (TSC), Hill Start Assist (HSA), Hill Descent Control (HDC) and Load Adaptive Control (LAC).
The rear view camera displayed on the eight-inch colour LCD screen matched with the rear parking sensors gives drivers the utmost confidence when parking anywhere.
For convenient access, an EZ Lift Tailgate uses a new rod assembly to give the owner a 66 percent reduction in initial lift force. Intelligent Access, also known as passive entry, allows the owner to unlock, lock and start the vehicle without having to reach for their keys. Using a radio frequency signal, the key fob allows the owner to start the vehicle with a press of a button, and is able to activate central locking for the doors and the tailgate. In the case of a depleted battery, a mechanical key blade is incorporated into the fob design.
Specifications: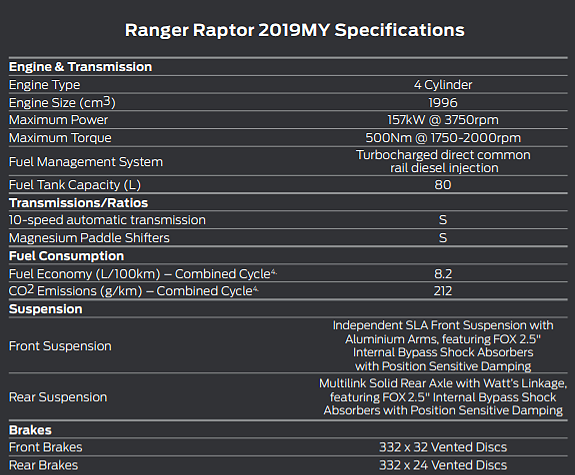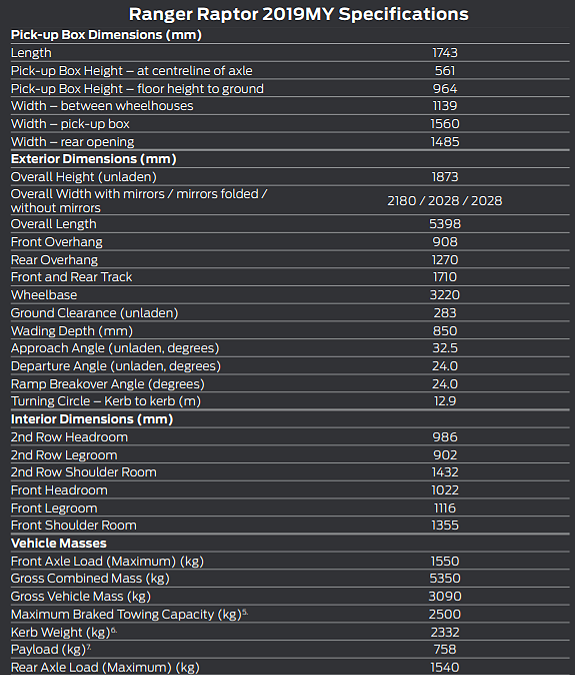 Link:
https://www.ford.com.au/performance/ranger-raptor/
Videos:
Photos:
Click the photos to enlarge – click the arrows to load more.