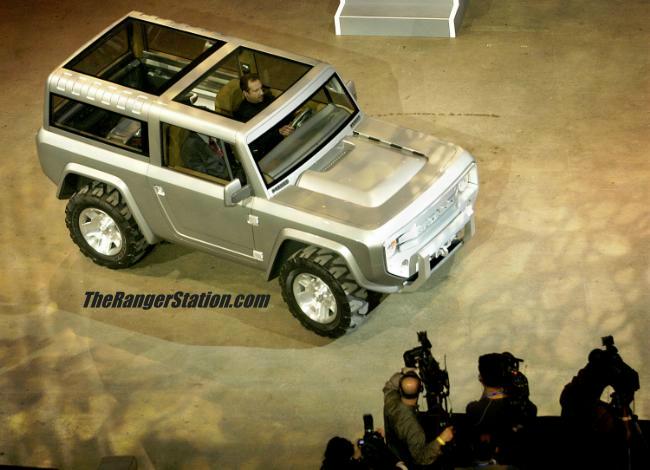 Ford Bronco Concept:
J Mays, Ford Motor Company group vice president, Design and Chief Creative Officer introduces the Ford Bronco Concept Sunday January 4, 2004 at the North American International Auto Show in Detroit, Michigan.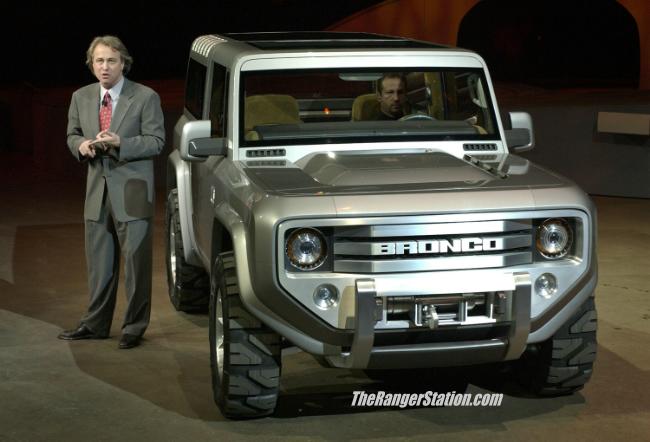 Detroit Michigan, January 2004 – The Bronco is back.
Unveiled this year at the North American International Auto Show, a concept version of Ford's pioneering 1960s sport utility vehicle retains the original Bronco's authentic, no-nonsense design and adds a turbocharged diesel engine for added kick.
While other sport utilities become more civilized, the Bronco concept bucks this trend in a simple two-seat design that features the same rugged good looks as its predecessor. It is instantly recognizable in shape. Reminiscent of the original Bronco are its boxy, upright roofline, short wheelbase, signature round headlamps and the Bronco name integrated into a modern three bar grille.
"True to its heritage, the Bronco concept is a tough, genuine SUV that's all about function," says J Mays, Ford Motor Company group vice president of design. "It's like a claw hammer in a box full of department store, battery-operated, plastic, power tools."
Subtle exterior details include exposed door hinges, cowl vents, flared wheel wells and unique loop-shaped door handles, which are integrated into the door panels and open with a gentle tug. Those classic round headlamps up front are updated in the Bronco concept for use of both light-emitting diodes and halogen light sources to cast a wider ray of light for better peripheral vision in off-road situations.
For a more open-air ride, the Bronco concept's roof is made up of two separate sections, the rear portion of which can be removed. Roll bar accents can then be attached for a look that recalls a Baja racer or the customized "Baja Broncos" Ford offered in the 1970s.
A monotone color scheme features warm metallic gray finish coupled with brushed aluminum accents and flows seamlessly from the Bronco concept's exterior body panels to its exposed interior surfaces. Both seats are trimmed in orange brown suede, like a workman's glove, and are accented with similarly colored inserts and a four-line stitching pattern, like the kind found on a rugged old tool belt.
"The Bronco concept is like your favorite pair of worn in, faded jeans ? classic, familiar, comfortable and always in style," says Mays.
While the Bronco concept conjures memories of blue oval past, inside it is a showcase of advanced modern technology. Its power comes from a 2.0-liter, 16-valve intercooled turbo-diesel engine tucked under the hood. First introduced on the Ford Mondeo in Europe, this engine features common-rail fuel injection technology for greater injection precision, performance and torque, without sacrificing fuel economy. The Duratorq TDCi, as its known, delivers 128 horsepower and a peak torque of 244 foot-pounds. Using Ford's overboost function generates an even higher torque of 258 foot-pounds for a limited time under full throttle.
Adding to the Bronco concept's power is a nitrous oxide "boost," similar to the power enhancement function of traditional hot rods. At the press of a button, a blast of nitrous oxide is injected into the engine. During combustion, the gas is broken down into nitrogen and oxygen, allowing more fuel to burn.
What does all that mean? An extra temporary boost of up to 50 horsepower and a three-second improvement in quarter-mile times, with about 10-15 mph more top speed.
A revolutionary new six-speed PowerShift transmission is paired with the Duratorq diesel and achieves 5 percent better fuel economy than a conventional six-speed automatic transmission. While a traditional manual or automatic transmission changes gears by opening and closing a single clutch, the PowerShift operates by shifting power from one clutch to another for better efficiency and more seamless shifting. It can be placed into manual mode at anytime and operated by a pair of shift paddles on the steering wheel.
Rounding out the Bronco concept's technology showcase is an IntelligentTM four-wheel-drive system ? a fully computer-controlled clutch that engages the rear wheels as driving conditions dictate. Under normal conditions, the Bronco gallops on its front wheels. Using sensors at each wheel and at the accelerator, the Intelligent system's computer calculates dozens of times per second to determine precisely how much torque should be sent to the rear wheels to minimize and help prevent wheel slippage.
The new Intelligent system replaces Ford's current Control Trac IITM system for more positive traction and vehicle handling, improved fuel economy and smoother operation. It will first be seen in production on the 2005 Ford Escape.
The original Bronco was an immediate success when it launched in August 1965, leading the emerging recreational four-wheel-drive market with sales of 18,200 units in its first full year of production. Although only a concept, this year's Bronco concept demonstrates how Ford may further complement its extensive SUV lineup.