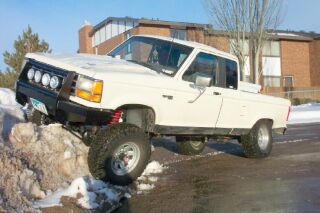 The first Ford Ranger that I ever owned was an '84 long bed regular cab 4x4 with a 2.8 back in 1995. I fixed it up a little and sold it a year later for 100% profit. A few years went by and I couldn't stop thinking about that truck and the work that I had done on it, I kept my eyes open for something similar, possibly a little newer and in a little better shape. During this process I ended up getting married with a child so I had to get something that could carry a passenger. So I started looking for an extended cab Ranger.
I looked at several different trucks but I just couldn't find anything that I liked or one that fit into my budget. One day on the way home from work I saw it, parked in the back of the dealers garage, but it wasn't on the lot, so it wasn't officially for sale. I watched that truck for a week or so and it never moved from the spot where I had first seen it, so I decided to go check it out, and after some dickering with the dealer I drove it home and parked it in my driveway.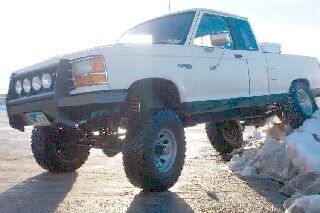 A few things have changed since that day at the dealer. I immediately started dreaming up custom add-ons so that I could make the truck 'mine'. I had big dreams on a small budget. It worked out that I ended up just fixing all the minor problems with it first before I got to do any mods. The famous tranny rebuild, ignition module, water pump, rearend, fuel pump, etc…All of this, a perfect learning experience.
Then the mod time came. I found that the 2.9 is not the most powerful of engines so I had to find some more horses in there. I started with JBA headers, a Dodge Neon cold air intake, and worked on porting an intake plenum that I had laying around. I also made a custom dual exhaust system.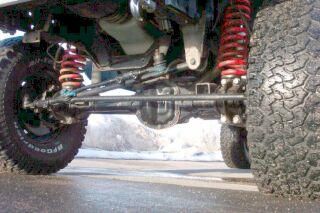 Then came numerous minor additions and some major ones including my favorite, the Early Bronco Solid Axle Swap. I used a Dana 30 out of a late 60's Bronco, they are cheap, strong enough for mild off roading and a lot of them come with 4.10 gears, which this one did, so I set out to get all the parts for the swap, and as luck would have it, I had a lot of friends that either had the parts that I needed or a way of getting them. I installed the Chevy disc brakes, which was the most involved part of the entire swap. I already had a lift on my Ranger and I didn't have the money to get new springs so I fabbed a bracket that would hold the Ranger springs on the Bronco axle, I also had to fab the radius arm brackets and trac-bar bracket, and like anyone that has done the swap, I went through several alternative designs, and I am hoping the present one is a keeper. I am pleased with the swap but soon I will be installing 'suicide springs'; the installation of softer Jeep coils instead of the stiff Ranger TTB coils I currently have.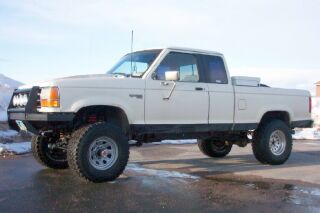 Within the last three years I have really gotten into the custom building of truck parts. I started small like everyone, and am gradually getting into the more complex fabrication. I made a floor console out of wood and fiberglass for a place to install a 10 disc Jenson CD changer, light switches, and some auxillary outlets. Then I got a CB and didn't have a place to put it, so I made a matching overhead console for the CD changer controller and the CB radio.
I have wanted a heavy duty off road bumper for some time now but found that there isn't a manufacturer that makes a bumper for a Ranger that I liked and I thought about adjusting a Cherokee bumper to fit, but I still wasn't happy with any designs out there, so….., I made my own. The main frame is made out of 1/4 " steel with the 'body of it made out of 1/8" steel.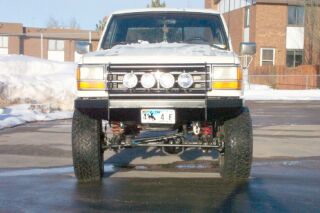 I didn't like the docile, next door neighbor look of the truck, so I brainstormed about something that would give it a little 'meaner' look. I came up with a 2" Cowl hood. I cut the hood, braced it and 'glassed it, and that is where I am at now. The hood is still not done but it will be soon, and that will just lead to the next mod down the line.
The future for the Ranger looks good.

I am not a hard core off roader so the mods will not be too intense.

I would like to get at least 33" tires, Bed bob, and possibly an exterior roll bar, and a rear bumper is currently in the works.

And I think further down the road there will be an engine swap to a 4.0 and an Atlas T-case.
~TRS
<![if !supportEmptyParas]> <![endif]>
<![if !supportEmptyParas]> <![endif]>