Member
U.S. Military - Veteran
Joined

Sep 7, 2021
Messages

68
Reaction score

24
Points

8
Location
Vehicle Year

1986
Make / Model

Ford Ranger
Engine Type

2.9 V6
Transmission

Manual
2WD / 4WD

4WD
Total Lift

3"
Tire Size

31x10.50R15
Hello from Sunny SoCal! My 17yo son just bought his first truck with his own $$$$! We towed this dude down from Lebanon OR in early Aug. It ran great but needed some light TLC to get it ready for CA smog. We are almost there!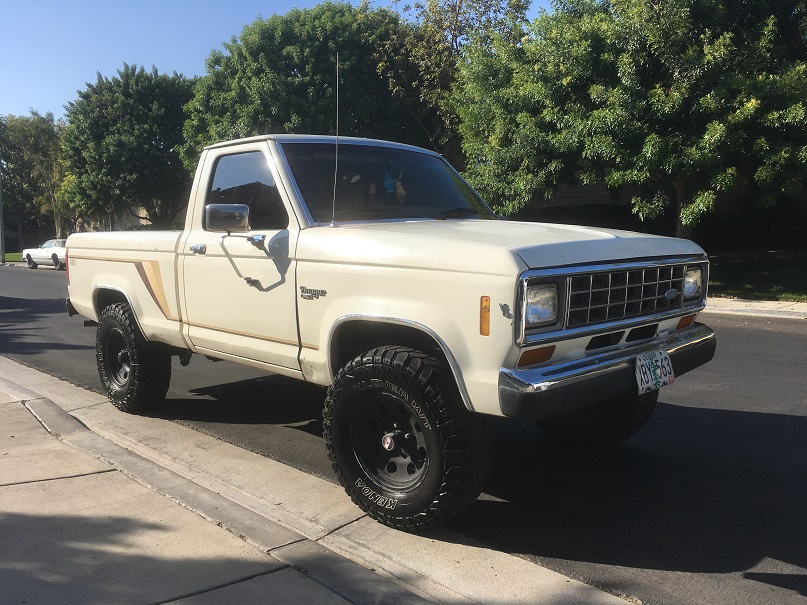 It is an 86 XL, 4WD, 5 speed, 2.9L, not a spot of rust on it, original paint, clear title, tires are 2016 but still in great shape/no dry rot. 2" of spacer lift front and back, 191k miles but I am fairly confident both the engine and tans have been rebuilt.
Plans: ordered a set of tough country Axle arm pivot drop brackets so we can get the alignment spot on and then get it through smog. It will be my son's daily driver so the list of mods is small. More about fixing the stuff that does not work (Ammeter, radio, and A/C), than anything.
Background: This is the third Ranger in my household. I bought a 93 standard cab, short box, 3.0, 5 speed, 2wd, XL in the late 90's and loved it. I also had an 89XLT, extended cab, with a 90 5.0HO, AOD, 4WD in the early 2000's (my handle, used everywhere is rang-a-stang because that truck was a RANGer And muSTANG). That truck was totally smog legal, A/C was cold, Cruise control worked, etc. I put about 50k miles on that truck before I sold it. My pictures of it are on my other computer so I'll post them later.
My son remembered that Ranger and has always wanted his own square body Ranger... which is impressive because of all the vehicles he has access to drive (2011 Pathfinder, 2000 Jeep Cherokee XJ, 1979 Cherokee Chief), he would rather shovel rocks and load pavers for $15/hour to save up and buy his own square body Ranger. My son has good taste.
Anyway, glad to be here! Looking forward to meeting you guys! I am a pseudo ranger owner because my name is on the title but my son bought it and he does 90% of the work on it.