2.9 Mafia
TRS 20th Anniversary
Joined

Oct 31, 2018
Messages

7,304
Reaction score

5,709
Points

113
Location
Vehicle Year

1988
Make / Model

Ranger
Engine Size

2.9l Trinity
Transmission

Manual
2WD / 4WD

4WD
My credo

Give 'yer balls a tug. Fight me.
Ok, so just a forewarning, this post is going to be heavily edited, re-written, and changed throughout its construction.
This is being written as a post to document the restoration of a truck that was a terrible candidate for restoration, and to offer explanation to others that read my posts why I am hell-bent on saving this sh*tbox.
I will start by saying that I am a Mopar guy, through and through. Before owning this Ranger, I openly detested Ford. My first car was a Reliant. I have built off-road jeeps. Restored a few muscle era Mopars (current one is a 1953 Coronet 241 hemi with 10k original miles, heh heh).
And then, this rustoleum-painted rot box that's more cancer and scale than good metal fell into my lap out of necessity.
I had quit a job to throw in with a startup. When I quit, I did not have a wintertime vehicle; just my company truck I had to turn in when I quit. Didn't think it would be a problem as the startup I went to work for had promised me a company truck day one. Day one came and went, no vehicle. Then week one. No vehicle. So, Craigslist shopping for a beater. Looked for a jeep for a few hundred dollars, and no luck. As it was the middle of November, every sub-$1000 winter beater on Craigslist was spoken for,
Frustrated and unable to even find a old Dakota, I sarcastically hammered in, "Ranger" in the search box. Three photos down, was a four days old post of what's now my truck. "1988 Ranger, custom bed rack, 4wd, 5 speed manual, $1200 OBO"
I laughed at it. From the photos, the truck was worth scrap value at most. But, I needed wheels. It was a Ford, which to me back then meant I'd have no remorse dumping it off at a scrap yard in a few months. I did have a small twinge of nostalgia when looking at the photos though. During high-school, I remember thinking the old brick nose trucks had a certain charm to them, and they could usually at least keep up with a jeep, so they were only half terrible. I arranged a time via text when the owner, let's call her "Nellie" for anonymity reasons, could meet up with me for me to take a look at it.
I got a ride over to the address where the truck was sitting. There it was, hammered by time and brush painted to pass inspection out of necessity. I met "Nellie" and looked over the truck. She tossed me the keys, and I took it for a test drive. When I came back after circling the block, I ran the laundry list of what the truck needed, politely pointing out with a flashlight everything I had found. Truth be told, the 2.9l under the hood barely ran, there was no body left (the fenders on the bed were painted milk cartons), clutch was shot, frame behind the rear wheels as gone, input shaft bearing was gone, etc, etc. Basically, there was not one single part of the truck that didn't need work. Hell, the overflow bottle for the radiator was an old jug.
"Nellie" was getting a bit upset, but not with me. The truck was her father's. He had passed away over the summer, and it was all she had left from him. She was in her last semester at the University of Pittsburgh, and was short on cash for her last class to graduate. She didn't want to sell it, but needed to finish school. So, the truck was the sacrifice. She had said that a few people had come to look at it, but low-balled her because they wanted it for a woods buggy. I could see she was overwhelmed.
I stopped talking her through the Ranger's problems, and very calmly asked her what she needed (cash wise) to finish school. She told me $800. I made her an offer of $800 cash on the spot, and offered a promise that I'd hang on to the Ranger until she was on her feet and could buy it back from me. I put out my hand, and we had a deal.
We transferred the truck, talked a little more, and exchanged two different phone numbers and addresses each, just in case life happened and we lost track of each other. With the keys to her father's Ford in my hand, I became usually emotional. I remembered what it was like for me when I was out of money in college and graduate school, selling things off I had worked for throughout the years just to keep going. But, I never had to give up something this sentimental. I couldn't imagine having to sell off my father's prize GTX to some schmuck on Craigslist just to finish a degree.
And then, I did the dumb thing.
With my sense gone, I told her that by time she was in a position to get her father's truck back, I'd have it in better shape if not restored (yep, dumbest promise I ever made...). She was overwhelmed, extremely happy, and thanked me repeatedly (I think she hugged me, but can't remember due to the frustration from the next part), and we parted ways. I (roll) started my new winter beater, and backfired down the road.
And then, it died.
And died again.
And died again.
Then it died in a Sunoco station in the 'hood.
With a can of WD40 and a roll of paper towels purchased at the gas station from a very helpful immigrant kid (note: he did not speak more than 10 words of English), and my Leatherman, I unfroze the parking brake, re-grounded the battery with drywall screws borrowed from the bed rack, cleaned the distributor cap and rotor, dumped $10 worth of gas in it, cussed a LOT, regretted the last few weeks of my life, thanked the kid at the gas station, and backfired home.
Oh, and side note, my cell phone had died, and the cigarette lighter in the truck was broken, so my new $16 android charger purchased from the gas station was useless. So, the truck had even silenced my cries for help. Hurrah...
Then it died a few more times.
Pretty sure I watched a few kids in car seats in the minivans flying past me on Route 28 in Pittsburgh point and laugh at my smoke plume following me down the road. I watched this while I was sitting on the floor, as the bottom of the drivers seat had broken after the gas station incident.
I managed to get it in the driveway with the help of my lawn tractor, chocked the wheels, and went to work on it.
More photos and story to follow, but the as-purchased photo:
An update as of May 20, 2019:
In the interest of keeping track of the build and the complete and utter lack of logic behind it, this is a list of everything that I can remember that I changed out or modified from the stock truck (and many things I replaced that were MIA).
There are some modifications I'll inevitably forget
. If anyone is curious, this build does have
some
sense of direction - I took a lot of my inspiration from Euro-style Rally builds from the 80's and 90's and shoved them into a small light-duty pickup truck.
Why? Well, why the hell not? Its 2019. Bruce Jenner is a woman. Donald Trump is president. Do try to keep up.
This Rally theme also led to my decisions to keep the 2.9L V6 in it (instead of the 4.0 which is more in-tune with a truck engine, or a 302/5.0 which IS a truck engine), as well as do some not-typical-truck things to it.
As far as the engine is concerned, members on here and friends/relatives from home that advised me not to build a 2.9l
ultimately
inspired me to build it.
Their advice was, and still is, highly valued. Other than the head issues with the 2.9l, every downside that they would talk about (small displacement, need to redline it to get any power, how gross and un-American V6 engines are, etc.) was leading me to do a lot of reading, and learn a
lot
of history. Turned out that the 2.9l was an engine that was considered for the 'Group B' class entrants into the World Rally Championship. To me, this was one of those "meant to be" moments. In my opinion, Group B was the absolute *purest* test of a driver's and an automotive manufacturer's capabilities.
If you're reading this and are unfamiliar with Group B, watch this short video:
"Ballet of Brutality"
The history of the engine led me to my decisions to NOT lift it or stick
outrageous
big tires on it, and instead opt for handling upgrades, to keep weight to a minimum, and build it to survive my abuse
when I am pushing it WAY beyond its original design
.
In simple terms:
Small, fast, lightweight, low center of gravity
(for a pickup),
high-revving
(erm, that should say "loud and Euro-trashy sounding"),
high power-to-weight ratio
daily driver
with some truck-stuff capabilities
.
Someone around here once posted that "when you start a build, you should know what your desired goals are."
THAT'S
THE BEST AUTOMOTIVE ADVICE I HAVE EVER HEARD.
I however DID NOT do that. I started fixing up my bought-out-of-necessity Blue Oval bastard child (still a Dodge guy with a soft spot for Euro performance...) because I needed it to be reliable, and my subconscious took over. I accidentally started building the Audi Quattro/ Lancia Delta S4 / Ford RS500 that I've dreamed of for years out of a bricknose Ranger that was more cancer and rot than good metal. Goals? Apparently I had those, even though I didn't know it at the time. Nowadays, have a decidedly
weird
pickup that I absolutely freakin' love, despite its Blue Oval birthmark.
List of modifications
As of: 3/June/2019
Electrical:
140 amp 3G alternator from a windstar - Generic chevy 350 alternator bracket
Cannibalized 1995 Ranger under hood fuse box, repuropsed as auxiliary wiring
150 Amp Megafuse and Bussman holder
under hood power distribution center - Amazon ($15)
TFI remote relocation with heatsink and fan
16" Electric puller fan
Dual Mercedes Benz C230 Kompressor pusher fans
Nilight flood lights
Partsam LED headlights
Really bright (3000 lumen) LED reverse lights
All other lights (except instrument panel) replaced with LED
DUAL $20 Walmart head unit for stereo. Blapunkt 6x9 speakers in rear, 4" in front
AFR guage
Boost gauge
To do:
GM Compass Mirror
More lights
MORE LIGHTS
Cab:
Noico butyl sound deadener (entire cab)
Noico foam sound insulation (flat areas)
Power seats from 1992 Ranger
Center console
Rear seat delete - Rear seat storage boxes from 1986 Ranger
Rear seat area tonneau cover from 1986 Ranger
Prothane Cab Bushings
Stock Interiors grey carpet
Black Headliner
Black interior - Combination of DupliColor trim and Bumper paint and Plasti-dip (looks awesome imo)
Engine - My really
dumb
unorthodox 2.9l forced induction build, aka the "2.9 Trinity:"
DIYAutotune Megasquirt PNP v1.5
Volvo 13t Turbocharger
Forged Ultralight Pistons
Forged H Beam Rods
24lb Bosch 4 hole injectors from a Saleen
FE Block anti pump up lifters
HD Pushrods
Stage 3 race ported Promaxx heads
SI Portflow stainless valves
Double stack valve springs
Free floating rockers
Block deburred and blasted
Block inside coated in Glyptal
Moly rings
Spartan Wideband Controller
Bosch 4.9 LSU Wideband O2 sensor
18" intercooler
Ported coolant passages
Water/methanol injection @ 100psi, 3.3 gpm
Melling M328 High Volume Oil Pump
Mr. Gasket #4364 High Flow 180 Degree Thermostat
Auxilary electric coolant pump
Oil cooler
Cloyes Timing Set
Melling stock replacement cam
Phenolic upper intake spacers
Sierra/Scorpio Dual TB intake (ported)
Ported "1992 HD" lower intake
Polished rocker assemblies
JBA Headers - reversed
2.5" exhaust with Flowmaster FlowFX
PCV catch can
NGK V Power heat range 10 spark plugs
"Performance" Cap, rotor, and wires
MSD Blaster Coil
Kemso 340 LPH fuel pump
Frame Rail fuel pump delete
Coolant tank relocation, stainless tank
Switched to Zerex G05 coolant
Charcoal canister relocation
Very sincerely considering a twin charge build after I master the turbocharger. Stay 'tuned'...
Transmission:
Swapped out the FM146 and BW 1350 for a M5OD and BW 1354
Rebuilt manual hubs on Dana 28
Stock 3.73 Ratios
4.0 ohv 10" Centerforce Clutch, flywheel, etc.
To do:
Explorer 8.8 inch, 3.73 Limited Slip with hydraulic Stabilizer & dual sway bars, and Dana 35 TTB sitting on the shop floor waiting to go in.
Traction bars
Body/Frame/Suspension:
Volvo S40 EPAS conversion
Moog variable rate HD front springs
Husky 1750lb 5 leaf rear springs
Rear lift shackles
UHaul hitch
Under frame spare tire carrier
Smittybilt front and rear pipe bumpers
Nilight front flood lights
Rear bumper extension with step
Dual front sway bars
Rear sway bar from a Bronco II
Transmission skid plate
Heavy duty fuel tank skid plate
Front tow bar (so I can be towed out of a ditch)
Entire frame stripped and painted/coated in Corroseal
31 x 10.50 x R15 on 1990 Ranger aluminum mag rims
November, 2017:
June 2019: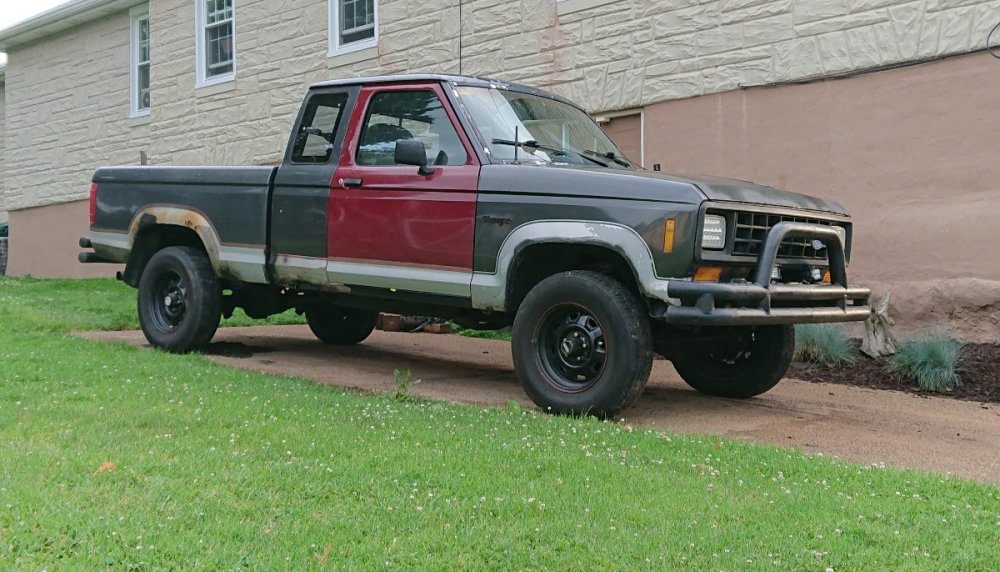 November, 2019:
August, 2019:
Last edited: