Transformer – Part 1: Taking a 1996 Ford Ranger from Bone Stock to Trail Brawler
By Jim Allen
(From Off-Road Adventures Magazine)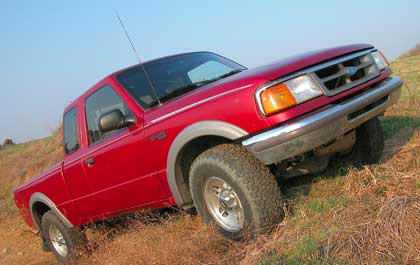 It has a set of nearly bald BFG All-Terrains, so we didn't ask much and didn't expect much on the trail, even after we corncobbed the broken front hub and malfunctioning transfer-case shifter motor. Stock trail performance is, well, stock.
Meet the 1996 Ranger that'll be transformed before your eyes. With just over 143,000 miles, it was purchased on the cheap from eBay with a double handful of glitches, but nothing that mattered much considering the changes to come.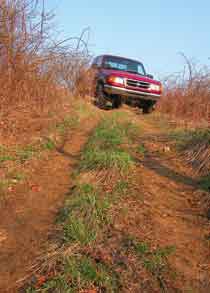 Lots of you are on the buildup trail and hunting for the right parts to make your rig as capable as possible. Where do you start and what will you end up with after that pile of hard-earned cash dwindles to near nothing? Maybe we can help. We're going to walk you through the buildup of a truck — from purchase to virgin trail run — and show you how the products were installed and what we gained by installing them. What's interesting is that, instead of installing everything in a shop with pro techs, much of the installations were done by the vehicle owner. Jim Oaks is like most of you — he has basic wrenching skills, some useful experience, a decent toolbox, and he's smart enough to read directions and take his time. He deferred to a couple of pros along the way, but the majority of installations were his own.
You'll see Jim's budding fabrication skills come to fruition in the form of bumpers, light bars, and racks.
Though we're dealing with the Ford Ranger, Oaks' personal favorite, the basic concepts work for every rig: make improvements in traction and clearance, and you increase performance. Add safety and trail convenience items to match, toss in personality upgrades, and you're set with a gnarly, stylish truck.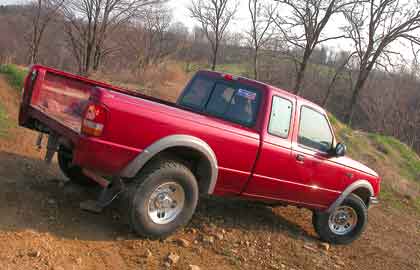 The eBay Ranger
Having built and wheeled a 1984 Ranger for many years (see "Practical Ranger," December 2003), Oaks was specific about what he wanted. Being familiar with Ford TTB Rangers and knowing the tweaks, he began looking for a last-of-the-breed 1996 TTB. These rigs combined the great 4.0L V-6, Dana 35 TTB front axle, 8.8 rear axle, and A4LD automatic with the more stylish lines of the newer body style. Because it was going to be a major buildup, Oaks didn't necessarily want to pay for a perfect rig. He found the truck, of all places, on eBay.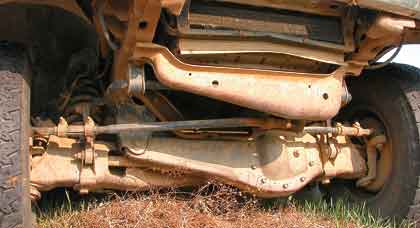 Ford's TTB has long been the source of admiration and angst. When correctly tweaked, it's not far off a solid axle, and it's way better than true IFS. The Dana 35 outfit is strong and works out well for light rigs. It has a reverse cut ring gear and 297-sized u-joints.
Overall, Oaks was happy with his purchase and the low price. The only mechanical problems were with components due for replacement anyway. Cosmetically, the Ranger's interior was a Petri dish of filth. Oaks decided to tear it out to replace it with the interior of a similar rig purchased from a wrecking yard.
1992 Ranger SuperCab Specs
Engine: 4.0L V6, SFI
Power: 160 hp @ 4400 rpm
Torque: 225 lbs-ft @ 2800 rpm
Trans: Automatic, A4LD
T-Case: BW-1350 Touch Drive, 2.48:1 low-range
Axle, Front: Dana 35 TTB
Axle, Rear: Ford 8.8 (28-spline)
Axle Ratios: 3.73:1
Wheelbase: 125 in.
Length: 192.7 in.
Width: 66.9 in.
Weight as Tested: 4,220 lbs (w/2 passengers, full tank, and some gear)
Mfr. Curb Weight: 3,310 lbs
Fuel Capacity: 20.5 gal
(TRS Note: The Ranger in this article is a 1996 with a 4R55E automatic transmission)
Initial Tests
We conducted initial objective tests to establish baselines. Oaks and his buddy "Ozzy" Osborn constructed a 30-degree ramp to test articulation. We also used our trusty G-tech performance meter to measure horsepower and acceleration. (See sidebar for initial test results.)
Our goal with the ramp was to show gains in articulation from the suspension improvements. The 386 @ 20 degree score is lower than the 400-420 score for stock Ranger Supercabs, but that's what it delivered. Check out succeeding installments of this buildup to see that "after" score.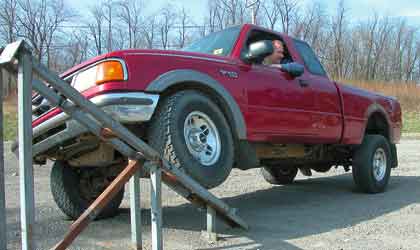 A 264 RTI @ 30 degree (386 @ 20 degree) score for a stock 1996 Ranger SuperCab. This is in the realm of the RTI scores we've seen on other stock TTB Rangers. The welds hadn't even cooled off when the Ranger was run up the ramp. It'll look better the next time you see it.
While some engine power mods are planned, the goal of these mods isn't to turn the truck into a hot-rod, but to maintain the stock level of performance after the modifications are complete. The bigger tires (even when compensated for by gearing changes) and the extra weight will slow the rig down. The mods are designed to keep the rig from becoming a slug.
We tried to do some "before" wheeling tests, but bald tires, a blown front hub, and a transfer case that wouldn't always shift into low-range didn't leave us much to work with. We fixed the hub and the transfer-case and did some easy stuff, with expected so-so results. A new set of tires would have helped, but we weren't about to buy a set just to pull them off again. Besides, we know what the problems would be, right?
Ramp Travel
A 30-degree ramp was used, but the results have been converted to the more common 20-degree angle for comparison with other tests.
Wheelbase – 125 in.
Horizontal Travel – 33 in.
Vertical Travel – 16.5 in.
RTI @ 20 Degrees – 386
RTI @ 30 Degrees – 264
Performance
All performance tests were done with two passengers, a full fuel tank, and a certain amount of gear at the weight shown.
Vehicle Weight – 4,220 lbs.
0-60 time (1) – 14.8 sec.
Measured HP – 113.7 hp
The Proposed Mods
To gain the necessary traction and clearance for serious trail performance improvement, we began with a Skyjacker four-inch lift. We ordered the full kit, including rear springs and dual steering dampers. This will allow the fitment of 33×12.50 BFG Mud Terrains on ProComp Streetlock wheels. (We'll show you the installation the next time.)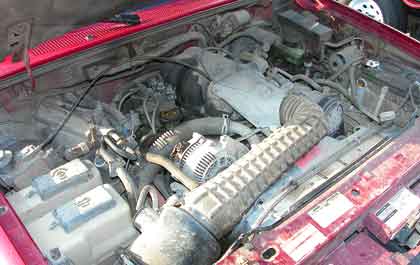 The Ford 4.0L is a sprightly powerplant. With the right gearing, this 160-horse V-6 has more than enough power to get the job done. You can see the problems: the corroded battery terminal and a dangling air-temp sensor. All this will be dealt with in due course as well as the addition of a few power mods.
For the important gearing changes and traction enhancements, we chose Genuine Gear 4.56:1 ring and pinions (complete with installation kits). These are lower than what's needed for the tire size but will add to trail and street performance. As to lockers, we went Detroit, front and rear-simple, effective, and bulletproof. We also plan to replace the weak (and broken) automatic front hubs with Warn's manual hub conversion.
Because 4x4s will inevitably get stuck, we opted for a MileMarker E12000 winch to bolt onto a custom mount that Oaks will build under the tutelage of master welder Ozzy. To enhance winch operation, a ProComp Marine Battery will be installed in addition to the original starting battery. A Painless Dual Battery controller will keep the second battery insulated as needed, but both batteries are available for winching or starting. In addition, there'll be enough ProComp lights on this rig to turn night into day.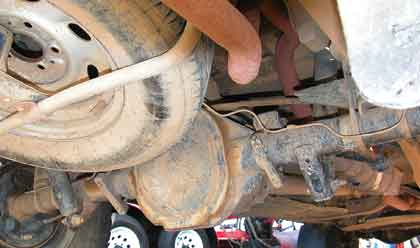 The Ford 8.8 is a good axle. Too bad the Rangers got stuck with the 28-spline version. Odds are good that this unit will be swapped out for a disc brake, 31-spline unit from a late-model Explorer.
The 4.0L will be enhanced by a Gibson cat-back exhaust system and Jet's Power Package, which includes a performance chip, a low-temp thermostat, and a low-restriction air filter.
These are just the high spots, and there'll be more surprises along the way as well. Oaks is planning to add some dazzling cosmetics that you'll love.
Source:
The Ranger Station
Check Out:
Part 1: Taking a 1996 Ford Ranger from Bone Stock to Trail Brawler
Part 4: Manual Hubs and Explorer Rear Axle Swap
Part 5: Taking a '96 Ford Ranger From Bone Stock to Trail Brawler
Also check Out Off-Road Adventures Magazine