By Jim Allen
(From Off-Road Adventures Magazine)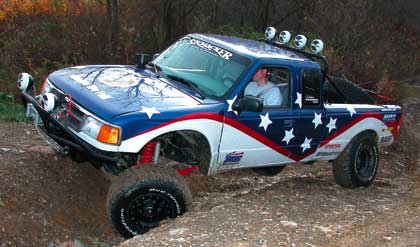 Yeah, it flexes. "The ride quality of this truck," Oaks said, "is night and day from my other Ranger. It's amazing how smooth it runs over rough terrain. I find myself running away from the pack on trail rides."
The time has come for all to be revealed. The "full Ranger monty!" We hope you'll like it as much as we do. Our goal with this project was to present you with a real world before and after. The project was largely accomplished by an owner who is not a professional tech.
We found the Ford Ranger to be a good platform for a buildup. Between the Ranger, the Bronco II and the Explorer models in the Twin Traction Beam (TTB) realm, there are lots of interchanges, swaps and buildup possibilities. The best part is that you can call them "budget" builders. The buy-in is low and the basic structure is suitable for most anything. We could wish for more aftermarket coverage in some areas, but there is more than enough to get the job done.
This far down the road, a recap is in order. Here's our '96 Ranger fresh from it's purchase on e-Bay. It had 143,000 miles and the interior was filthy beyond belief, but it was cheap and basically sound. It had most of the Ranger "Right Stuff," namely a 4.0L, Dana 35 TTB front axle and the 8.8-inch rear axles. The only thing missing was the lever operated transfer case, but that's fixable.
Suspension
Oaks, is particularly effusive about the Skyjacker suspension. We came fairly close to doubling the Ramp Travel Index (RTI) score (see test sidebar) but that's only an indicator of trail performance. The indicator was accurate in this case… truck flexed extremely well on the trail, but not at those absurd levels that make for an unstable rig.
The ride is superb. This is partly due to Skyjacker's careful selection of spring rates and the great Platinum Series shocks. Though TTB lifts above four inches are known for poor manners, such as bump steer, this kit is well engineered enough to have minimally adverse symptoms. No TTB rig is totally free of bump steer, even stock ones, but this Skyjacker kit remains well into the acceptable realm. The only flaw we noted was a decal installed upside down.
We'd recommend saving up for the high-end kit that includes the longer radius arms. They definitely increase available wheel travel. More importantly, they reduce some of the adverse symptoms associated with a TTB… namely major caster changes. We also recommend using the Skyjacker rear springs. They offer a great ride, and keep axle wrap to a minimum when compared to lift blocks.
Engine Performance
We didn't focus too heavily on the engine. It has 143,000 miles on it. Oaks may do some more serious mods down the road at rebuild time. We added the bolt-on performance items in an effort to maintain stock acceleration after loading the truck up with gear and strapping on the big tires. As you will see in the sidebar, the truck gained almost 750 pounds with all the mods.
The 4.56:1 gears helped, but we picked up almost 10 horses on the G-Tech meter with the JET Chip and Gibson cat-back exhaust. While we didn't match our pre-mods 0-60 times, it's only 3/10s of a second off. That's pretty good when you think about it. On paper, that much extra weight would have slowed the stock truck down by a second and a half. We gained more than a second of that back. Powerwise, we figure the snorkel might be slowing it down some and, by test time, we still hadn't received the backordered JET free flow air filter to test its effects.
Drivetrain
Oaks is also complimentary about the front and rear Detroit Lockers. "They're a lot smoother than the lunchbox lockers," he said. They are also stronger because they use a stouter carrier than the OEM version. The Explorer rear axle swap yielded larger axle tubes and 31-spline axle shafts to replace the 28-splines of the Ranger 8.8. The Warn manual hubs up front replaced the notoriously cranky and weak automatic hubs. All these axle improvements pay off in a quiet way… by not breaking.
Beyond all the glamorous improvements, Oaks replaced anything marginal, to include axle U-joints, wheel bearings and driveshaft U-joints. He replaced the two-piece rear driveshaft with a 1-piece unit from a '98-up Ranger. This eliminated the problems associated with combining lifts with the multiple angles and vibrations of a two-piece rear shaft. As is normal, the fuel tank skidplate had to be trimmed for clearance. The drivetrain is now plenty strong for the 33-inch BFGs. Upcoming plans include a swap to a stick operated t-case. The electric shift unit is strong enough, just more troublesome due to the electronics.
Winch and Miscellany
During the buildup, there were a few moments spent wondering if a 12,000-pound Mile Marker winch on a 5,000 pound truck was a bit overkill. As this article was being prepared Oaks has been 'wheeling the truck with vigor and had several incidents where he was glad to have the extra capacity. "I winched a burned up Grand Cherokee up a hill after it had gone over and hit a tree," Oaks reports. "Even though the wheels were burned and wouldn't roll, the winch had no trouble dragging it back up the hill."
Of course, an electric winch is only as good as the power being fed to it. No problems to report in that area either. The marine type battery, attached with oversized cables, did the job in concert with the Painless dual battery controller. The original battery was retained to eke the last bit of life from it, but a second battery is in the offing. A high output, HD alternator would also be a good improvement
Probably because he's pulled so many night shifts in his job, Oaks is happy with the 100-watt ProComp lights. All six of them! "It's a whole new night-time world," he said, "when running multiple lights aimed to spread the beams over a wide range."
Paint and Body
Oaks is a patriot, and it shows on his truck. Like his older Ranger, the color scheme mimics Ford racing colors… red, white and blue. The paint work went to Maaco of East Columbus, Ohio, and the results prove that this company is about more than just fixing traffic owwies and providing repaints… they can do a little of the razzle-dazzle too! You will also notice the fiberglass fenders, which improve the look and offer plenty of fender clearance. These came from Fiberwerx.
The bumpers, light bar and prerunner tire rack were all custom fabbed by Oaks, under the supervision of his master welder buddy, Ozzy. Most of you will agree that they are a pretty good first effort for a budding fabber. A chop saw, tubing bender and MIG welder were the major investments.
Conclusion
For now our project Ranger rides off into the sunset to begin a new life as a 'wheeling truck. Remember that most of this project was done by the owner, who is not a tech… or at least he wasn't before this project started. Take heart… there is a learning curve, a tool curve and an attitude curve, but they can be overcome. This truck is proof!
Performance Test Results
Ramp Travel Test

 

Before

After

Wheelbase::

125 inches

123 inches

Horizontal Travel:

33 in.

55.5 in.

Vertical Travel:

16.5 in.

27.75 in.

RTI @ 20:

386

264

RTI @ 30:

660

451
Performance Test

 

Before

After

Vehicle Weight::

4,220 lbs.

4,960 lbs.

0-60 time (1):

14.8 sec.

15.1 sec.

Measured HP (1):

113.7 hp

123.0 hp
(1) All performance tests were done with two passengers, a full fuel tank and a certain mount of gear at the weight shown. A G-Tech performance meter was used to make the tests. It measures quarter mile times as well as 0-60. If you input vehicle weight, it can calculate the rear wheel horsepower rezquired to generate the amount of g-force it measures. It's not as accurate as an engine or chassis dyno, but it can show the changes from any improvements you make. It's subject to the usual "garbage in/garbage out" and you must try to exactly duplicate your test conditions and input accurate weight.
Sources:
BF Goodrich
Explorer ProComp
see your local 4 Wheel Parts Performance Center, or 877-474-4821
products at www.4wheelparts.com.
Fiberwerx
Gibson Performance Exhaust
JET Performance Products
Maaco of East Columbus
6301 East Main St.
Columbus, OH 43213-3360
614-860-0035
Mile Marker
Painless Performance Wiring
The Ranger Station
Skyjacker
Spirit Exhaust
2880 St. Clair Ave.
East Liverpool, OH 43920
330-385-4914
Warn Industries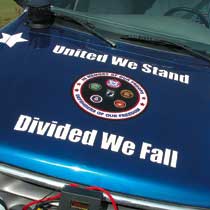 A. 'Nuff said, and well worth a little hood space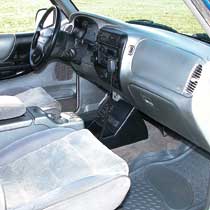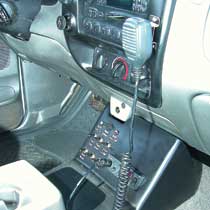 B. To keep you from losing your lunch, we didn't show you the interior as received, but here's the finished product. All the "soft" stuff, like seats, carpets, insulation and matting was sent to the local toxic waste dump and replaced by the interior from a wrecked truck. Vinyl paint was used to refurbish and recolor the panels and dash. The nifty auxiliary switch panel shown in the inset was built by owner Jim Oaks from fiberglass. This is where the Painless Dual Battery kit control is mounted, as well as the switches for the ProComp lights.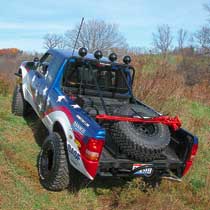 C. The Prerunner look dominates the rear view. The light bar, tire mount, battery and toolbox mounts are all integrated into a custom built cage that's bolted in using the truck's bed mounting bolts. Oaks wouldn't certify this as a true "roll bar," but he's confident the heavy tubing will offer protection if he goes rubber side up. This arrangement has some benefits for the truck, namely transferring a little weight to the rear. Pickups are traditionally light in back and moving some weight to the rear puts the truck closer to a 50/50 weight distribution. That pays off in the traction department.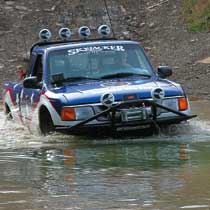 D. The Skyjacker lift and 33-inch BFGs made this water crossing a breeze. The Warn manual front hubs are a little more water resistant than the OE automatic hubs too.
E. The only way to baptize a newly built truck is in a nice Ohio mudhole. The front and rear Detroit lockers and BFG Mud Terrains pulled the truck through all of this easily. Luckily we got all the "glamour shots" done before this. And, no, he's not stuck!
F. The BFGs and Detroits proved themselves worthy on rocks as well. Yeah, the tires look a bit stiff. At this point, Oaks was still experimenting with tire pressures. The ProComp Street Lock wheels are well suited for a world of rocks, having that extra ring on the outer bead. That extra ring also holds onto a lot of mud!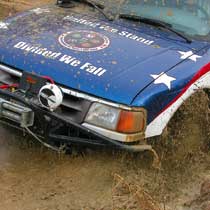 G. The Mile Marker SE 12000 is ready to help if needed. The 12,000 pounder was a bit overkill for a truck that weighs just 5,000 pounds, but Oaks finds himself using to help others more often than not and the extra capacity is welcome.
H. Here you can see a lot of what makes this truck work well. The Skyjacker 6-inch lift is good on its own, but Oaks gives the new Platinum Series shock a lot of the credit. They are stout, long travel shocks that are valved perfectly. You can see the easily swapped disc-brake Explorer rear axle, which gives the truck bigger 31-spline shafts as well as larger axle tubes.
Check Out:
Part 1: Taking a 1996 Ford Ranger from Bone Stock to Trail Brawler
Part 4: Manual Hubs and Explorer Rear Axle Swap
Part 5: Taking a '96 Ford Ranger From Bone Stock to Trail Brawler
Also check Out Off-Road Adventures Magazine