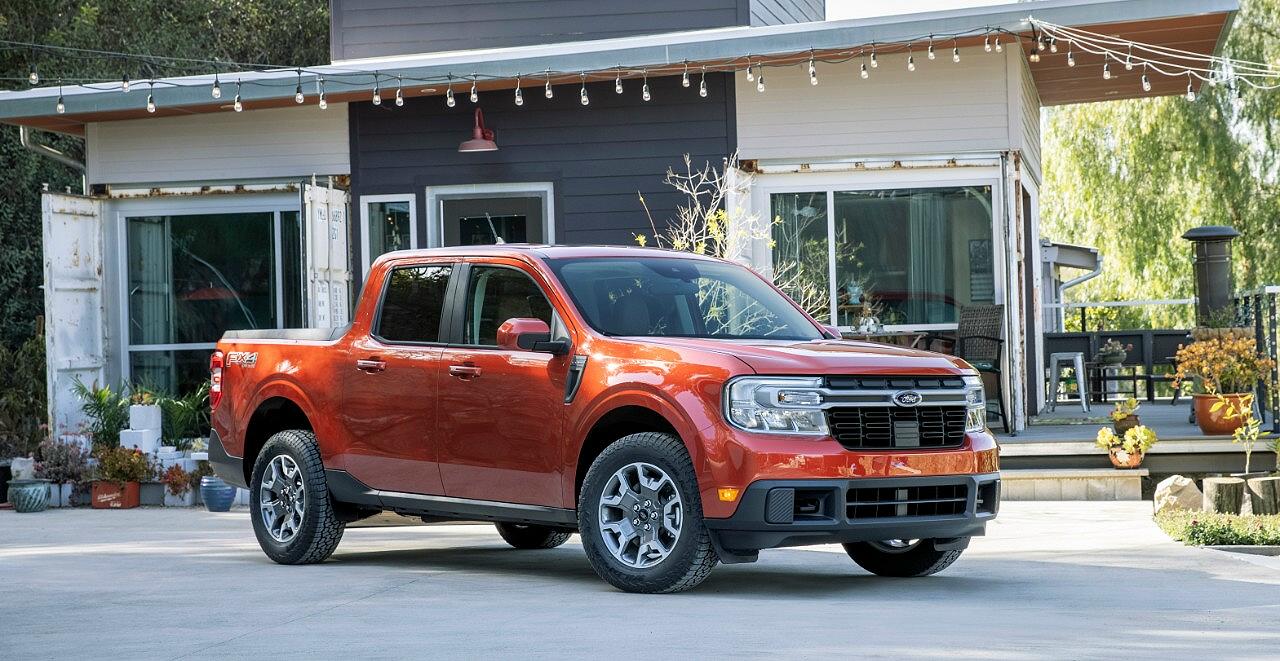 Remember back in 2011 when Ford stopped building Ford Rangers because they thought there was no longer a market for a mid-size truck? In 2019 Ford reintroduced an all-new Ranger to compete with the Chevy Colorado and Toyota Tacoma. There's clearly a new market for mid-size trucks, and Ford wanted a piece of the pie. The new Ranger is not only superior to the old Ranger, it's also larger. It's a fact that compact trucks increased in size as time passed and became the mid-size trucks they are today.
Trends change over time, and consumers are looking at smaller and more efficient vehicles. Ford has responded by offering the 2022 Maverick as the return of the mini truck.
This new Ford Maverick is really close in size to the original Ford Ranger. Let's see how it compares:
1983-1992 Ford Ranger Extended Cab
Wheelbase: 125.0″
Overall Length: 192.7″ / 193.6″
Overall Width: 66.9″
Horsepower: 4.0L  OHV – 160 Horsepower
1993-1997 Ford Ranger Extended Cab
Wheelbase: 125.2″
Overall Length: 198.2″
Overall Width: 69.4″
Horsepower: 4.0L  OHV – 160 Horsepower
1998-2011 Ford Ranger Extended Cab
Wheelbase: 125.7″
Overall Length: 203.6″
Overall Width: 69.4″
Horsepower: 4.0L SOHC – 207 Horsepower
2022 Ford Maverick
Wheelbase: 121″
Overall Length: 199.7″
Overall Width: 72.6″
Horsepower: 2.0L Ecoboost – 250 Horsepower
I used the extended cab dimensions since the 1983-2011 Ford Ranger wasn't offered as a 4-door.
As you can see the new Maverick is very close in size to the 1983-2011 Ford Rangers, but offers the 4-doors that the 1983-2011 Ranger never offered.
Oh ya, it can get 40 MPG and offers 43 more horsepower!
But It's Not a Ranger!!??
I know what you're thinking, why am I discussing a truck on The Ranger Station that's not a Ford Ranger? I'm sharing this information with the readers here because I think it will interest them.
If you've followed me at all, you know I'm brutally honest. If I don't like something or think Ford should do something different I'll speak my opinion. I had no interest in this truck when I heard it was in the works. It really seemed like a ridiculous idea. When I saw the new Maverick and went over its specifications, I realized that this truck was not only going to appeal to a new segment of consumers, but will also appeal to owners and enthusiasts of the 1983-2011 Ford Ranger.
I'm not saying the Ford Maverick is a replacement to the Ford Ranger. It will never have the off-road capabilities of the Ranger. Yes there's a FX4 package that will give you all-terrain tires, skid plates, and tow hooks. Great for those camping trips and hauling your ATV to the off-road park, but you're not going to lift this truck and put big tires on it.
If you want a vehicle that can seat five, has the ability to get 40 MPG, haul cargo, and want a true mini truck smaller than the new Ranger, then you need to check out the 2022 Ford Maverick.
I'm so intrigued by this truck that I'd like to get my hands on one, drive it, and put it next to some of the older Rangers. Get some real world feedback from Ranger enthusiasts still driving the older Rangers around. Will they want a new faster and more economical all wheel drive mini truck? I don't know.
And damn it, who's going to build one in to a cool mini truck?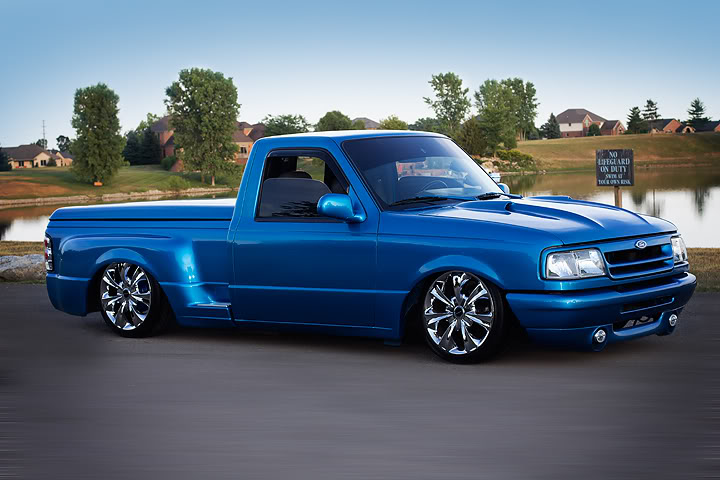 1994 Ford Ranger custom mini truck

2022 Ford Maverick
Back To The Details:
Ok, let's take a deeper look.
Maverick comes as a standard five-passenger, 4-door pickup, with a full-hybrid powertrain and a projected EPA-estimated rating of 40 mpg city fuel economy and 500 miles of range on a single tank of gas. Tested and tortured to meet Built Ford Tough standards, Maverick offers ingenious design and storage solutions while enabling customization inside and out. It all comes with a starting MSRP of $19,995.
Its 2.5-liter Atkinson-cycle four-cylinder hybrid powertrain delivers 191 horsepower when combined with the electric motor, and 155 lb.-ft. of torque mated to a continuously variable transmission driving the front wheels. It features an in-house-designed and manufactured electric traction motor, which is light and powerful. Along with its targeted EPA-estimated fuel economy of 40 mpg city* and 500 miles of range on a single tank of gas, it offers standard payload of 1,500 pounds and the volume to carry a standard ATV, plus it has the capability to tow 2,000 pounds – enough for a pair of personal watercraft or a good-sized pop-up camper trailer.
Those who want more capability can upgrade to a 2.0-liter EcoBoost gas engine delivering 250 horsepower and 277 lb.-ft. of torque with an 8-speed automatic transmission and standard front-wheel drive or available all-wheel drive. Equipped with the optional 4K Tow Package, conventional towing doubles to 4,000 pounds – enough for an average 21-foot boat.
Its standard 8-inch center touch screen features Apple CarPlay and Android Auto compatibility so customers can have the experience they're used to with their phones. Maverick has standard FordPass Connect with embedded modem and Wi-Fi for up to 10 devices, while standard FordPass makes it easy to find the truck, check fuel level, lock and unlock the doors, and start or turn off the vehicle – all from your phone.
Maverick really goes all-out when it comes to functionality with its unique FLEXBED, which is packed with standard features and opportunities to transform the cargo box into a complete makerspace. FLEXBED gives customers organization and storage solutions to secure cargo, while accommodating Ford accessories and creative DIY solutions.
People can create segmented storage, elevated floors, bike and kayak racks and more by sliding 2x4s or 2x6s into slots stamped into the side of the bed. There are two tie-downs, four D-rings and built-in threaded holes in the sides to bolt in new creations.
There are two available 110-volt 400-watt outlets – one in the bed and one in the cabin – that can power phones, laptops, small TVs, a cordless tool battery charger, or a small, corded tool like a jigsaw. There's also a storage cubby built into the side of the bed on XLT and two available on Lariat trucks, perfect for keeping a ball hitch or air pump.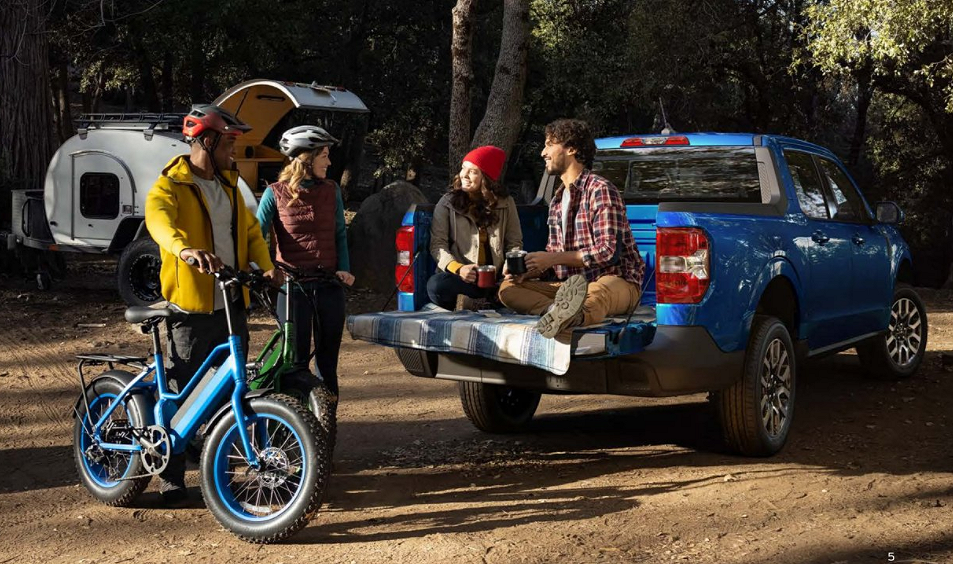 The 4.5-foot bed can carry 1,500 pounds of payload, the equivalent of roughly 37 bags of 40-pound mulch, and has a six-foot floor with the tailgate down. Maverick can carry long and wide stuff too, thanks to its multi-position tailgate. It opens normally, but also has a halfway-open position – just unclip the support cables and hook them onto the latch pins so the tailgate lip and wheelhouses can support up to 18 sheets of 4×8-foot three-quarter-inch plywood without needing to angle the panels. It's easy. The tailgate features tie-down clamps that double as bottle openers, and is rated to hold 500 pounds of friends hanging out and taking a seat.
Maverick is offered at three trim levels – XL, XLT and Lariat. An FX4 package available for all-wheel-drive XLT and Lariat trucks adds more off-road capability with rugged all-terrain tires and suspension tuning, additional underbody protection, and off-road-focused drive modes like Mud/Rut and Sand, as well as the addition of Hill Descent Control.
Available for the first model year only is the Maverick First Edition package. It is built off the Lariat trim level and includes unique graphics on the hood and lower doors, a high-gloss black-painted roof, soft tonneau cover, body-color door handles, high-gloss black skull caps, and gloss black-painted and machined 18-inch wheels for hybrid or unique 17-inch aluminum wheels for the gas model. It comes in Carbonized Gray, Area 51 and Rapid Red, unique to First Edition.
Featured Packages:
First Edition (59D)
17″ First Edition-specific aluminum wheels with all-terrain tires (2.0L gas)
18″ black-painted aluminum wheels with all-season tires (2.5L Hybrid)
Black-painted roof and mirror caps
"First Edition" box-side decals
Power tilt/slide moonroof
Tonneau cover — soft, folding
Requires Lariat Luxury Package
FX4 Off-Road Package (17S)
6.5″ productivity screen with off-road display in instrument cluster
17″ FX4-specific aluminum wheels with all-terrain tires
Exposed front tow hooks (2)
"FX4 Off-Road" box-side decal
Higher capacity radiator and upgraded cooling fan
Hill Descent Control
Hitch receiver with 4-pin connector
Skid plates
Requires AWD
The 2022 Ford Maverick goes on sale this fall. The build and price website is live at Ford.com and reservations or orders can be placed today.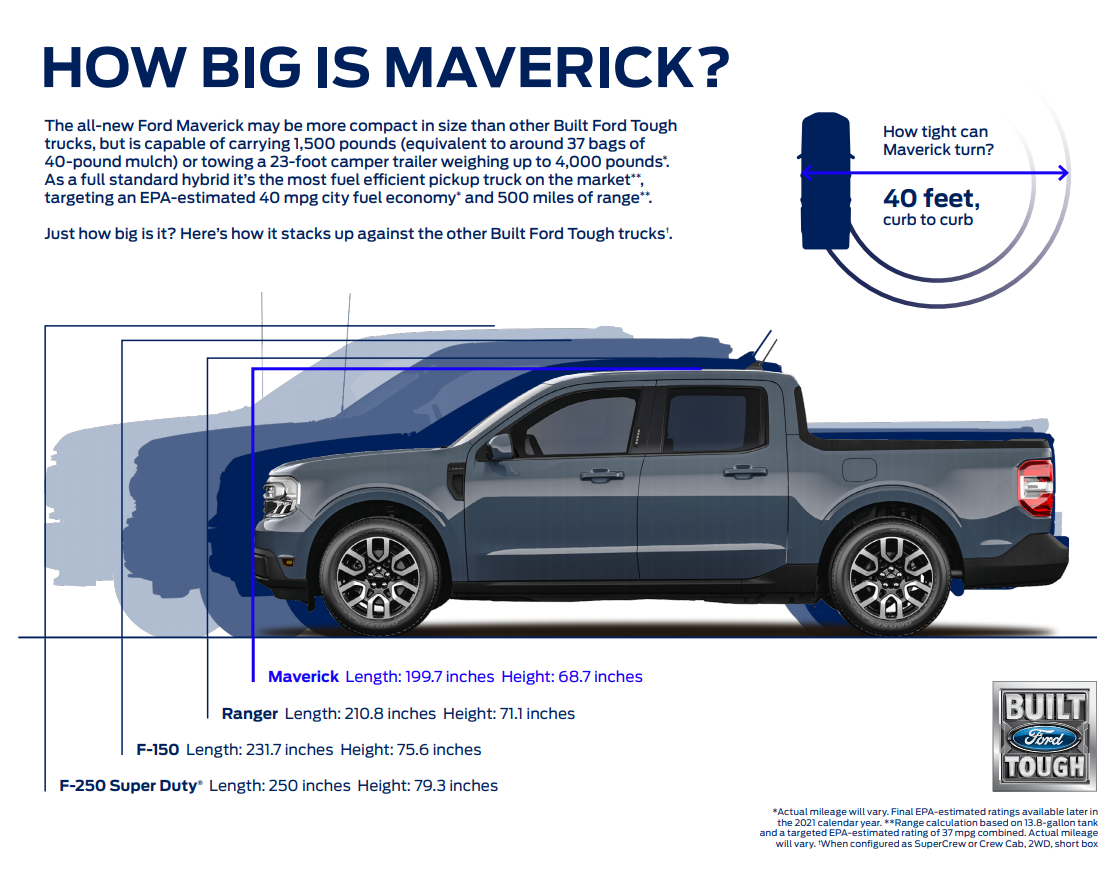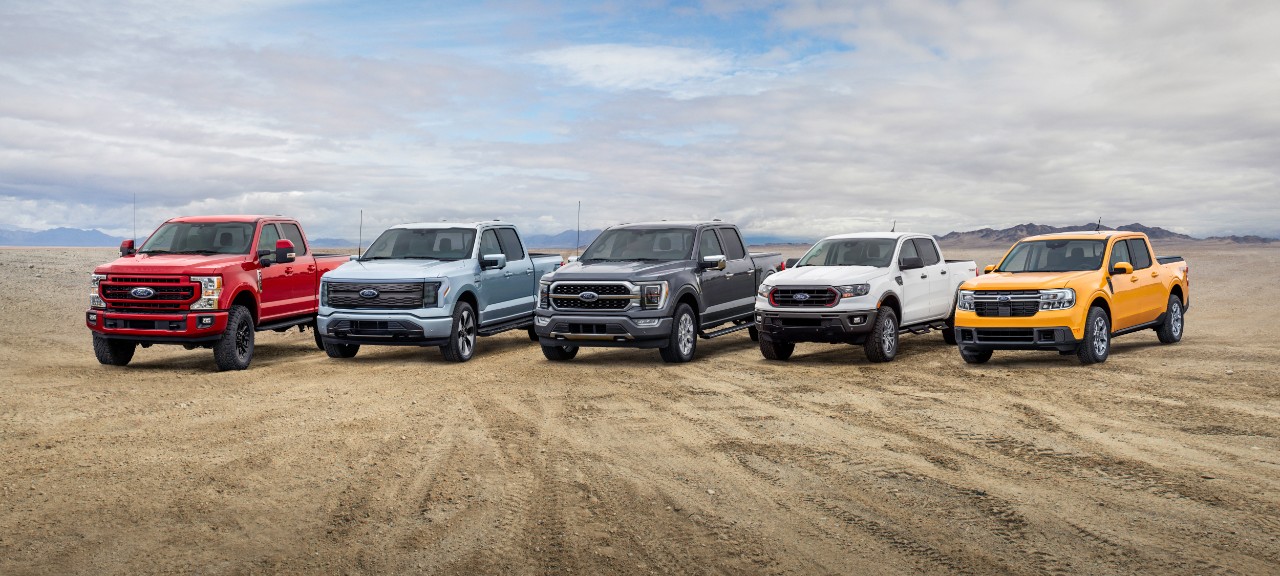 Documents:
2022 Ford Maverick Technical Specifications
2022 Ford Maverick Featured Technologies
2022 Ford Maverick Trim Comparisons
2022 Ford Maverick Size Graphic
2022 Ford Maverick FlexBed Graphic
Discussion:
Join in on the Ford Maverick discussions at the Maverick Truckin Forum.
Video:
Photo Gallery:
Click the photos to enlarge.