92 Explorer, stripped... it's sitting on the frame rails. No motor, no trans, no t/case, no axles.
I'm thinking of a "budget" junkyard build to run 35's to 37's. I want low-ish COG so a lot of cutting will be in order. No it won't be pretty, that's what my Mall Crawler B2 is for. It will be a beater and it will attempt to conquer all of Superlift, Hawk Pride, and SMORR and the other parks in TN.
I'm looking for input from those that have built explorer's and what you are happy with and what you'd change about it or stuff you would have never done. Plans are to NOT chop the top...for now. That might change later.
My thoughts/questions;
4.0 or 302? It has no motor, no wiring, or anything...seems like it's asking for a 302 right? But how much more will a 302 swap cost me? I have a 302 Boss block that needs parts to be completed... I have a 4.0 block also.
Axles?
Full width fo sho!
Rear-- as much as I'd like to just 14 bolt it... seems like that will cause an dragging effect on 35's. If I do a 14 bolt I'd have to shave it and do 37's. d60, well I really don't know much about rear d60's... Fullwidth 9"? I need to look and see what these will handle, no one in my local club uses a 9".
Front-- well, Idk.... IF Charlie is selling his full width 44 by then, He'll make me a killer deal on a 44 that's geared, locked, trussed, with high steer.... otherwise a junkyard 60 or something will be in order.
Gearing will be lowest possible since it's a crawler.
transmission and t/case?
this will depend on the motor. Ideally I'd do a doubler, but thats WAY down the line! lol. Money only goes so far.
This is just a public planning session for now... Input is needed.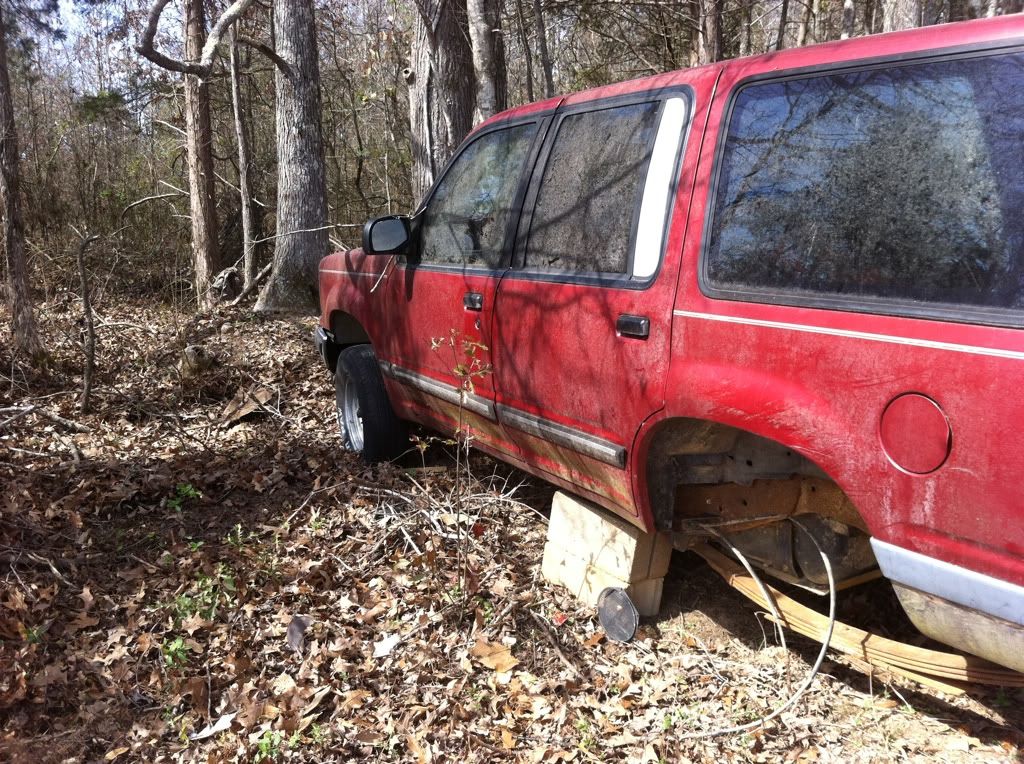 it's ugly already! and I HATE that red interior...but hey, it's a beater.
this pic was taken before I stole the d35 out of it for the B2.