New member
V8 Engine Swap
Joined

Nov 7, 2009
Messages

1,802
Reaction score

11
Points

0
Location
Vehicle Year

1988/1989
Make / Model

Ford
Engine Size

302/2.9
Transmission

Automatic
Well it's official, I now have a V8 Ranger.
I lost my build tread, and I'm just too lazy to find it right now, but this truck started life with a leaky 2.3 4 banger that had to fall out of a tree to get going, and it had a 5 speed.
HERE IS MY OLD TREAD from when I first started this mess.
http://www.therangerstation.com/forums/showthread.php?t=95330
When I first decided to rebuild it 3 years ago, I though I would just do a 4.0 swap, and auto trans, but after I traded some stuff for a 93 Explorer, and stripped it out, I decided, I wanted a little bit more of a cool factor, so after going through a bout of depression, and a few hospital stays, I traded for a 95 T-bird, it had the 4.6, but after some thinking, and a few suggestion from some members here, I ended up trading the t-bird, for a 75 Mustang II.
That is why I decided to call this a Ranger II.
so this morning after getting the gumption to get out and face the heat, I got the engine installed, bad thing is now I have to save up for some 1/4 plate to make a trans mount.
on the good side, my 88 Ranger drive shaft works, BUT since I have the 8.8 rear end out of the 93 Explorer, I have to change out the drive shaft flange, I hope I get to use the same U joint, it only had about 100 miles on it when the engine let go.
will here are some pictures from this morning.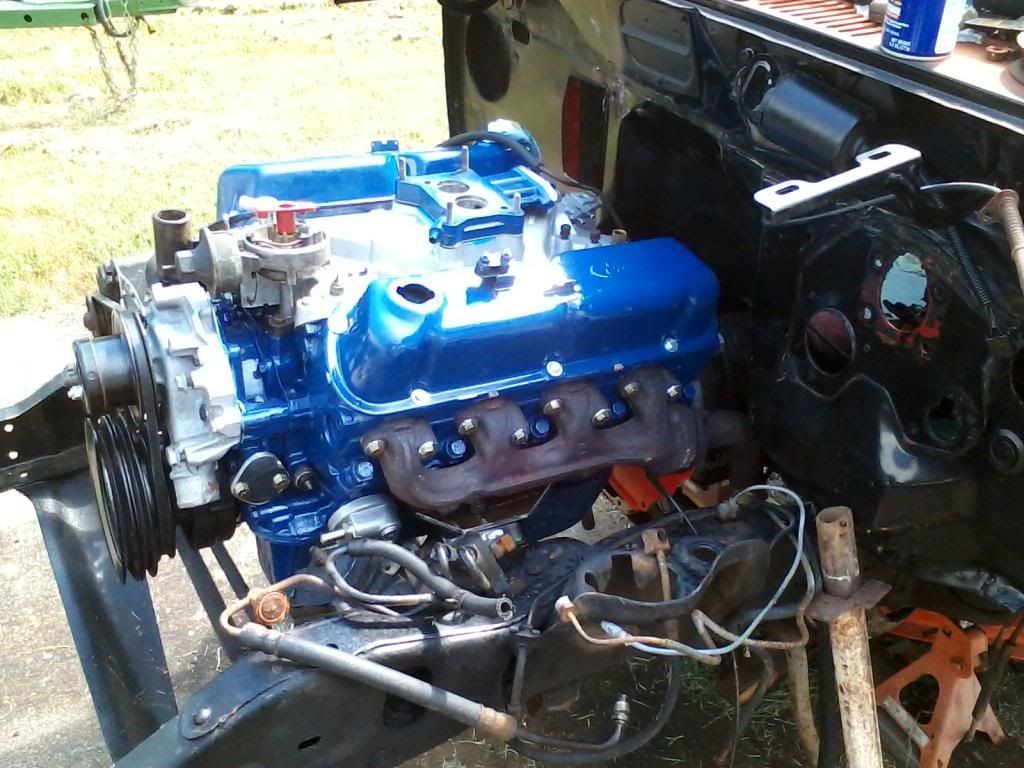 well this is all for now, as you can see the trans mount is way off, so I have to get some plate metal, and make it work, that is the 88 trans cross member, I also have the 93 Explorer cross member, I'm thinking of trying to use it, it would be a cleaner look.
also if you notice the pipe up against the fire wall, it's OK, I'm going to take it off, and have a shorter pipe with a tighter bend made, and I'm also thinking of having my manifolds ceramic coated.
Robert
sent with a baseball, and rooted football.
Last edited: