Hey all, here goes my first baby build thread. Cleo the Ranger will have to wait until I'm in better health. Economically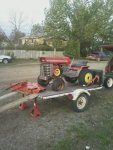 I picked up this MF garden tractor in 2013, just after going back to college.
I noticed a garden tractor junkyard, after chatting with the guy about which was my best bet, I ended up with this beauty.
He had a mower deck and snow blower, I grabbed both. Think i got a couple wheel weights too.
This is a pre-PTO GT. It has a solid ass rear differential, which is driven by a mad contraption of torque magnifying pullies. They are supposed to put out 500 lbs. of torque at the wheel.
It has a draw bar setup instead of PTO. Hard to find draw bar implements, but they will do the same job without all the maintenance pto requires.
The tractor was originally 10 hp, but had been re-motored with an old B&S 12.
I bunged around with it awhile, but couldn't get the ignition system to work.
Got busy and poor, and I've just been waiting for a suitable motor to fall in my lap. Like usual there are a plethora available when I don't have $$ and none when I do.
Dad recently decided his 5 hp mud motor wasn't cutting it and ordered a new 10 hp. The 10 hp ended up not working for his application. Traded him a captain bed/mattress and now I have a new shiny(ok it's matte) commercial small engine!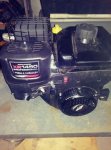 So.... before the snow flies I intend to get this old gal running! I've got a 1/2 acre corner lot in town, which is about impossible to keep up with shoveling sidewalks wise. Plus a crazy coot of a neighbor who plows IF he sees snow flakes. Poor sidewalks were poured in 1910 and looked pretty good until he started skimming them with a plow every few hours. Plus the damn nutter plowed me in more than out this winter....
So, I must have my snowblower this winter!!!
Honestly, it won't be too much of a build as there isn't much to do other than re-power it.
It appears I'll have to remove the original under-hood gas tank.
Eventually I'll need to source belts (this might be the biggest headache, there are 4+ I believe and they are massive) and make sure pullies are in working order.
I've got Massey Ferguson paint in Rattle Can's to make her look new. Will have to figure out a new lighting system. Probably chase some tires.
What a weird red theme in this photo. My darling wife who allowed me to buy the GT
And that damned red turd of an explorer!