This 1989 Ford Ranger is owned by Chris Maurer of Albuquerque, New Mexico.
It features a front suspension from a Toyota, and uses air bags with custom mounts. The factory frame rails were replaced with 2×4-inch tubing, and allows the cab to sit 6-inches closer to the ground. The rear suspension is a custom 4-link with Firestone air bags.
The fuel cell and air tanks are tucked under the bed out of sight. Chris shaved the emblems, mirrors, gas door, handles, and the inside of the bed smooth. He also molded the license plate into the tailgate. The cab was treated to a Toyota Corolla dash, custom center console, and Hyundai bucket seats.
The truck is powered by a 350ci V-8 Chevy motor, backed by a TH350 transmission, and rides on 20-inch Centerline wheels.
For specific details, check the list below the following photos: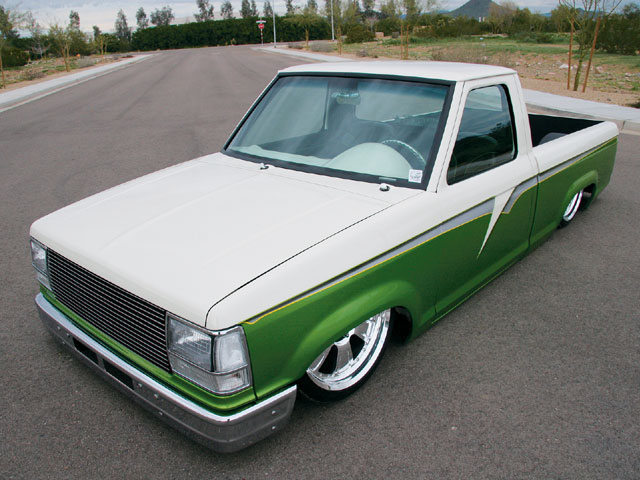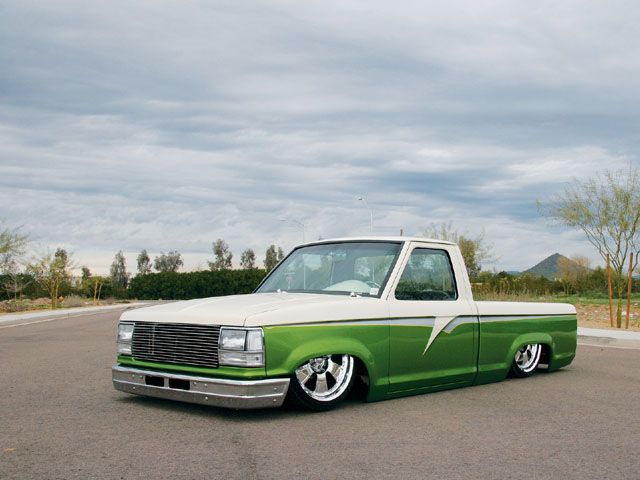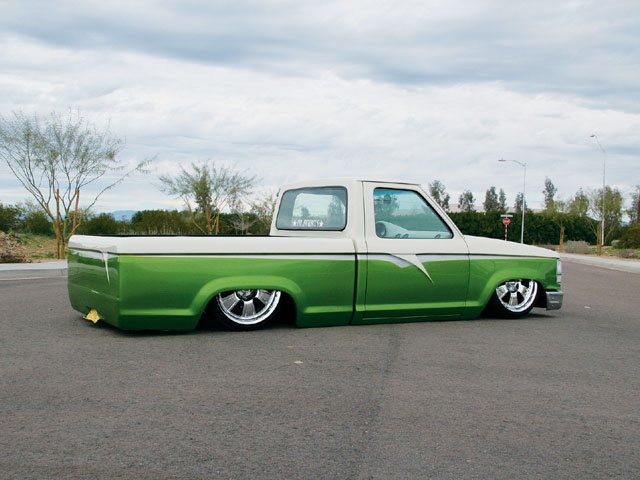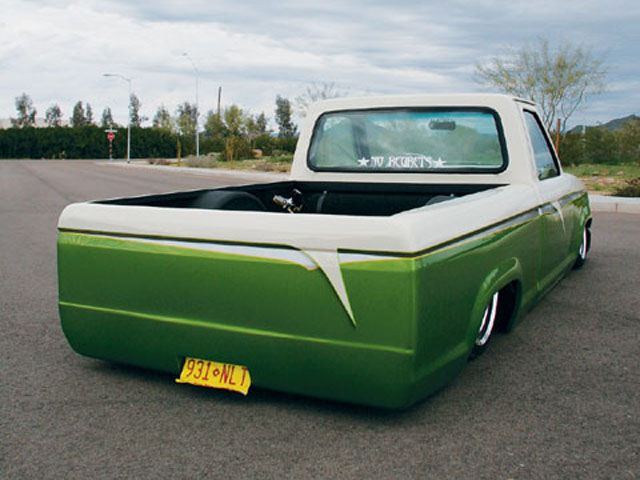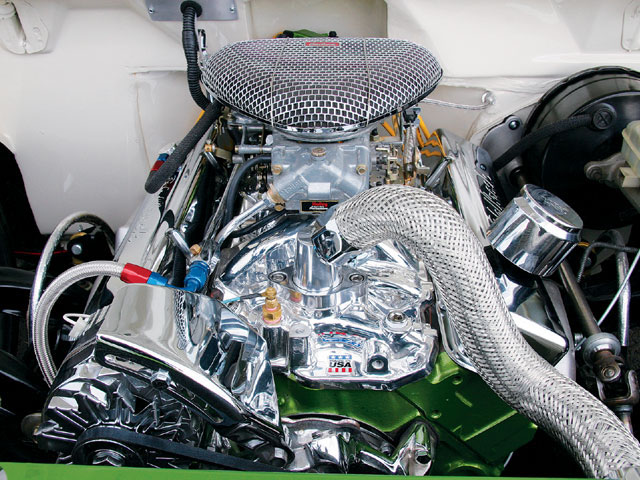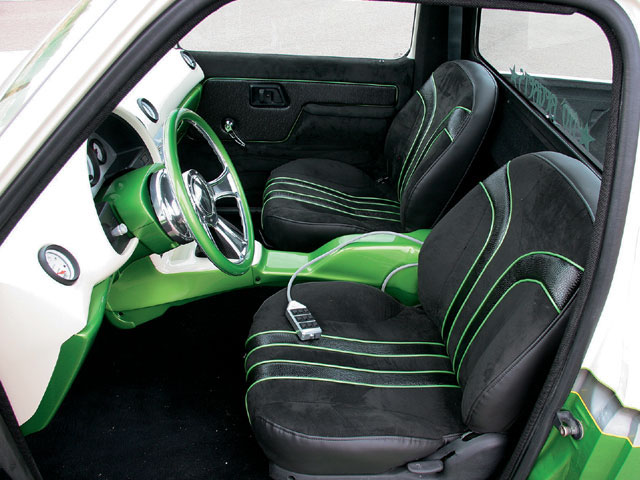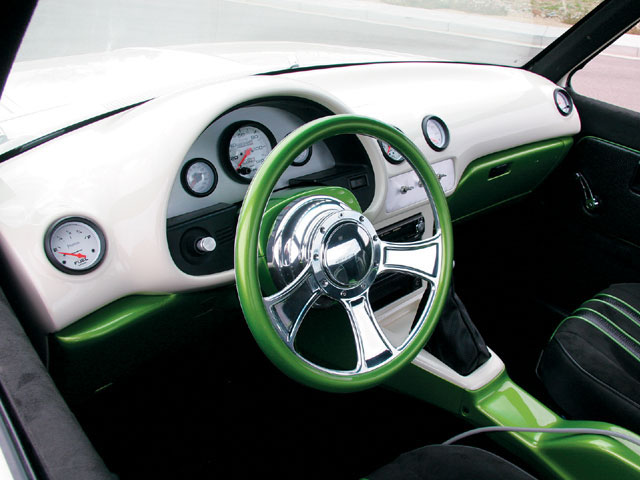 Specifications:
Tires & Wheels:
Wheels: 20×9-inch Centerline Sniper (Backspace: 5 inches)
Tires: 255/35R20 Nitto 555
Engine/Performance:
Engine: '85 Chevy 350ci small-block engine
Transmission: TH350
Intake: Edelbrock
Header/exhaust: Stock angle-milled to fit around Toyota front clip
Ignition: Mallory
Driveshaft: Custom-made
Suspension / Frame Mods:
Suspension (Front/Rear): Toyota front suspension and parallel four-link with Panhard bar
Airbag type and size: (Front): Firestone 2500 (Rear): Firestone 2600
Shocks: Heim joint race car shocks
Valves: Eight 1/2-inch GC Extreme
Airline: 1/2-inch DOT
Air accessories: Compressed nitrogen cylinder, AVS nine-switch box
Frame mods: 3/4 frame
Frame material: 2x4x1/4-inch tubing
Gas tank: Summit fuel cell
Axle & Brakes:
Rearend type: Lincoln Towncar, narrowed 12-inches overall
Brakes: Toyota disc in front and Lincoln Towncar disc out back
Body Modifications & Paint:
Shaved: Door handles, third brake light, rear cab seams, gas door, stake pockets, tailgate handle, tailgate, and taillights
Body-dropped: Stock-floor
Back end: Sir Michael's roll pan
Taillights: 4-foot LED
Exterior bolt-ons: Trendz billet grille
Paint: Glasurit Ford White, Jolley Ranger Green Pearl, and BMW Silver Strip.
Inner fenders: Trailer tubs
Interior:
Seats: Hyundai bucket seats
Material: Synthetic suede with green piping
Dash: '92 Toyota Tercel shaved, smoothed and painted
Door panels: Stock with black inserts, green piping, and embossed graphics
Center console: '92 Toyota Tercel smoothed and painted
Flooring: Custom-formed black carpet
Headliner: Black tweed
Gauges: Auto Meter
Head unit: Pioneer CD
Mids and highs: One set Pioneer 5-inch coaxiles