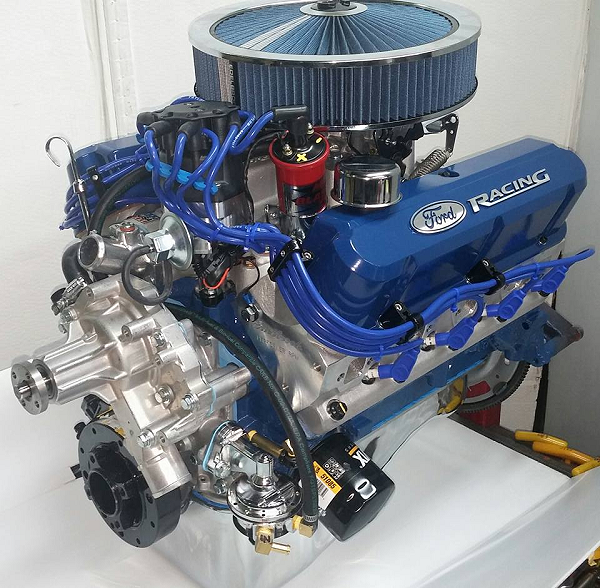 Introduced In 1968
Although Ford never offered the 302 / 5.0L in the Ford Ranger, plenty of them found their way in to them. This page is here to help you better understand this engine, and serve as a guide to picking the 302 / 5.0 that's right for you.
The Ford 302 V8 came about in 1968, after Ford stroked the 289 V8 3-inches giving it a total displacement of 4,942 cc (4.9 L; 301.6 cu in). The connecting rods were shortened to allow the use of the same pistons as the 289. It replaced the 289 early in the 1968 model year.
The most common form of this engine used a two-barrel carburetor, initially with 9.5:1 compression. It had hydraulic lifters and valves of 1.773 in (45.0 mm) (intake) and 1.442 in (36.6 mm) (exhaust), and was rated (SAE gross) at 220 hp (164 kW) at 4,600 rpm and 300 lb⋅ft (407 N⋅m) at 2,600 rpm. Optional was a four-barrel version rated at 230 hp (172 kW) at 4,800 rpm.
The 302 was manufactured in Windsor from 1968 to 1978. This is where the 302 Windsor name comes from. In 1970, the manufacturing of the engine was moved from Windsor, Ontario to Cleveland, Ohio. Along with the move came most changes that stayed with it for the remainder of its life. These were longer valve stems with rotating lash caps, bottle neck type rocker studs for a positive stop nut arrangement and a longer pushrod to correct valve train geometry.
Emission regulations caused a progressive reduction in compression ratio for the 302 two-barrel, to 9.0:1 in 1972, reducing SAE gross horsepower to 210 hp (157 kW). In that year, U.S. automakers began to quote horsepower in SAE net ratings; the 302 two-barrel carried a net rating of 140 hp (104 kW). By 1975, its power dropped as low as 122 hp (91 kW). Until fuel injection began to appear in the 1980s, net power ratings did not rise above 210 hp (157 kW).
From the 1978 car model year, the 302 became more commonly known as the 5.0 Liter, although its metric displacement is 4,942 cc (4.9 L; 301.6 cu in). Ford may have used the "5.0" moniker to distinguish the 302 from their 300 cu in (4.9 L) inline six, which was known as the 4.9.
In 1983 the carbureted engine was replaced with throttle-body fuel injection. For the 1986 model year, Ford went to sequential multi-port fuel injection which is identifiable by the large intake with the EFI 5.0 badge on top. Electronic fuel injection first appeared for the 302 on the Lincoln Continental in 1980.
The first incarnation of the 5 litre or 5.0 brought some more subtle changes to the now dated 302, namely some subtle cylinder head and valve-train changes. A new 'Cleveland Style' rocker arm system was incorporated, along with rotating valve spring retainers in the place of just the rotating lash caps. A water passage revision and a firing order (1-3-7-2-6-5-4-8) change for High Output variants saw out the 5.0 to the end of its days.
Firing Order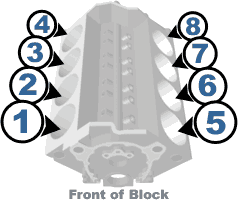 Torque Specifications
These specs may not be correct for your application.
Verify your engine specs with a service manual for your year and model.
Always torque bolts in three equal increments
Bore X Stroke: 3.0″ x 4.0″
Bolts or Parts
Lube or Sealer
Torque to:
Main Caps
Engine Oil
70 ft-lbs.
Outer Main Cap Bolts
Engine
40 ft-lbs.

Warning!!!

If you are using ARP bolts, you MUST use their specs.
Connecting Rod 260, 289, 302
Engine Oil
25 ft-lbs.
Cylinder Heads
Engine oil (blind hole)

Sealer (water jacket)

70 ft-lbs.
Rocker Arms
Engine Oil
20 ft-lbs.
Oil Pump
Engine Oil
25 ft-lbs.
Oil Pan
Engine Oil
15 ft-lbs.
Camshaft Thrust Plate
Thread Locker
10 ft-lbs.
Cam Bolt (upper gear)
Thread Locker
40 ft-lbs.
Front Cover
Engine Oil
20 ft-lbs.
Intake Manifold (Cast Iron Heads)
Non- Hardening Sealer
25 ft-lbs.
Valve Cover
Engine Oil
10 ft-lbs.
Flexplate (Automatic)

Flywheel (Clutch)

Thread Locker
85 ft-lbs.
Clutch Pressure Plate
Thread Locker
35 ft-lbs.
Centerbolt (Harmonic Damper)
Thread Locker
90 ft-lbs.
Bellhousing (Transmission to Block)
Engine Oil
25 ft-lbs.
Ford 302 Year By Year Specifications & Details
1968-1969 with 2 Barrel Carb
Max Brake Horsepower: 210 @ 4400 rpm
Max Torque: 295 @ 2400 rpm
Compression: 9.5
1970 with 2 Barrel Carb
Max Brake Horsepower: 220
Max Torque: 318 @ 3200 rpm
Compression: 10.5
1971 with 2 Barrel Carb
Max Brake Horsepower: 210 @ 4800 rpm
Max Torque: 295 @ 2400 rpm
Compression: 9.5
1972 with 2 Barrel Carb
Max Brake Horsepower: 140
1973 with 2 Barrel Carb
Max Brake Horsepower: 141
1975-1976 with 2 Barrel Carb
Max Brake Horsepower: 140
1977 with 2 Barrel Carb
Max Brake Horsepower: 134
1978 with 2 Barrel Carb
Max Brake Horsepower: 139
1979 with 2 Barrel Carb
Max Brake Horsepower: 140 @ 3600 rpm
Spark Plug Size Differences: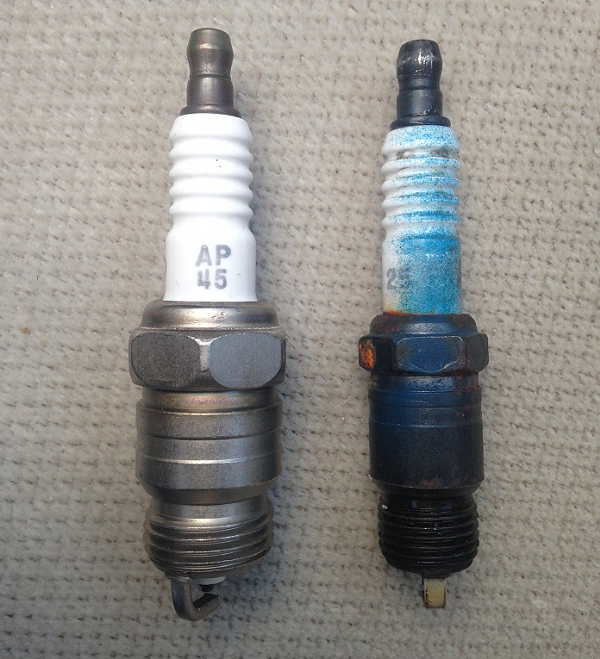 The 302 came with (2) different size spark plugs. The large plug (left) has a 13/16 hex 18mm thread, and the smaller plug (right) has a 5/8 hex and 14mm thread.
Ford switched to the smaller base spark plug in 1977 with the appearance of the D8OE heads. I use to have a 1970 302 in my Ford Ranger. When I've gone to the parts store to get new plugs, they've always tried to give me the smaller 14mm plugs.
The 302 Returns As The 5.0 High Output

The 302 returned in 1982 as the 5.0 High Output, manual-transmission equipped Mustangs and Mercury Capris were first equipped with two-barrel carburetors (1982), then a four-barrel Holley carburetor (1983–85). The block was fitted with revised, taller lifter bosses to accept roller lifters, and a steel camshaft in 1985, and electronic sequential fuel injection was introduced in 1986. While sequential injection was used on the Mustang beginning in 1986, many other vehicles, including trucks, continued to use a batch-fire fuel injection system. The speed-density based EFI systems used a large, two-piece, cast-aluminum manifold. It was fitted on all engines through 1988, after which year it was phased out for a mass-air type measuring system in most applications (non-California compliant Panther platform cars retained the speed-density system until the Lincoln Town Car received the Modular V8 for model year 1991, and the Crown Victoria and Grand Marquis for 1992).
The same manifold was used in MAF applications, with the addition of the MAF sensor in the air intake tube. The MAF system continued, with minor revisions, until the retirement of the engine in 2001.
Ford Factory 5.0 Performance Cylinder Heads
Ford offered a performance head that was a stock part on 1993–1995 Mustang Cobra models and pre- 1997-1/2 Ford Explorers and Mercury Mountaineers equipped with the 5.0 L engine called the GT-40 head (casting ID F3ZE-AA). In mid-1997, the Explorer and Mountaineer 5.0 L heads were revised and renamed GT40P. The GT40P heads, unlike the GT40 heads, had a very well-developed port shape/design which yielded about 200 cfm on the intake side and 140 cfm on the exhaust side without increasing the size of the ports at all from standard E7TE castings, and without increasing the exhaust valve size. They also had smaller 59-61 cc combustion chambers for added compression, and the combustion chamber shape was revised to put the spark plug tip near the center of the chamber for a more even burn. These GT40P heads are considered by many enthusiasts to be extremely efficient.
To verify whether you have GT40 or GT40P cylinder heads, examine the side of each cylinder head. GT40 cylinder heads have 3 vertical bars stamped on the side of the head as well as the word "GT". Ford GT40P cylinder heads have 4 vertical bars and some are stamped "GT40P".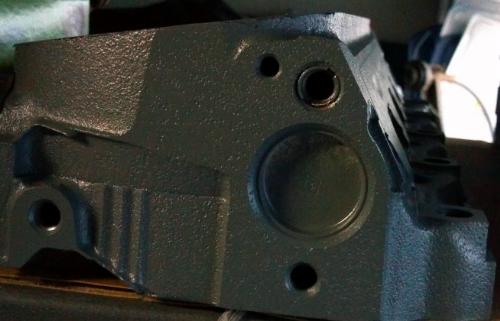 Ford GT40 cylinder head identification bars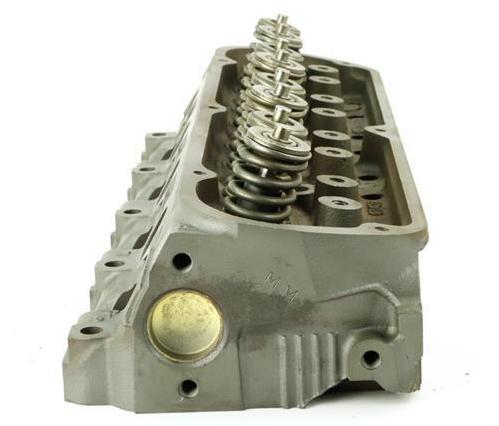 Ford GT40P cylinder head identification bars
The Cobra Intake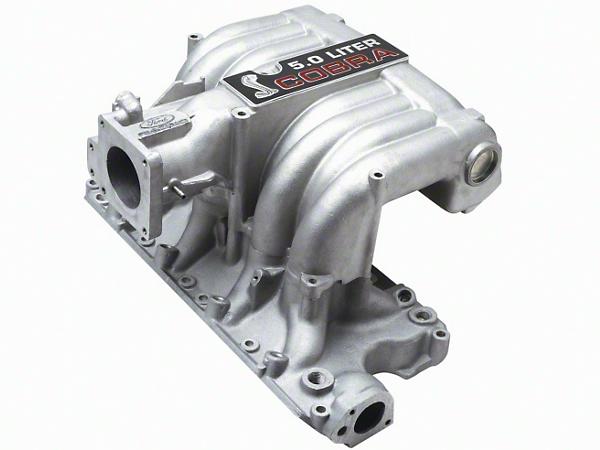 The rumor is it took too long to produce the tubular intake (as well as expensive) so Ford created a cast version, about the same (if not better) performance but really isn't on par with the look of the tubular GT40 intake. Featured on the 93 Cobra and Cobra R fox Mustangs.
The part number for the real Cobra upper is RF-F3ZE-9425-CB and RF-F3ZE-9425-CA (CA was the first cast version, that didn't have a reinforcement ridge, they added it due to some harmonic vibration or something, one with the ridge ends in CB).
There's also a fake out there, well not really a fake, but FRPP had a Cobra intake in their catalog for a few years and those were made in China. They'll normally have a "Ford Racing" logo near the throttle body.
One thing to know about the Cobra upper manifolds is, it DOES NOT have any coolant lines, this intake has the EGR piece molded into it, which does not have water jackets. (The 93 Cobra's did not use this either).
Ford Explorer GT40 Intakes
If you're looking for bang-for-buck, this is the easiest to find and cheapest of the series. It apparently flows the best of the 3 designs, albeit a very small amount.
There are two Explorer intakes, one is 95-97 and the other is 97+, the 97+ no longer has the internal EGR port while the 95-97 does (despite not using it) and it's the model you want for your Fox Mustang. You'll have to drill through the boss at the back of the intake so that you can run the regular EGR setup. AND you'll have to drill and tap the boss for the ACT sensor (3/8″ NPT) in the stock location. The 97+ ones, you won't be able to run the standard EGR (not good if you have to pass emissions) and there's no boss for the ACT sensor. Easier to find an early version. Check out the picture of a 97+ Explorer lower intake manifold provided. Probably more work than it's worth to get it running in your fox. You can tell right away which version the upper is, the later ones had two surfaces, in the middle where the EGR was is a channel instead of one complete flat surface for all 8 ports, you get 4 on each side.
Here's a list of GT40 lower intake manifolds
1993 Cobra
A direct swap, it has all the standard EGR and ACT provisions, no drilling or tapping. Very hard to find and desirable lower intake manifold. This would have an F3 (meaning 1993) in the part number.
1994-1995 Cobra
This would have RF- F4ZE, it's a desirable lower intake, more so than the Explorer (or FRPP) lower intake manifolds.
Ford Racing 
Sold as a kit from the performance catalog from 1998 to 2003, this is a modified Explorer lower intake to fit your fox. It would have the part number like RF-F87E-9K461-BA Which is a direct bolt-on for the Fox Mustang. There's also a number RF-F2ZE-9K461-AA which is also a valid casting number. (Although I'm not sure if this is FRPP or not)
1995-1997 Explorer
This intake will need some modifications, namely the ACT sensor and EGR passage. Part number would end in BB, something like RF-F87E-9K461-BB
Ford 5.0 Applications:
1982–1995 Ford Mustang
1996–2001 Ford Explorer
1982–1986 Mercury Capri
1997–2001 Mercury Mountaineer
1987–1992 Lincoln Mark VII (1987 LSC models only)
Check out the 1996-2001 Ford Explorer 5.0L Specifications page for more details on this engine and it's GT40 heads and intake.
Ford 5.0 High Output — Chronology of Changes
1982 — 157 HP @ 4200
Introduction of the 5.0 High Output engine
Lighter (120 lb.) thin wall 302 block, with old-style 2-piece rear main bearing seal
Reciprocating assembly changed to utilize 50 oz.-in. unbalance flywheel and 34 oz.-in. damper
Cast pistons, 8.4:1 C.R.
Heads with smaller "high velocity" ports and valves
"1973 Torino" profile flat tappet camshaft, duration 260° intake, 278° exhaust, lift of .416″ intake, .444″ exhaust
Double row roller timing chain
Aluminum intake manifold
369 cfm Motorcraft 2-barrel carburetor
Dual snorkel, high dome cover, low restriction element, air cleaner
Cast iron exhaust manifold with a 2″ outlet, 2.25″ Y-pipe
1983 — 175 HP @ 4200
Same camshaft, exhaust manifolds, and pistons as 1982
600 cfm Holley 4180C 4-barrel carburetor and aluminum intake manifold
New block and crankshaft to use a one piece main seal introduced mid-year
1984 – 175 HP @ 4200
Generally the same as 1983
Redesigned choke, eliminating heat tubes from the manifolds
1985 — 210 HP @ 4400
Hydraulic roller tappet camshaft introduced. 266′ duration, .444 valve lift
Revised block (122 lb.) with two retainer bosses for roller tappets.
New cylinder heads, revised to allow service removal of the roller tappets
Distributor drive gear material changed to be compatible with steel camshaft
Forged pistons with low tension rings and thicker ring lands. Compression remained at 8.4:1
Holley 4180C carburetor, with improved secondary metering
Water pump impeller diameter increased to 4.4″ for increased flow
Stainless steel tubular headers
1986 — 200 HP @ 4000
Stronger block (126 lb.) incorporating "squared bores" for better oil control.
Compression increased to 9.2:1 with flat-top pistons
Masked intake valve, high-swirl cylinder heads, casting # E6AE-AA. This head was also used on 1986/91 normal passenger car engines.
Roller cam same as 1985
First year for multi-port speed density fuel injection, 58 mm throttle body, 19 lbs/hr. injectors
Dropped cold start exhaust control valve, header outlet size changed to 2 1/4″
New water pump with exit scroll and more efficient impeller.
1987-1988 — 225 HP @ 4000
Same Camshaft, exhaust manifolds, and block as 1986
Truck casting wedge cylinder heads with revised combustion chamber, casting # E7TE-AA, used through '95
9.0:1 compression forged pistons with valve eyebrows
Speed Density EFI with same intake runners, larger crossover duct, and 60 mm throttle body
1989-1992 — 225 HP @ 4000
Same block, heads, intake and exhaust manifolds as 1987
Introduction of the 55 mm Mass Airflow fuel injection system. Since this system measures the actual air flowing into the engine, high performance camshafts may be used.
These engines offer the greatest performance potential of all the 5.0 H.O. series
1993 H.O. — 215 HP @ 4200
Mostly identical to 1989-1992 engines
New cast hypereutectic aluminum pistons, lighter weight and greater hot strength
Same performance, but advertised horsepower dropped due to new correction method
1993 Cobra — 235 HP
Same cast pistons as 5.0 H.O.
Cast iron GT-40 heads
Shorter duration, higher lift camshaft
1.72:1 ratio rocker arms
Cast aluminum GT-40 style intake
65 mm throttle body, 24 lbs-hr injectors, 70mm mass air meter
Special type exhaust manifolds
Specially programmed EEC-IV
1996 Ford Explorer — 210 HP
1997-2001 Ford Explorer — 215 HP
Ford 5.0L Torque Specifications
| | |
| --- | --- |
| 5.0L Torque Specs | |
| Belhousing to engine bolts | 28-38 ft/lbs |
| Camshaft sprocket bolt | 40-45 ft/lbs |
| Camshaft thrust plate to engine block bolts | 108-144 in/lbs |
| Crankshaft pulley to vibration damper bolts | 35-50 ft/lbs |
| Cylinder head bolts | |
| -1979-1992 | |
| –Step 1 | 55-65 ft/lbs |
| –Step 2 | 65-72 ft/lbs |
| -1993-up | |
| –Step 1 | 25-35 ft/lbs |
| –Step 2 | 45-55 ft/lbs |
| –Step 3 | 75-85 ft/lbs |
| Differential shaft lock bolt | 15-30 ft/lbs |
| Driveshaft U-joint to pinion flange bolts | 70-95 ft/lbs |
| Exhaust manifold bolts | 26-32 ft/lbs |
| Flywheel mounting bolts | 75-85 ft/lbs |
| Front engine mount nuts | 72-98 ft/lbs |
| Intake manifold to head bolts | |
| –Step 1 | 96 in/lbs |
| –Step 2 | 16ft/lbs |
| –Step 3 | 23-25 ft/lbs |
| Intake manifold (upper intake to lower) | 12-18 ft/lbs |
| Oil filter insert to engine block adapter bolt | 20-30 ft/lbs |
| Oil pan mounting bolts | |
| -1979 | |
| –Step 1 (Large bolts) | 11-13 ft/lbs |
| –Step 1 (Short bolts) | 7-9 ft/lbs |
| –Step 2 (Large Bolts) | 15-17 ft/lbs |
| –Step 2 (Short Bolts) | 10-12 ft/lbs |
| -1980 to 1987 | 9-11 ft/lbs |
| -1988 to 1993 | 6-9 ft/lbs |
| -1994-up | 110-144 in/lbs |
| Oil pickup tube to main bearing cap nut | 22-32 ft/lbs |
| Oil pickup tube to oil pump bolts | |
| -1979 to 1987 | 10-15 ft/lbs |
| -1988-up | 12-18 ft/lbs |
| Oil pump mounting bolts | 22-32 ft/lbs |
| Pinion bearing preload | 8-14 in/lbs |
| Pressure plate to flywheel bolts | 12-24 ft/lbs |
| Rocker arm fulcrm bolts | 18-25 ft/lbs |
| Spark plugs | 7-14 ft/lbs |
| Timing chain cover bolts | 12-18 ft/lbs |
| Vibration damper to crackshaft bolt | 110-130 ft/lbs |
| Wheel lug nuts | 85-105 ft/lbs |
Don't Confuse The 255 V8 With The 302 / 5.0 V8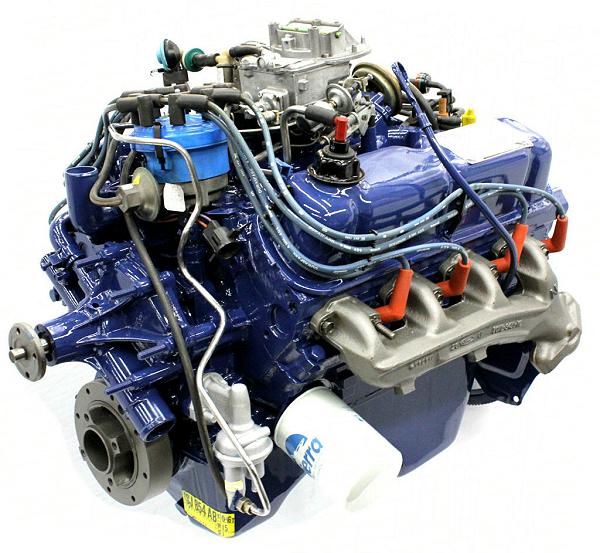 From 1980-1982 Ford used a 255 cid V8 instead of the 302. The 255 is essentially a 302 cid with the cylinder bores reduced to 3.68 in (93.5 mm). The 302 /5.0 L was to be phased out and the 255/4.2 L was to be an interim engine which would remain until the new V6 was in production – the 255/4.2 L was a quick fix. Rated power (SAE net) was 115-122 hp (86-91 kW), depending on year and application. Cylinder heads, which were specific to this engine, used smaller combustion chambers and valves, and the intake ports were oval whereas the others were all rectangular. The only externally visible clue was the use of an open-runner intake manifold with a stamped-steel lifter valley cover attached to its underside, reminiscent of previous-generation V8 engines.
It was optional in Fox-chassis cars including the Mustang and corporate cousin Mercury Capri, Thunderbird, Fairmont, and standard equipment in the Ford LTD. Some variants (i.e. Mercury Grand Marquis) were fitted with a variable-venturi carburetor which were capable of highway fuel economy in excess of 27 MPG. Due to its dismal overall performance the 255 was dropped at the end the 1982 car model-year with 253,000 units manufactured – 302/5.0 L V8 engine production continued and the plans to phase it out were dropped.
Applications:
1980–1982 Ford Fairmont
1980-1982 Ford F-Series
1980–1982 Ford Granada
1980–1982 Ford LTD
1980–1982 Ford Mustang
1980–1982 Ford Thunderbird
1980–1982 Mercury Capri
1980–1982 Mercury Cougar
1980–1982 Mercury Marquis
1980–1982 Mercury Zephyr
Ford 255 Identification
As mentioned above, the only externally visible cue was the use of an open runner intake manifold. See the photos below: