One of the most unique campers you can get for your Ford Ranger is referred to as a FlipPac. The FlipPac is similar to the WilderNest that we discuss HERE, but it flips forward over the cab instead of out to the side. It's also important to note that the Wildernest is no longer in production.
The FlipPac is actually available from (2) different companies:
The FlipPac:
Is easy to open and close
Allows you to stand up inside
Has more space than a roof top tent (RTT)
Has a large comfortable mattress.
Adventure Trailers describes their AT FlipPac as:
Setup of the AT FlipPac is a breeze, taking only a few minutes to be camp ready. Once deployed you will be able to stand fully upright in the bed of your vehicle.

The interior is truly spacious, allowing the bed of the truck to be converted to a living area. We offer full customization of the FlipPac with drawer units, 12 volt systems, LED lights, kitchens, fridges, water tanks, and sinks.

The sleeping area extends out over the hood of the vehicle offering a comfortable mattress and three large windows for good air flow. A flysheet is an options for the tent.

There is also a collapsible canvas bunk bed (180 lbs max.) that can be used for an additional sleeping place or as a gear sling.

The 6 x 6 foot square awning can be mounted on the side of the FlipPac. The awning is completely self contained within an aluminum clamshell tube, with the feet of the legs attach to the side of the vehicle. The awning provides wonderful shade in the desert and shelter from rain showers.

Weighting in at 290 to 350lbs, depending on model, the camper is relatively light allowing a greater gear capacity.

AT's model of the FlipPac stands apart with thicker fiberglass to ensure durability for off-road use and use of heavy duty hood mounting screws. Like any traditional truck shell, there is a split window for accessing the trucks cabin. Side windows are optional.

AT uses triple automotive bulb seal to keep moisture and dust out from between the bed and the shell.

Order to delivery timeframe 14 – 16 weeks +/-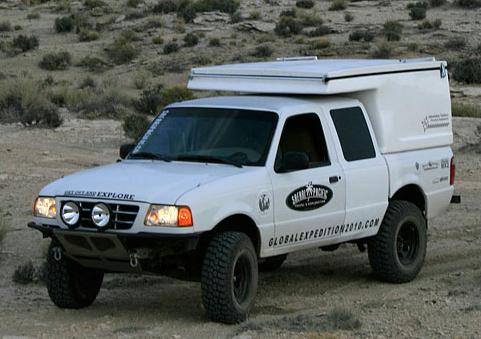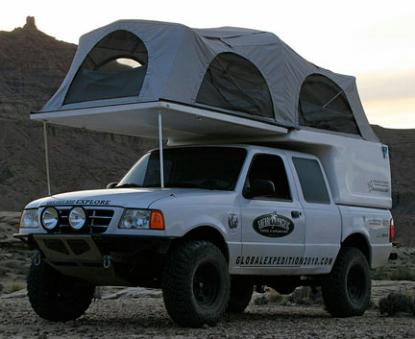 Above is Travis' (Forum Member schanusa) AT FlipPac camper mounted on a custom built Ford Ranger.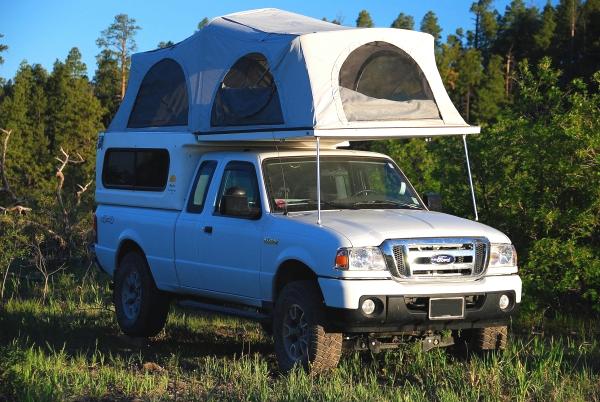 Unlimited Products Flip-Pac Camper shown above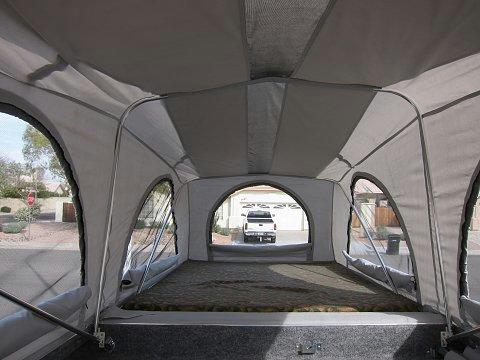 Some interior views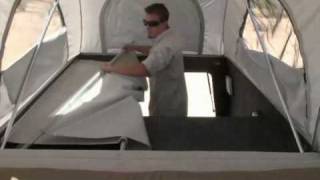 This video shows the setup of the AT FlipPac
AT FlipPac Specifications
Full Size Trucks
Mini Trucks

Maximum Length

101-Inches

78-Inches

Maximum Width

74-Inches

64-Inches

Height (rail to roof top)

34-Inches

32.5-Inches

Gross Weight

325-Poiunds

290-Pounds

Interior Head Room

7-Foot 6-Inches (center) 6-Foot 6-Inches (rear)

7-Foot 1-Inch (center) 6-Foot 1-Inch (rear)

Maximum Width of Door Opening

58-Inches

50-Inches

Maximum Height of Door Openings

44-Inches

37.5-Inches

Weight Capacity

1000-Pounds Double Bed / 180-Pounds Hammock

1000-Pounds Double Bed / 180-Pounds Hammock

Measurements are to be used as a guideline only.
For discussions on camping with your Ford Ranger, check out our Truck Camping & Camping Gear Forum.