Joined

Mar 1, 2021
Messages

22
Reaction score

14
Points

3
Location
Vehicle Year

1989
Make / Model

Ford Ranger
2.9s are slow. In a truck application. If I owned an mx-5, it would get a 2.9. Very big British sports car vibes. But I don't, so here's my little solution to the 2.9 slowness.
Ebay turbo, generic t3/t4 sizing.
Ebay intercooler, way too big, but it fits my needs (and fits between the frame rails quite nicely)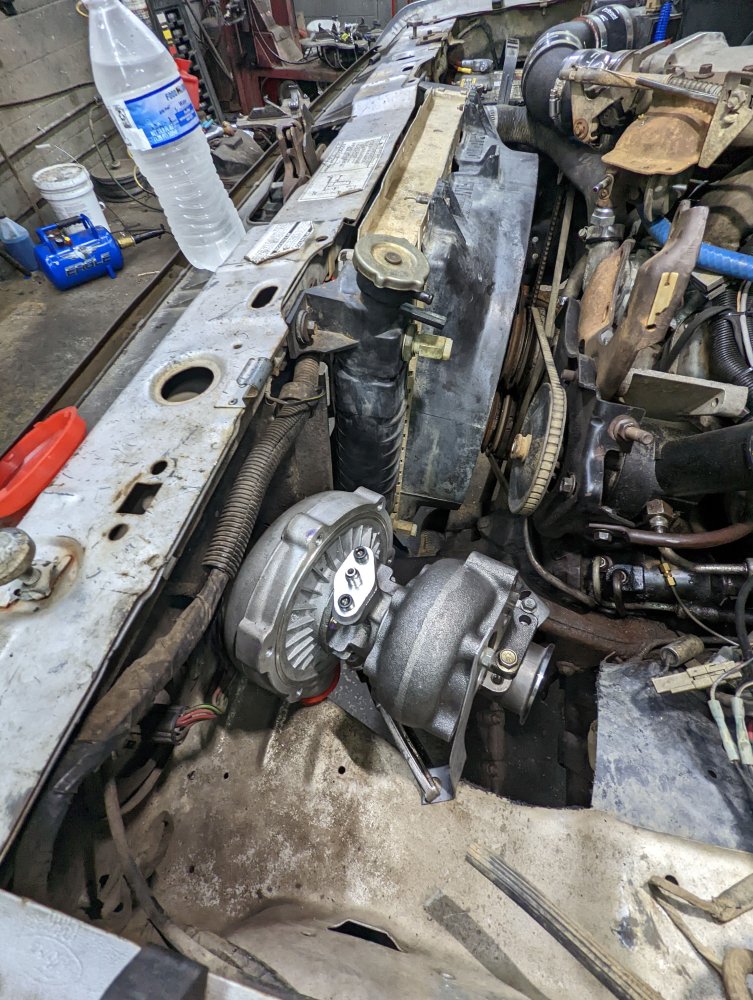 Hot side crosses under the truck from the factory y-pipe, under the frame rail and will tuck along what's left of my fender liner to the turbo. outlet will follow a similar path. Surprisingly, the piping will clear the suspension and wheel at full compression, from lock to lock, with reasonably large 285's.
Fuel system:
Ford taurus SHO 3.2 injectors, should support roughly 240bhp at the crank. Well within what I expect.
Walboro 255lph pump from a local swap meet.
upstream pump bypass/delete, stock replacement filter
Ignition system:
Stock coil, cap, rotor, wires. NGK heat range 7 Iridium plugs gapped at .020
Vestigial TFI, used only for the PIP signal, direct coil control from an MX-6/Probe turbo coil igniter
Microsquirt (module only) wired to an EEC-IV Connector in the original ford PCM box. a DIYPNP if you will.
Other:
160 thermostat
ebay TIAL knockoff wastegate with a 10lb spring
AutoMeter analog wideband
All that's left is to move the battery to where the airbox originally sits to give me room to run the passenger side intercooler pipe, and go out and tune it. As long as most teething problems have been avoided with my preemptive work.
Bonus pic of my slow car being pulled by my other slow car.
Last edited: