gradan07 1991 build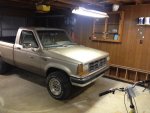 I would like to start out by thanking everyone on the forum whose build thread provided most of the information i needed to build this project over the last 5 years. I have been a long time ranger station reader but never spent the time to document my build. I started this build in 2013 and it is now mostly finished. I plan to upload my build in the order that I completed it over several posts. I hope it helps or inspires someone else to work on their project and stick with it. I will give the disclaimer this is for entertainment only and if anyone wants to copy something they see here they do so at their own risk.
The beginning:
A retired Marine that i work with was going to junk his 1991 Ford ranger 4x4 long bed due to intermittent no start when damp. Over a few lunch time discussions we decided that the truck would be a good starting platform for a project build that I have been thinking about. Since the truck had given him so many problems with not starting he refused to charge me for the truck so he decided to gift me the truck as long as i would do my best to fix it up.
I drove the truck home and started to layout the plan for my build ahead.
Specifications when i started:
1991
long bed
regular cab
4x4
dana 35 front 4:10 gears open diff
ford 7.5 rear 4:10 gears open diff
2.3 4cyl with dual spark 230k miles
5 spd manual M5od
1354 borg warner manual shift
The truck was bone stock other than a spray in bed liner, rusty bed, and a bunch of Ronald Reagan campaign stickers.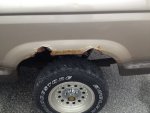 At this time in 2013 I had just gotten married and moved into a small house with detached two car garage. I knew the build would need to be on a tight budget so the plan was to slowly build the truck over the next few years as a hobby. The goal was repair the old truck suspension and upgrade the components as i went. I wanted to source as many stock vehicle parts as possible and not buy any kits or pre engineered solutions. I also wanted to be able to get most of the parts for repair while out overlanding/wheeling at local auto parts stores. I also wanted a rig that was safe, and didn't skimp on brakes, steering, or general build quality.
What was broken at the start:
I found lots of major problems when i got the truck home, to name a few.
Engine wire harness had multiple areas of exposed wires from old age and poor repairs (explains no start when wet)
Front drivers side coil spring top mount had bad rust.
Obvious rust on bed and drivers side cab corner.
rear leaf spring brackets rusted
body mount rubber shot
In general the truck was wore out
Given the extent of the damage to the coil spring mount I started considering a solid axle swap (SAS). I thought that this would allow me to lift the truck without buying or making all the TTB brackets. I was also a fan of a few of the ranger station truck of the month builds that had pulled it off before. So i started researching affordable options for solid axle donors
As a teaser this is the current specification list as of spring 2018
SAS dana 30 front 4:88
jeep wj knuckle and brake swap
front leaf spring, from 1995 explorer
8.8 31 spline rear 4:88 traclock
chevy 63 rear springs
285/75/16 BFG km2
chevy 1 ton steering
afco shocks
1988 ford thunderbird 2.3 turbo
ron fransis engine harness
AN -6 fuel system
tube chassis bed
Last edited: