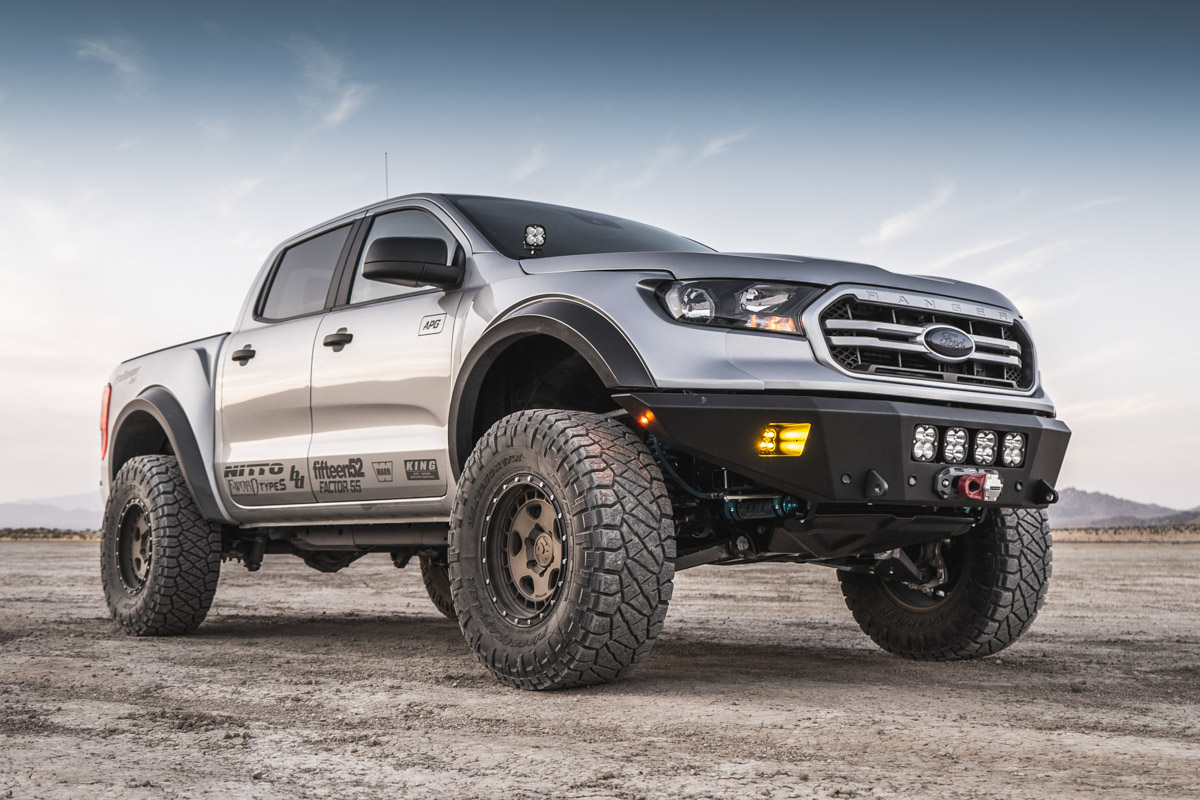 Automotive Performance Group (APG) has built a business around the 2019 and newer Ford Ranger. Where most companies try to appeal to a variety of different vehicles, APG has focused solely on the Ranger.
APG's biggest product is the 'ProRunner' package that they install on new Ford Rangers. Their goal was to give Ranger owners in the U.S. the styling and off-road prowess found on the Ranger Raptor offered in other countries. As a result, they've built some pretty impressive Rangers.
So what's involved in turning a Ford Ranger in to an APG ProRunner Ford Ranger?
The package includes a wide-body system, long-travel suspension, and the ability to cycle a 35-inch tire under it fully. APG spent months developing carbon fiber body panels for the Ranger that feature a fit and finish that matches or exceeds OEM quality.
The Ford Ranger you see here is known as "Project Quicksilver", and is owned by APG's marketing director.
The build began with a full teardown. The front fenders, complete bed assembly, front and rear bumpers, front and rear suspension, and tailgate are removed from the truck. Next, the bedside skins are removed by drilling out the spot welds that hold each side of the bed, leaving only the inner bed structure.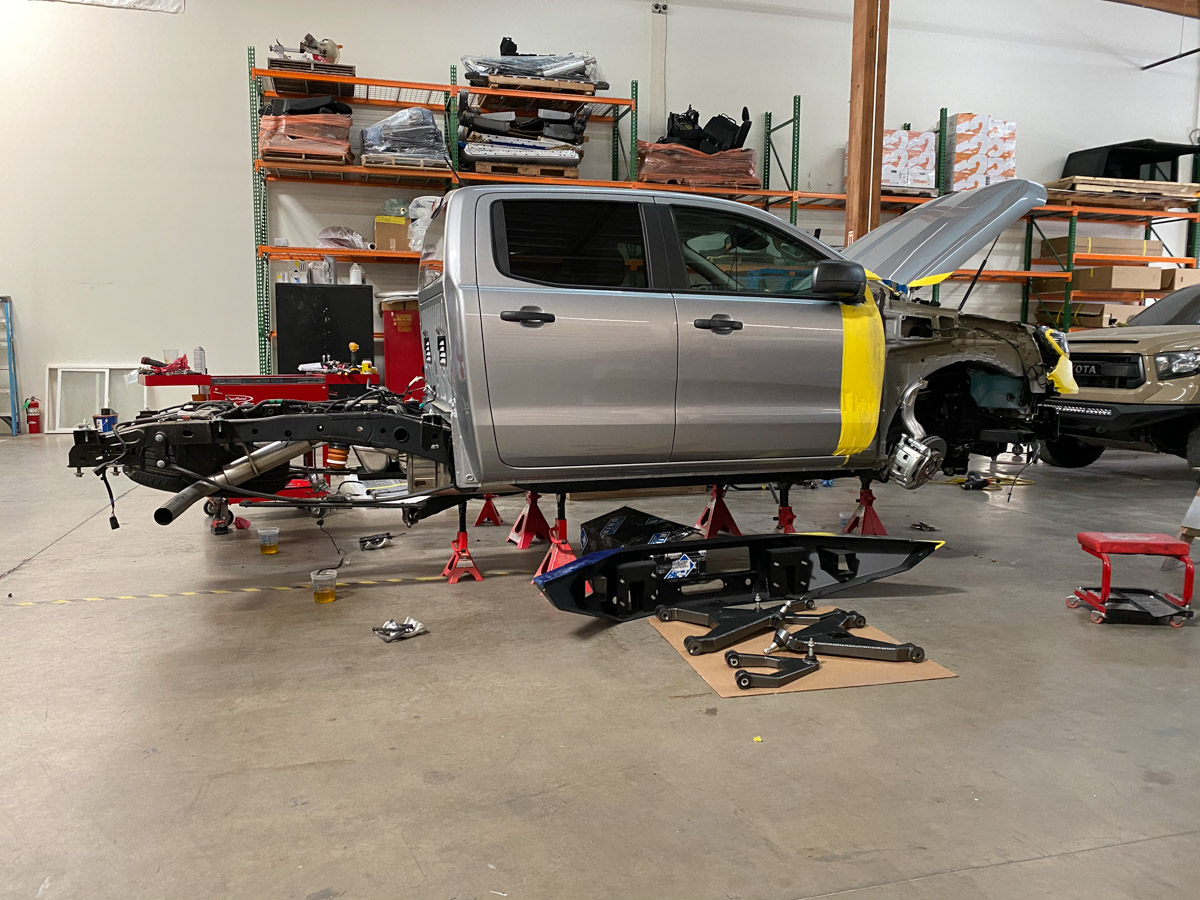 During this stage, the truck looks rather barren, but behind the scenes, there is a whole host of intelligent engineering to ensure the parts fit and work just as well or better than their factory counterparts.
The ProRunner suspension components consist of boxed upper and lower control arms, extended Chromoly axle shafts (if equipped with 4WD), and billet machined aluminum tie rods with FK spherical bearing rod-ends. The new control arms are 3-inches wider than stock, providing a 6-inch wider track width and retain the OEM Ford upper and lower ball joints and frame pivot bushings. Keeping some of the OEM parts was done to make them easily serviced, even by a Ford dealership, and to keep the cost of the kit down by reusing strong OEM components that provide a smooth, quiet ride on any terrain.
This Ranger is using a set of OEM replacement King 2.5 extended travel coilovers with remote reservoirs and compression adjusters. The rear suspension consists of OEM replacement King 2.5 shocks with remote reservoirs and compression adjusters. APG modifies the valving and spring rates to account for the larger tires and increased abuse in the dirt. The suspension achieves 13-inches of usable travel, while retaining full 4WD functionality, thanks to APG's extended Chromoly CV axle shafts, which replace the stock length CV axle shafts.
The stock rear leaf pack, which consists of a single leaf spring and overload spring, was also replaced by APG's progressive rate leaf spring kit developed in partnership with Deaver Spring in Santa Ana, California. The progressive leaf packs provide a much smoother rear suspension and increased payload in the bed with their optional HD leaf springs.
The 6-inch wider track width requires adequate coverage and clearance for up to 35-inch tires. APG spent months designing and developing a complete set of aerospace-grade carbon fiber body panels for the ProRunner conversion, consisting of two front fenders, two bedside panels, and a fuel door. The most critical elements to their body panel manufacturing are fit and finish, and the material's strength. Their fenders and bedsides are manufactured to the highest quality using a vacuum infusion process, allowing you to simply install them and paint to match without the weeks of bodywork needed to get most fiberglass panels to fit correctly. The front fenders are a bolt-on replacement, and the rear bedsides are installed by a panel-bolding process used by high-end collision repair shops when repairing the bed. APG's in-house paint and body division did a fantastic job of paint matching the body panels to an OEM finish.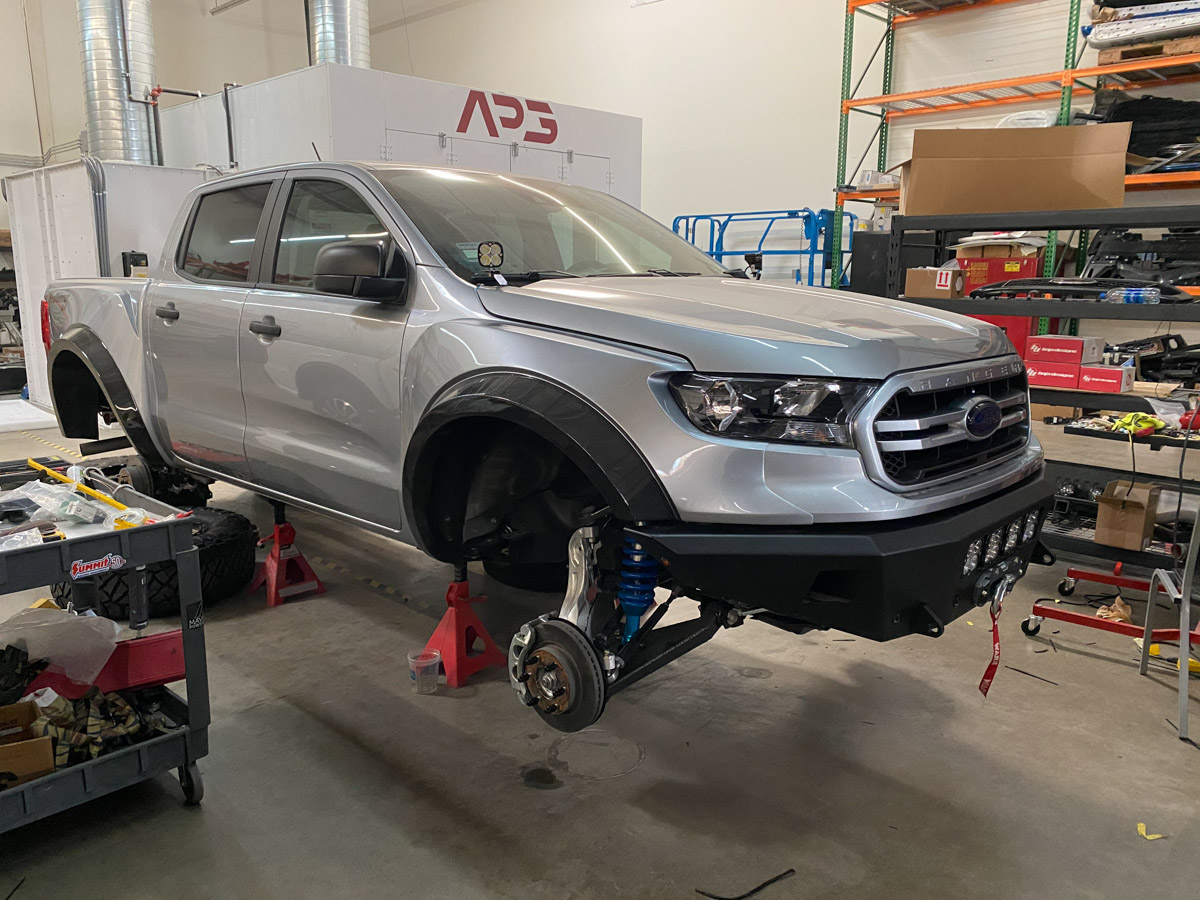 As each carbon fiber widebody fender and bedside is 5-inches wider than stock, the ProRunner conversion package also comes with a wider, lightweight, 3/16-inch aluminum bumper capable of carrying a winch and auxiliary lights. The front bumper matches the carbon fiber panels' width and even comes with recovery shackles installed onto the frame horns in the same manner as the OEM tow points. The bumper weighs 27-pounds, making it half as heavy as the stock front bumper, but able to carry a Warn M8000-S winch and Factor 55 Flatlink E for the occasional recovery.
As long-time off-road enthusiasts, APG understood the benefit of running the largest tire you can fit on a truck while keeping the center of gravity low. That's the core basis of why they opted for a wide-body and long-travel suspension. Being able to cycle a 35-inch tire from full droop to full bump is something that is simply not possible without these modifications. With that said, this Ranger received a set of 35×12.50R17 Nitto Tire Ridge Grapplers, wrapped around Fifteen52 Turbomac HD wheels in a bronze finish. APG has had a close relationship with Fifteen52 since APG's first ProRunner build. The Turbomac HDs in bronze set off the silver paint nicely, and the wheel design makes the tires look larger than they are.
While the ProRunner package is complete and can easily stand alone on any Ranger build as a very capable off-road vehicle, it's best paired with aftermarket components that complement it. This build partnered with Baja Designs and showcases their incredibly powerful lights on the truck's front and rear. The front bumper has two pairs of XL Pro lights in both spot and driving/combo pattern. A set of their SAE Pocket Fog Lights with amber lenses are operated by the OEM fog light switch. A set of Squadron Pro lights, complete with hood mounting brackets and a wiring harness, function as ditch lights. A GJ Motorsports third brake light mount houses three Baja Designs S2 Pro lights, two in amber and one in white. The white light acts as a cargo light for the bed and is operated in the same way as the stock cargo light, while the other two are wired to a single switch as dust lights.
Other aftermarket parts and accessories include a Switch-Pros SP-9100 accessory management system, cleverly installed using SDHQ mounts under the hood and a bracket to house the switch panel in the center console. A Decked USA drawer system was installed to properly store tools, recovery gear, and camping equipment in the bed. Having just a 5-foot bed makes it difficult to properly keep stuff locked down while driving fast through the desert, and the Decked system does a great job at adding utility and security to an otherwise empty space. Their cargo tie-down system is used to hold a full-size spare tire on top as well.
A Pedal Commander completely alleviates the 2.3L Ecoboost's turbo lag by giving adjustability in throttle response. Exhaust exits the truck through a OFG Exhaust Suite from AWE Tuning.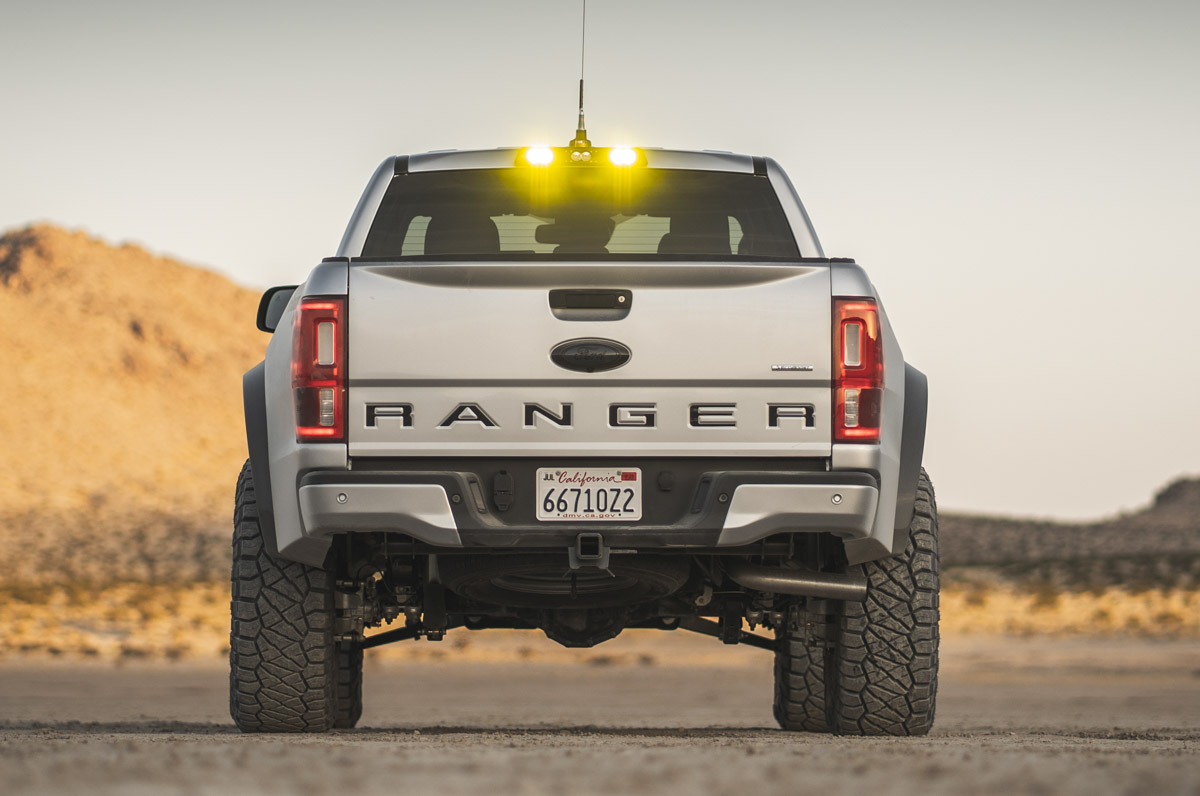 Ford Ranger 4×4 XLT APG ProRunner Specifications:
Recover Gear
Warn M8000-S winch, Warn Epic Hawse fairlead, Factor55 Flatlink E
Lighting
Drivetrain
10-speed automatic transmission, Advantek Dana 44 rear axle, Dana front IFS housing
Suspension
APG Long Travel Suspension, King Shocks 2.5 extended, travel front coilovers with compression adjusters,
King 2.5 rear shocks with compression adjusters
Wheels & Tires
Fifteen52 Turbomac HD Bronze, 17×8.5, Nitto Tire Ridge Grappler 35×12.50R17
Powertrain And Under The Hood Performance
2.3L Ecoboost, AWE Tuning 0FG Exhaust Suite with Diamond Black tips, Pedal Commander
Armor, Bumpers, Sliders
APG aluminum plate bumper
Exterior Mods
APG carbon fiber wide- body system, Front fenders 5" flare, 1.5" rise, Rear bedsides 5" flare, 1.5" rise
Gear Storage, Organization
Bed Rack, Decked
USA bed drawer system with cargo tie-down
Electronics And In-Cabin Accessory Mount
Switch-Pros SP-9100, SDHQ under hood mount, SDHQ center console switch panel mount
Link:
AutomotivePerformanceGroup.com
More Photos:
Click the photos to enlarge.