By Jim Oaks
You  may have seen the story I wrote "North American 2015 Ford Ranger".  It discussed the decline of the Ford Ranger sales, subsequent discontinuation of it here in North America, and how Chevrolet was bringing back the Colorado. I decided to take a deeper look at the idea of importing the new Global Ranger to the U.S.
One of the Global Ranger's biggest obstacles is its size. It's about 7/8 the size of a F-150, and would probably cost as much to sell here as the F-150. If the price is close, buyers will likely choose the F-150 over it.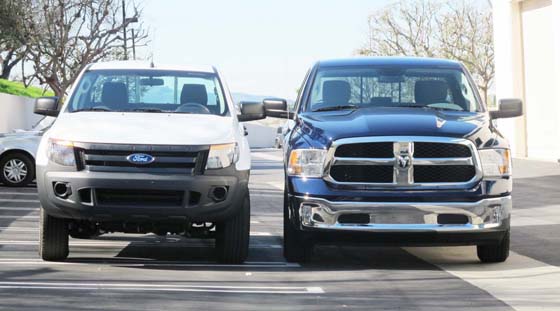 (New Global Ranger next to a Dodge Ram for size comparison)
According to Ford Truck Program Marketing Manager Doug Scott, a new Ranger for North America would "have to be  a true compact truck". "It has to be clearly differentiated from the F-150 in price, size, and fuel economy".  Scott said a truck that's cheap and frugal along the lines of the first Ford Ranger and Nissan 'Hardbody' Truck of the 1980s is where the segment needs to head. He thinks that if a small truck is to succeed in the U.S., it has to go back to the compact pickup truck's roots: small, cheap, fun, frugal, and utilitarian.
According to Ford truck Communications Manager Mike Levine "Buyers of compact pickups basically could be divided into two groups, those who bought them for their relatively good fuel economy and cheap price, and those who needed fuel economy plus utility." Ford believes those wanting inexpensive and fuel efficient vehicles moved into compact cars like the Fiesta and Focus. Utility minded customers moved up to the F-150.
What Would It Take?
If Chevy was successful with the Colorado, and Ford wanted to bring the Ranger here, one big obstacle is the Chicken Tax.
Chicken Tax On Light Trucks – In 1963, the United States imposed a 'Chicken Tax' in response to France and West Germany imposing tariffs on the importation of U.S. chickens. The Chicken Tax is a 25% tariff on potato starch, dextrin, brandy, and light trucks. Since the Ford Ranger is built in Thailand, Ford would have to factor in a 25% tariff (tax).
Ford bypassed the Chicken Tax while importing and selling Turkey-built Transit Connect cargo vans. Ford imported them as passenger vehicles, replaced the rear windows with metal panels, removed the rear seats, and sold them as cargo vans. However,  U.S. Customs and Border Protection officials caught on and asked Ford to stop.
Mercede-Benz bypasses the Chicken Tax on the Sprinter Cargo vans by partially disassembling them before shipping them to the U.S. This includes removing the front axle and engine, shipping everything separately, and then rebuilding them at a plant in South Carolina.
So unless Ford wanted to try Mercedes-Benz's approach, they would have to pay the 25% tariff, or import them from a country with a U.S. Trade Agreement.
Chicken Tax Exemption & Australia – Through a free trade agreement with Australia and the United States, Australia manufactures can import light trucks to the U.S. without paying the 25% tariff (Chicken Tax). But how does that help us?
Option #1 – Ford's Broadmeadows plant in Australia manufactures a Falcon Ute (utility).  Sales of the Falcon have dropped over the last few years, and the Broadmeadows plant is scheduled to close in 2016. If Ford saw a market for it as a compact pickup for the U.S., they could import it without paying a 25% tariff.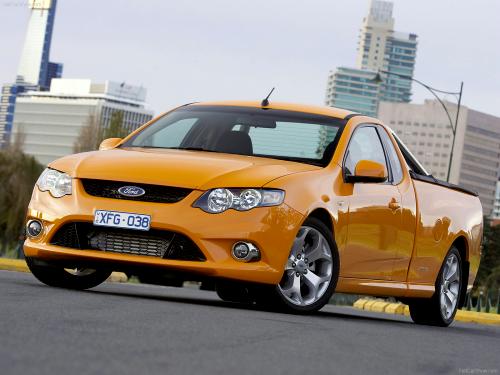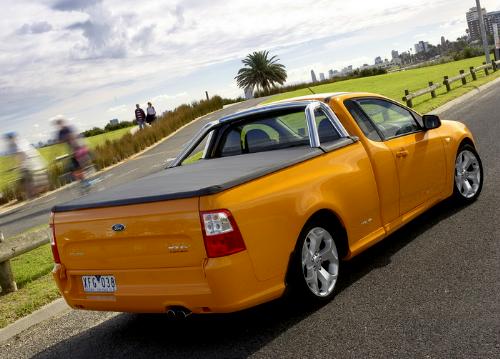 (Ford Falcon UTE)
An increase in production from exporting the Falcon to the U.S. may help save this plant from closing. The Falcon would be similar to a modern day Ford Ranchero (or Chevy El Camino), and offers both Rear Wheel and All Wheel Drive. Maybe the Falcon could get a whole new design and a Ranger nameplate for the U.S.
(2016 Ford Ranger?)
Option #2 – Ford had discussed building the new Global Ford Ranger at their Broadmeadows Australia plant. If they did, they could import it without paying the 25% tariff they would pay importing it from Thailand. This could potentially save the Broadmeadows plant from closing as well.
Other Options – Some have even suggested using the C1 platform that the Transit Connect and Lincoln MKC is built on. But the problem here goes back to the Chicken Tax that Ford's already trying to deal with. The C1 platform is Front Wheel Drive and would offer an All Wheel Drive option.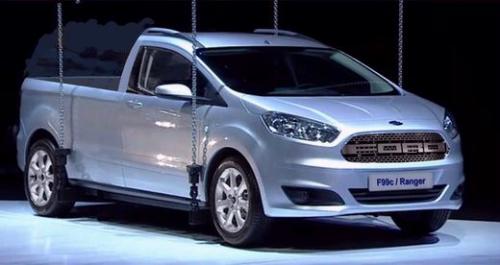 (Transit Ranger?)
Will It Ever Happen?
Ford didn't offer much change in the Ranger during its final years of production. I think they saw the compact pickup market moving towards larger midsize trucks, and believed there was no longer a U.S. market for a compact pickup.  For them, it probably seemed pointless investing money to redesign a compact truck, when the market was moving towards a midsize truck. With the midsize Global Ranger being so close in size and price to the Ford F-150, they dropped the Ranger completely.
According to Marketing Manager Doug Scott, it sounds like Ford is looking at a future Ranger for the U.S. If it happens, expect it to be a true compact, economical, but modern version of the first generation Rangers introduced in the 1980's.
Want to comment or discuss this? Join the conversation HERE.
Resources:
Ford Sees Room for Compact Pickup
Where Have Ford Ranger Buyers Gone?
Australia-United States Free Trade Agreement: Fact sheets