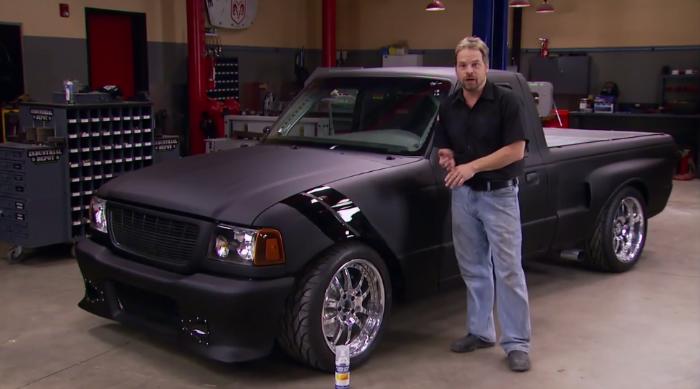 On March 13, 2010, Trucks! (TV show on Spike TV's Powerblock network) announced that they would be working on a Ford Ranger project that would feature a V8 swap.  They then went on to mention TheRangerStation.com on national television. Needless to say, The Ranger Station members watching that episode were pretty excited.
Trucks! is hosted by Kevin Tetz & Ryan Shand. They set out to wedge a Ford dual overhead cam 4.6 liter V-8 into a 2001 'Ranger' based truck to build a smaller version of Ford's Lighting. Since "Mini Lightening" didn't sound that tough, they called it Project – Rolling Thunder! 
While hunting for a 2001 Ranger, they came a cross a used 2001 Mazda B-series. The 2001 Mazda B-series, and Ford Ranger share the same cab and drivetrain. Even the sticker inside the door jamb says it's manufactured by Ford. The Mazda does use different front fenders, lights, grill, and bumper to give it it's own unique look.
When Kevin and Ryan started the build, Kevin started a thread about it in our forum under the username 'kttrucks'. Click HERE to view it
2001 Mazda B-series pickup & Ryan Shand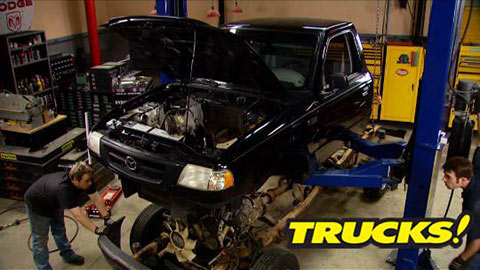 Lifting off the body to remove the drivetrin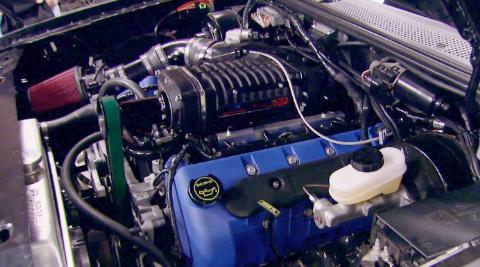 Supercharged Ford 4.6L V8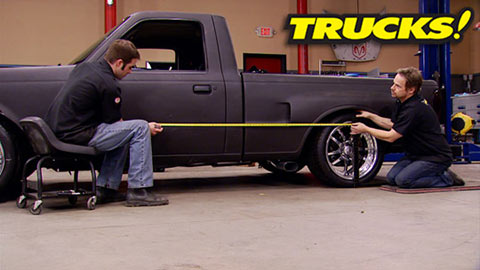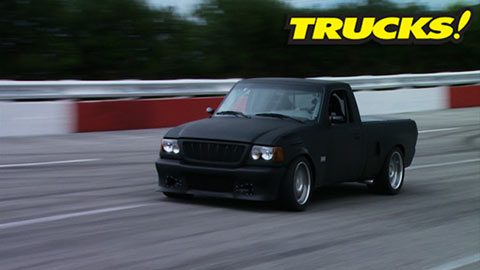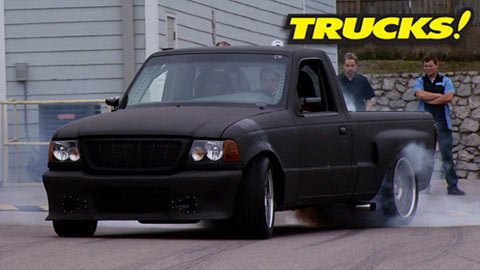 The truck was eventually listed for sale by Ryan Shand after the build was over.
Here is the description that was provided:
This was built on TRUCKS! TV as a streetable, high-powered track truck. It was featured in nearly 20 episodes covering the build up. Last year I took it to Barber Motorsports Park for an open track event and I've also run the truck at an American Street Car series event. It has been garage kept and only has about 200 miles on it since the build was completed. It runs really well and the tune has been perfect. It hauls ass on the straights and handles the curves like a well sorted car. Very fun to drive. It could also easily be converted back to a fast street truck by removing the cage and throwing carpet and "street" seats back in it. The door panels, dash and headliner are all there and in good shape. A ton of time was spent on the suspension to try to make this truck handle and perform as much like a car as possible. Spring rates, shock valving and sway bars were all engineered to work together and it shows. The wheelbase was stretched in the front by about 5.5" to help the F/R weight bias (which ended up being 54/46). The front fenders were reworked to accommodate this. Effort was made to relocate items (battery, fuel tank, I/C tank) to the rear of the truck and under the bed floor to help bias and keep the CoG low. It weighs in at around 3450 and you could easily pull more weight out. Lots of documentation and a few spare parts (pads, rotors, tuner, etc…) go with it. Way too many parts and details to list. There are 45 – 50K in parts alone on this one of a kind custom truck! The truck was painted by Kevin Tetz (former host of TRUCKS! and owner of Paintucation how-to DVDs)
Specifications:
'01 Mazda B2200 "base"

Ford Racing 4.6L DOHC Aluminator crate engine

Whipple 2.3L Supercharger 

'03 Cobra PCM, 2 custom dyno tunes, stand alone engine harness

Quicktime bellhousing, Centerforce ltw clutch, alum flywheel

Tremec Magnum T56 six speed

Aluminum driveshaft

Independent Rear Suspension w/ 3.55 gears and Ford LSD

'03 Cobra manifolds, custom SS Magnaflow exhaust with high flow cats and X pipe

Rick's Tanks custom stainless fuel tank, twin Walbro pumps

Fore Precision – fuel hat, adjustable regulator and fuel rails

Brembo four piston, 13" front brakes 

'03 Cobra rear brakes with EBC pads 

SN95 master cyl, adj. proportioning valve, stainless hard/flex lines

True Forged "Formula" 3 pc wheels – 18×11.5 and 18×10

BFG G-Force KDW 335/30/18 and 295/35/18

Ride Tech triple adj, remote reservoir coil-overs, custom valved

Original front sway bar installed on rear, stock car type adj. bar up front

Custom front suspension – axle centerline pushed forward about 5.5"

SN95 Mustang spindles, Factory Five lowers arms, circle track uppers – adjustable

IRS w/ all Maximum Motorsports upgrades

Griffin aluminum radiator, electric fans

Autometer Elite series gauges (9), quick disconnect steering wheel

fire extinguisher, electrical cut-off switch

Kirkey aluminum race seats, 5 pt harnesses

Stretched and flared front fenders, flared rear bedsides

Flat black paint – not just primer

APR carbon fiber mirrors, brake cooling air inlets

Optima battery under bed floor

Meziere WP-136 intercooler pump

Aluminum "tonneau" cover
Dyno results – 550hp/540tq at the wheels 
(630-660hp at the crank when drivetrain losses are considered) on a Dynotech dyno (which typically read over 10% low compared to other dyno brands). You could also change out the blower pulley to add more boost and more power – if you want more!
I'll also include a signed, TRUCKS! TV license plate, or a signed picture (by Kevin and myself, Ryan Shand) if the buyer would like.
I've tried to include a link to the payoff show but they won't let me?!? Anyway, just search for Project Rolling Thunder payoff show # 19 to see the truck in action. Or just look on the PowerNation or PowerBlock websites for it or any of the 20 or so episodes it was in.
Links:
Trucks! Rolling Thunder Part 1 – Introduction / Disassembly
Trucks! Rolling Thunder Part 19 – Completed / At The Track
The Trucks! Build In The Ranger Station Forum