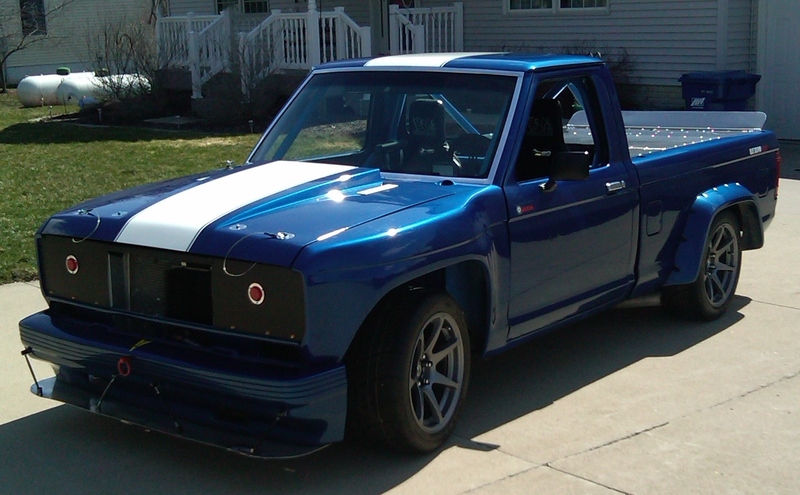 I stumbled upon this 1984 Ranger in an online post that was actually dated 2013.
The person was sharing the photos in a thread about pro-touring trucks. The only information he knew, is shared in the box below:
A guy from Iowa is selling this truck on a mustang site I'm on, and I love it! This thing is awesome IMO.

1984 Ford Ranger

331 stroker motor

TKO 600

Caged

(3) sets of wheels and tires: 16 x 8, 17 x 10 and 16 x 12

Tru-trac rear diff with aluminum support cover, 4.10 gear and Moser axles with 3" studs

chris Alston chassis works front frame clip and front suspension

QA-1 coil over adjustable shocks all 4 corners

4-wheel Wilwood 4 piston disc brakes

Custom aluminum dash with Autometer gauges
You have to admit that it's a really cool truck. I like the use of the fiberglass front fenders. It gives it more of that IMSA road course look. Ford Ranger owners would typically only see those fenders on an offroad truck. It would be interesting to see what it would look like with some matching flared fiberglass bedsides. It's interesting trying to pick out all the details. I also like the air scoops to cool the front brakes. If you've ever driven a vehicle at high speed, with a lot of braking, and experienced brake fade....you'd know how valuable those are to a driver.
Not much more is known about the truck. If you know of any more information, photos, or videos, please let us know.