In the '98 model year Ford gave us Ranger enthusiasts a couple of body blows. Not only did we lose our reliable and easily modified Twin Traction Beam suspension, but we also lost the ability to slap on a set of conventional hub lockouts. No doubt the reliability problems with the old automatic lockouts had something to do with this last issue, but as anyone knows, the vacuum operated ones are even worse. Even Ford realized this and did away with them for the '01 model year. Unfortunately, for the people caught in the '98-'00 group, there is no easy way of getting your 4×4 hubs to function reliably. Until now.
With the simple procedure described below, you can disable the vacuum operation and leave the hubs engaged 100% of the time. The newer Rangers have no unlocking mechanism on them so there should be no harm in this. Several forum members have done this, and besides a slightly different feel in the steering, no problems have been reported. And the knowledge that you will have a functioning front axle when you need it should certainly make it a worthwhile modification.
The information and pictures below were provided substantially by TRS forum member Smeezy with additional input from diehard.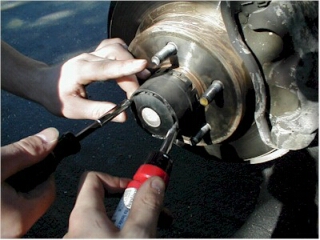 1) Remove the plastic cap on outside of hub by inserting two or more flat-head screwdrivers into the holes (look in one of the narrow holes to see the retaining pins are) and rotating. You will probably need the help of a friend as these things are really stuck in there tight. You want to SPIN (don't pry or the housing will crack!) the middle piece to move the retaining pin to the other side of the hole.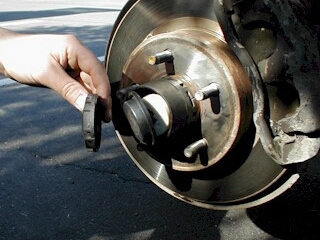 2) Remove the cover, dust cover, and plastic parts within.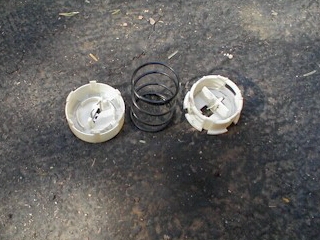 3) Separate the two plastic pieces and spring. . Use a screwdriver to gently pry the two white pieces apart. Only one piece has a metal bit in it – remove it from the back by prying it up with a small screw driver. The pieces WILL NOT stay together now so don't worry about trying to get the white things to hold the spring – they'll do just fine once you put them back in the housing.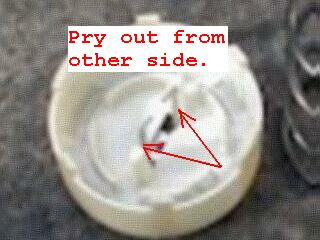 4) Remove the metal piece that is glued to one of the plastic pieces.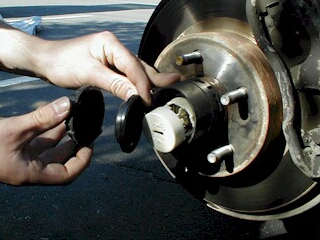 5) Put the plastic pieces back in along with spring, dust boot, and cover.
6) Put the cover back on. Get your screw drivers and push and twist the cover back on to lock it in place.
7) You're done! The hubs should be locked 100% of the time, like the newer Rangers.