Well-Known Member
Supporting Member
Law Enforcement
Joined

Jan 12, 2021
Messages

742
Reaction score

723
Points

93
Location
Vehicle Year

1988
Make / Model

Ford Bronco II
Engine Type

2.9 V6
Transmission

Automatic
2WD / 4WD

4WD
Total Lift

3"
Tire Size

31x10.50R15
I recently purchased this 1988 Bronco II XLT, automatic, 4x4 electric BW1350 and manual locking hubs($1000). Can't remember the mileage at this point.. 4wd does not work, it runs and drives had an oil pressure light on and a low end knock in the engine, and trans doesn't feel the best. I want to make a road worthy but capable little weekend ride for trips to local trails or the Blue Ridge mountain Jeep trails; Pott's Creek, Flagpole, Union Springs, the list goes on. Just need to get rid of my boat (Baja Outlaw) to free up some garage space for this project. So far I have found it to have minor rust (RR 1/4 panel mainly) and a few small spots. Just want to stop this not restore it. Checked oil pressure (in spec), but the engine still has what sounds like a rod knock. Trans still feels to be slipping. No lift factory 235's. Appears to have been sprayed probably 10 years ago but back to the factory silver color, or at least close. I have cleaned it up and got some good wax on it to protect what finish is there. In the future...
PLANS:
-Find a donor 2.9(Looking for an 89, for the updated heads), want a nicer harness than what is in mine as well
-Rebuild said donor engine, port/polish/shave/gasket match heads, larger injectors, full rebuild
-Convert to a Manual BW 1350(Picking up one w/ linkages etc Sat. for $150) Still need to find the Automatic Trans/Manual T-Case Floor plate/molding and boot
-Change to U-Joint Driveshafts
-Swap in a Dana 35/8.8 and install 4.56/4.88's not convinced yet, full axle rebuilds w/ lockers front/rear
-Undecided on lift... Skyjacker 4" System/James Duff 3" System or get the RC with new leaf packs, 3rd party drop brackets and buy some Duff arms at a later date... (Open to suggestions)
-265 tires on 16x8's (Can't spill the beans on W/T package yet, that would ruin the fun
)
-Fabricate front/rear bumpers, rock sliders and rear cargo area tool storage, roof rack, tire carrier
-Replace the rotted 1/4 panel as well as address other minimal body issues
-Also looking for a factory working radio/ connector
Any contact or questions can be on here or 8042393214
I purchased one of these as my first vehicle, years before I had my drivers license. Always wanted one as a trail rig and finally decided to do it. I will post pics/progress but it will be with good time as free time is hard to come by. Here are a few pics when i got it home and after I got it cleaned up a little. More to come w/ process..
Got it home Washed/Waxed(Paint isn't good just wanted to protect the patina)
Before cleaning After cleaning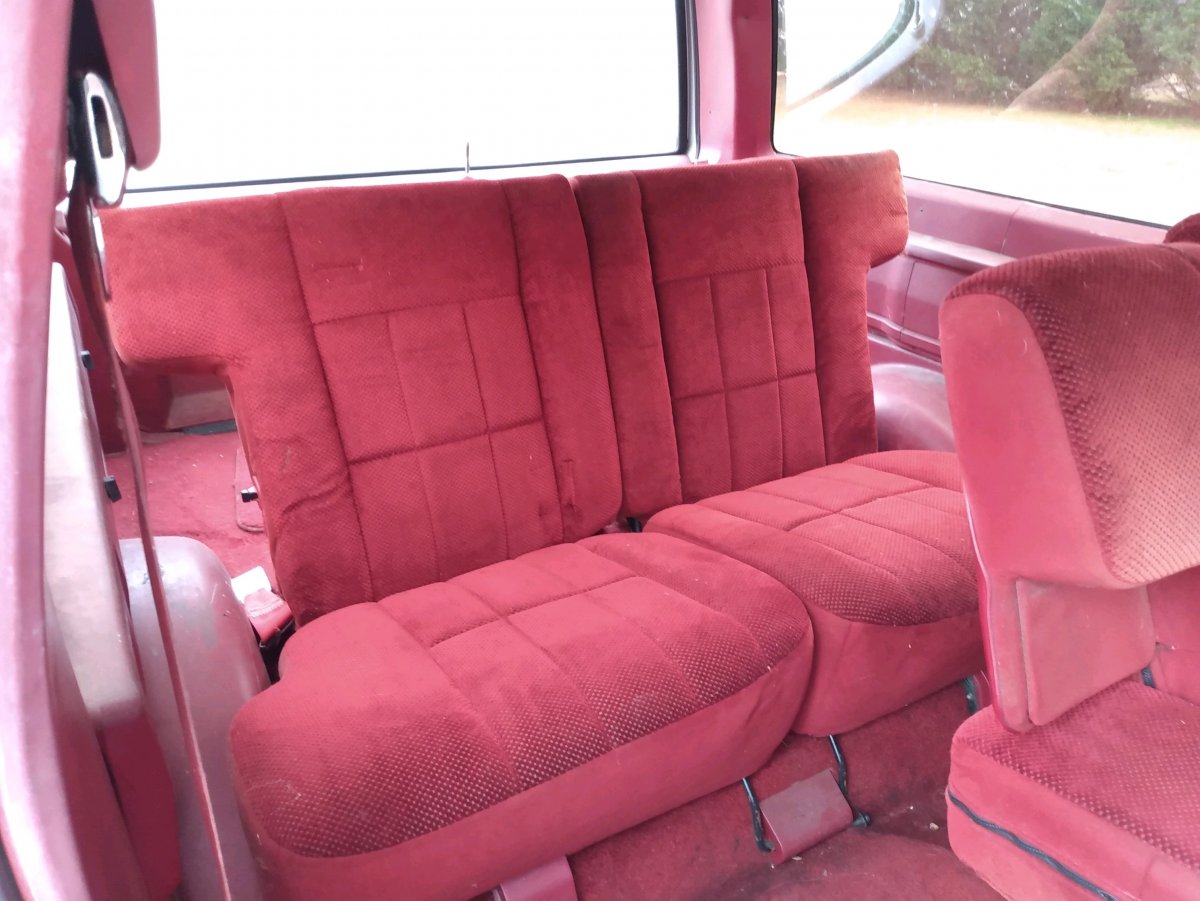 Before vacuuming/shampooing Still before cleaning but back seats are immaculate
Last edited: