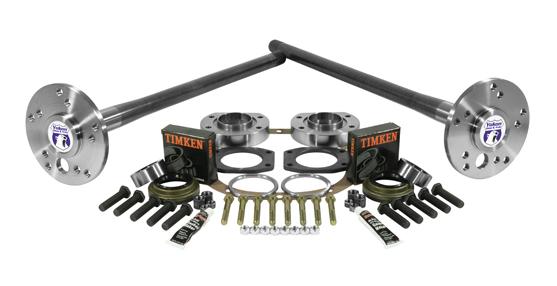 Looking to upgrade that 31-spline 8.8-inch axle that you swapped in to your Ford Ranger or Bronco II? Yukon Gear offers replacement chromoly shafts with c-clip eliminators.
Looking to switch that rear axle from a 5×4.5 to 5×5.5 bolt pattern to match a Dana 44 swap? You're in luck. These axles are double drilled for either a 5×4.5 or 5×5.5 bolt pattern.
Yukon Gear and Axle offers an extensive line of general replacement and high performance axles for passenger car, truck and SUV applications. High quality alloys and the latest in heat-treating technologies provide a strong axle for off-road, on the street or at the track.
31 spline
4340 Chromoly
Axle kit
Complete kit includes axles, axle bearings and seals and all necessary hardware
Eliminates factory c-clips
Fits 1995-2002 Ford Explorer
Technical Notes: The axles in this kit are double drilled for 5 x 4.5″ & 5 x 5.5″ bolt patterns. The kit eliminates the factory c/clips and increases the overall axle width 1-inch per side.
Yukon P/N YA-WF88-31-KIT