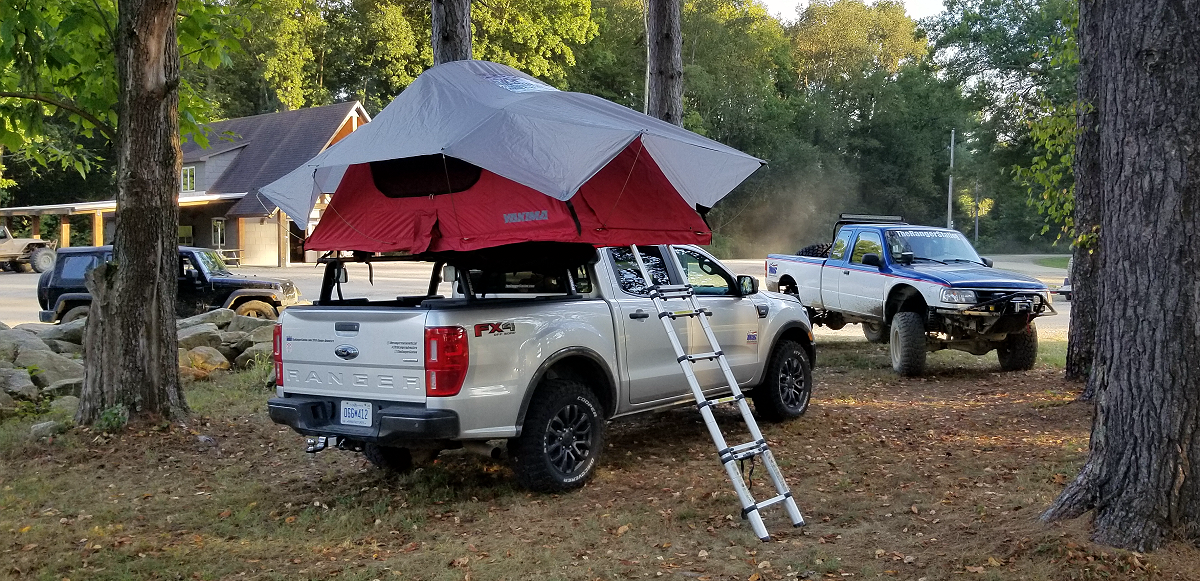 When Ford agreed to loan me a 2019 Ford Ranger for The Ranger Station's 20th anniversary, I asked them if they would send me one with the roof top tent that's available through your local Ford dealer. This gave me the opportunity to travel across the country in it, expose the new Ranger and TheRangerStation.com to the public, as well as evaluate and learn the new Ranger and it's features.
When the Ranger arrived in March (2019), it did not have the tent installed, I drove it for a short period of time before the tent was installed by a local installer (it's not done at the dealer).
I was impressed with the Yakima rack system. It was well constructed, heavy duty, and designed to be easily removed if you need full use of the bed.
I liked that the tent was red, and not one of the typical tan or green earth tones. It was easy to open, included a thick and comfortable foam pad to sleep on, had plenty of windows and skylights, a removable rain cover, and a nice sturdy and adjustable ladder.
First Use – Overland Expo West
My first opportunity to use the tent was when I went to Overland Expo West (Flagstaff, Arizona) in May.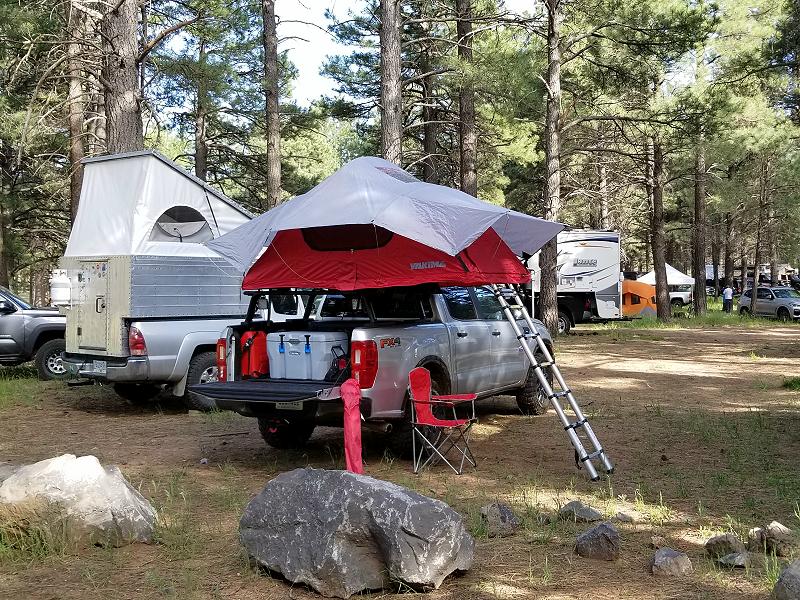 When I set up the tent, I noticed that the tent body had pulled out of the track that it's mounted in. While at the Expo, I spoke to a Yakima representative that told me to stick the tent back in the track with a screwdriver. I decided to wait until I returned home to try and fix it.
On the way back home I stopped and camped for the night in Arizona. It was nice being able to setup camp quickly, be up off of the ground, and enjoy the views and the fresh air from the screened windows.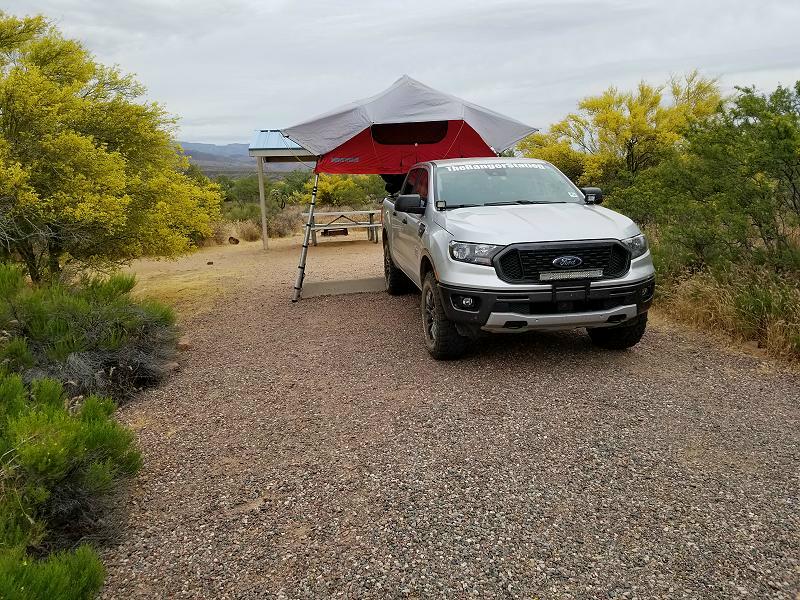 I also noticed that the ladder had started wearing through it's rubber feet after only a couple days of use.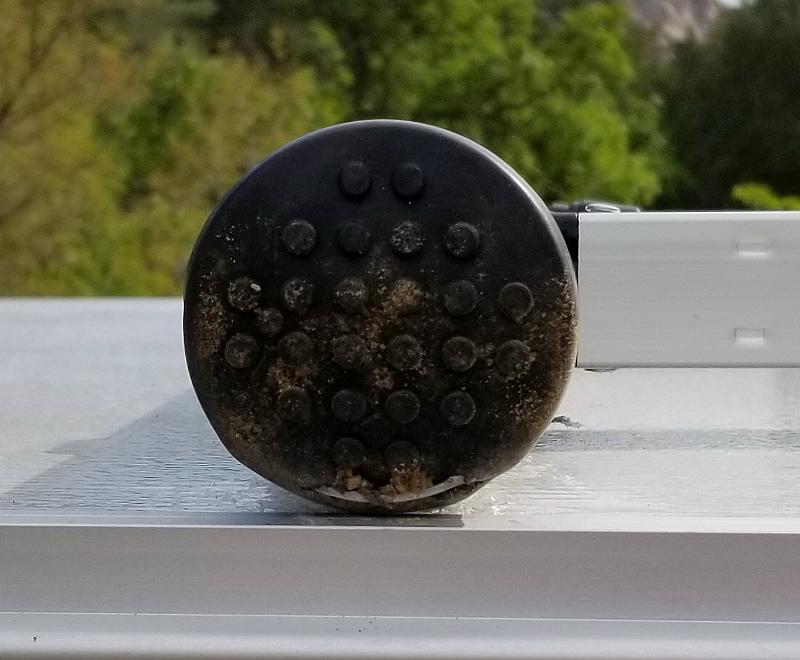 Fixing The Tent
When I returned home, I attempted to repair the tent like the Yakima representative instructed me. The tent had actually pulled out of the track at each corner of the side of the tent that opens.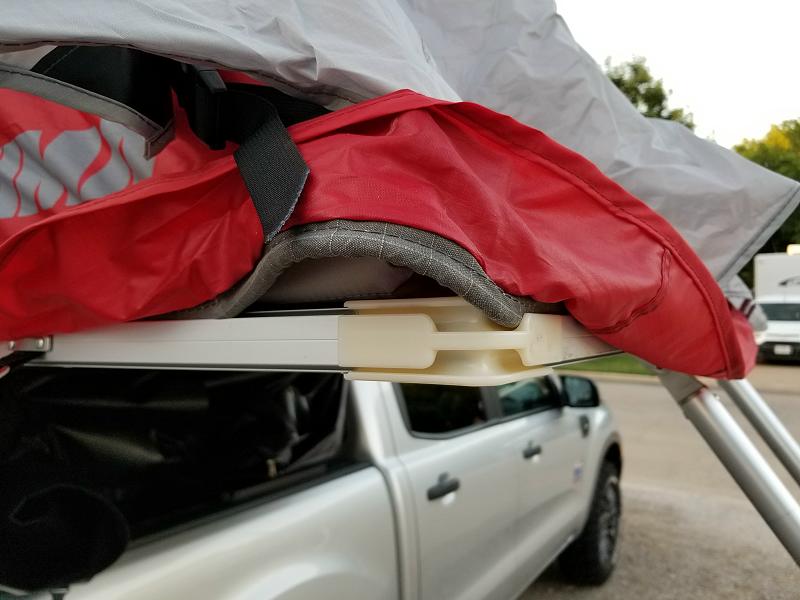 I decided to use a chisel instead of a screwdriver since it had a wider edge. I ended up using the blunt end to tap the tent body down into the track with a plastic mallet, and then the chisel end to tap it the rest of the way in.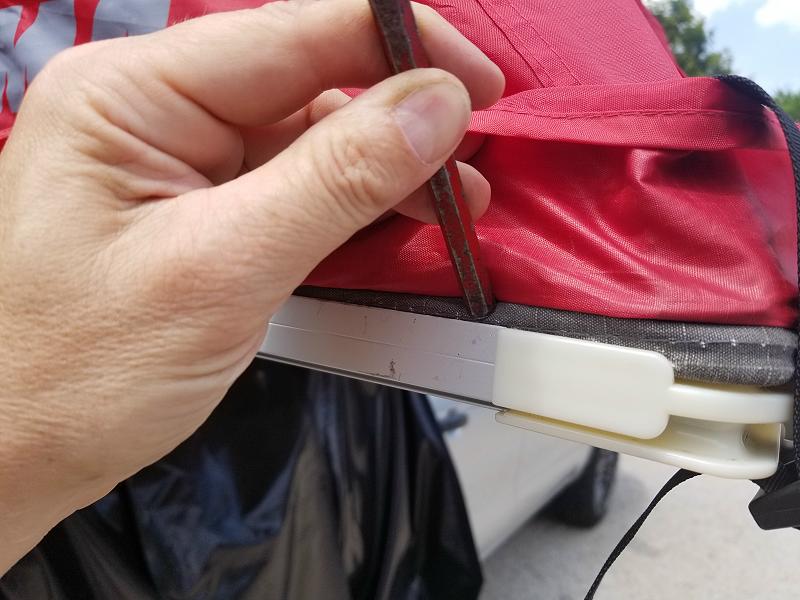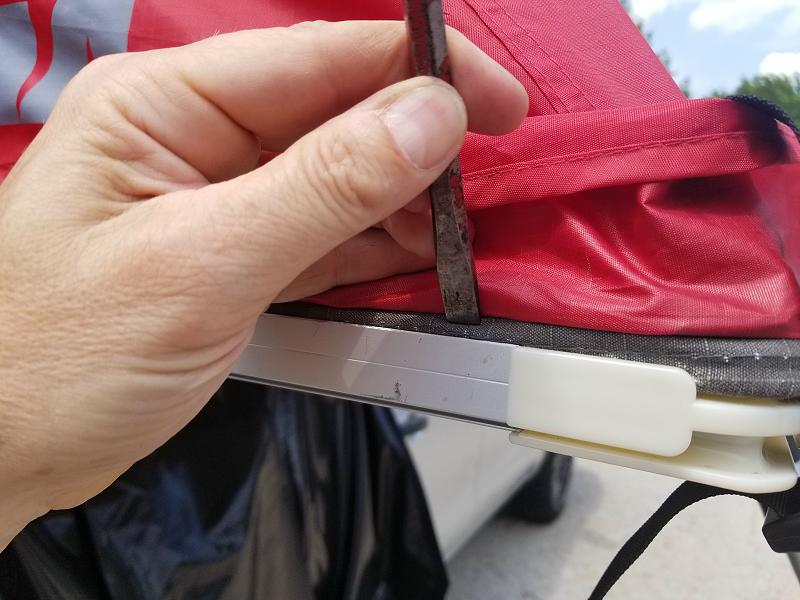 Quite a bit of the tent had came out of the track on one side, and I took my time to make sure I didn't damage the material.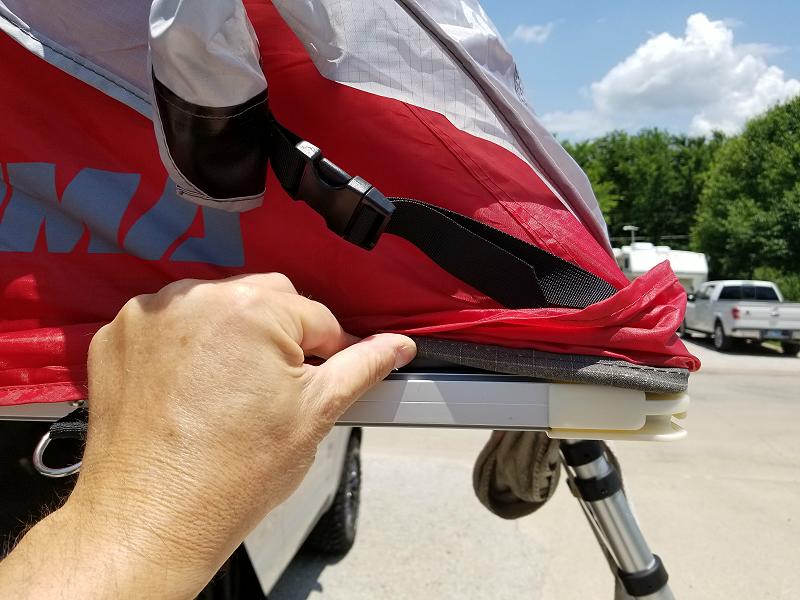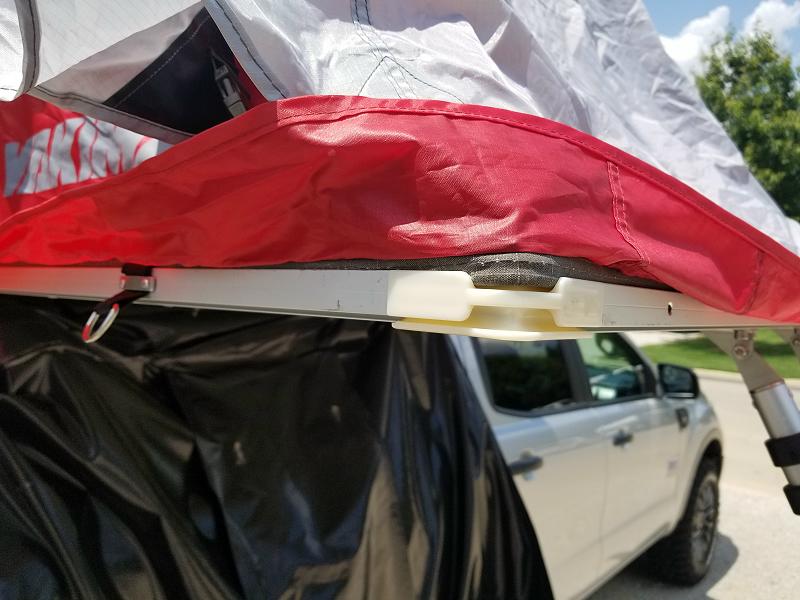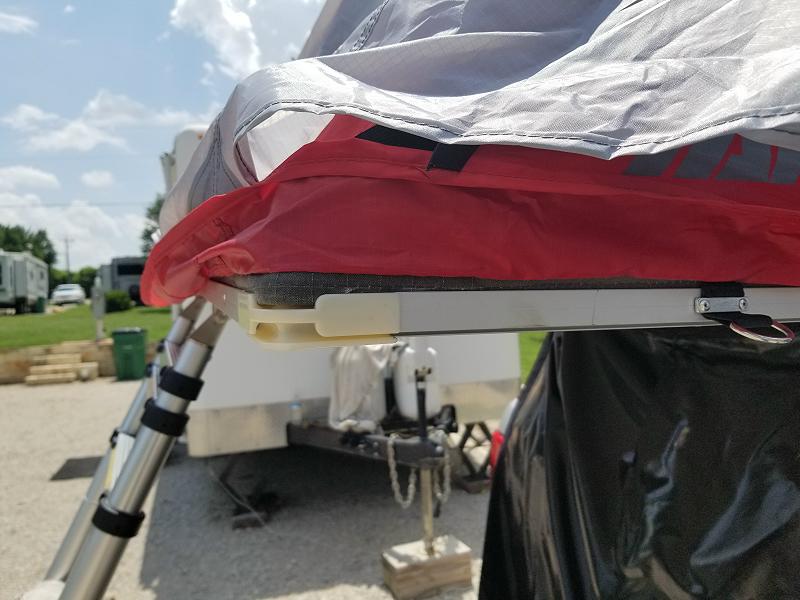 All fixed. Next up, the Trans America Trail.
The Problem Continues
In June I set out to explorer the Trans America Trail from New Mexico west to Port Orford, Oregon. When I set the tent up in Colorado, the tent again had pulled out of its track. I wondered if the rain cover could being pulling the tent out of it's track since it's connected to the corner of the tent. I tried unbuckling the strap before closing it, and even removed the rain cover completely, but the problem continued.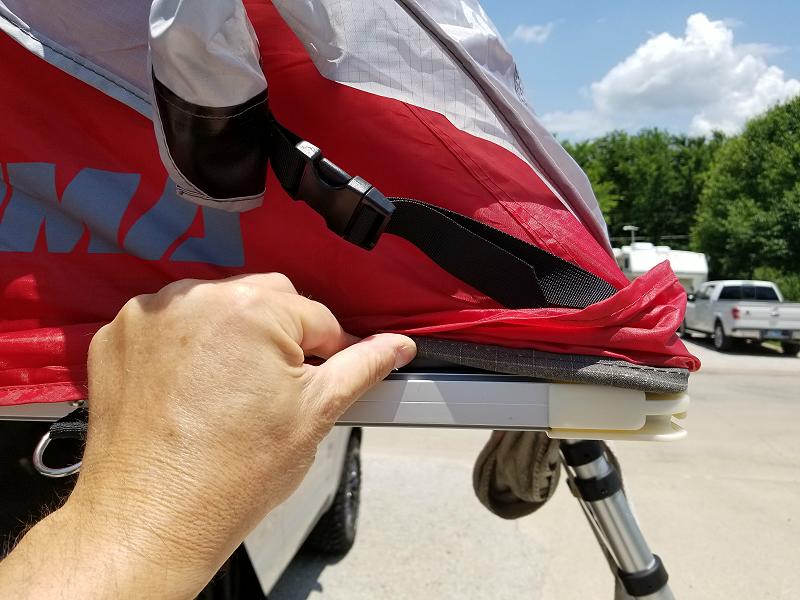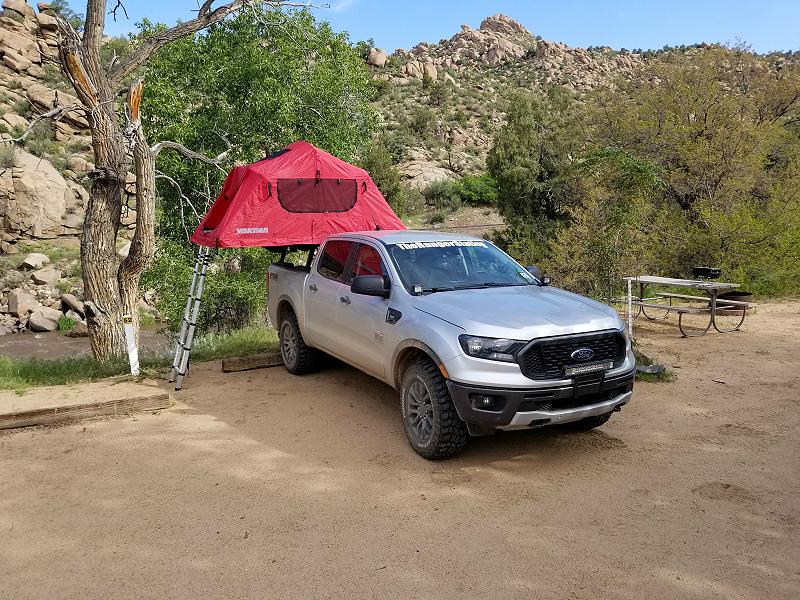 Contacting Yakima Customer Service
I decided to email Yakima and see if they could help me, and included photos of the problem. Here is that conversation:
Me (06/05/2019):
My names is James Oaks from TheRangerStation.com. Ford loaned me a 2019 Ford Ranger for 6-months, and I am currently travelling across the country on the Trans America Trail to promote the Ranger as an adventure vehicle. It's equipped with a Yakima rack and Skyrise tent that Ford had installed. The tent and rack is owned by them as well. The tent is bunching up at (2) corners, and pulling out of the track. A rep at Overland Expo told me to stick the tent back in the track with a screwdriver. I did that, but it keeps pulling out. Also, the ladder has pushed through the rubber feet after only (4) days of use. I am in Colorado heading west to the Oregon coast. How can this tent be repaired or replaced?
Thank you.
Yakima (06/07/2019):
Hello,
I have attached a pdf on how to reinstall the tent body into that frame. If you have an address of where you will be next week, I can order you a replacement ladder and have it sent to you. I will not be able to order it until Monday June 10th.
Have a great day
Jeremi
Customer Service Rep
If anything, Yakima has good customer service that is willing to help. CLICK HERE to see the .pdf file on how to remove and install the tent body.
It's Literally Falling Apart
After a long drive traveling gravel roads across Utah, I had finally stopped at a campground at the Nevada / Utah border. When I went to open the tent, it started to tip to the side and was very loose.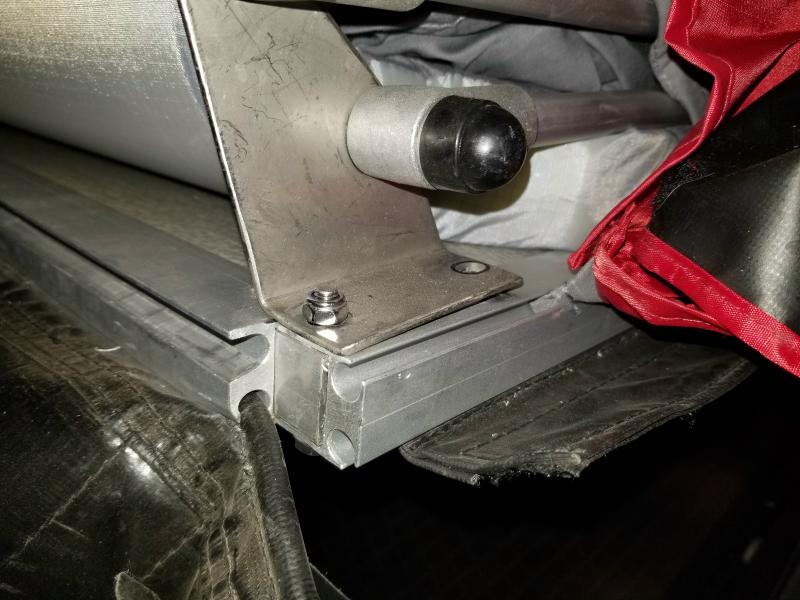 The hinge on one side was missing a nut and bolt, and the hinge on the other side was missing both of the nuts. These are thin lock nuts, and had apparently vibrated themselves loose.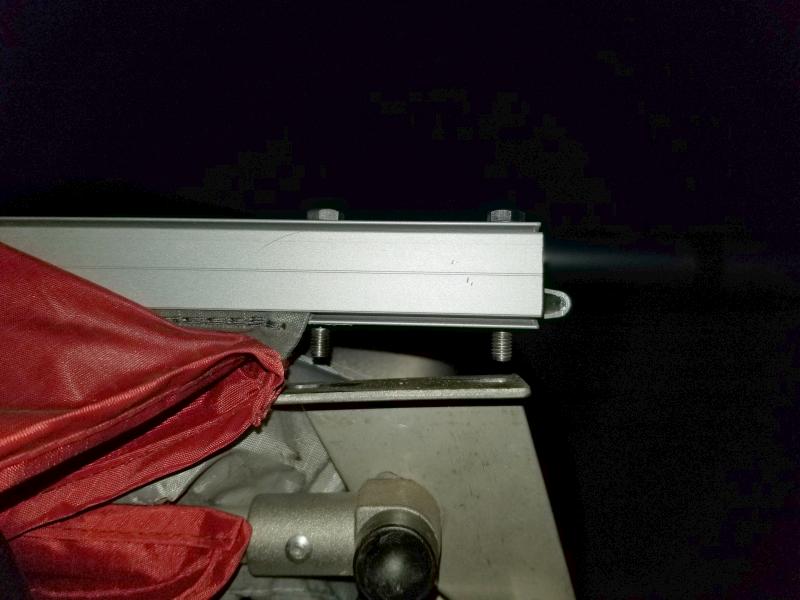 I don't recall exactly what I did to temporarily fix it, but I know I used some vice-grips to help clamp one side together, and I think I found one of the missing nuts to help secure the other side, but I didn't find all of the missing hardware.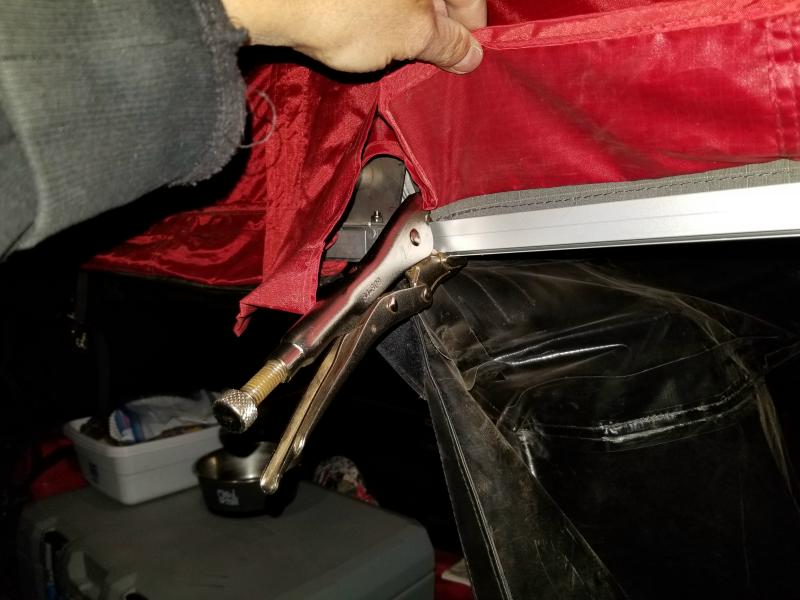 Being tired, I took my chances and climbed into the tent to get some sleep. Fortunately the ladder helps support this end. I just made sure that I climbed over this section on to the section over the bed rack to keep some of the weight off of it.
Following Up With Yakima Customer Service
Me (06/13/2019):
Hi Jeremi,
I'm sorry, most of my time has been spent travelling through areas with no cell phone / internet connection.
Is it possible to just send the rubber feet? I don't need a whole new ladder.
Also, I just want to let you know about more problems. I opened the tent a few nights ago in Nevada, and the tent almost fell apart at the hinges. I'll attach some photos. One bolt and nut was completely missing. Two others were missing the nuts, but I found one of them. The rest of the bolts were loose. I tightened the remaining nuts and bolts, and went to a local hardware store looking for replacement hardware. They didn't have any metric sizes, but I found some 1/4 inch bolts that should work. Unfortunately, I've spent the last 3-nights sleeping in the tuck, and haven't fixed the hinges yet.
I want to make sure you're aware of this, because I think it may be a safety issue that you need to look in to. First I thought that maybe the company that Ford had install the tent failed to tighten the bolts completely. But I know it wasn't loose when I first used it. The locknuts shouldn't have came loose either.
I'm currently in Ontario Oregon headed towards the coast on the Trans America Trail. It's a lot of forest roads, and can be really bumpy at times. I can see where that could vibrate hardware and loosen it up.
I appreciate you sending the instruction sheet, and offering to ship me a replacement ladder. I think the whole tent issue is causing tension between Ford and I, but this stuff happens, and I think it's better to acknowledge the issues and find solutions to create a better product, than to say nothing and pretend everything is perfect.
On a positive note, I really like the tent. I've been through so much with it, that I'm going to hate to give it and the Ranger back to Ford at the end of September. If their were going to be problems with the tent, I'm glad they happened to me. That way I can help other Ranger owners, or any Skyrise tent owners actually, learn how to resolve the issue themselves if possible.
If you want to send me new rubber feet for the ladder, my address is:
James Oaks
C/O TheRangerStation.com
xxxx xxxxxxxx xx
xxxxxxxxxx xx xxxxx
Yakima (06/13/2019):
Hello,
I will look to see if we have just the feet for the ladder here. I can send you a new hinge set with hardware, so that you have the correct hardware. Do you want me to send that to the address in Texas?
Have a great day
Jeremi
Customer Service Rep
Yakima (06/13/2019):
You will want to make sure that you are checking the bolts, making sure that they are tight, on a regular basis. Especially since you seem to be "off roading" a lot.
Have a great day
Jeremi
Customer Service Rep
Me (06/14/2019):
Yes, you can send the parts to the Texas address. That's my home address.
I would say the tent has been subject to a lot of vibration driving down gravel roads. I wouldn't call that off-roading.
HOWEVER, the type of customer that buys a roof top tent likes to travel and camp remotely, and uses a lot of gravel roads and forest roads. I still think this needs to be brought to the attention of your engineers. Maybe they need to be using steel nuts, bolts, lock washers, and some blue locktite. I wouldn't think you would want to be telling your customers that they need to keep checking the bolts to make sure it's not falling apart.
Thanks.
Yakima (06/14/2019):
Hello,
I have a quick update for you. We can get you a new set of feet, but they will need to either be screwed or riveted on. Are you okay with this? If not, I can send you a replacement ladder.
Have a great day
Jeremi
Customer Service Rep
Me (06/18/2019):
Go ahead and send the ladder.
I'm definitely going to need the hinge kit. These hinges are bent from being loose.
Thank you.
Jim
Yakima (06/18/2019):
Hello,
I have placed that order for you. Your order number is 3021970. Would it be possible to get a photo of the date code? It should be on the tag.
Have a great day
Jeremi
Customer Service Rep
More Loose Bolts And Missing Nuts
When I arrived back home in Texas, I opened the tent so I could take a photo of the tag inside.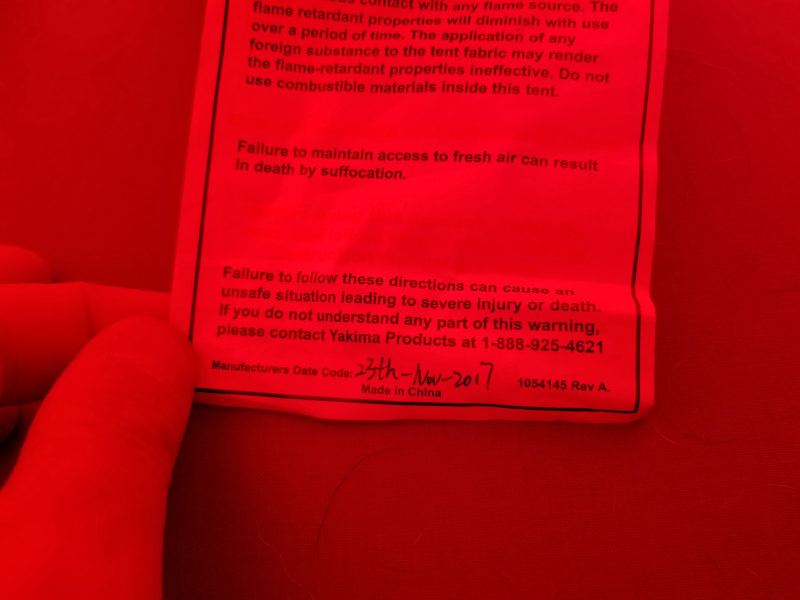 As you can see, the Yakima Skyrise Tent was made in China on November 23rd, 2017.
When I closed the tent back up, I noticed that the whole tent lifted up off of the rack. After checking, I realized that the nuts had came off of the bolts that mounts it to the rack.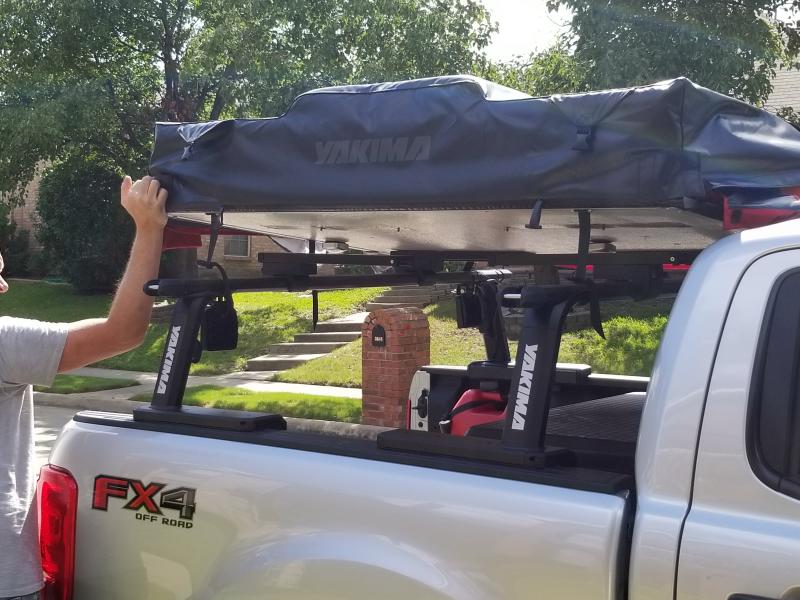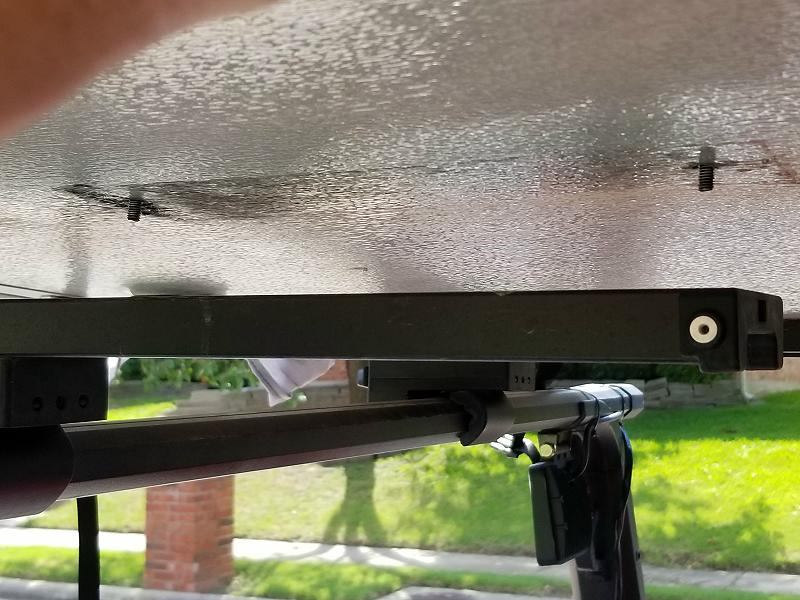 I then had to go to my local Ace Hardware and find new locknuts to fit the bolts.
More Yakima Followup
Me (06/25/2019):
Jeremi,
I attached a photo of the tag with the date.
When I was on the drivers side closing the cover on the tent, I noticed the passenger side of the tent lift up. I pulled down harder, and the whole passenger side of the tent lifted up in the air out of it's mounting track. Further inspection revealed that all four of the nuts were missing on this side of the vehicle. The nuts were not in the mounting track, and I did not find them in the bed of the truck.
I also included a photo showing holes drilled in to the bottom of the tent where it looks like someone tried to install the tent in the wrong direction.
Ford had this tent installed by AER in Carrollton Texas. I'm not sure if the tent was constructed using really poor quality hardware, or if AER simply failed to properly tighten the bolts and finish installing the nuts, but dealing with this tent has been a HORRIBLE experience.
I will have no choice but to share all of the problems that I've had with this tent with my monthly readers, and recommend that they avoid this tent.
James Oaks
TheRangerStation.com
NOTE: Sorry, Jeremi, I may have been a little annoyed when I sent that email sounding like an ass.
Yakima (06/27/2019):
Hello,
I called and left you a message on the number that I have xxx-xxx-xxxx. If you could please call me at xxx-xxx-xxxx, I would really like to discuss the issues that you are having with the tent. I will be here until 4pm Pacific time, and if I do not answer please leave a message and I will get back to you as soon as I can.
Have a great day
Jeremi
Customer Service Rep
Me (07/08/2019):
Jeremi,
You told me you were going to send me a new ladder, and hinge brackets with hardware almost 3-weeks ago. I even sent you a photo of the tag with the manufacturers date on it.
I really don't understand how talking about the tent on the phone is going to fix it, and I'm really disappointed that Yakima has been slow to send me the parts to fix it.
James Oaks
Yakima (07/08/2019):
Hello,
Thank you for getting back to me. I ordered you the replacement ladder, but we are currently out of stock of them. I would really like to get you a new tent, since the one that you have is a first generation tent. Do you know where you will be next week? I would really like to get you a new tent.
Have a great day
Please note our offices will be closed July 4-7th
Jeremi
Customer Service Rep
Me (07/09/2019):
Jeremi,
I appreciate that you want to get me a new tent, but it's not worth the aggravation. The truck and tent belong to Ford. I'm just using them for 6-months. I have at least one more trip, a 20th anniversary event, and then the Ranger and tent goes back to Ford at the end of September. After that, I'll be back in my own trucks. If this was actually my tent, I would definitely work out a time to get it replaced. But given the limited time I'm going to have it, it's not worth the hassle. Plus, it's hard to say what Ford will do with it when they get it back, so I'd hate to waste a perfectly good tent.
Thanks again,
James Oaks
Conclusion:
Yakima did ship me a new ladder and hinge kit. I got it right before the Ranger went back to Ford. I didn't install them, I sent them back to Ford with the Ranger.
Yakima could not tell me what the date ranges were for the first run and second run of these tents. I think it's awesome that Yakima wanted to ship me a new tent, even though I didn't take them up on it. If this had been my tent, I surely would have.
I really don't know if this tent suffered from bad hardware, or if it wasn't installed and tightened correctly. In my opinion, a locknut shouldn't vibrate loose. That's why you use locknuts to begin with. But the locknuts were so short, there may not have been enough material to properly lock the nut on the bolt.
I also don't understand why this tent kept pulling out of its mounting track, and what the difference is between the first run and second run of these tents.
I do like the overall design and style of this tent. If the newer runs of this tent are free from the problems of the tent coming out of its mounting track, I would put one on my personal Ranger.