By: Jim Oaks
In our last issue we talked about measurements and materials for link suspensions. This time around we're going to be discussing suspension joints.
Link suspensions have been designed using the following kinds of suspension joints:
Bushings

Rod Ends / Heim Joints

Jimmy Joints / Johnny Joints

Cartridge Joints

Uniballs

Grader Ball
We're going to discuss these various types of joints below.
Bushings:
The first thing we'll cover is bushings. You can find a threaded bushing like the one shown below from Ballistic Fabrication. You can also choose a bushing with just a sleeve to weld to the end of your tubing (second photo below). The advantages with the bushings are cost, the ability to absorb some of the shock, they're said to be quieter than Heims, and prevent the link from twisting. Many builders like to use a bushing at the frame end of the link and a Heim or Johnny Joint at the Axle end.
If you do use bushings in your suspension, we suggest Ballistic Fabrication's bushings with a .250″ tube wall. We would stay away from anything less than .188″ tube wall. Many aftermarket bushings on the market only have a .120″ tube wall, so shop carefully.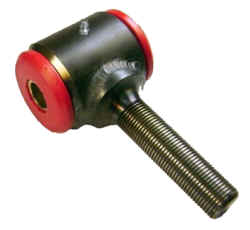 The bushings (above & below) are from Ballistic Fabrication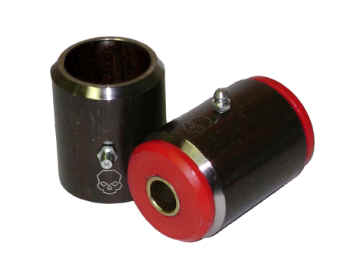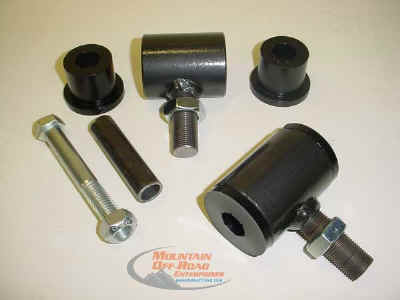 These Boulder Bushings above are available from Mountain Off-Road. 
Below, this Boulder Bushing is from Poison Spyder Customs.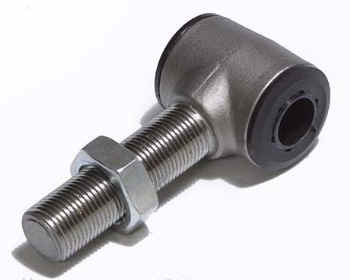 Rod Ends / Heim Joints:
The spherical rod end bearing was developed by the Germans in World War II. When one of the first German planes to be shot down by the British in early 1940 was examined, they found this joint in use in the aircraft's control systems. The H.G. Heim Company was given an exclusive patent to manufacture these joints in North America, while in the UK the patent passed to Rose Bearings Ltd. The ubiquity of these manufacturers in their respective markets led to the terms Heim joint and rose joint becoming synonymous with their product. After the patents ran out, the common names stuck although "rose joint" remains a registered trademark of Rose Bearings Ltd. Originally used in aircraft, the rod end bearing may be found in cars, trucks, race cars, lawn tractors, boats, industrial machines, and many more applications.
A rod end bearing, also known as a Heim joint (N. America) or rose joint (U.K. and elsewhere), is a mechanical articulating joint. Such joints are used on the ends of control rods, steering links, tie rods, suspension links or anywhere a precision articulating joint is required. A ball swivel with an opening through which a bolt or other attaching hardware may pass is pressed into a circular casing with a threaded shaft attached. The threaded portion may be either male or female.
Male threaded Heim Joint:

(A) the casing
(B) the ball swivel
(C) the opening for attaching hardware
(D) the threaded shaft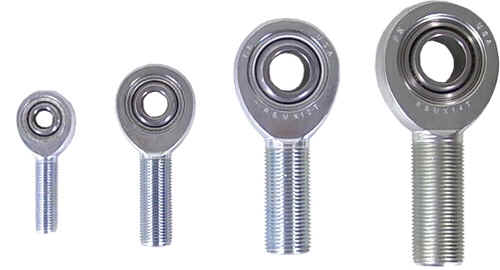 What's the biggest Heim you can get? Not to ever be out done, Evolution Machine decided to end all foolish claims of who has the biggest rebuildable Heim. There is no larger rebuildable joints than the Frankenheim.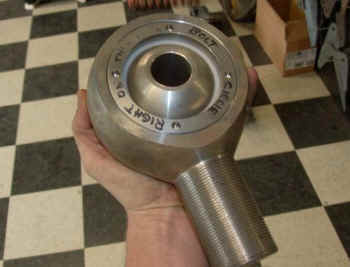 What can it be used for? Long lasting radius arm joints on heavy diesel trucks, one link applications and anyplace that you never want your component to ever break.
It has a 28 degree deflection with a 1-1/4 inch bolt. 36 or better with a 1 inch bolt. Radial yield is well over 500,000 lbs and the axial is good for more than 200,000 lbs. Unfortunately it wasn't tested by a machine but it was run on inventor.
Misalignment:
One term you'll need to be familiar with when it comes to joints is 'misalignment'. In the first two pictures below, you'll see a basic Heim compared to a high misalignment Heim.
| | | | |
| --- | --- | --- | --- |
| | | | |
| | Basic Heim Joint | High Misalignment Heim Joint | |
The purpose of a misalignment Heim is to allow the joint to have more side to side movement in its mount.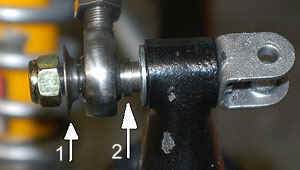 Looking at the photo above, note the curved shape of the captive washer (1). This is also called a "high misalignment" washer. On the opposite side of the Heim you'll see a small bushing (2). This forces the Heim joint to be spaced away from the upright, which allows it greater rotation.
The next photo shows a 'standard' and a 'high misalignment' Heim. It illustrates the amount of rotation of the two different joints.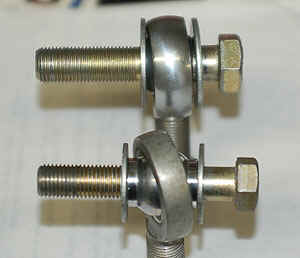 High Misalignment Spacers:
High Misalignment Spacers are used on rod-ends/Heim joints to gain more pivoting angle than standard spacers. These specially designed washers step the rod end bolt diameter down allowing the rod end ball to align past the race, giving you more misalignment then the rod end can normally do on its own.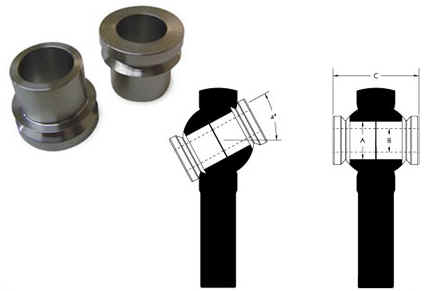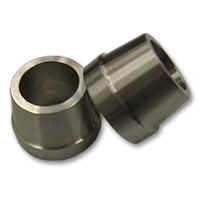 Jimmy Joint:
Designed and manufactured at Summit Machine, the Jimmy Joint is the first rebuildable joint to perform like a heim joint. The high misalignment design provides 60 degrees of total misalignment. 30 degrees more than the Flex Joint. The Jimmy Joint is extremely durable. Each body is machined from a solid piece of heat treated 4140 steel. They are then plated with black zinc for superior corrosion resistance and a unique look. The pivot ball is machined from 303 stainless steel and carefully inspected for proper size and roundness. Races are precision molded from bearing grade Nylatron® GS.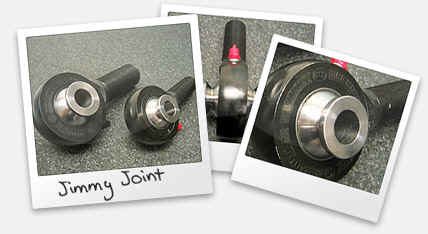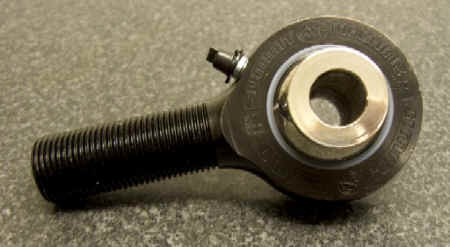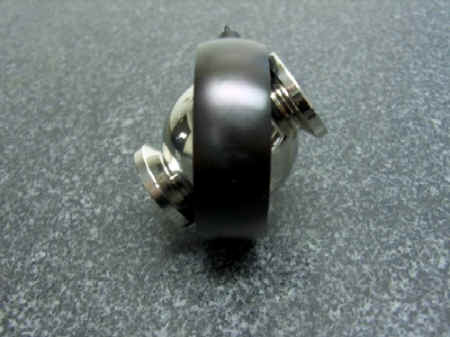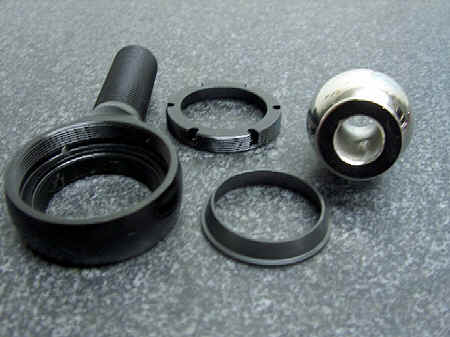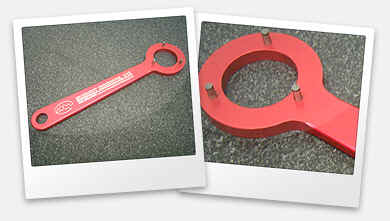 A tool like the one above is needed when rebuilding Jimmy Joints/Johnny Joints.
Johnny Joint:
A Johnny Joint is a type of ball or Heim joint. The main difference being that it is rebuildable where as the Heim joint is not. The Johnny Joint also has an additional 8-degrees of movement over the traditional Heim joint.
Currie's Johnny Joint® offers 30 degrees of unrestricted movement in any direction as compared to 22-degrees on a common heim joint. The bushing in the Johnny Joint® rod ends are made with a high density, "tough 88″ urethane that encases the inner ball. Its a very durable material and it is impervious to weather. The special ball is heat treated steel for extra strength. and on the 2″ and 2 1/2″ models the ball is cross drilled for thru-bolt lubrication. The 3″ joint is lubricated via zerk fitting on the outer shell. Outer shells on the 2″ and 2 1/2″ are heat treated steel. The retaining washers on the 3″ are machined out of 4340 chrome moly and feature a snap ring safety machined into the face of them to protect the snap ring safety machined into the face of them to protect the snap ring from coming out. 2″ joints include a 7/16″ greaseable thru-bolt, and the 3″ joint accepts but does not include a 3/4″ bolt. 2″ joints are also available with a 3/4″ RH threaded stud welded to them. The 2 1/2″ joints are available in a forged version with either 1″ RH or LH threads or 1 1/4″ RH or LH threads, and the 2″ joints are available in a forged version with 3/4" RH or LH threads.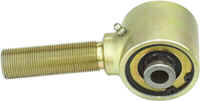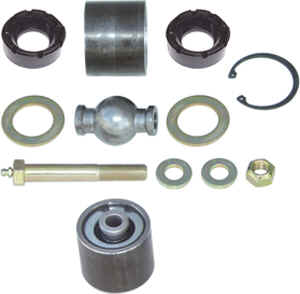 Ballistic Fabrication also offers a 'Ballistic' Joint (below):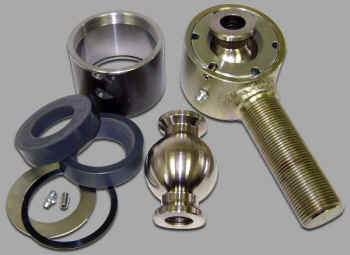 Cartridge Joints: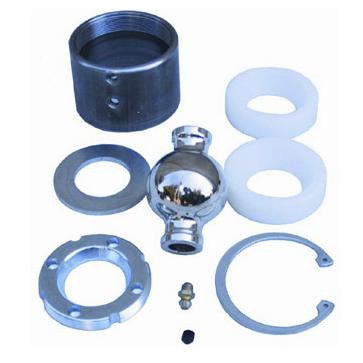 Poly Performance offers this Super-Flex 2 cartridge. It was originally designed to replace the heim joints used in some original suspension designs. This cartridge uses UHMW and a unique thread in side nut, which allows easy tightening, and rebuilding.…although you may never have to. Rubicon Express ran their JeepSpeed race Cherokee all season on the same set of cartridge joints, without a single failure. After removal at the end of the season, they felt as tight as the day they were installed. In contrast, factory rubber bushings need to be replaced every race. These cartridge style joints weld right to your link and use a 9/16″ bolt.
Uniballs: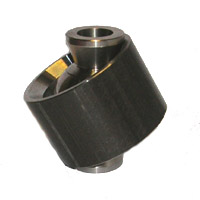 Poly Performance Uniball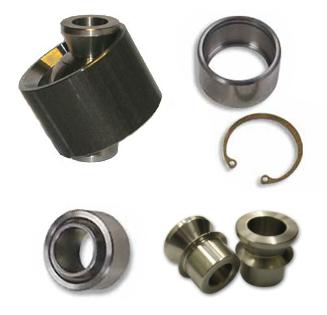 Uniball Parts (Pics combined – not to proper scale of each other)
Poly Performance offers these Uniballs.  They are a high-end joint that combine the best features of traditional high-quality Heim joints with the benefits of a cartridge style joint and are rebuildable. These Uniballs are welded right to the end of your link.
Uniballs are designed to be a high quality, maintenance free joint with maximum misalignment capabilities. It uses a high-quality, precision, spherical bearing and custom-machined misalignment spacers held in a tubular cartridge body. The Uniball doesn't have provisions for lubrication or pre-load adjustment as it is PTFE lined and factory-set. This means the joint is basically maintenance free throughout the life of the joint. 
Threaded Tube Inserts:
Once you've chosen your rod end / Heim joint, Jimmy Joint or Johnny Joint, you'll need a way to mount it in to your links. You can get threaded bungs/tube adapters that you weld in to the ends of your tubing.  You can even get threaded adapters for square tubing.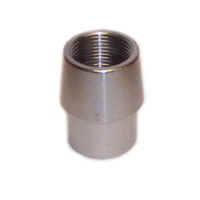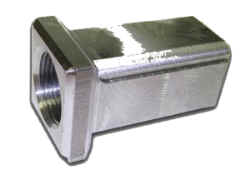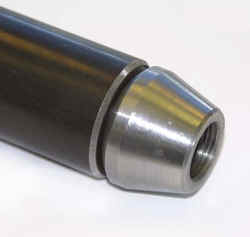 Photo of tube insert in a tube prior to welding
Jam Nuts:
The jam nut is a thin nut, normally used under a full nut to develop a locking action. These free-spinning low profile nuts are used to lock rod ends and other threaded components into position. Available in right and left handed threads.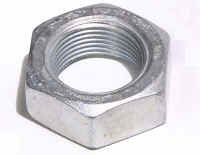 Grader Ball / Ball & Socket / Ball & Cap:
Some builders building 1-link (wishbone) suspensions have chosen to use a ball and socket setup. The most commonly used is what many refer to as a 'grader ball'.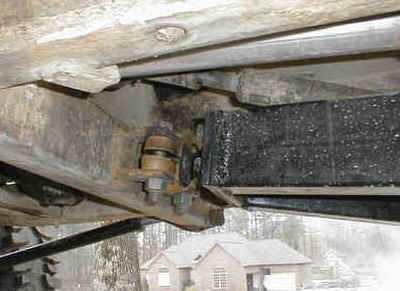 While some are able to find used grader balls, others buy them new. The most common manufacturer mentioned in the offroad community is Komatsu. The parts are for a Komatsu Moto Grader.
Here are the Komatsu part numbers:
P/N 31035  – 4 Inch Ball Stud

P/N 31509 – Cap (2 Are Needed)

P/N 12699 – Shim

P/N 12699A – Shim
We found (2) company's on-line that list these parts:
Of the two, Anderson Equipment seems to have all the parts available to order right on line. Expect to pay anywhere from $160.00 to $200.00 for all the parts. If this seems expensive, consider the price for this (1) link compared to buying quality Heims for (4) links.
You should also be able to find these parts at your local heavy equipment dealer that sells parts for dozers and graders.
Ball & Socket: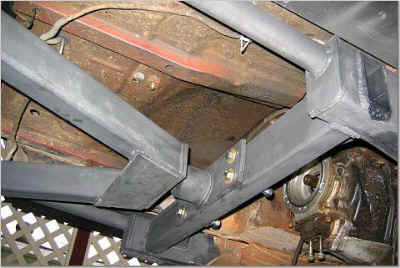 We've heard of people taking a 2-5/16 ball and mounting it in a custom socket. We don't have any other information about these setups and would suggest sticking with the Grader Ball.
Conclusion:
Our goal wasn't to recommend any specific type of suspension joint to use, but to give you an idea of what's available to you. You need to contact the different suppliers to see exactly what sizes are available and what their strength is rated at.
Resources:
Mountain Offroad – Bushings, Rod Ends, Tube Ends