By 4x4Junkie
Tired of replacing that piece of junk plastic flap for a latch Ford put on your rear sliding window?
Replace it with the '95-'97 style latch. These are a much better design and will only take a few extra minutes versus replacing it with the same thing again.
You will need:
Electric Drill
5/64″ Drill Bit
Medium Philips Screwdriver
Procedure:
1) Remove both sides of the old latch.
2) Make sure the window is fully closed and position each side of the new latch together so it is directly centered over the location of the old latch. Be sure it is perfectly centered, as the glass has a cutout hidden inside the aluminum frame right behind where it goes. If its too high up or low, you may end up hitting the glass with the drill.
3) Mark the holes to be drilled and drill them out, being careful not to drill out through the other side.
4) The screws provided with the latch are self-tapping, so you only need to screw them in and be done. Or you can use the screws from the old latch also (they are the same). Tighten until snug.
5) Position the latch levers into the latch body making sure the little U-springs are in their detents and insert the latch hinge-pins and tap it in until flush.
6) Finished!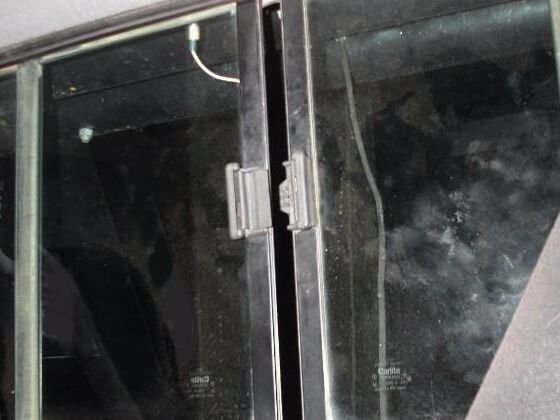 After replacing the original latch on mine twice, I swapped to this newer style and haven't had to mess with it ever again, This latch is also far easier to operate.
The Ford Part# is F5TZ-1040860-A.
The 1998 & up regular cab and all Supercab latches are different. I have not tried to fit any of those, although the Supercab model I doubt would work well on a reg cab window.
The latch was around $10 at the Ford dealer back in '98 when I did this mod.~TRS