Many Ford Ranger enthusiasts have used wheels off of a Ford Mustang on their Ranger.
This page will help guide in swapping to Mustang wheels.
1994/1995 Mustang 17×8 Wheels On 2004 B2300 (15×6 stock) (Contributed by crazypj)
I just fitted 94/95 Mustang 17×8 wheels to my 2004 B2300 (15×6 stock). It's almost a direct swap but could be easier/safer with longer studs and 1/4″ spacers on the front. I had to tweak the metal brake line on the passenger side, and do some bending to the bottom flange of the lower suspension arm.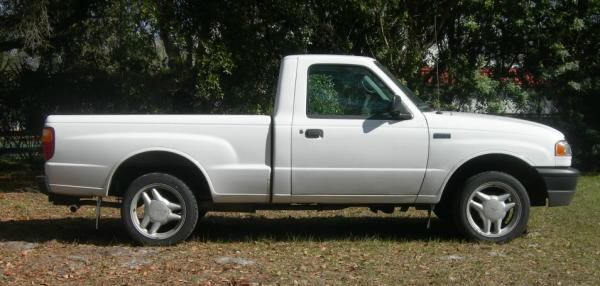 16×8 Cobra Rims on a 1995 Ford Ranger (contributed by veefer800canuk)
235/60-16 Front and 255/55-16 Rear tires on 16×8 Mustang Cobra wheels.
For the front wheels, I ordered some 5mm alloy wheel spacers, because the plastic center caps were lightly hitting the bearing hub grease caps by about 3mm or so, and being slightly pushed out when tightened.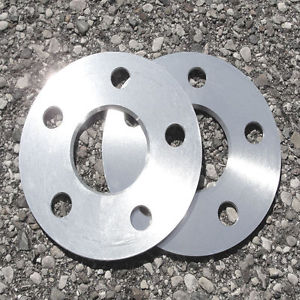 I also ordered 20 ET style lug nuts like these, to compensate for the thickness of the front spacers (can use them in the rear also with no spacers due to the thickness of the rims):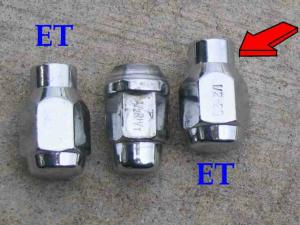 The bottom extended part of the ET lug nuts is .61″ width and the lug holes in the rim are .62″ so that should not be a problem.
On to the center bore, ranger is 70.3mm from what I can gather, and the mustang wheels are the same I think.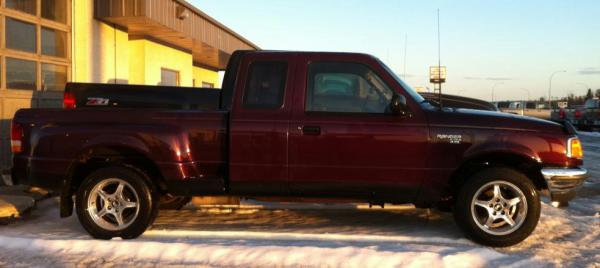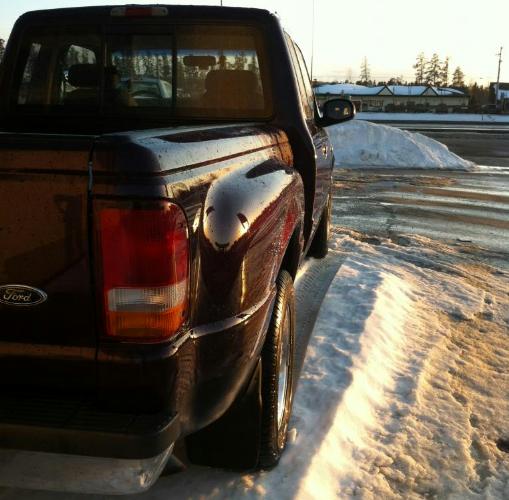 See more at http://www.therangerstation.com/forums/showthread.php?t=137273
2000+ Mustang V6 Rim  (contributed by ILLEGALCONCEPTS):
The problem with Mustang rims is that there are so many different styles. Of the three sets I have tried on my truck, only one fits with no modifications. They are the 16″ 5-spoke rims off the 2000 up V-6. They're the optional rims, but the standard ones fit also.
The 2nd set was the 17″ Cobra R rims I had on my Mustang. I tried it on the front and due to the small opening in the wheel you need to grind out the center of the wheel to fit over the hub. Even then you may still need a spacer.
The 3rd set is the set that's now on Zmans truck. The 17″ split 5-spoke that was standard on the late 1990s GTs. They need to be spaced out and the dust cap has to go to make them fit. Even then you might need to mod the hub to fit them with the caps.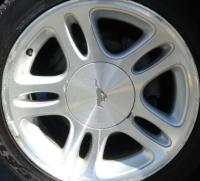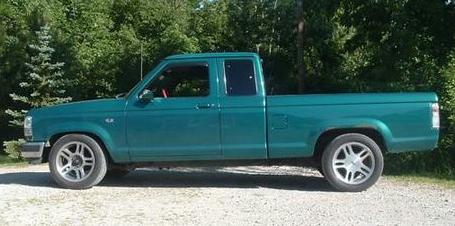 The mid 1990s twin 5-spoke Mustang rims need to be spaced about an inch before you can put the center caps on the front. This is not a problem on a 1993+ Ranger since the fenders are wider. On a 1992 with 5/16″ spacers in the front, the wheels are right at the edge of the fender.
2004/05 Mustang 40th Anniversary V-6:
The 16″ chrome wheels from a 2004 or 2005 V6 Mustang 40th Anniversary Edition fit without modifying anything. The center caps wont go on in front though but it clears the hub. The center cap will probably go on if you use a wheel spacer.
1994-1995 Mustang GT Wheel  (contributed by Ric):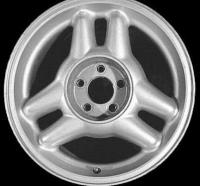 The split 3-spoke 17-inch GT wheels from a 1994/95 Mustang GT fit and you can use the center caps as well. They fit much better on a 1989-1992 Ranger. They are to inboard on a 2003 Ranger for my liking, but they work without rubbing. They fit better on the 2007 than the 2003.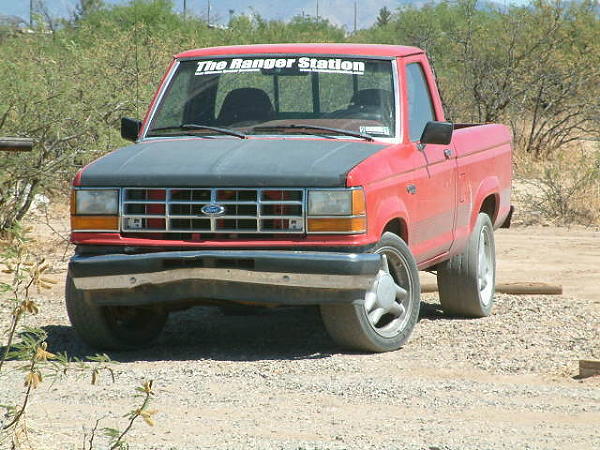 (1991 2WD Ranger with 1994/95 Mustang GT RIms)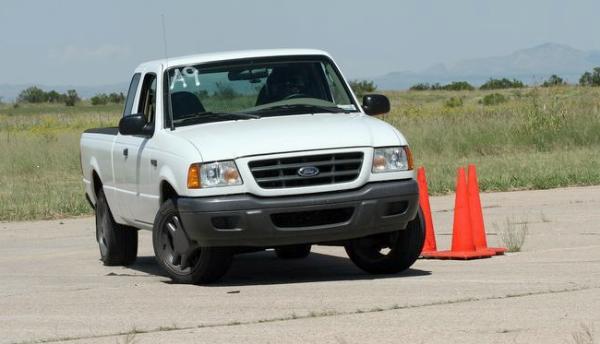 (2003 2WD Ranger with 1994/95 Mustang GT Rims)
2007 Mustang GT 17″ Wheels (Contributed by Mark Chambers):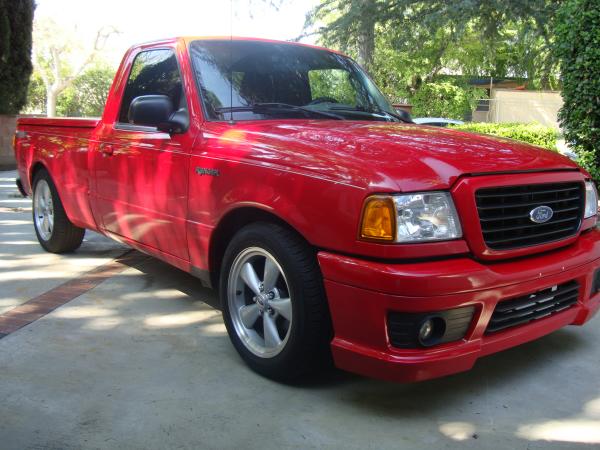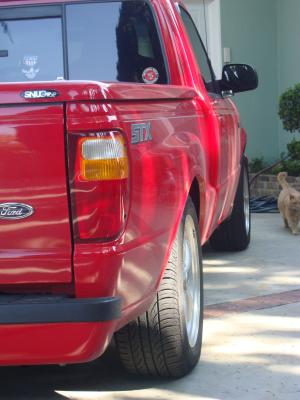 I own a 2005 Ranger STX 3.0 5 Speed Lowered 2″ Front 3″ Rear DJM Kit and rear sway bar added. I have installed 2007 Mustang GT Wheels & Perelli P Zeros 235-55-17 factory tire with no rubbing or any other problems. But I did need to use 1″ spacer in front and 1 1/2 spacer in the rear. I have aligned using factory specs except changed camber at 1.3 neg.  I am very happy with this setup and hope it will help others decide on a street wheel setup.  Note this is my daily driver and the pictures were taken with the bed filled with tools so the ride height in the rear is normally 1 inch or so higher.
Need More Help:
For Ford Ranger wheel specifications and help in measuring wheels, check out our Ford Ranger Wheel Fitment Guide.
You can also check out our Ford Ranger Wheel & Tire Forum.
Want To Contribute?
Do you have photos looking down the side of your truck that would show how far your wheels stick out? If you know the rim size (5×10?) and the backspacing (3.75?) and would like to send us a photo so others can judge what different wheel sizes and backspacing would look like, please Contact Us.
Have photos of a factory wheel from another vehicle that fits on your Ranger? Send us a photo of your vehicle with the rims on it Contact Us.