This will show you how to attach a K&N or other conical filter to your Ranger with a homemade PVC adapter.
Before you start you will need the following items:
Oatley 3-piece Shower Drain (see the picture) – 3″ to 3″ – Model #40297

95+ Ranger Intake Tube – check the junkyard, got mine for $5

4- 1/4″ bolts with nuts and washers

Jigsaw, sander, and other general tools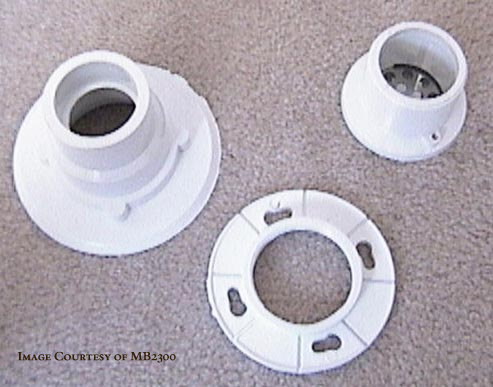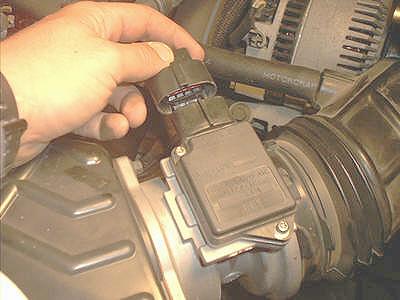 Start by removing the wire from the MAS (Mass Air Sensor)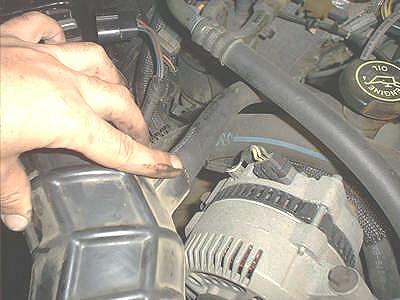 Remove the oil hose connected to the air intake pipe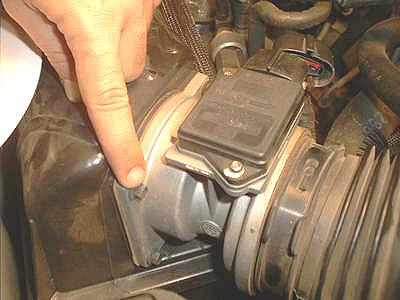 Remove the 4 screws connecting the MAS to the air filter housing
Once completed, disconnect the MAS from the housing and air pipe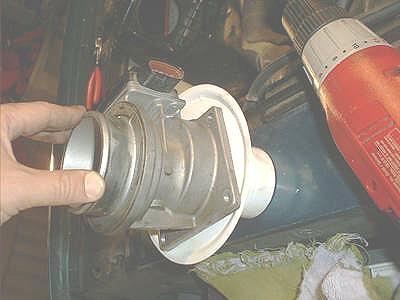 Toss away all the drain pieces except this one. Use the MAS to trace the outline onto the PVC section as well as marking the bolt holes. Make sure the interior holes line up, it should be slightly offset.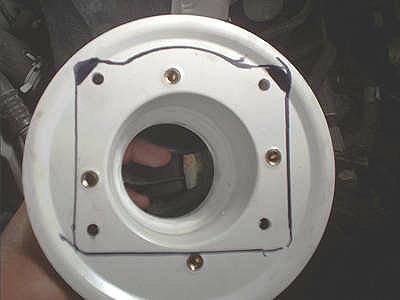 Once traced, drill holes through the PVC where marked. I used a 5/16″ drill bit
Cut out the outlined area with a jigsaw. You may have to use a sander to trim down the corners some, and the sander can also be used to clean up the edges, and make sure there is a smooth seat between the PVC and MAS.
Here is the completed assembly. Now you can attach your K&N or other conical filter to the PVC end, and the MAS back to the new 95+ air hose you picked up!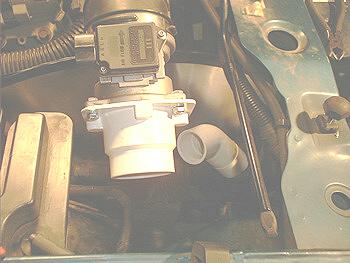 Here is what it looks like before installing the K&N filter. Notice my little PVC forced air system, and the heat shield to keep the heat away. I am also going to install a Ram Air system using some black rubber tubing and a water valve so I can force some more cold air up from under the truck and onto the K&N area. Don't forget to reattach all the hoses and wires as you found them. You may have to cut a small hole in the 95+ tube to fit the oil hose back into it.
Total Cost: $16 for the PVC, bolts, intake tube, & sandpaper.
This puppy costs $100 from KKM, and doesn't include the piping. To make it really snazzy, grab a Chrome Honda Civic Rice…Air Intake from Autozone or something for like $30. May require some additional mods, but you can figure it out. Gives a nice chromed look under the hood if you like that sorta thing.
The K&N filter should run you between 30-50 bucks depending on what you get.
Feedback From interceptor500
A friend of mine used an Oatey PVC Drain For Tile Shower Bases (Part Number 42213). This piece also works in absence of the listed part number 40297, which we couldn't find. This piece will accept a 3 inch I.D. air filter, when used on the larger part of the step on the end, and following all other directions mentioned in this tech article.