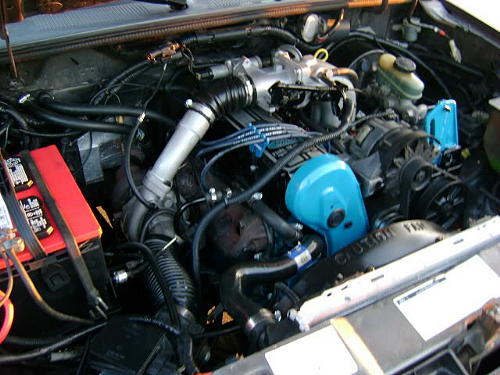 By: Dave_R
Turbocharged 2.3 litre motors were installed from the factory in '79-'81 Mustangs, '85-'89 Merkur XR4Ti's, '83-'88 Thunderbird TurboCoupes and some '83-'86 Cougar XR-7's. This page is meant to give you an overview of the engine and what is needed to make it fit and work well in your truck. For the purposes of this discussion I'm not going to include the '79-'81 carbureted models, as they are fairly rare and their performance potential is limited at best.
Engines and Related Components:
As with most vehicles these engines evolved and improved with each new model year. With '88 T-birds being the most advanced. Which is the best one is very subjective and I feel the best set-up has components from several different cars.
Turbos: All Mustang SVO's, Merkurs and '83-'86 T-birds used a Garrett (Air Research) T3 based turbo. Vehicles equipped with an Auto tranny used a turbo with a .48 A/R ('small') exhaust scroll housing for better low end boost. Manual tranny cars had a .63 A/R ('large') housing which breathed freer and had a better top end. A/R stands for Area Ratio it is the area of the scroll housing divided by the radius of the housing from the center of the scroll to the shaft center line. The larger the A/R the more efficiently the turbo will make boost compared to one with a smaller A/R. '87-'88 T-birds used a turbo built by Borg Warner's IHI division and are referred to as IHI's. The IHI unit is physically smaller than the Garrett and is not capable of putting out the same max. boost. It does however spool quickly though and could be considered a good choice for a moderate performance truck. '83-'84 turbos were oil cooled only and tended to lead a short life. All other turbos were oil and water cooled and holds up better.
Heads: All turbo heads have the same combustion chamber and port design, the exhaust ports are common to all of the Ranger based 2.0/2.3/2.5 OHC engines. The '83-'84 heads are lacking 1 bolt hole that is needed in order to make use of the later style intake manifold. It can be added easily. Unfortunately these heads are very prone to cracking around the exhaust valve seat. Don't be surprised if the one you pull from a good running car is cracked, most can be used as is though repair of them can be prohibitively expensive. A good alternative if you can't find a good turbo head is to get a head from an '81-'88 Mustang or '85-'88 EFI Ranger. The combustion chamber will need to be massaged a bit but they are rarely cracked.
Blocks: Metallurgicaly speaking all of the turbo blocks are the same as their N/A counterparts. They just have an extra boss cast into the passengers side for a fitting to allow the lubricating oil from the turbo to drain back into the engine. Later blocks ('86 and up) have a revised oil pan sealing surface and used a 1 piece rear main seal. You can also make use of your '89 or newer Ranger block. All you have to do is add a hole for the oil drain as pictured in Photo 1, a 3/4″ NPT threaded hole works fine.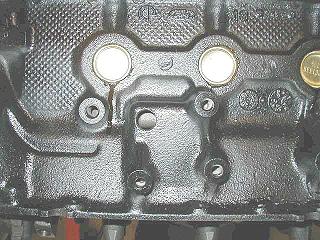 (photo 1)
Crank, rods, and pistons: There is no significant difference between the years and they use the same crank and rods as all other 2.3's. They do however have forged pistons, the better to put up with the turbo's punishment.
Camshafts: Early engines ('83-'85) used a 'small' .390" lift cam, later engines used a 'large' .400" lift one. If you are swapping the motor into a '89 or newer Ranger you can re-use the existing cam and roller followers in the turbo head. It's lift and duration are similar to the large turbo cam.
Manifolds:
Exhaust: Late '85-'89 engines had a better flowing manifold than the earlier version, it is referred to as the E6 because it's part number starts with E6 as opposed to the earlier one which starts with E3.
Intake: There are 2 major types of intake, an earlier one that has the ports oriented in a line, referred to as an inline and the later that had the ports in a square pattern which is referred to as the square one. There are two types of upper manifold that fit the square bore lower, a tall one that came on '85-'86 T-birds and all Merkurs and a shorter one that came on the '87-'88 T-birds. The shorter one can also be found on '85-'91 Mustangs and '86-'88 EFI equipped Rangers. The square manifold is preferred as it allows you to make more modifications to it than the inline style.
Oil cooler and lines: All turbo motors came with a Modine plate style oil to water heat exchanger (oil cooler). Be sure to get the steel tubes that routed coolant to and from the cooler, heater core and the turbo. Merkurs came with a 90* oil filter mount which is handy to have but, if you can't find one then the Ford Motorsport 90* adapter (FMS Part # M-6880-A50) can be substituted.
Engine Management System:
Computer: All '83-'89 motors are controlled by the EEC-IV engine management system. It is the same basic system that the '85-'94 Rangers used. Here is where the swap can get interesting. Depending on your ultimate goal you can do any of the following:
1. low boost (6-7psi) a stock Ranger MAF system can handle this without major problems.
2. Moderate boost (7-12psi) you should either swap over to a turbo specific computer or have a custom chip burned for your stock computer.
3. 'Normal' boost (15psi) the turbo computer is recommended.
4. Wow level (18-25) and WTF level (25+) I'd strongly suggest either a piggyback system (EEC-tuner or EEC-tweaker, etc) or a complete stand alone system (Mega-squirt, etc).
There are two major types of computers, the P series (PE, PK-1, PC-1,etc) and the L series (LA2, LA3, 8UA) PK's and PC's were intended for non-intercooled engines but respond well when one is added. The LA3 was the latest and greatest of these computers but is not as highly sought after as the PE computer from the '85-1/2 SVO.
Sensors and wiring harness: Along with the computer you will need several turbo specific items
1. The Vane Air Meter (VAM) it allows the computer to read the volume of air entering the engine. SVO's and '87-'88 T-birds used a large one, all others used a small one.
2. Boost Control Solenoid (BCS) is handy to have but you can do without it. Having it attached is one less thing that the computer will complain about during a KOEO test.
3. Barometric Pressure Sensor (BPS) this looks exactly like a MAP sensor but is calibrated differently.
4. Intake Air Temperature (IAT) sensor (intercooled engines only) it's in the intake manifold and tells the computer how much the air charge temp has been increased due to compressing it.
All of the other sensors (TPS, EGR, KS, TFI module, etc.) are common to other 2.3's. If you decide to use the turbo computer you can either, re-pin the trucks existing harness and add a few wires for the turbos unique sensors or pull the harness from the car you got the engine from. If you wish to retain your 8-plug head or simply want to do away with the distributor you can adapt the 8-plug DIS system's module/trigger for use with the turbo computer. On a 4 plug head you will need to apply power to the secondary coil inhibit wire or either run the secondary coil's wires to ground or add a resistor in place of the secondary coils themselves so, electrically speaking, the computer doesn't even know that their gone. You will want to retain the 3-wire O2 sensor and if possible upgrade to the 4-wire sensor that came with '91 and newer Rangers. Also the early computers were calibrated for 30pph 'green top' injectors while later ones used 35pph 'brown top' ones.
Fitment Issues:
Brackets and Accessories: All of the Ranger accessory brackets will fit, though if your putting this engine in a '89 or newer truck with PS you'll have to carve away a portion of the bracket so that the distributor will fit. The engine will fit using the Ranger's original motor mounts.
Fan: The stock Ranger fan is adequate for most applications but all of the turbo computers are capable of running an electric fan so wiring one of those is easy.
Radiator: The stock radiator is adequate for the northern climates but will most likely be marginal in Texas and Arizona. Fitting the radiator from a V6 Ranger with A/C would be highly recommended. Unfortunately, you'll have to do some creative routing of the radiator hoses as the water necks are in the wrong position. Fitting a radiator from an older '83-'84 Ranger helps a bit but it's not a drop in either. Also I've been told that the radiator from a V6 Monte Carlo can be made to fit. I've not actually checked the dimensions but it's about the right size and the water necks are correctly placed.
Heater Box: On '95 and older trucks w/o A/C some minor surgery is required on one corner of the box to clear the turbo's outlet elbow and O2 sensor. A piece approx. 5" wide x 4" high and 2" deep needs to be removed and the box resealed. The size of this cut out can be minimized by relocating the O2 sensor to the side of the turbo's outlet elbow as pictured in Photo 2.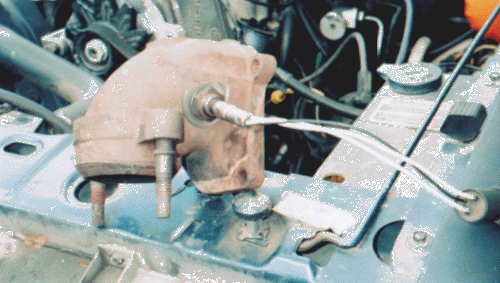 (photo 2)
Air Conditioning: Several guys have done this swap and have been able to keep their A/C. The problem is that the turbo and the evaporator housing try to take up the same space. This requires either a custom header to relocate the turbo, flipping the stock manifold and re-drilling the head or radical surgery on the A/C's evaporator housing.
Fuel pump: The stock Ranger 90lph pump is adequate for stock and mildly modified engines, the stock T-bird pump was also 90lph. If your planning on upping the performance a larger Walbro pump should be on your list of goodies to get.
Exhaust system: Turbos have a nice quieting effect on exhaust tone, on the plus side this lets you get away with running a very small 'turbo' style muffler. In fact, if you have to run a catalytic converter you may actually be able to not use a muffler at all. 2-1/2" pipe from front to rear should be considered the minimum size to use and a 3" down pipe (the first 3 feet of the system) has been rumored to help.
Rear axle: The factory 7.5" rear is capable of putting up with a fairly stock turbo engine but will not put up with too much punishment. It replacement with either a 8.8" or 9" Rear is recommended. Addition of a Traction-loc should be considered a requirement and traction bars are definitely worth the money.
Transmission: These engines will bolt up to the stock Ranger transmissions, both Manual and Auto without a problem. As long as the engine is fairly stock (200 hp or less) and you aren't in the habit of dumping the clutch at 3000 rpm's the stock trannys will hold up fine.
Manual trannys will require a different clutch disc, as the input shaft splines are different.
If you wish to upgrade to a heavier duty tranny you have limited options. For the Auto there was a 4-cylinder bellhousing used in some Pintos to mate the 2.3 to the C4 tranny. Though this will limit you to only 3 speeds, no OD. This part is currently the Holy Grail of Ford tranny parts as it seems to have been a limited production item and not all Pinto Autos were C4's. Pinto wagons are your best bet for one of these.
For manual trannys you are limited to the Borg Warner T-5 that came in Turbo T-birds and Mustang SVOs. The T-5 that was installed behind the V8's has a slightly different input shaft and although it can be used it requires a special pilot bearing. Unfortunately most T-birds and all Mustangs used cable actuated clutches whereas the Rangers are all hydraulic. To use this tranny requires that you find the bellhousing, fork, throwout bearing, slave cylinder and hydraulic line from an '87-'88 T-bird. The T-bird line will connect to the Ranger master cylinder. Fitting the T-5 will require that you either move the tranny crossmember forward or weld an extension plate, as pictured in photo 3, onto it to pick up the tranny mount.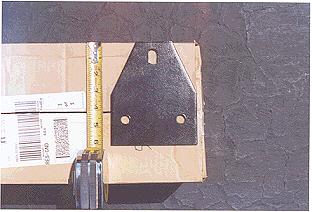 (photo 3)
The shifter also sits about 8-9" further back than the Ranger one. Some floor pan modification is necessary Some have found that by reversing the T-birds shifter handle you can keep your 60/40 split bench, most however end up using bucket seats. On 4×2 trucks your existing driveshaft will fit with no modifications. On 4×4's you will have to adapt the BW 1350 transfer case to the tranny. The guys at www.5speeds.com can help you with that much cheaper than most other places.
Click HERE for more T5 identification information.
Upgrades and Modifications:
A number of upgrades, improvements and performance parts can be added to boost the performance of these turbo motors even further. Even a 350HP turbo motor can be considered very streetable. Though I warn you, boost can be very addictive and can get very expensive very quickly.
Displacement: Even in forced induction engines the old adage "there is no replacement for displacement" is true. If you start with the '89-'94 DIS Ranger block you can easily swap in the newer '98-'01 2.5 litre crank and still retain the T-bird's distributor. Though this requires the use of aftermarket pistons and aftermarket rods are highly recommended. A Moly filled top ring should be considered standard and zero gap rings are available.
Cylinder head and camshaft: Porting is always good. Larger valves are available from Ferrea but can be costly to have fitted. A number of different cam vendors make literally dozens of different camshaft profiles. Those with moderate lift (.415-.425) are always a good choice and it's best to keep the overlap to a minimum by picking a cam with a centerline angle of 114* or greater. Addition of an adjustable cam timing gear is helpful for final tuning, especially if you've had the head or block decked. If money is no object you can hop on over to Esslinger's website and check out their aluminium heads….very nice but a bit pricey!
Manifolds:
Exhaust: Several headers are available for these engines. They run from a simple welded up log style to a full blown equal length Stainless Steel tube one. You can also port the stock E6 manifold for better flow.
Intake: If you are using the square style intake, recommended, you can gut the upper (just like it sounds) and knife edge (you'll figure it out) the lower intake. This tends to free up the engine at higher rpms but you will lose some of the bottom end punch. The square manifold also allows you to rotate the upper ½ 90* towards the front of the truck to allow easier plumbing for a front mount intercooler. This can be done by either cutting the intake apart and having it welded back together or there is an adapter available that allows you to do this on a Ranger with a minimum of hassle.
Throttle Bodies: Stock throttle bodies (TB) on all EFI 2.3's was 50m/m. None are better than any other. Though with a bit of work a larger TB from Mustang GT can be fitted, they range in size from 55m/m to 80m/m. Though in the real world anything over 65m/m has limited benefits.
Intercooler: The bigger the better, period. The stock one from a T-bird or SVO is better than nothing but from a performance stand point it's a bit lacking. Its stock placement is terrible as it sits directly over the hot exhaust manifold. Some guys have welded plates over the top and bottom of these and run water through them but this requires a separate pump and radiator to get rid of the heat. Saab and Volvo both used large front mount air to air intercoolers and they can be adapted for use in a Ranger with a bit of work.
Bypass (BPV) / Blow-off (BOV) valves: These perform the same function, only slightly differently. They both are used to minimize the lag felt when shifting by keeping the turbo spinning freely during shifts. They do this by relieving the excess pressure on the compressor section of the turbo when the throttle is suddenly closed, thereby keeping the turbo spooled up (spinning). A BPV vents this pressure back into the inlet system in front of the turbo. A BOV vents it to atmosphere. The EEC-IV system prefers a BPV as the venting of previously metered air tends to 'confuse' the computer and can cause an over rich stumble when getting back on the throttle after shifting.
Turbos: A number of different turbos are available and which is best for your application depends on many factors. If you think that an upgrade might be beneficial, get several recommendations from shops that specialize in turbos. The easiest ones to adapt are the Garrett T3/T4 (Grand National) hybrids which use a larger compressor section to build more boost. They can run as much as $1200 but make some serious clean boost.
Fuel system: If your upping the performance potential of the engine you will need a larger fuel pump. Walbro (OEM supplier for Ford) makes replacement pumps in 190 and 255 lph sizes that are marketed for Mustangs. These fit in Rangers with minimal effort, other than gaining access to the pump. A 190lph pump will be adequate for 90% of the trucks out there. A 255lph pump will only be needed if your going to exceed 350 RWHP. Don't bother with the high pressure version unless your planning on pushing the boost level past 25psi. An Adjustable Fuel Pressure Regulator is a good idea and gives you one more thing to help fine tune your engine. The stock 35pph fuel injectors are good for up to about 250-300hp, beyond that point I'd suggest swapping in a set of Chrysler 'super 60' injectors, they flow about 40-45pph.
Engine management: Once you get to this level you are hitting up against the limits of the stock computer. If you want ultimate control of the stock computer a piggyback system is definitely on order. Both the EEC-tweaker and the EEC-tuner are good choices, thought he tuner allows you more latitude in changing parameters and seems to have more grass roots support. There is even a file for this that allows you to dump the VAM and substitute the MAF meter from a 5.0 Mustang GT. You may also want to consider a complete stand alone aftermarket engine management system such as the Mega-Squirt or Simple Digital's system. These systems allow you to completely customize your engine's operating parameters. But, you should first thoroughly familiarize yourself with engine operations theory and how your particular system of choice addresses each parameter before starting to make adjustments, as things can go wrong very quickly.
Wiring Pinouts
87-88 THUNDERBIRD TURBO COUPE PINOUT
# COLOR FUNCTION
01 Y (KAPWR) KEEP ALIVE POWER
02 LG (BOO) BRAKE ON / OFF
03 DG/W VSS DIF (+)
04 DG/Y (IDM) IGNITION DIAGNOSTIC MONITOR
05 – NOT USED
06 O/Y (VSS-DIF) CRUISE CONTROL (-)
07 LG/Y (ECT) ENGINE COOLANT TEMPERATURE
08 – NOT USED
09 – NOT USED
10 BK/Y (ACC) A/C CLUTCH
11 – NOT USED
12 – NOT USED
13 – NOT USED
14 – NOT USED
15 – NOT USED
16 BK/LG (IGN GND) IGNITION GROUND TFI IGNITION MODULE, DISTRIBUTOR
17 Y/BK (STO/MIL) SELF TEST OUTPUT
18 – NOT USED
19 – NOT USED
20 BK/LG (CSE GND) CASE GROUND
21 O/BK (ISC) IDLE SPEED CONTROL
22 T/LG (FP) FUEL PUMP CONTROL
23 Y/R (KS) KNOCK SENSOR
24 R/Y (OCT ADJ) OCTANE SWITCH
25 P/BK (ACT) AIR CHARGE TEMP
26 O/W (VREF) VOLTAGE REFERENCE
27 W/BK (VAF) VANE AIR FLOW
28 – NOT USED
29 DG/P (HEGO) EXHAUST GAS OXYGEN SENSOR
30 BR/W (NDS/NI) NEUTRAL DRIVE SWITCH (AUTO) / NEUTRAL INPUT (MANUAL)
31 BK/PK (BOOST) BOOST CONTROL
32 – NOT USED
33 Y (EGR S/O) EGR SHUTOFF
34 LB/P (DOL) DATA OUTPUT LINK, USED FOR TRIP/MPG
35 O/W (ACL) PROGRAMMED RIDE CONTROL
36 Y/LG (SPOUT) SPARK OUTPUT TFI IGNITION MODULE, DISTRIBUTOR
37 R (V PWR) VEHICLE POWER
38 – NOT USED
39 – NOT USED
40 BL/LG (CASE GND) BATTERY GROUND
41 – NOT USED
42 Y/LB (KDS) KICK DOWN SOLENOID
43 LG/P (VAT) VANE AIR TEMPERATURE
44 – NOT USED
45 LB/BK (BP) BAROMETRIC PRESSURE
46 BK/W (SIG RET) SIGNAL RETURN
47 DG/LG (TP) THROTTLE POSITION SENSOR
48 W/R (STI) SELF TEST INPUT
49 O (HEGO GND) HEGO GROUND
50 – NOT USED
51 – NOT USED
52 PK (HEDF) HIGH-ELECTRO DRIVE FAN
53 DB/Y (LUS) LOCKING UPSHIFT SOLENOID
54 R (WAC) WOT A/C CUTOFF
55 T/O (EDF) ELECTRO DRIVE FAN
56 DB (PIP) TFI IGNITION MODULE, DISTRIBUTOR
57 R (VPWR) VEHICLE POWER
58 T (INJ A) INJECTOR BANK 1
59 BN/Y (INJ) INJECTOR BANK 2
60 BK/LG (PWR GND) BATTERY GROUND
92-94 FORD RANGER 2.3 PINOUT
# COLOR FUNCTION
01 Y (B+) KEEP ALIVE POWER INPUT
02 LG (BOO) BRAKE ON/OFF INPUT
03 GY/BK (VSS) VEHICLE SPEED SENSOR INPUT
04 T/Y IGNITION MONITOR
05 GY (CKP) CRANK POSITION SENSOR SIGNAL INPUT
06 PK/O (VSS) VEHICLE SPEED SENSOR GROUND
07 LG/R (ECT) ENGINE COOLANT TEMPERATURE SENSOR
08 DG/Y FUEL PUMP MONITOR
09 PK/LB DATA (-)
10 DG/O A/C CYCLE PRESSURE SWITCH INPUT
11 – NOT USED
12 – NOT USED
13 – NOT USED
14 LB/R (MAF) MASS AIR FLOW SENSOR
15 T/LB (MAF) MASS AIR FLOW SENSOR RETURN
16 O/R IGNITION GROUND
17 PK/LG (MIL) DATA LINK OUTPUT / MALFUNCTION IDICATOR LAMP
18 – NOT USED
19 – NOT USED
20 BK/LG GROUND
21 W/LB (IAC) IDLE AIR CONTROL OUTPUT
22 LB/O FUEL PUMP ENABLE OUTPUT
23 – NOT USED
24 Y/LG (PSP) POWER STEERING SWITCH INPUT
25 GY (IAT) INTAKE AIR TEMPERATURE SENSOR INPUT
26 BR/W REFERENCE VOLTAGE OUTPUT
27 BR/LG (EVP) EGR VALVE POSITION SENSOR INPUT (MANUAL ONLY)
28 T/O DATA (+)
29 GY/LB HEATED OXYGEN SENSOR INPUT
30 LB/Y PARK / NEUTRAL POSITION SWITCH INPUT
31 – NOT USED
32 DB/Y (DPI) DUAL PLUG INIBIT OUTPUT
33 BR/PK (EVR) EGR VACUUM REGULATOR OUTPUT
34 – NOT USED
35 – NOT USED
36 PK (SPOUT) SPARK OUT OUTPUT
37 R POWER INPUT
38 – NOT USED
39 – NOT USED
40 BK/W GROUND
41 – NOT USED
42 – NOT USED
43 P A/C SELECTOR INPUT
44 DG OCTANE ADJUST SIGNAL
45 – NOT USED
46 GY/R SENSOR SIGNAL RETURN
47 GY/W (TP) THROTTLE POSITION SENSOR INPUT
48 W/P DATA LINK INPUT
49 GY/R SENSOR SIGNAL RETURN
50 – NOT USED
51 – NOT USED
52 O/Y A4LD TRANSMISSION SOLENOID
53 P/Y (TCC) TORQUE CONVERTER CLUTCH SOLENOID
54 PK/Y WOT CUTOUT RELAY
55 – NOT USED
56 GY/O IGNITION MODULE RPM INPUT
57 R POWER INPUT
58 T INJECTOR 1,4 OUTPUT
59 W INJECTOR 2,3 OUTPUT
60 BK/W GROUND
More Information:
For more help and info on this swap, visit the TRS Forced Induction Forum.