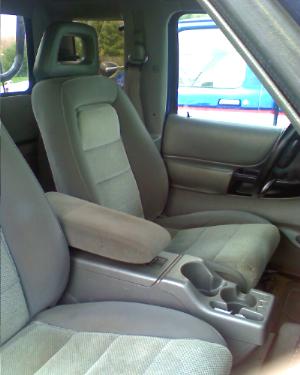 (Photo of Escort GT seats inside TRS-2 1996 Ranger)
NOTE: A lot of this information has been gathered from our forum members. If you have information to contribute, please use the Contact button at the bottom.
Here is what seats will bolt in to a Ranger:
All years. Tempo GT's are the nicest. Tilting "pillow" headrest and frequently power lumbar.
1981-1991? GT's again are the nicest, "Halo" style headrest, sometimes power lumbar.
(The 'Halo' Buckets in the TRS-2 Ranger are from an Escort GT)
1998-2001 Ford Escort ZX-2
I took two pieces of 3/16″ X 1″ X 18″ long and bolted them across the bottom of the ZX-2 seats. Then I drilled a hole 1.25″ to the inside of where the ZX-2 rails would have been. Then I bolted the '95 rails to the cross piece spaced out properly to bolt into my Ranger. I utilized a 1″ long piece of 2″X2″X 1/4″ angle with a hole drilled in each leg to bolt my seat belt to the bottom of the seat.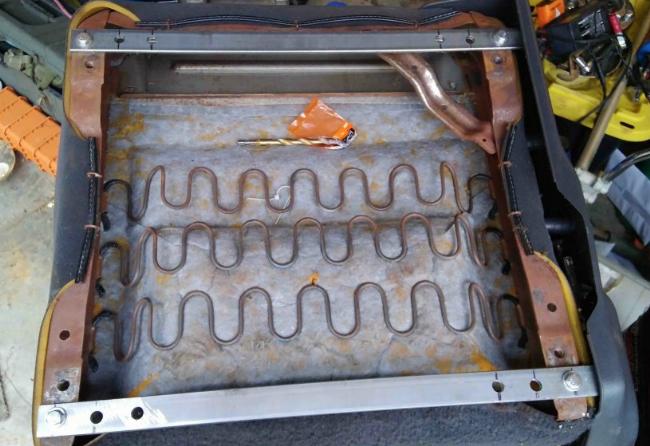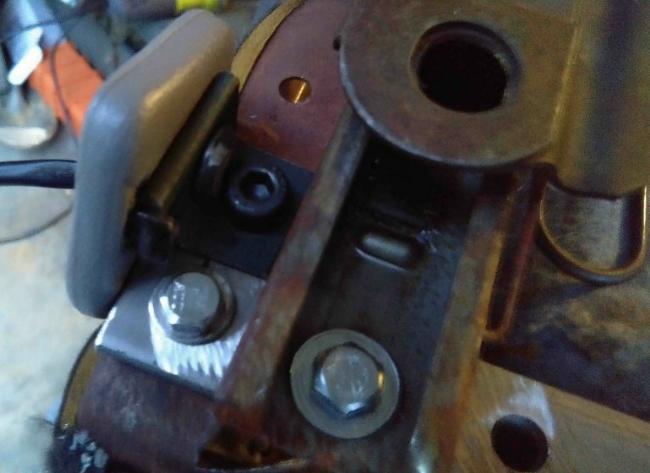 It's important to either use a thick metal bar or a piece of angle so it doesn't bend. If you use angle, you'll have to cut it out to go over the tracks. You can see where this would work with any seat that has a wider track than the Ranger.
Don't bother looking they will be gone when you get there.  If you're lucky, look for Mustang GT's. Also halo style headrests on GTs.
If you cut the (5) rivets off the top of the Ford Ranger seat brackets, they will bolt up to I'd guess) 1994 to 1998 Mustang seats nicely.
(1995 Ford Mustang Cobra Seats)
1982-1988, Turbocoupe has nicest seats same as Mustang GT but with tilting "pillow" head rests, almost always power-lumbar, adjustable thigh support, adjustable side bolsters on base. The best factory ford seat (IMHO).
The front seats from an 86 Merkur XR4TI will fit in a B2, so I assume rangers too, If you drill out the rivets, and swap the brackets from the tracks, 1/2 hour per, the seats I used gave me height adjust, adjustable headrest, lumbar support, much better lateral support, (no more bouncing out of the seatbelt) and they're heated. (Submitted by Merc)
All of these will bolt directly to your factory tracks if you have either Buckets or split-bench.
If you have a conventional bench then you will need to replace your tracks with split-bench/bucket-seat tracks. (Toss your solid bench tracks they are completely different).
You will have to run a Tap through some pre drilled holes in the bottom of the seat frames. The holes are already there but unthreaded.
If you have a conventional cab Ranger you will probably have to use the "halo" style headrest used in Mustangs and Escort GT models, as the pillow style will hit the rear window. This forces the seat back into a very upright position. (and is EXTREMELY uncomfortable)
If you have a Supercab Ranger or a Bronco2 headrest clearance isn't an issue.
One other word of warning Ranger Standard-cab, Ranger Supercab and Bronco II's all have different floor pan profiles and so use different seat tracks, so if you want to put buckets or a split-bench into a standard cab Ranger you must get your seat tracks out of a standard cab Ranger.
Explorer Seats
Here are 1993 Ford Explorer bucket seats mounted in a 1985 Ford Ranger using the 60/40 split bench seat tracks from a 1989-1992 Ford Ranger. You should also be able to use the tracks from Ranger bucket seats.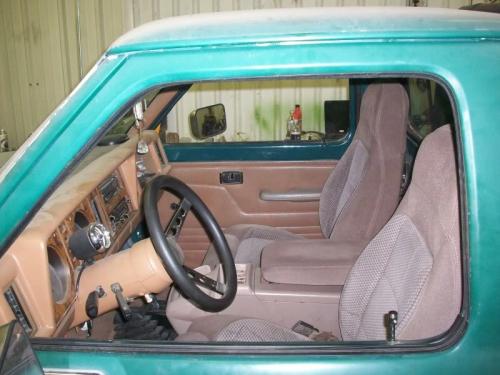 (1993 Ford Explorer Seats)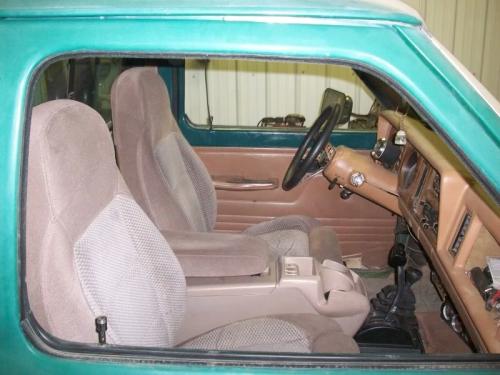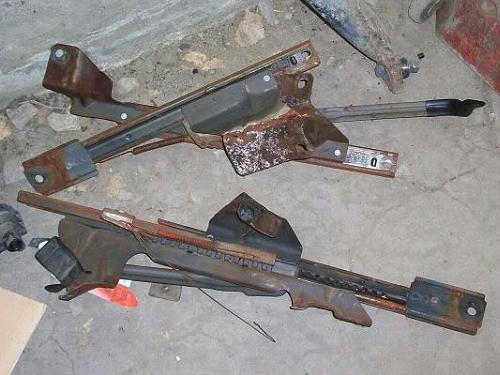 Here is another set of Explorer buckets mounted in an extended cab Ranger using the Ranger's 60/40 split bench seat brackets.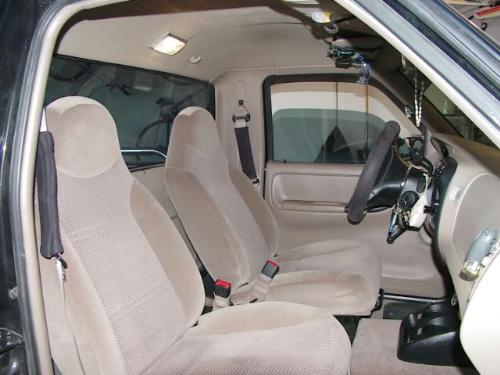 The Explorer seat brackets should be held on by (4) 10mm bolts.
Explorer seat tracks only work on extended cab Rangers. Explorer seats need the 60/40 or bucket seat tracks from a regular cab Ranger to work.
2002 and newer Ford Explorer seats are wider, and will not bolts up to the Ranger tracks.
2000 Explorer Power Seat Wiring:
My seats are heated with power lumbar. I suggest you tap into a large gauge wire under the dash, and add your own 30 amp fuse.
Passenger:
Black – ground
Black/White – +12v fused 30amp
Grey/Yellow – +12v in run position
Blue/White – +12v fused 30amp (join with black/white wire)
Driver:
Black – ground
Black/White (large gauge) – +12v fused 30amp
Black/White (small gauge) – Ground
Grey/Yellow – +12v in run position
Blue/White – +12v fused 30amp (join with black/white wire)
Red/Black – +12V in run position (join with grey/yellow)
2x Green/Yellow +12V fused 30amp (join with black/white and blue/white)
The rest of the wires are for memory. If you want memory seats, grab the switch from the Explorer door, and connect the wires to the same colors on the switch.
DO NOT TOUCH any wiring associated with the YELLOW connector.
Other Options:
If all else fails use two Passenger Seats from two Rangers with the 60/40 Bench seats. 2000 era Ford Rangers have tracks that unbolt from the seat pan and the seat pans on the passenger and the drivers seats are the same. Two passenger side seats makes one set of bucket seats.
 If anyone has any photos they want to contribute, please use the Contact button at the bottom of the page.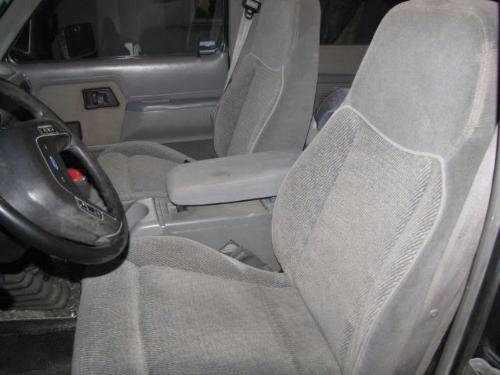 1999 Ford Explorer seat in a Bronco II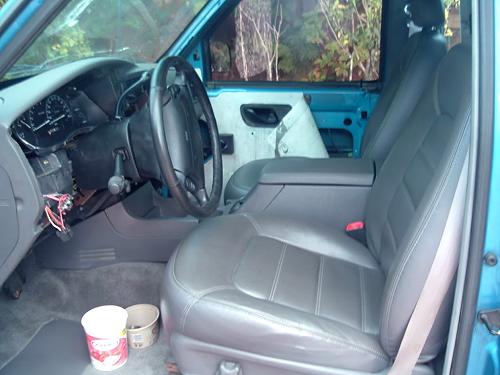 2002 Ford Explorer seat and console in 1996 Ford Ranger
Comments From Sasquatch_Ryda:
"Ok…I have installed a 60/40 bench from a 2000 Ford Ranger extended cab into my 1997 regular cab. I had to swap the seat tracks from my original seats onto the 2000 seats. The 2000 seats had all the holes in them already to bolt up to my 1997 tracks, they just weren't threaded yet.
Tonight I just installed a set of bucket seats out of a 2004 ranger extended cab into my friends 1994 extended cab. The seat tracks are welded to the 2004 seats so there was no swapping them. It looked awful close to fitting so I did some measuring. Everything lines up perfect, exact same seat tracks. They bolted right in. I had to swap the seat belt receiver from his old seats to the new ones, that was it (and remove the seat belt pretensioners). Also being the 2004 was a 4 door extended cab, the seats do not slide forwards on their own when you release the seat latch."
Forum Discussions: