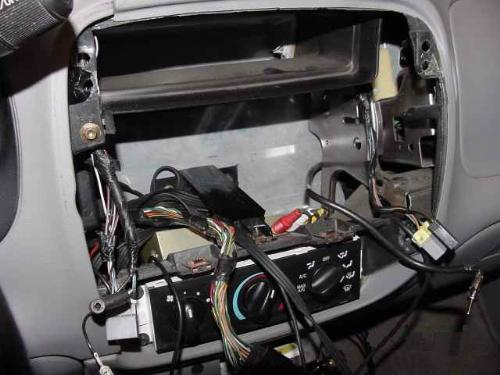 Now What?
Ok, you bought a Ranger but the radio is missing. If the factory plugs are there, you should be able to pick up an installation kit from the parts store.

The plugs in the kit will plug in to the factory plugs and allow you to hook up to the new radio. But what if your Rangers harness is missing the radio plugs at the end of the wires?
Ford doesn't use the same color wiring in all applications but there are some common wire colors between model years as far as radios go. Below is a break down of common wire colors as well as links to wiring diagrams. The wire colors listed are for the base model radios. Premium and Audiophile radios have additional wiring for an amplifier and even a subwoofer on some models. You should refer to the specific diagrams from the links below.
Base Radios – Wire By Color:
Power, Ground & Illumination:
| | | |
| --- | --- | --- |
| Wire Color | Used For | Model Year(s) |
| Lt Green/Violet | Power | 1999-2006 |
| Lt Green/Purple | Power | 1995-1998 |
| Lt. Green/Yellow | Battery | 1990-1994 |
| Black/Pink | Fused Ignition | 2004-2006 |
| Yellow/Black | Fused Ignition | 1990-2003 |
| Lt Blue/Red | Illumination | 1990-2006 |
| Orange/Black | Illumination | 1990-1994 |
| Black | Ground | 1990-2006 |
| Black/Lt Green | Ground | 1994-2006 |
| Red | Ground | 1990-1993 |
Speakers:
| | | |
| --- | --- | --- |
| Wire Color | Used For | Model Year(s) |
| Orange/Lt Green | Left Front Speaker | 1990-2006 is Positive (1995-1998 is Negative) |
| Lt Blue/White | Left Front Speaker | 1990-2006 is Negative (1995-1998 is Positive) |
| White/Lt Green | Right Front Speaker | 1990-2006 is Positive (1995-1998 is Negative) |
| Dk Green/Orange | Right Front Speaker | 1990-2006 is Negative (1995-1998 is Positive) |
| Gray/Lt Blue | Left Rear Speaker | 1996-2006 is Positive (1999-2000 is Negative) |
| Pink/Lt Green | Left Rear Speaker | 1990-1994 is Positive |
| Tan/Yellow | Left Rear Speaker | 1990-2006 is Negative (1999-2000 is Positive) |
| Pink/Lt Blue | Left Rear Speaker | 1990-1993 is Negative |
| Orange/Red | Right Rear Speaker | 1990-2006 is Positive (1999-2000 is Negative) |
| Brown/Pink | Right Rear Speaker | 1996-2006 is Negative (1999-2000 is Positive) |
| Black/White | Right Rear Speaker | 1990-1994 is Negative |
Wiring Diagrams: