With the addition of stereos, lighting, electric winches, and other electronics that consume a lot of voltage there can be a need for an alternator that will put out enough juice to meet the demand.
Here is an overview of what alternators came in the Ford Rangers: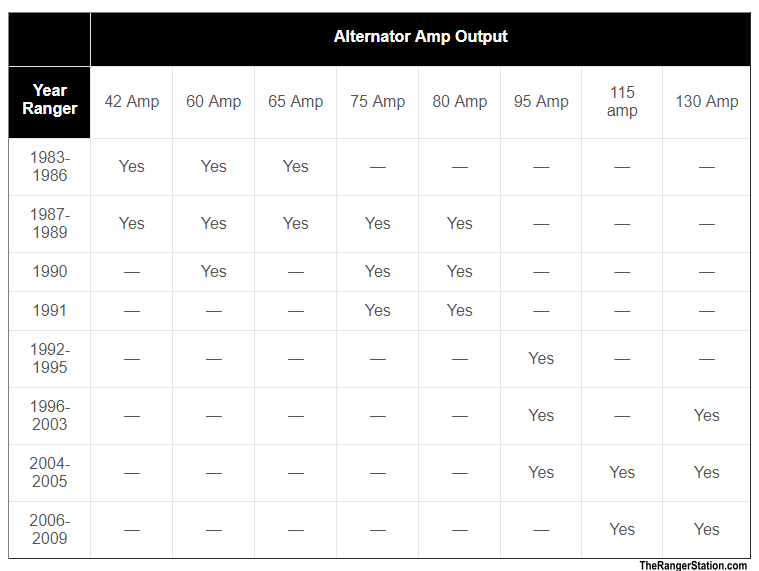 There were some 90 Amp alternators being shown by Rock Auto between 1996-2003. The usage seemed sporadic though.
Some Miscellaneous Alternator Facts:
The 2.9 and 4.0 alternator mounting is different.
On the 4.0, 4.2 (F-150) and later 3.0 Aerostars and Rangers, the alternator is "fixed" because there is a separate belt tensioner.
The 2.9 uses an "offset ear" alternator. Other applications that use the same alternator case are the 1.9-liter Escorts, 2.3 Tempo/Topaz and 2.5 liter Taurus.
The Escorts can have anything from a 40 amp alternator to a 90 amp.
The Tempo's will typically have a 60 amp or a 75 amp.
The Taurus's will usually have a 75 amp alternator.
A 130amp alternator from a 1986 Mercury Grand Marquis is said to be a direct bolt on for a 2.3 and not require a pulley change.
The 1997 F250 5.4 V8 alternator works on a 1991 4.0 STX 4×4. Bolts, belts and wires same. The person making the swap tinned the leads on the power output into one wire. You must also cut the black/white and crimp on a connector to run it back to the 1997 alternator. Not hard at all. 80 amps to 110, not 130 but that's ok, it's done.
There Are 95 Amp Models In:
1991-1994 Aerostar and Navajo 4.0
1993-1996 Bronco
1991-1999 Explorer
1994-1997 B-Series (All!)
1992-2001 Ranger (All!)
1997-1998 Tracer and Escort (95 amp)
To Upgrade Use The 130 Amp Model Found In:
1996-1998 Explorer 4.0 (130 Amp Standard)
1998 B-Series (all!) (Optional 130 Amp)
1996-2001 Ranger (Optional 130 Amp)
Although the 130 Amp is physically larger than the 95 Amp (good way to make sure you have the right one!) it will drop right in! Same bolts and belt! 20 minutes for 35 more amps!
Napa 130 Amp Alternator Upgrade:
Napa offers P/N 66215HDN which is a 130 Amp alternator that fits most 1986-1990 Bronco II's, and 1986-1992 2.9 Rangers.
Spotting a 95 Amp and 130 Amp Alternator: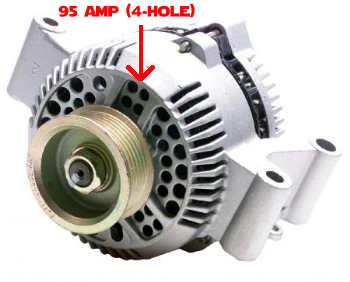 You can identify a 95 Amp alternator by the (3) sets of (4) holes.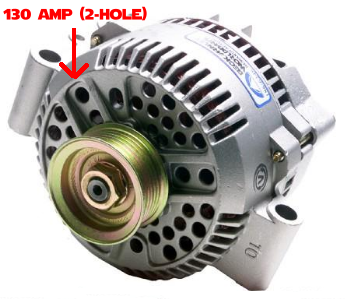 You can identify a 130 Amp alternator by the (3) sets of (2) holes.
Even More Power!
1992-2005 Ford Ranger owners now have the option of a 130, 170, 200 and 250 amp alternator from Motor City Reman. Click HERE for more.
More Resources:
Check out our Electrical Forum.