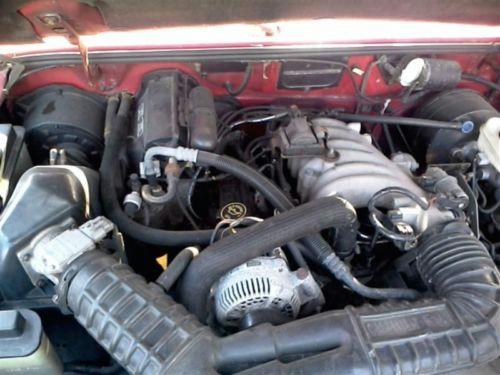 The Ford Vulcan V6 is a 3.0L, 60° V6 engine, first introduced for the 1986 model year and originally designed to be the optional engine in the Ford Taurus and Mercury Sable. In 1991 it became available in the Ford Ranger where it replaced the Cologne 2.9 engine (which it is not related to) as the base V6 in the Ranger
The Vulcan was a clean-sheet design using the metric system. The engine block is built by Sherwood Metal Products, the intake comes from Ford's Essex Casting, and the engine is assembled at Ford's Lima Engine plant in Lima, Ohio.
The Vulcan is a straightforward pushrod design, with 2 valves per cylinder. Bore is 3.504 in and stroke is 3.15 in. The engine was designed to use electronic fuel injection from the start (there was never a carburetor-equipped version), and was also sold in a "flexible fuel" configuration that could burn normal gasoline, E85 (a blend of 15% gasoline and 85% ethanol) or any mixture of these two fuels.
In 1991, it was updated with lower-friction pistons, a strengthened block, roller camshaft and other changes that resulted in a power rating of 145 hp and a torque rating of 160 ft·lbs. In 1998 further improvements were made, with a new intake manifold, changes in engine management and cam timing; output was further increased to 155 hp (115 kW) and 185 ft·lbs. A plastic upper intake was added in 2001.
This engine has become very well-known for its durability, and is common to find engines running strong at 300,000 miles and beyond.
Engine Specifications

Engine Displacement (Cubic Inches)

183 CID

Block

Cast Iron 60º V-6

Type

Over-head Valve Engine

Bore x Stroke

3.50 x 3.14

Compression Ratio

9.3:1

Valve Lifters

Hydraulic (1986 – 1993)

Hydraulic Roller Tappets (1994 – 2001)(Same as 5.0L)

Fuel System

Fuel Injection

Fuel Pressure

30 – 40 PSI

Horsepower

145hp @ 4800 RPM (1991 – 1995)

147hp @ 5000 RPM (1996 – 1997)

145hp @ 5000 RPM (1999)

150hp @ 4750 RPM (2000 – 2001)

146hp @ 5050 RPM (2002)

154hp @ 5200 RPM (2003 – 2004)

148hp @ 4900 RPM (2005-2008)

Torque

165 @ 3600 RPM (1991 – 1995)

162 @ 3250 RPM (1996 – 1997)

178 @ 3750 RPM (1999)

190 @ 3650 RPM (2000 – 2001)

180 @ 3500 RPM (2002)

180 @ 3900 RPM (2003 – 2004)

180 @ 3950 RPM (2005 – 2007)

Oil Pressure

40 – 60 PSI @ 2500 RPM

Tune Up

Spark Plug

AWSF-32PP (Motorcraft SP432)

Spark Plug Gap

0.044 inch

Ignition Timing

10 degrees BTDC

Firing Order

1-4-2-5-3-6

Distributor Rotation

Clockwise (1991 – 1994)

Distributorless (1995 – Later)

Capacities

Oil Capacity With Filter Change

4.5 Quarts

Cooling System Capacity (Quarts)

W/AC- 10.2 /  W/O AC 9.5

Torque Specifications

Cylinder Head

Torque in 2 steps [1st (33-41 ft-lbs), 2nd (63-73 ft-lbs)] (1991 – 1998)

Torque in 4 steps [1st (59ft-lbs), 2nd (loosen 1-full turn), 3rd (34-40ft-lbs) 4th (63-73ft-lbs)] (1999 – Later)

Main Bearing Bolts

60 ft-lbs

Rod Bearing Bolts

26 ft-lbs

Crankshaft Pulley Bolts

107 ft-lbs

Flywheel to Crankshaft Bolts

59 ft-lbs

Upper Intake Manifold / Throttle Body

19 ft-lbs

Exhaust Manifold

19 ft-lbs

Miscellaneous Specifications

Bore Spacing

4.33 inches

Connecting Rod Length

5.53145 inches

Block Height

8.661 inches

Piston Compression Height

1.5354 inches

Main Bearing Journal Diameter

2.5194 inches

Connecting Rod Journal Diameter

2.1257 inches
Firing Order:
1991-1994 Firing Order 1-4-2-5-3-6

1995-2008 Firing Order 1-4-2-5-3-6