Story by NoV8? Why Drive?
The 2.9 is a near bullet proof 4×4 engine, but it suffers from a very small 8-7/8″ clutch and flywheel that becomes a problem when running large tires and in steep hill or rock climbing.  The answer to this is to swap in a 10″ clutch and flywheel from a 4.0 engine.  The 2.9 and pre 1998 4.0 share the same bell housing bolt pattern and 6 bolt crankshafts, allowing the swap to be done with no fabrication.
What's needed for the swap:
1997 or earlier 4.0 liter flywheel (In 1998 they switched to an 8 bolt flywheel)
1997 or earlier 4.0 manual starter (Auto will not fit)
1997 or earlier 4.0 clutch assembly (Friction disk, pressure plate, throw out bearing, pilot bearing, clutch install tool); this usually comes as a set.
4.0 manual block plate (A 2.9 FM/TK block plate can be used with FM/TK transmissions but will not work with Mazda transmissions.  The starter hole must be opened up so the 4.0 starter can fit in 2.9 plates)
Power wires from the battery to the starter and from the old solenoid on the 4.0 starter.  These can be off of a 4.0 Ranger or Explorer, or you can run your own wires.
Removal Process:
Unhook Battery
Remove shift boot and shifter.  Plug hole with a clean rag.
Remove front and rear drive shafts
If a manual transfer case, disconnect the shift handle.
If an electric transfer case, unhook shift connector.
Unhook neutral safety switch (1986 & up), reverse light switch and speedometer cable.
Remove starter and power wire from starter to starter solenoid.
Remove bell housing bolts.
Place jack under transmission and remove transmission cross member.
Unhook clutch hose (on FM/TK transmissions it helps to lower the transmission a bit)
Remove transmission/transfer case assembly from vehicle (With Mazda transmissions, it helps to loosen exhaust from the manifolds first.
Remove pressure plate bolts and save.
Remove flywheel bolts and save
Remove block plate tin (If you are keeping the 2.9 tin, modify it now so that the 4.0 starter will fit through it correctly)
Now would be a good time to check/replace the rear main seal and freeze plugs if there are any leaks.  It is easier to do this all at once while everything is apart than having to take everything out again later to fix a leak.
Installation Process:
Install the block plate tin.
Install new pilot bearing in flywheel.
Install the 4.0 flywheel with clean bolts and add some medium lock-tite to each.  Torque in a star pattern to 59 foot pounds.
Install the 4.0 friction disc with the clutch install tool.
Install the 4.0 pressure plate making sure the friction disc is centered.  Torque bolts in a star pattern and do not use lock-tite (The spring pressure of the pressure plate will retain the bolts).  Torque 15 to 24 foot pounds.
Remove install tool.
Replace throw out bearing and/or clutch slave cylinder if necessary
Install transmission and transfer case assembly
Install bell housing bolts to 28-38 foot pounds and replace clutch line.
Install 4.0 starter and transmission cross member.
Replace all electrical plugs to the transmission and transfer case, and hook up speedometer cable.
Install front and rear drive shafts.
Replace transfer case shifter if manual
Clean the base of the transmission shifter, add sealant (FM/TK) and install shifter and boot.
Bleed clutch line well.
Check all fluid levels
Route the smaller wire from the battery clamp to the old starter solenoid for the accessory power and the thick gauge cable from the battery clamp to the starter.  Then run a wire from the ignition side of the old starter solenoid down to the solenoid on the 4.0 starter.  If you used the harness from the Explorer, all of this will fit nicely without any splicing or cutting needed.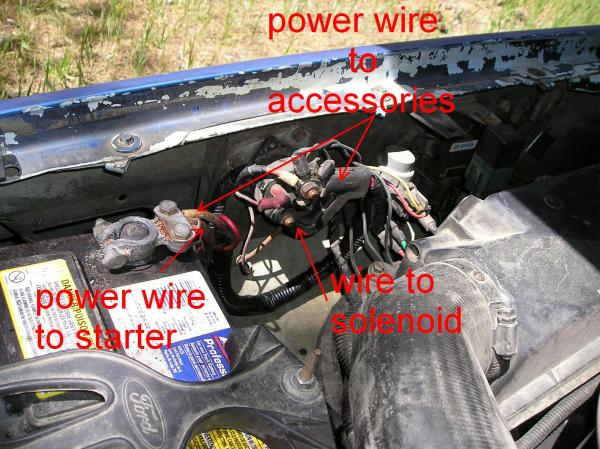 You will notice if you have a FM/TK transmission that the 4.0 block plate, if used, overhangs a bit.  This can be trimmed, or left alone if you ever want to upgrade to a mazda transmission someday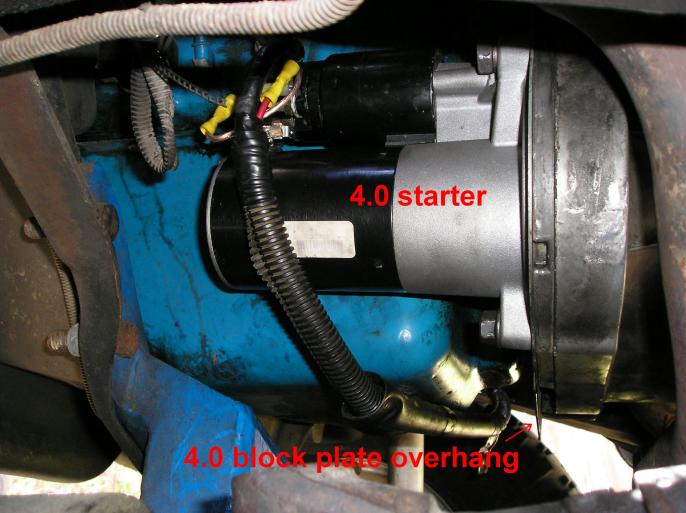 You can see the differences between the 4.0 starter above and the old 2.9 one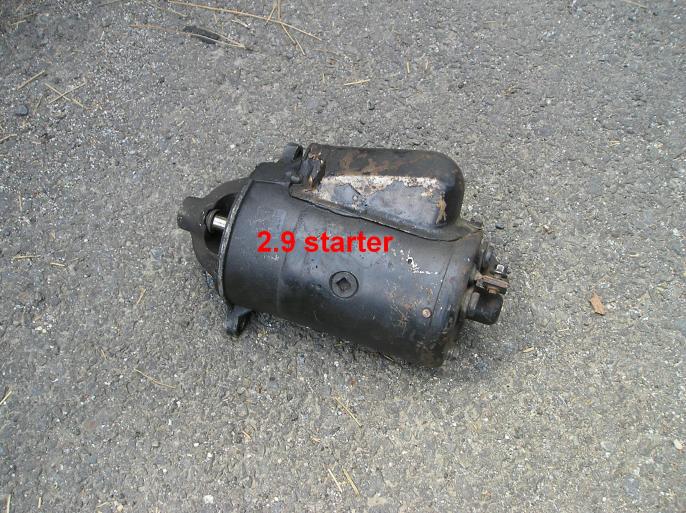 Once it is all wired and you have double checked that all the wiring is correct and all the bolts are tight, fire it up and enjoy your extra holding power!