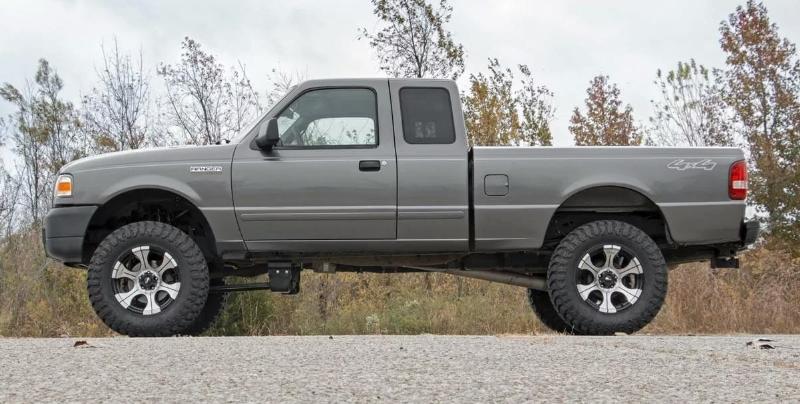 Up until 2018, Superlift was the only aftermarket suspension manufacturer offering a bold on lift kit for the 1998-2011 Ford Ranger 4×4. Rough Country has joined the market, and now offers a suspension kit for these trucks as well.
Rough Country 5-Inch Lift Kit:
Give your Ford Ranger a commanding, aggressive appearance and impressive off-road capabilities with Rough Country's 5-inch Suspension Lift! This all-inclusive kit comes with everything you need for increased ground clearance and a lifted, leveled stance.
Rough Country's 5in Suspension lift includes front and rear crossmembers and a set of lifted knuckles, offering plenty of ride height to clear up to a 33-inch tire! A set of included, front brake lines and a durable steel skid plate help ensure your Ranger is ready to tackle any terrain with plenty of clearance and protection. For an impressive ride quality both on and off-road, this kit also includes Rough Country's nitrogen-charged N3 shocks. These 10-stage variable valving shocks feature a durable 18mm spring loaded piston rod, huge 54mm shock body, and reinforced seals for a long lifespan of smooth performance.
This kit requires only minor cutting to install, and features a set of upper control arm cam bolts making it easy to achieve a proper alignment after lifting. Best of all, this kit includes Rough Country's Lifetime Replacement Guarantee!
Features:
Lifts and levels front with rear
Increased ground clearance
Includes upper control arm cam bolts for easier alignment
Notes – Important
17 inch or larger wheels are REQUIRED
Does NOT fit 11.25″ rotors found on some 98-03 models
Models with 11.25″ rotors must upgrade to 12.1″ rotors
98-99 models equipped with pulse vacuum hub (PVH) port routed through the knuckle will need to be converted to manual hubs.
An upgraded drive shaft is HIGHLY recommended, such as #5089.1
A torsion bar tool is required for installation, such as #1067
Link: https://www.roughcountry.com/
Superlift Suspension 4-Inch Lift Kit:
The newest Ranger is basically a smaller version of the new F-150; both have torsion bars and upper / lower control arms. Like their F-150 lift, the cast nodular iron knuckles are the system's key. Ride Quality & Lift Height One key difference with the mid-size Ford, however, is the odd tulip-style driveshaft used for the front differential. Superlift has found that these driveshafts wear rapidly after the vehicle is lifted and cause vibration over time. Expect the OE front driveshaft to last no more than 20,000 miles after the vehicle is lifted. Therefore, Superlift offers a heavy-duty replacement front driveshaft that incorporates a standard CV joint at the transfer case for improved durability and longevity.
Kit Specifications:
Retains factory ride quality, steering geometry and CV axle angles
Increases wheel travel
New nodular iron knuckles, not ball joint spacers
Load bearing bracketry made of .25 inch thick plate steel or heavy-wall tubing
Full width differential / control arm crossmembers provide lateral rigidity
Front / rear Superide shocks with yellow boots included
Heavy-duty replacement front driveshaft available
Speedometer recalibration available
Limited Lifetime Warranty
Link: https://superlift.com/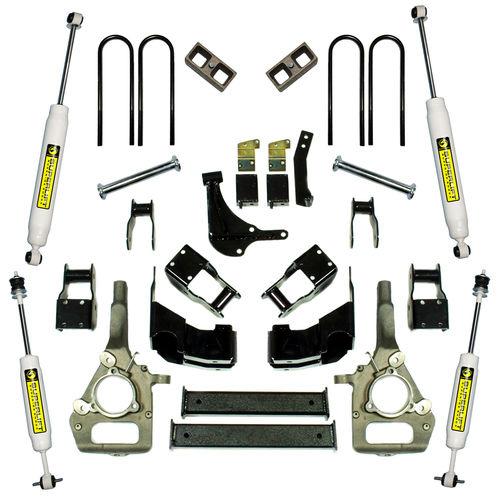 Kit K357 is for the 1998-1999 Ford Ranger 4×4
Kit K358 is for the 2000-2011 Ford Ranger 4×4
Dixon Brothers Long Travel Suspension:
Dixon Bros. Racing makes a 4×4 Long Travel Suspension Kit for:
1998-2008 Ford Ranger XLT & EDGE 4wd
1995-2001 Ford Explorer 4wd
2001-2005 Ford Explorer Sport-Trac 4wd
Suspension Kit Includes:
Tubular upper control arms, with bushings and balljoints installed
Boxed plate lower control arms with bushings and balljoints installed
Shock hoop with crossbar
Complete front axles with custom length heat treated shafts and high angle 930 CVs
Steering Tie-rod Extension
Brake lines, Limit straps, bolt kit
14-inches of wheel travel. 4.5-inches wider per side. Uses 8-inch stroke coilover shocks, not included (replaces torsion bars).
Weld-in shock hoop available for most common shock brands
Optional Hydraulic Bumpstop Mount
Optional Steering Clevis Kit Available
TRS NOTE: Replaces torsion bars with a coilover shock assembly. You'll need wider fiberglass front fenders to cover your tires.
Link: http://www.dixonbrosracing.com/