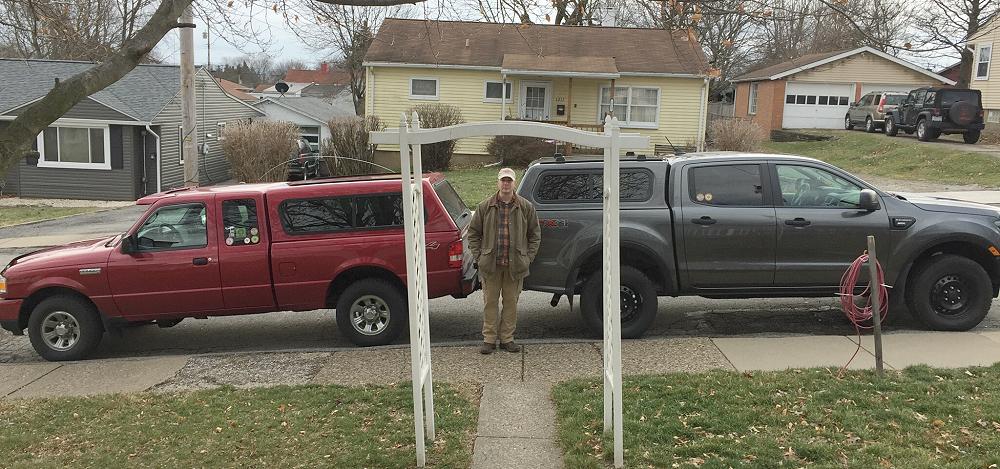 Location: Aliquippa, PA
Year Born: 1969
Occupation: Aircraft Fuel Systems Mechanic as a Civilian Technician and an Aircraft Maintenance Quality Assurance Inspector and Assistant Unit Deployment Manager as a Traditional Guardsman and for the Pennsylvania Air National Guard
Hobbies: Hunting, fishing, tent camping, hiking, canoeing, kayaking, mountain biking, road cycling, target shoot, and repair and modify my own vehicles.  I volunteer as President of the Hopewell VFW Rifle Range, Vice-President of West Penn Search and Rescue, Secretary for Associates of Vietnam Veterans of America, and as Chaplain for Hopewell VFW.
Details about your vehicle and modifications:
2011 Ford Ranger XLT 4X4 Supercab, 4.0 SOHC, M50D-R1HD manual transmission, 3.73:1 axles, and 31X10.5R15 BF Goodrich T/A KO2 All-Terrain and 235/75R15 Pacemark Wintermark tires.
Modifications: Jason Pace fiberglass cap with Rhino Rack rails and load bars, Rhino Rack load bars for the cab, TYT TH-9800 Plus Quad Band radio, Galaxy DX-949 AM/SSB CB radio with 102" stainless steel whip, and Summit Racing fiberglass windshield visor.
2019 Ford Ranger STX FX4 Supercrew, 2.3 Ecoboost, 10R80 automatic transmission, 3.73:1 axles with rear electronic locker, and 265/65R17 Hankook Dynapro AT-M and 265/65R17 Mastercraft Courser MSR tires.
Modifications: Leer 100XR Fiberglass cap with Thule roof rails and Aeroblade load bars.
How long you've been a member of TRS?
I joined in March 2017 and became a Moderator in the January 2020.