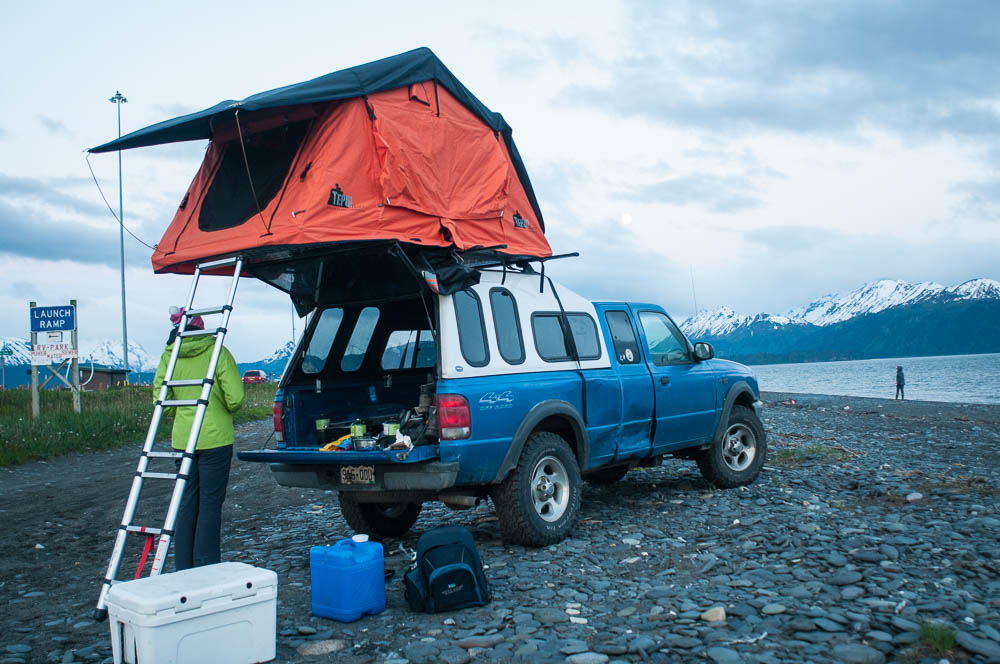 By Sean McCoy
Camping seven feet off the ground takes some getting used to. But after just one night in the Tepui Kukenam Ruggedized tent — and then over the course of a week-long road trip to Alaska that followed — I became a believer.
It's now been a few weeks, and the Tepui continues to impress and open my eyes to a new way to camp. At $1,650, the Tepui is in an unusual new category for campers in the U.S. But I'll put it bluntly: This durable, comfortable, truck-top tent has changed the way I camp, likely for the long term.
Related: Rooftop Tents Explained – A Roof Top Tent Changed The Way I Camp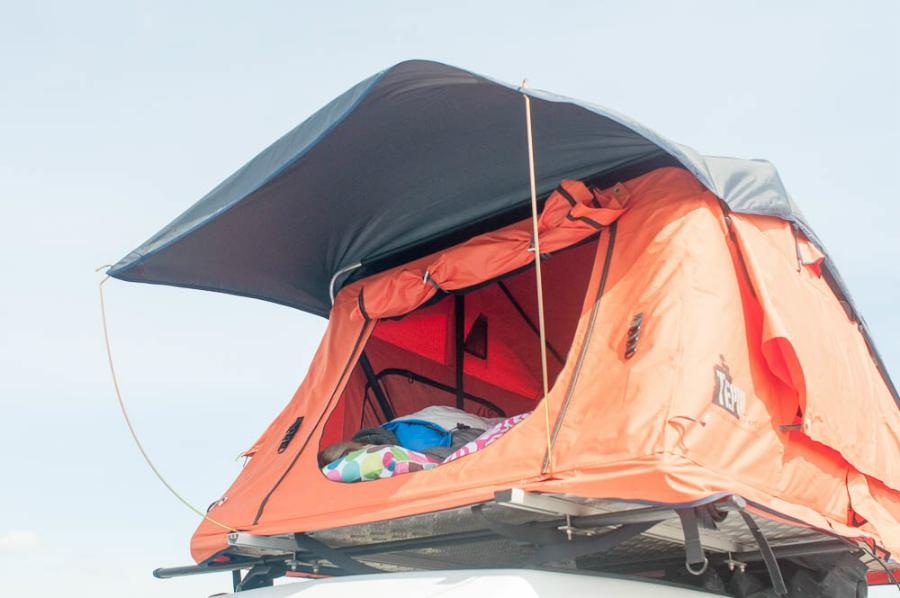 When Tepui approached me to test the tent, I jumped at the opportunity. They just look cool. But I was genuinely apprehensive about how it would work.
Getting the system installed took several hours as I had to mount tracks, and a complete Yakima Core Bars system, on a tough old fiberglass topper. Once installed, it took a little practice to figure out the oddities of this specific tent.
But now that my wife and I have it figured out we can whip into a parking spot and literally be lying down inside in less than 10 minutes.
Mounting, Safety, Drivability
As I noted, mounting a rack and installing the Tepui was a bit of a chore, mostly because no rack systems are made specifically for a 2000 Ford Ranger. I had to drill holes in my topper, mount some rails, and then attach Yakima Landing Pads, Skyline Towers, and finally Core Bars to the rig. That whole process took a few hours. Mounting the tent on that took about an hour, plus the help of a couple strong friends.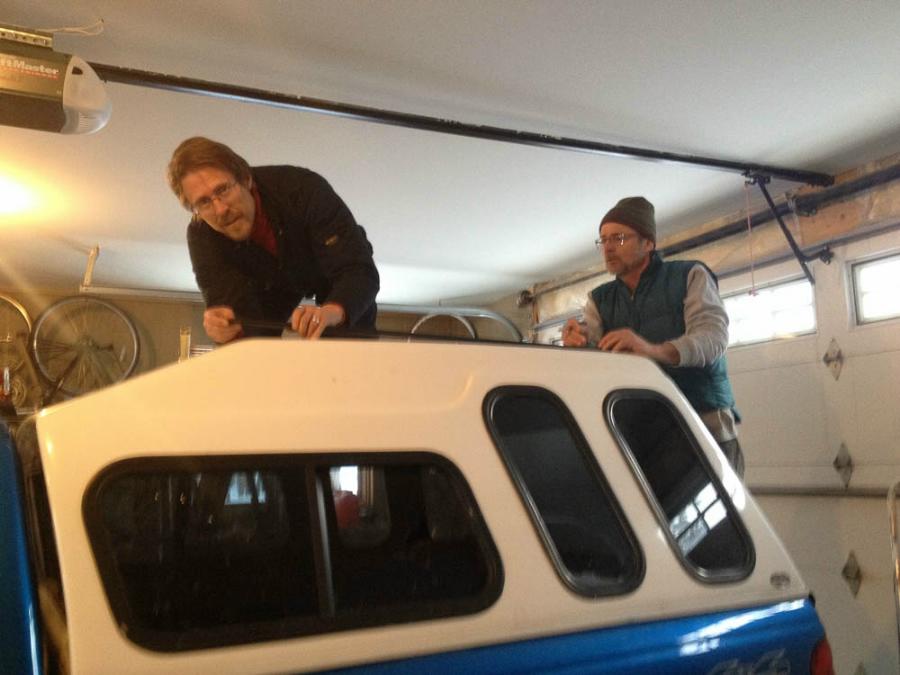 Installing tracks on my topper, which then would hold the Yakima system
A note on Yakima rack systems: Thanks for making a beast of a rack Yakima, because this is no light add-on. The Tepui weighs somewhere around 180 pounds, and it does get blasted by wind while riding up there. You must have a solid rack rated for the load or this whole rig could get dangerous rolling down the highway.
But once mounted on a sturdy and capable rack, the setup is rock solid, and I've barely noticed it while driving my Ranger. Others will note that the weight will affect MPGs (it might a little), cornering (I don't care, it's a pickup) and stability, making it more prone to roll. I've not really noticed much difference, but if you're pushing your vehicle to near-roll situations regularly, you might want to consider this. I don't.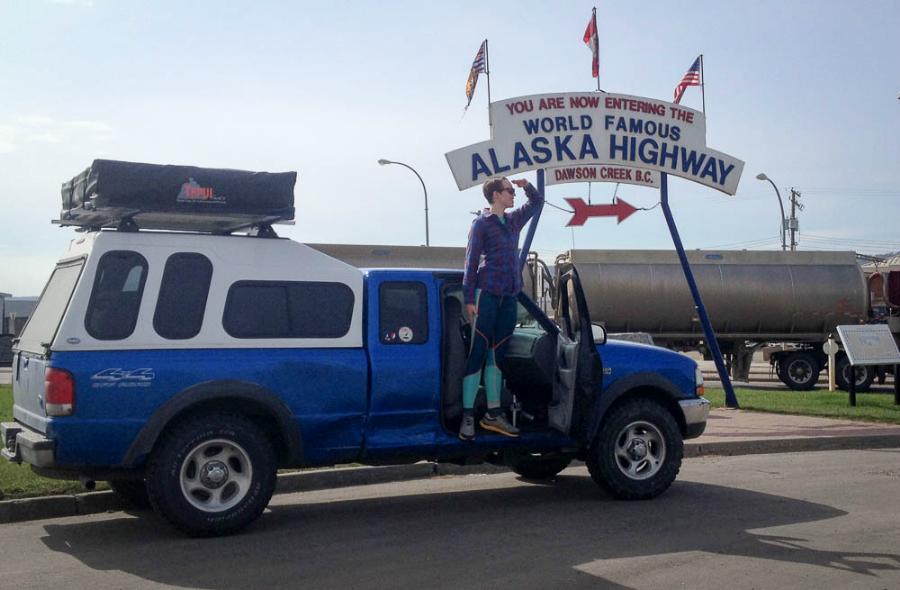 I've basically left the tent on my roof since installation, mostly because it's pretty darned heavy and not very easy to lift off without at least one (preferably two or three) strong friends. This is another point worth keeping in mind. You need a way to lift a pretty heavy and awkward platform high over your head to install this tent.
Tepui Set-Up, Take Down
The Tepui is easy to set up after the first few trials, although I do have to either crawl on my roof, or use a ladder, to unclip a couple straps.
You begin by finding a flat-ish spot to park. So far, I've found this super easy, and am befuddled by those who claim this is a hard task. If there's a slight slope, I point my head uphill. Good enough, and the results have always proven better in terms of flatness than even most great camp spots.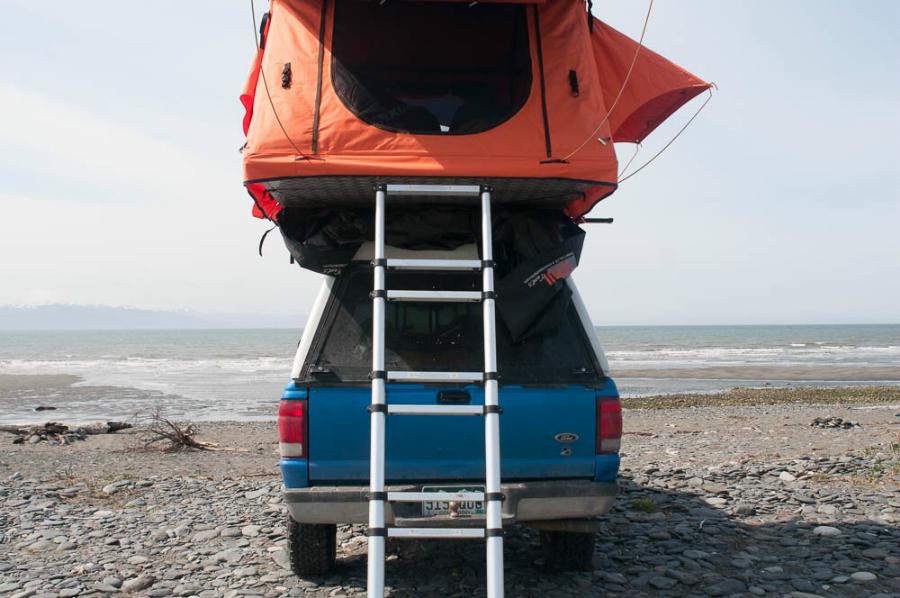 Next, you remove a heavy cover attached with a burly YKK zipper. Run the zipper around the edge of the rig, remove the fitted cover, and undo a couple buckles.
An attached ladder telescopes from the back of the tent (I have mine set up to unfold backwards so it covers my tailgate), and use the ladder to leverage the tent open. The tent then unfolds around a hinge in the middle, opening like a book to reveal a large tent that will accommodate three adults at a squeeze, or two in luxury.
The ladder is a little fussy to get to the right height, and it does need to be extended properly to help support weight. But after a few nights, it's now easy and second nature.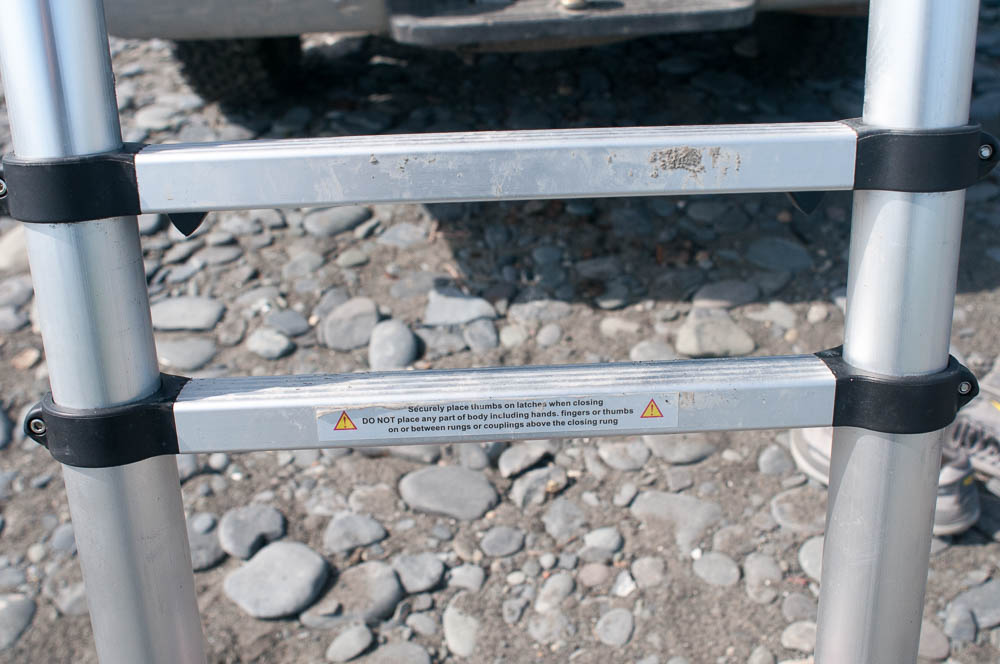 Once up, there are windows and awnings that can be opened or left closed, and even guy lines for extra stability. But generally in the cool weather we've experienced, my wife and I have opted to just open the single doorway awning and window and keep the rest shut for privacy and warmth.
Durability
The Tepui is a bomber structure, with much, much heavier materials than a standard camp tent. The poles and fabric are many times thicker and stronger than even a rugged camping tent. I've used this one in winds up to about 50 mph, and while it made some noise from flapping straps, it remained firmly planted in place with nary a bow to the thick poles.
The "ruggedized" designation means it comes with diamond-plated aluminum flooring and a condensation mat that keeps your mattress off moisture that may form on the floor, a great upgrade.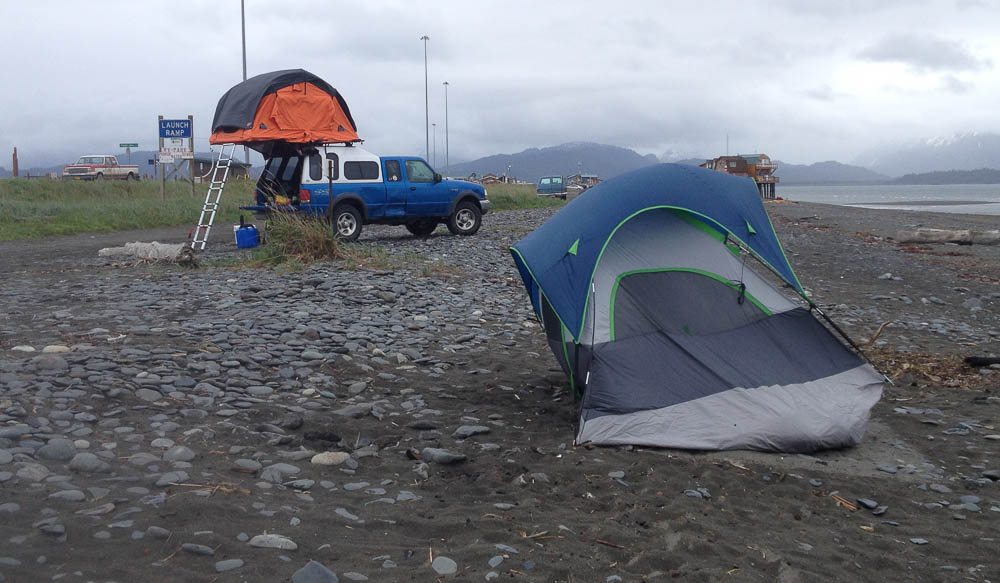 Camped on the spit in Homer, Alaska, a normal tent is battered by the wind while the Tepui stands strong.
So far, we've camped in the tent in some pretty intense weather. Our very first night was spent in howling winds with snow and sleet somewhere along I-25 in Wyoming. We had several days on end of rain while pounding up the ALCAN, then we enjoyed a few balmy days of sunshine.
In Alaska, we were again blasted by powerful winds while camping on the Homer spit. We watched tents flattened by the wind. The Tepui held strong, and kept us warm and cozy while rain lashed outside.
But that's not to say I haven't noticed signs of wear. The outer cover shows several spots where small holes have worn through. Granted, this is just the cover that surrounds the tent when you are driving, not the tent body.
The cover is a rubber-coated material that gets blasted as you drive — think 5,000 miles of 70MPH winds, flying debris, rain, snow, on our trip — and it also gets folded off every time you use the tent. But despite the small damage it's seen, even if water leaks into the cover the tent still won't get wet inside; the tent is "closed" even when it's folded, so this cover is really for nothing more than protection as you drive.
None of the small signs of wear affect the performance of the tent in any way, but I do expect the tent may require a new cover every couple years, and that small maintenance stitches could be needed in time.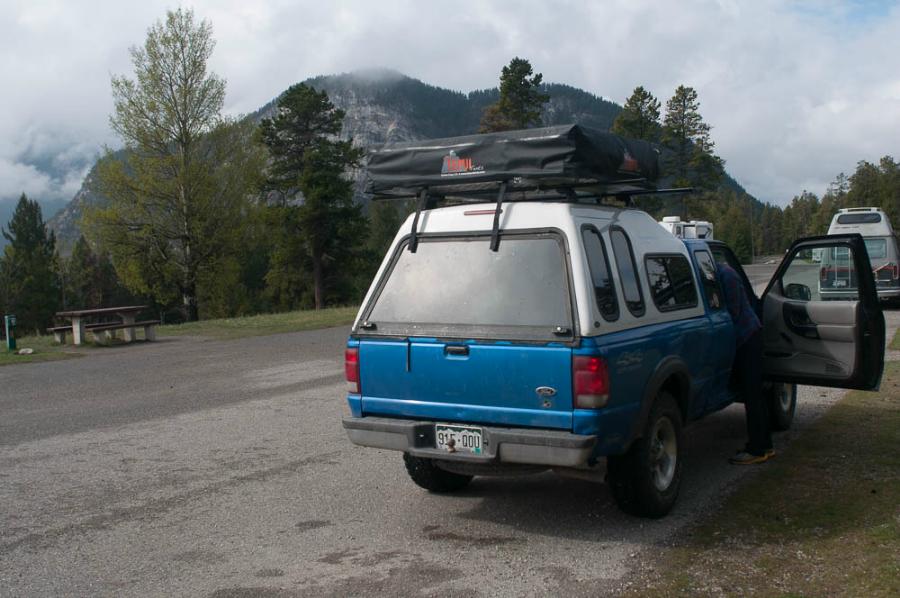 Comfort
As I've noted already, this thing is crazy comfortable. While I'm happy to sleep on the ground, I'm on the long end of 40 and at an age that I appreciate deep sleep and memory foam in a larger way than a decade ago.
Oh, I didn't mention the memory foam mattress? Yes, it has one that remains inside when the tent is folded for travel. It is awesome, not quite as good as my bed at home, but a darned close second place.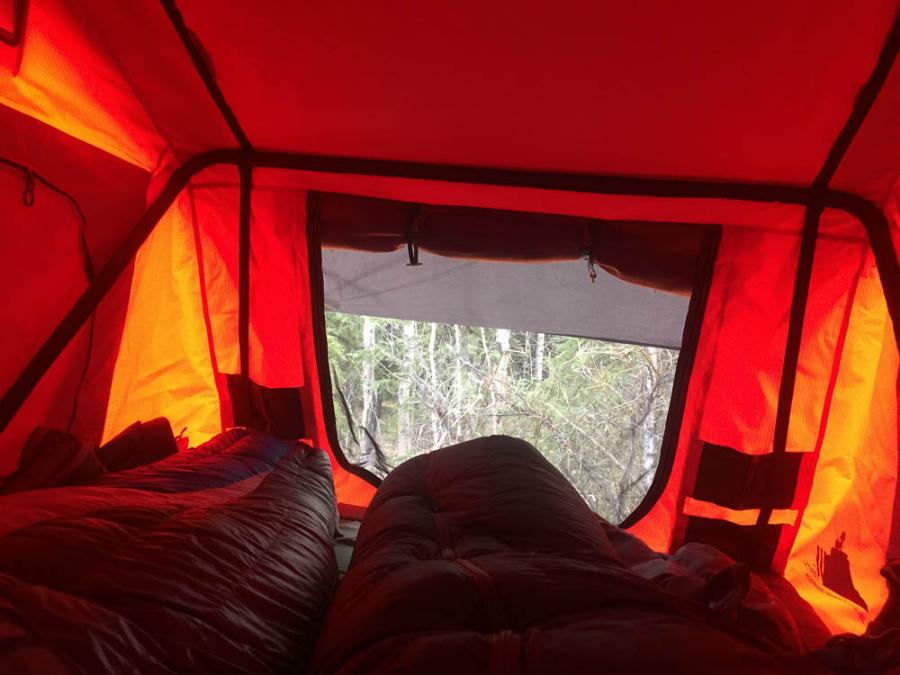 Beyond the comfortable flat surface (no rocks, no pine cones, no dips, no puddles), I like the fact that the tent is quite thick and dark even in sunlight. This comes in handy in Alaska, where there are currently more than 18 hours of light every day.
The Tepui Kukenam is very spacious, at 56 x 96 x 52 inches (L x W x H). It feels grandiose for two people, and would be sufficient for three (although snug). There are lots of pockets to organize gear, and even one large enough to stow sneakers.
That brings up a point unique to rooftop tents: Dealing with shoes is a little odd. You either have to bring them in the tent, or leave them on the ground. I usually bring them in and stow them in a pocket.
Getting in and out of the tent is a bit more tricky than a traditional ground tent. The ladder is stable, but you need to swing your legs out of the tent to step down, It's not hard, but those with poor mobility or balance should probably pass on this system. And remember to use the bathroom before going to bed, as climbing down in the middle of the night is just as annoying as clamoring out of a ground tent — neither is exactly fun.
Tepui Kukenam Ruggedized: Review Thoughts
In the month I've tested this tent, I've come to really enjoy it. It has worked pretty much flawlessly in some pretty nasty weather, keeping my wife and I comfortable even when the winds howl and rains fall.
It's a pricey investment at $1,650 – expensive compared with normal ground tent camping – but cheap as dirt when looked at compared to RVs.
If you spend a lot of time on the road, this tent will provide you a luxurious night sleep just about anywhere you can park your vehicle.
Tepui Kukenam Ruggedized Tent Specs
Sleeping Capacity 3
Seasons 4 seasons
Size (closed) 56 x 48 x 12 (L x W x H) inches
Size (open) 56 x 96 x 52 (L x W x H) inches
Sleeping Footprint 56 x 96 (WxL) inches
Canopy Fabric 360g Polyester Cotton (canvas); 600D ripstop fabric with waterproof ventilate coating, dual stitched taped seams, UV and mold resistant
Mosquito screens no-see-um mesh
Rainfly Fabric 420D Polyester Oxford with taped seams and PU coated
Mattress 2-1/2-inch foam with removable cotton cover
Travel Cover Material 1000D PVC
Weight (w/ annex) 180 pounds
Internal Frame 3/4-inch wrapped aluminum
Base Construction Aluminum tube frame with diamond plate cap sheets
Ladder Construction 8ft, 6in Telescoping
Links:
Resource – gearjunkie.com