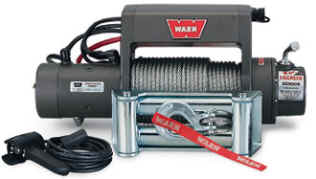 Vehicle Weight – To calculate your vehicle's Gross Vehicle Weight (GVW), start with your vehicle's curb weight, then add the weight of the supplies and equipment you'll typically be carrying.
Line Pull – The rated line pull of the winch must be high enough to pull your vehicle's GVW while overcoming resistance encountered when you're stuck or on an incline.
Ramsey Winch recommends that you select a winch with a rated line pull at least 12% greater than your GVW.
Warn say's that you should choose a winch with a single line rating at least 1-1/2 time greater than the vehicle's weight. The idea is that the winch should be able to pull the vehicle's weight plus overcome the added resistance caused by whatever the vehicle is stuck in.
From experience, don't waste your time with a winch under 8,000 lbs. Winches are so affordable now, there's no reason to buy anything less.
Two gearing systems are available on winches:

PLANETARY – The multiple gears found in planetary gear winches translate to greater pulling speed.

WORM – Consisting of a cylindrical worm and a typical round gear, worm gear winches offer brute strength.
In addition, two types of motors are offered:
Series Wound – Series wound DC motors are more suited to longer duration use.
Permanent Magnet – Permanent magnet DC motors require a lower amperage draw.