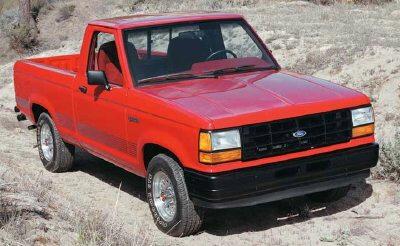 Complaints:
Looking to buy a used Ford Ranger? Here are some complaints / problems and recalls to be aware of.
Recalls:
1989 Ford Ranger EXTERIOR LIGHTING NHTSA Campaign #06E026000
Date Announced: MARCH 23, 2006 / Vehicles Affected: 61,944
Summary: Certain pro-a motors corner lamps, turn signals, and headlights sold as replacement lamps for use on certain passenger vehicles listed above. Some combination lamps that are not equipped with amber side reflectors fail to conform to Federal Motor Vehicle Safety Standard no. 108, lamps, reflective devices, and associated equipment.
Consequence: Without the amber reflectors, the vehicle will be poorly illuminated, possibly resulting in a vehicle crash without warning.
Actions: Pro-a motors will notify owners and offer to repurchase the lamps. The recall began on April 3, 2006. Owners may contact pro-a motors at 323-838-2988. For detailed information & supporting documents, see the NHTSA recall 06E026000 »
1989 Ford Ranger SERVICE BRAKES, AIR: DISC: ROTOR NHTSA Campaign #98E010000
Date Announced: APRIL 08, 1998 / Vehicles Affected: 23,500
Summary: Equipment description: Aftermarket brake rotors for use on certain Ford and Mazda trucks. Cracked castings caused cracks to appear on the outer diameter of the rotor hat or around the stud hole.
Consequence: Loss of braking can result.
Actions: Aimco will reimburse consumers/installers for the cost of replacement rotors and installation. Consumers are requested to return to the location where the rotors were originally purchased/installed for replacement. For detailed information & supporting documents, see the NHTSA recall 98E010000 »
1989 Ford Ranger SUSPENSION: FRONT: WHEEL BEARING NHTSA Campaign #89V109000
Date Announced: JULY 05, 1989 / Vehicles Affected: 25,000
Summary: Front wheel bearing adjusting nut retaining keys may be missing from front axle assemblies, allowing the nut to loosen.
Consequence: This could result in detachment of the wheel and hub assembly from the axle, loss of vehicle control, and an accident.
Actions: Install retaining keys in front wheel hub assemblies where missing. For detailed information & supporting documents, see the NHTSA recall 89V109000 »
If you have information about known problems or recalls for the Ford Ranger, please use the 'Submit Problem / Recall' button below.