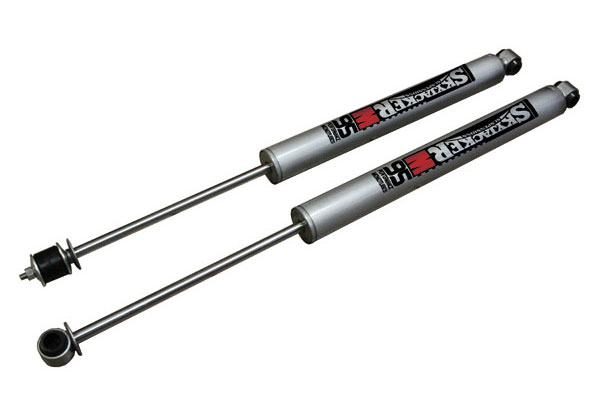 Over the years I've used shocks from Pro Comp, as well as Skyjacker Hydro and Nitro shocks. When I went to the Skyjacker Monotube shock, I saw a dramatic improvement in how the truck rode. I feel like the Skyjacker M95 Monotube shock doesn't get the respect it deserves.
The other great shock is the Bilstein 5100. The Skyjacker M95 and Bilstein 5100 are both nitrogen charged monotube shocks with a large 46MM bore.
I've seen people try to sway others from the Skyjacker Monotube to Bilsteins for no other reason than brand name. Both are great shocks. I would likely go with the Skyjacker M95's on a Ford Ranger simply from personal experience, but would recommend either the Skyjacker M95's or Bilstein 5100's.
If you have a 1998-2011 Ford Ranger 4×4 that's either stock, or has cranked torsion bars, Rancho has a RS5000 series shock for you (see further below).
And finally, if you have a 1998-2011 Ford Ranger 4×4 with a Superlift suspension kit, I'm not aware of any shocks that will fit your application. If anyone knows of any, please contact us. Replacement shocks for your Superlift Ranger are listed at the bottom of this page.
Skyjacker M95's: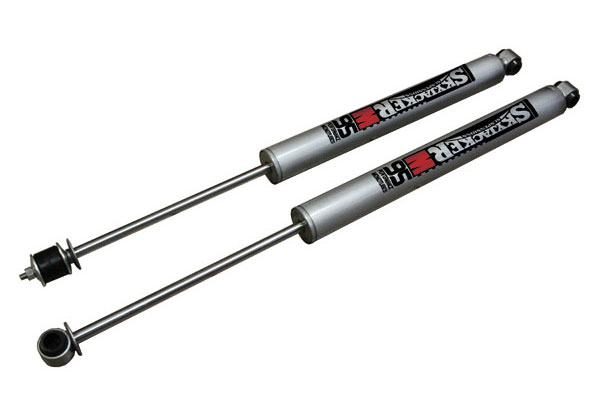 Here are the Skyjacker M95 shock part numbers for the 1983-1997 Ford Ranger 4×4:
1983 – 1997 Ranger 4WD

Lift

M95

Front

Rear

Front

Rear

0 – 2″

0 – 1″

M9552

M9558

3″

0 – 1″

M9554

M9558

4″

1.5 – 4.5″

M9554

M9560

5 – 6″

1.5 – 4.5″

M9555

M9560

7 – 8″

5 – 6″

M9555

M9579
Skyjacker M95 Shock Part#M9552 For 1983-1997 Ford Ranger 4WD 0-2 Inch Front Lift:
Skyjacker M95 Shock Part#M9554 For 1983-1997 Ford Ranger 4WD 3-4 Inch Front Lift:
Skyjacker M95 Shock Part#M9555 For 1983-1997 Ford Ranger 4WD 5-6 Inch Front Lift:
Skyjacker M95 Shock Part#M9558 For 1983-1997 Ford Ranger 4WD 0-1 Inch Rear Lift:
Skyjacker M95 Shock Part#M9560 For 1983-1997 Ford Ranger 4WD 1.5-4.5 Inch Rear Lift:
Skyjacker M95 Shock Part#M9579 For 1983-1997 Ford Ranger 4WD 5-6 Inch Rear Lift:
Bilstein 5100's: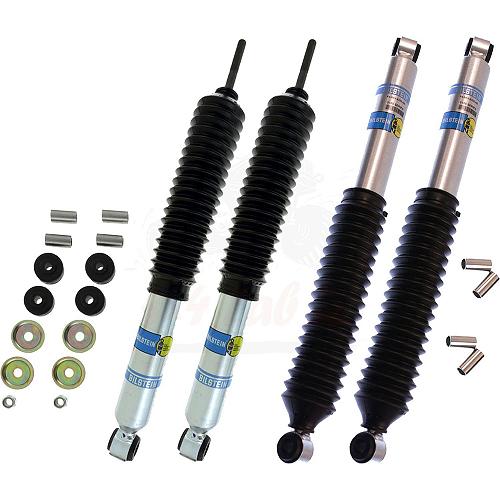 Here are the Bilstein 5100 shock part numbers for the 1983-1997 Ford Ranger 4×4:
1983-1997 Ford Ranger 4×4 (Bilstein 5100 Shocks)

Lift Front

Lift Rear

Front Shock

Rear Shock

4 Inch

0-1 Inch

24-185493

24-185509

4 Inch

2-3 Inch

24-185493

24-065276

6 Inch

2-3 Inch

24-185684

24-065276
Bilstein 24-185493 5100 Series Shock Absorber (Ford Ranger 4-Inch Lift – Front Shock):
Bilstein 24-185684 5100 Series Shock Absorber (Ford Ranger 6-Inch Lift – Front Shock):
Bilstein 24-185509 5100 Series Shock Absorber (Ford Ranger 0-1 Inch Lift – Rear Shock):
Bilstein 24-185509 5100 Series Shock Absorber (Ford Ranger 2-3 Inch Lift – Rear Shock):
Rancho RS5000's & Cranked Torsion Bars:
Rancho offers their RS5000 shocks for 1998-2011 4WD Ford Rangers that are either stock, or have had the front torsion bars cranked:
Rancho RS5229 Front Shock For 1998-2011 Ford Ranger 4WD – Stock Height:
Rancho RS5374 Front Shock For 1998-2011 Ford Ranger 4WD With 2.5 Torsion Bar Crank:
Rancho RS5125 Rear Shock For 1998-2011 Ford Ranger 4WD With 0 Inch Rear Lift (stock):
Rancho RS5126 Rear Shock For 1998-2011 Ford Ranger 4WD With 2 Inch Rear Lift:
Superlift 4-Inch Lift Replacement Shocks: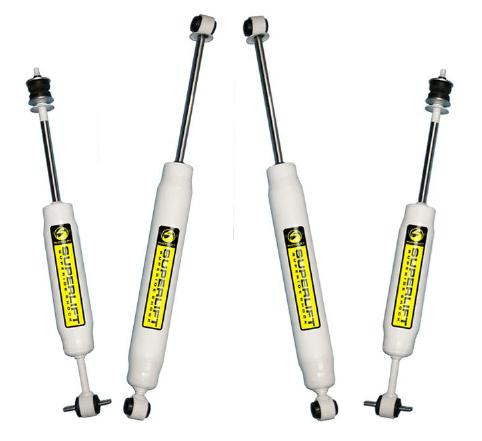 I'm not aware of any shocks that will fit your application other than the ones that come with the lift. If anyone knows of any, please contact us. Here are the Superlift shocks in the event you need to replace them:
Superlift P/N 85331 – 20.91 Extended 14.91 Collapsed (w/ Stem Upper Mount and Bar Pin lower Mount)
Superlift PN 85150 – 30.07 Extended 17.70 Collapsed (w/ Eye Upper Mount and Eye lower Mount)