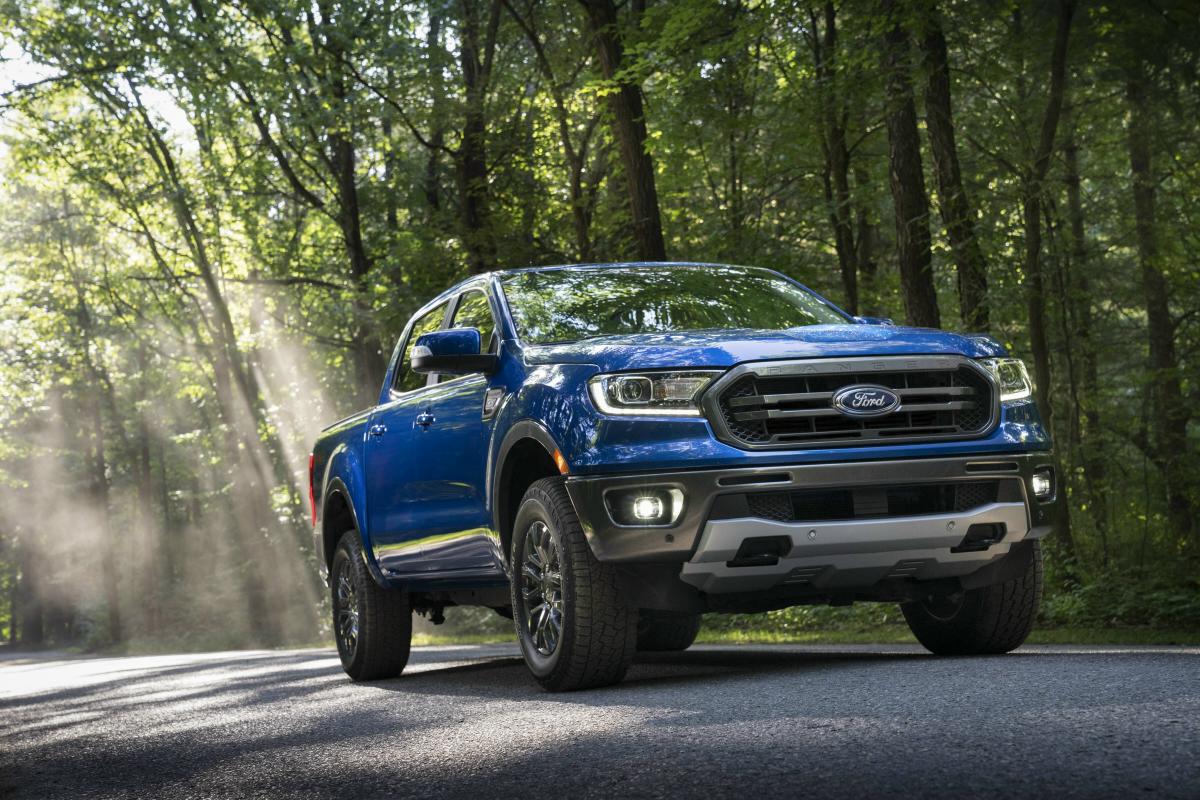 DEARBORN – Ford Performance Parts has the hookup for your Ranger.
LIGHTING THE WAY FORWARD
Accessories That Shine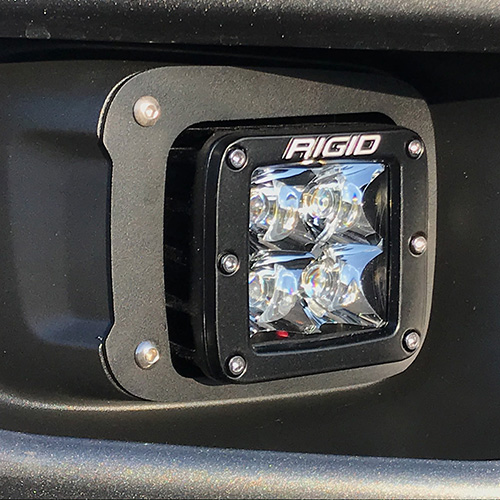 To increase off-road driving safety at night and by day, Ford Performance offers several accessories that deliver illumination where needed. Ford Performance worked with RIGID, one of the most recognized names in off-road lighting, to develop these specialized applications intended for off-road use only.
The Ranger Off-Road Fog Light Kit M-15200-RFOG provides illumination ideal for off-road situations. The kit enables Ranger owners to change factory fog light assemblies with RIGID's D-Series Pro Spot LED, while maintaining a clean, "from-the-factory" appearance. Made from high-quality components, these complete assemblies are plug-and-play and completely reversible with no cutting or splicing. Utilizing factory-modified bezels, stainless steel black powder-coated trim plates, and RIGID's D-Series lights and harness, they are sure to deliver an easy-to-install, high quality off-road light package. Kit includes "Ford Performance"-branded lens covers.
PUTTING THE BEST WHEEL FORWARD
Tough Can Be Beautiful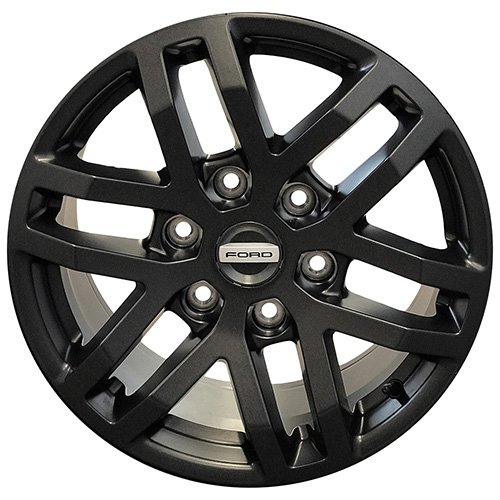 To help Rangers look their best – and still be on their best footing – Ford Performance offers the Ranger Wheel Kit M-1007K-RGR1785OR. The wheels are original equipment on the Ford Ranger Raptor, a vehicle available in markets outside North America. Ford Performance Parts, however, now offers the distinctive wheels in its catalog for 2019-2020 4WD Rangers. The kit features four 12-spoke, 6-lug, 17" wheels, powerfully built to meet demanding conditions off road and beautifully designed to show off anywhere. Ford casts these DOT-approved wheels out of premium aluminum alloy and powder coats them with a matte Dyno Gray finish. Afterwards, the wheels are clear coated for the ultimate level of protection that can endure off-road conditions. Kit includes four wheels, along with performance-inspired center caps with bold "FORD" lettering for each wheel, plus TPMS sensors and a programming tool.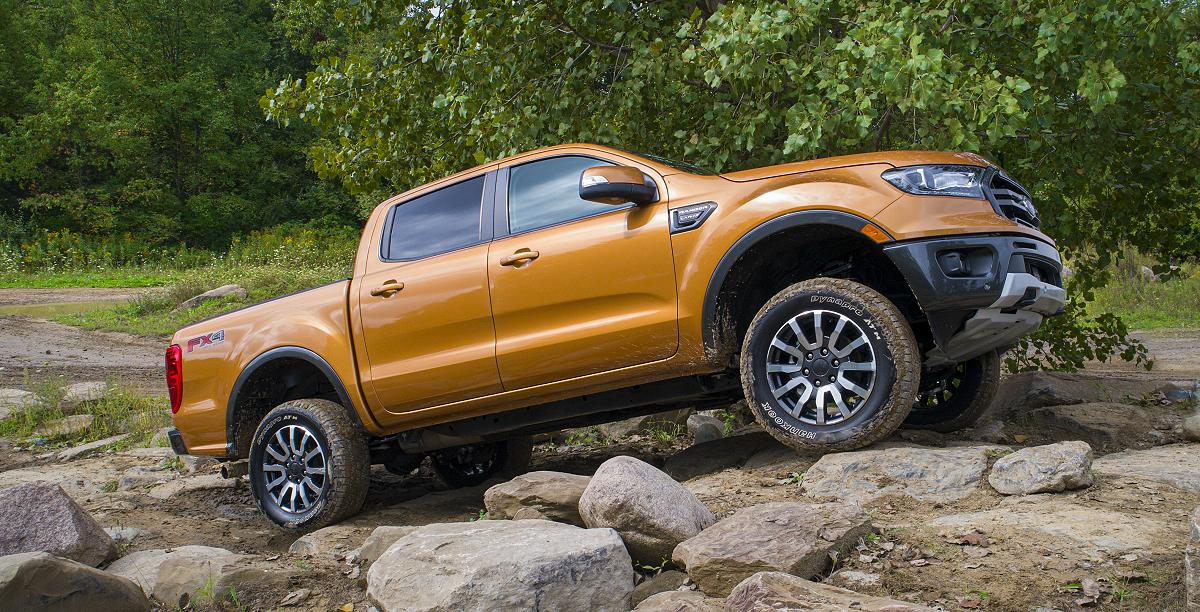 LEVELING THE PLATFORM
Room To Move, Readily And Reliability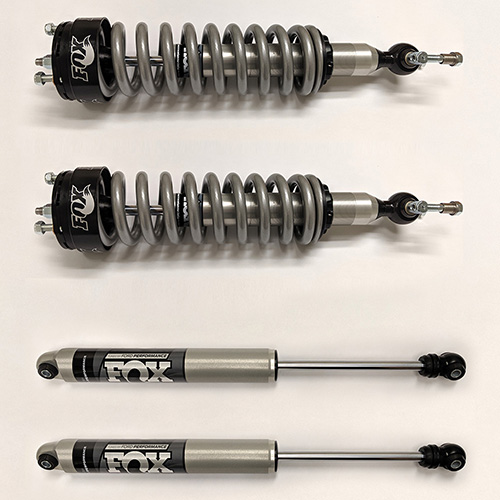 To help provide more room for larger tires and more ground clearance, while still providing a comfortable on-road ride and predictable off-road handling in even the toughest conditions, Ford Performance offers the Ranger Leveling Kit M-18000-RA. Leveling Rangers front-to-rear, these Fox "Tuned by Ford Performance" 2.0 Performance Series IFP (Internal Floating Piston) front and rear shock leveling kits are loaded with the advanced technology and features that you expect from Fox, taken to the next level through tuning by Ford Performance engineers.
These proprietary kits are designed and tested to optimize ride and performance both off-road and on-road, making them the best solution for the most discriminating performance enthusiasts. This leveling kit fits 2019-20 4WD Ranger models. The shocks feature precision impact-extruded aluminum bodies that increase cooling capacity and are rust resistant. Front coil-overs feature top quality racing coils selected to deliver the optimal spring rate. The kit improves front approach angle: 34.8 deg. vs. 28.7 deg., and improves breakover angle: 23.8 deg. vs. 21.5 deg. stock. The Ranger 4WD specific upper front mounts include a composite bushing that isolates noise and vibration. Easy bolt-on installation with no other modifications required.
RECOVERY GEAR ESSENTIALS
Getting Unstuck Yourself Makes Great Memories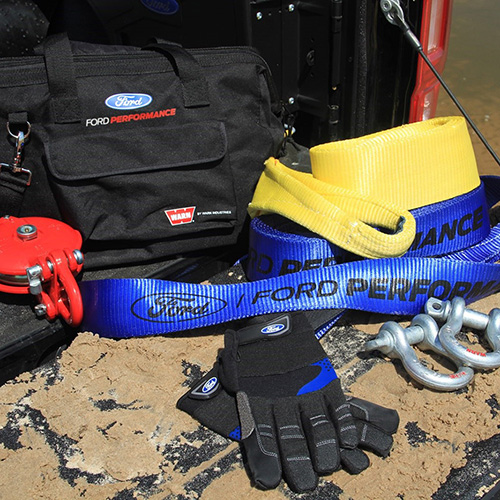 Even the best off-road drivers may need a little help on occasion. When the going gets tough, Ford Performance by WARN Industries offers the Off- Road Recovery Kit, designed to assist in the recovery of a vehicle that could be stuck in mud, sand, or snow. Engineered for heavy and standard duty, these comprehensive recovery kits are designed to complement your off-road adventure in any 4×4 vehicle. Off-Road Recovery Kit M-1820-FPORRHD is for heavy-duty use with winches up to 12,000-lb. capacities. The kit includes "Ford Performance by WARN® Industries" storage bag/tote, "Ford Performance" 3" x 30' blue recovery strap – rated to 21,600 lbs.; Tree Trunk Protector, 4" x 8' – rated to 30,000 lbs.; Heavy Duty Snatch Block with grease-able port for winch capacities up to 12,000 lbs.; "Ford" branded winching gloves – size XL; two WARN® Industries 3/4" D-shackles – rated to 18,000 lbs.; and instruction manual.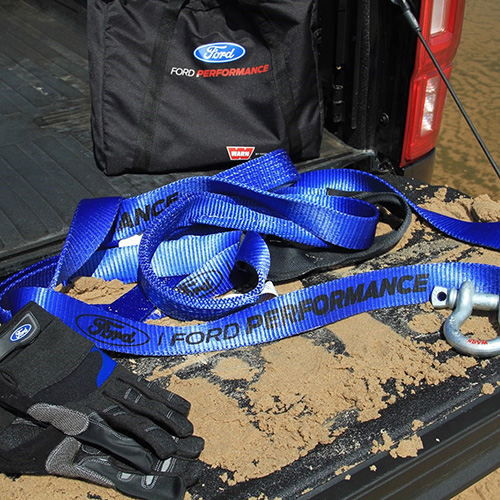 Off-Road Recovery Kit M-1830-FPORR is for standard-duty use with winches up to 10,000-lb. capacities. Kit M-1830-FPORR includes "Ford Performance by WARN® Industries" storage bag; "Ford Performance" 2" x 22' blue recovery strap – rated to 14,400 lbs.; "Ford"-branded winching gloves – size XL; WARN® Industries 3/4" D- shackle – rated to 18,000 lbs.; and instruction manual.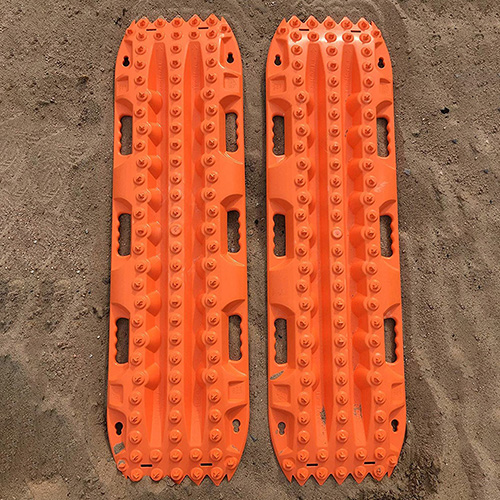 Off-Road Recovery Boards M-1820-FPRB offer a simple, yet effective, recovery solution. These boards offer an aggressive pattern with deep cleats for the maximum grip. Manufactured by ActionTrax in the USA, these boards are made from a specially designed polymer to offer strength and flexibility for uneven terrain. Large hand-holds make the boards easy to maneuver, even with gloves, allowing you to maximize the recovery board's position. Sold in pairs.
BIG AIR FOR WORK AND PLAY
Portable Air Compressor Does Big Work And Light Tasks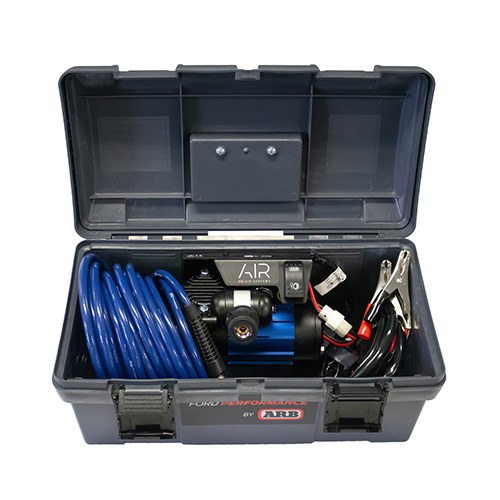 To help meet the demanding conditions off road, whether quickly inflating tires or beach floats, Ford Performance by ARB offers the Portable Air Compressor Kit M-1830-FPAC. Constructed entirely of lightweight, high-strength, high-grade materials for use in extreme conditions, the unit is sealed for moisture and dust resistance. It features a hard-anodized cylinder bore for reduced friction, Teflon-impregnated carbon fiber piston seal for maximum trouble-free operation, and quality components for quiet operation and extra-long life.
The unit is equipped with an over-pressure safety valve. Its motor is internally thermal protected against extreme temperature damage. Heavy-duty MAXI fuse-equipped for professional in-line circuit protection. At the end of the day, inflate your tires for the drive home or inflate air mattresses to start drivers and crew on a comfy night's sleep. The kit includes a 19-foot air hose, battery clamps, and an ARB air chuck with quick-press fitting – all packaged in a durable carrying case.
OPTIMIZE ECOBOOST 2.3L PERFORMANCE SAFELY AND RELIABLY
Ranger Power Pack Performance Calibration Boosts HP, Torque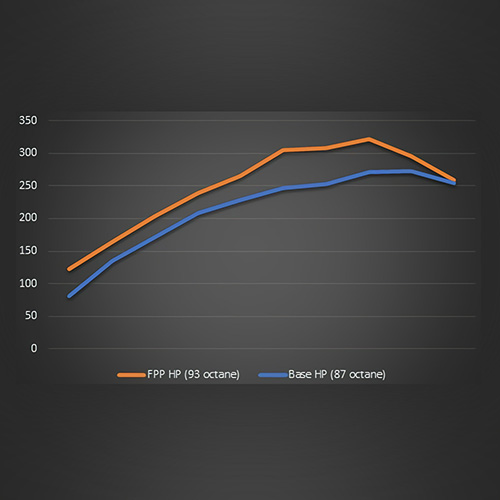 For those interested in making a great engine more powerful, Ford Performance offers the 2019-20 Ranger EcoBoost Power Pack Performance Calibration M-9603-REB. The package provides the Ford EcoBoost 2.3L I-4 DOHC engine with 45 additional horsepower and 60 lb/ft of torque, making 315 horsepower at 4,500 rpm and delivering 370 lb/ft torque at 2,500 rpm. Designed, tested and certified by Ford and Ford Performance engineers, the calibration improves engine response throughout the rpm range, optimizing shift points of the Ranger's 10-speed automatic transmission for better performance.
The calibration is legal in all 50 states. While helping preserve fuel economy, the improved performance is accomplished, in part, through the use of premium gasoline. The kit is tire-size configurable and comes with Pro Cal 4 calibration tool, a K&N high-flow air filter, and calibration software and hardware. What's more, the improved performance comes without sacrificing Ford quality or reliability. When installed by a Ford dealer or ASE certified technician, the Ranger EcoBoost Power Pack Performance Calibration is guaranteed for 3-years or 36,000 miles from the in-service date of installation.
RACKS, AWNINGS AND MORE
Transport Sensibility and Securely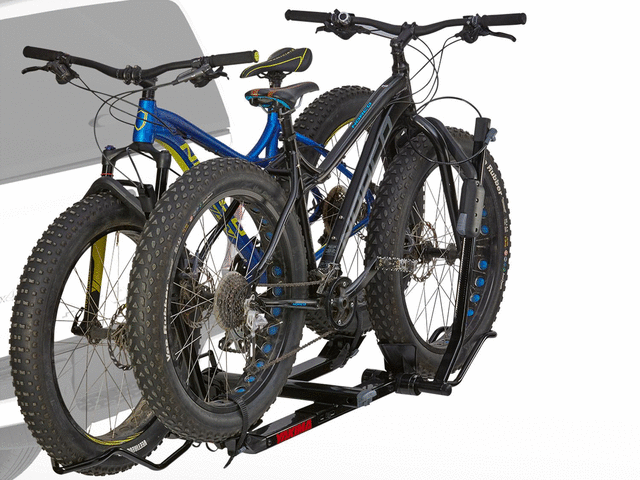 From kayaks and bikes to recovery boards and tents, Ford Performance and Yakima offer the equipment needed to help you carry your gear safely, securely and simply.
The Hitch Mounted Bike Rack VKB3Z-7855100-M frees up room in the bed and makes it easy to get pedaling. The rack is built for 1.25" or 2" receivers. Tilts down with bikes loaded for easy rear-of-vehicle access. Control lever tilts the rack away from the vehicle, folds flat for storage. Includes SKS locks for added security.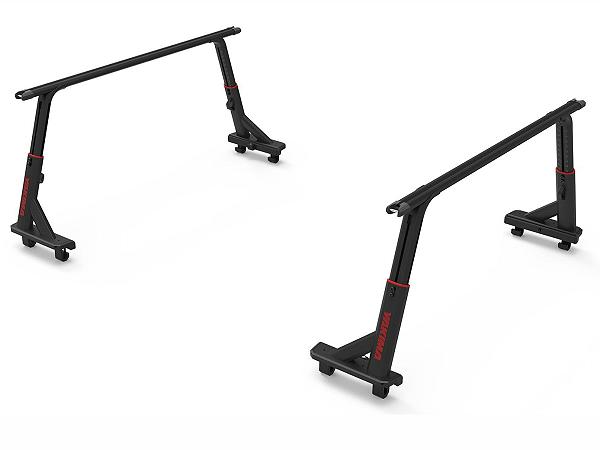 The adjustable Bed Rack VKB3Z-9955100-B enables Ranger owners to mount kayaks, bikes and other gear onto cross bars positioned over the truck bed. The rack's height is adjustable from 19" to 30" above the bed rails to create custom setups for maximum utility and versatility, plus QuickChange attachment ensures easy on-off placement. Lockable, with two heavy-duty T-slot crossbars.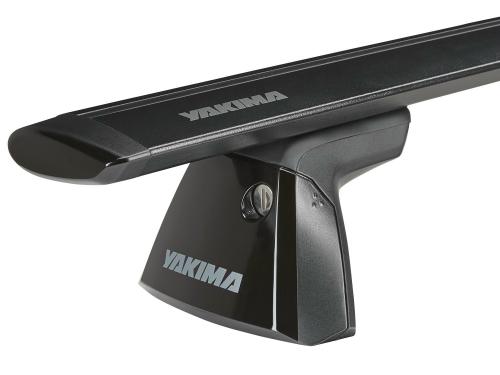 Those following in a chase vehicle with a full-length roof line will want to consider Roof Rack Kit — VKB3Z7855100-F.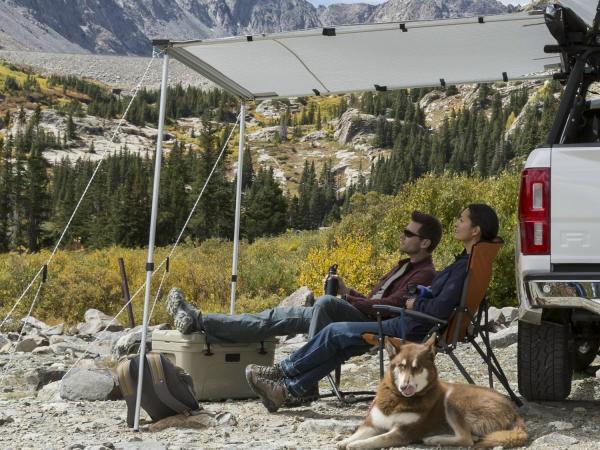 Bring some shade and cool off with Awning VKB3Z- 99000C38-E. This 6.5' x 6.5' awning provides 42 sq. ft. of cover, extending out from the truck bed. The shade is constructed of 420D Nylon with PU coating. Comes with a carrying case that takes up only 6" of rack space and locks. The awning requires crossbars.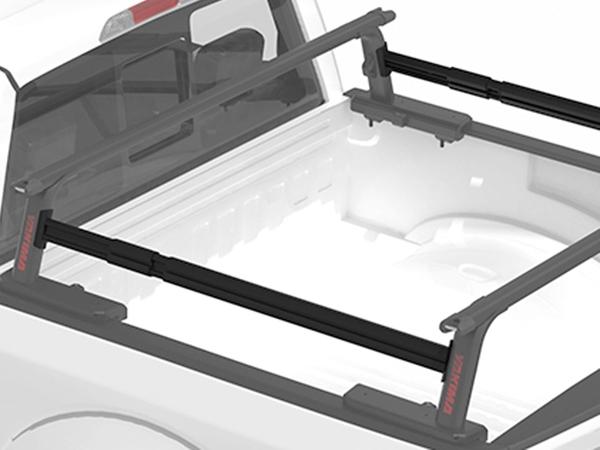 Create the ultimate truck bed cargo management system by adding the Telescoping Side Bars, Short VKB3Z-9955100-F. These side bars stretch from the front rack to the back rack, adding storage and ease-of- access to recovery boards and other gear. The telescoping bars are adjustable from 36" to 64". They accept T-Slot accessories like Eye Bolts, Recovery Track Mounts RotoPax Mounts and Tool Holders. The side bars require the Adjustable Bed Rack or Medium Profile Bed Rack. Set of two.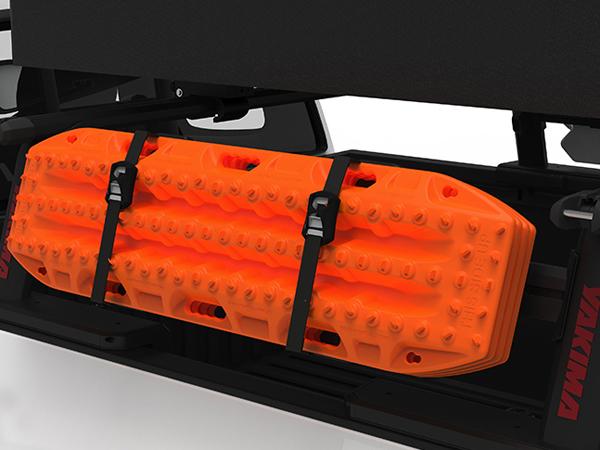 Yakima Recovery Track Mount Boards VKB3Z- 99550B26-B are a smart, quick and secure way to keep your vehicle recovery tracks on hand and within reach. Now you can deploy them whenever you need traction or self-rescue. Durable molded bases are built for rugged travel in a range of conditions and have a 35-lb. capacity. One set holds up to four recovery boards, such as the ActionTrax boards offered by Ford Performance, among other leading brands. Recovery boards are secured with included Yakima Heavy-Duty straps for confident hold on rugged terrain; includes hardware for both HD bar and standard T-slot crossbars.