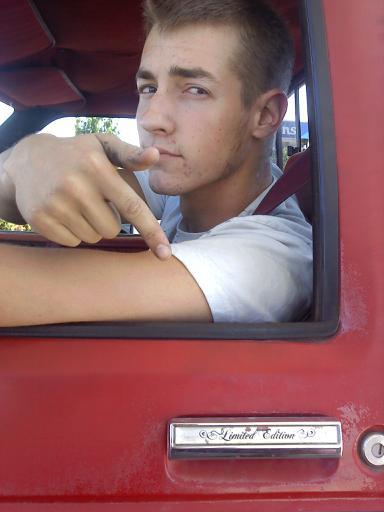 Rest In Peace Chance – We'll Miss You!
On October 7th 2010, TheRangerStation.com (TRS) Forum Member Chance Bruggeman ('Chance') departed his family here at TRS and went to be with the Lord.
At 1:30 AM, Chance's vehicle left the roadway, struck a pole, and rolled causing him to be ejected from the vehicle. See the news report below:
The News-Review Douglas County Oregon – October 7, 2010
A Roseburg man who was still deciding which career path would bring him happiness and financial stability was killed at about 1:30 a.m. this morning when his vehicle drifted off the road and hit a power pole in the 3600 block of Garden Valley Road.
Chance Edward Bruggeman, 20, was driving a 1998 Acura Integra north on Garden Valley Road near Cedrus Lane when, for unknown reasons, the car left the road. According to the Douglas County Sheriff's Office, the vehicle rolled after hitting the pole, and Bruggeman was thrown from the car. He was pronounced dead at the scene.
Bruggeman's step-grandmother, Judith Bruggeman, said he loved to work on cars and was working toward a degree in mechanics at Umpqua Community College.
Recently, however, he was thinking about changing his focus.
"He was finding there was not really a lot of money in that," Judith Bruggeman said.
Besides attending school, Chance Bruggeman worked at Albertsons, and he loved to hunt and fish, she said.
He was raised in Brookings and graduated from a Christian high school there. Shortly after, he moved to Roseburg to live with his mother, Judith Bruggeman said.
He was close with his family and had many close friends, Judith Bruggeman said. His dog was an especially close friend. "He was very proud of his dog," she said.
News-Review columnist Bill Duncan lives near the accident scene and said several neighbors heard the crash and came out to try and help.
The accident took out a telephone pole, so no one could call 911 from their house phones. A passing motorist, a nurse on her way to work, was flagged down and called police with her cell phone, Duncan said.
This is the ninth fatal accident in Douglas County since mid-July and the third involving a person 21 years old or younger.
Chance was a very active member here at The Ranger Station. He joined November 26, 2008 and made 2,259 posts to his fellow members. His last visit was 10-06-2010 at 9:38 PM.
Chance is best remembered by his fellow members for his funny interjections in conversations, the comics he would post, and his jokes.
He will be greatly missed by us all.
The family has suggested that donations be made to the Chance Bruggeman Memorial Fund:
Curry Coastal Pilot October 9, 2010
Chance E. Bruggeman, 20, of Roseburg, went to be with the Lord on Oct. 7, 2010.
Chance was born Aug. 26, 1990, and graduated from Brookings-Harbor Christian School. He was an intern for four years with Chetco Federal Credit Union, before moving to Roseburg where he was a student at Umpqua Community College.
He was an affectionate and generous son, grandson, nephew, cousin, friend, and co-worker. He loved four wheeling (muddin') and working on vehicles — not only rebuilding them but thrashing them as well.  He enjoyed the annual hunting and fishing trips with family, and an occasional Ducks game with his dad. His favorite pastime was hanging with friends. He loved bacon and gave great hugs. He loved life and did things his own way.  He was loved by all who knew him.
He is survived by his father, Spike Bruggeman, of Brookings, and mother Melody Bruggeman, of Roseburg;  grandparents Zane and Ella Lindly, Jim and Judy Bruggeman, and Joann Albertus; and numerous uncles, aunts, cousins, and friends. 
A memorial service will be at 1 p.m. Monday, Oct.11, at Roseburg Christian Fellowship, 1376 N.E. Walnut St., Roseburg.
The family suggests donations to the Chance Bruggeman Memorial Fund at Chetco Federal Credit Union, PO Box 3000J, Brookings, OR 97415.
On November 27th 2011, forum member 'Sunk' took the TRS Banner Across America to Chance's gravesite to pay tribute to him. Chance wanted to participate in this event, and we all wanted to make sure he was included.