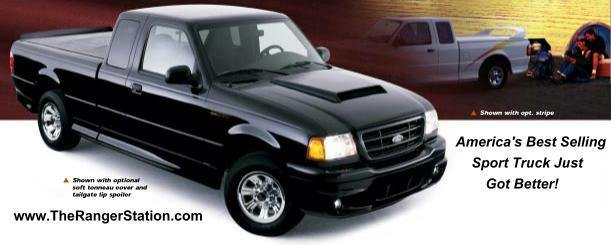 First, a bit about getting a Thunderbolt. These vehicles will be sold as original equipment straight from your Ford dealer and all Thunderbolts are completely covered by Ford's manufacturer's warranty. Choose from one of three colors (black, bright red, and Oxford white), then just ask for Option Codes 31L and D9P. Your Ranger, on it's way to your dealer from the assembly plant, makes a quick (three to five day) stop in Kentucky. Here, SLP will transform your truck with their mix of upgrades — read on for the details. When it arrives at your dealer for you to pick up, it's as if all the options had been installed by Ford itself.
The Thunderbolt base package for 2003 includes several visual upgrades:
Non-Functional Hood Scoop
Monochromatic Side-Body Cladding and Rear Roll Pan
Three Exterior Badges
Single Outlet Exhaust Tip
Thunderbolt Logo Wheel Center Caps
Monochromatic Grille, Front Bumper, and Fascia Extension
Thunderbolt Headrest Appliques
Once the base package is added, three appearance / performance option packages are available:
Thunderbolt Level I
Front Fascia Fog Lamps
Soft Tonneau Cover
Rear Lip Spoiler
Thunderbolt Level II
Front Fascia Fog Lamps
Soft Tonneau Cover
Rear Lip Spoiler
Performance Package
Thunderbolt Level III
Front Fascia Fog Lamps
Performance Package
Hard Tonneau Cover
The performance package, with its combination of improved air inflow (via an under-hood cold air box, and exhaust outflow (courtesy of a cat-back exhaust system with dual outlets) increases the engine output by about eight percent (to 160 hp for the 3.0L V6 and 222 hp for the 4.0L V6).
On top of the base package and the three appearance/performance packages, several options are available for 2003:
16-inch Tremor Wheels and Bridgestone P235/65R16 Dueler H/T BSW Tires
15-inch Five-spoke, Aluminum Wheels
Hoop Spoiler (available with Level III only)
Handling Package (available with Level II and Level III only)
Exterior Graphics
Body Color Rear Bumper
Thunderbolt Floor Mats & Key Chains (combo)