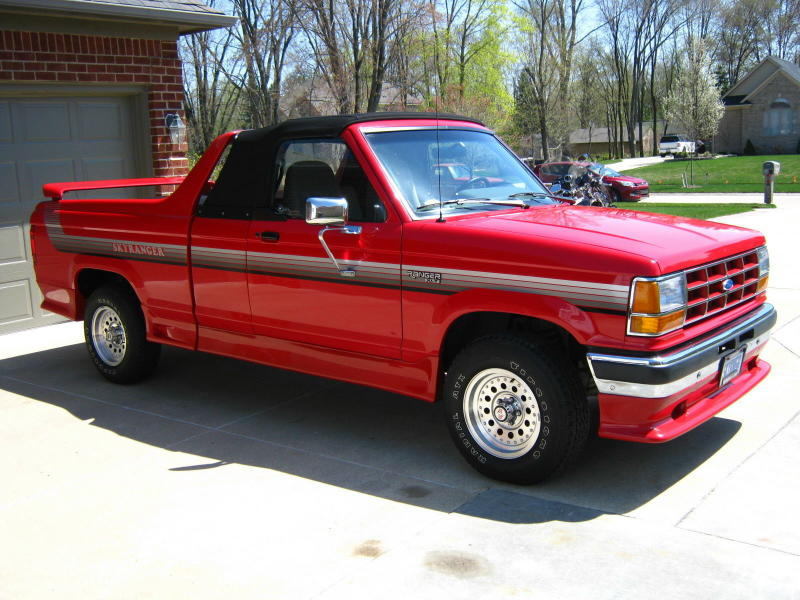 For some reason, the convertible pickup truck idea never quite picked up (pun intended), and the best example is the Chevy SSR. But GM's peculiar convertible pickup wasn't the first of its kind.
Back in 1991, Ford commissioned (17) Rangers to be convertible in to convertibles by the American Sunroof Company (ASC). The trucks were sold through Ford dealerships, and the example you see here was for sale on eBay with an original dealer brochure, and original photos showing the conversion process from the builder.
The owner says the truck has covered only 7,279 miles (11,714 km) and is "nicely optioned" with a 4.0-liter V6 engine mated to a five speed manual transmission, all-wheel drive, custom wheels, fog lights (although they appear to be missing in the photos) as well as "every power option."
The seller also says the truck "rides, drives and shifts as if brand new," although he admits he hasn't driven it in the past four years. It has spent all those years in heated, covered storage.
The SkyRanger has a manual soft top that is said to go down and back up quite easy. When the top is folded down completely in the area behind the front seats, a tonneau cover goes over it for a sleek look.
The truck was posted on ebay with a starting bid of $28,999.99. There were no bids. It was relisted with a starting bid of $17,999.99. There were no bids, and the truck was not relisted.
The ebay Ad:
This truck is also listed on Craigslist…and I have sold my last two cars from Craigslist…so I reserve the right to cancel this listing at anytime if it sells on Craigslist.1991 FORD RANGER CUSTOM STX/XLT CONVERTIBLE PICKUP

1 OF 17 BUILT IN 1991…MOST LIKELY THE ONLY ONE LEFT!!

I WAS ASKED BY A FEW WATCHERS TO POST PICTURES WITH THE TOP DOWN SO I HAVE, ALSO SOME ASKED ABOUT HOW THE TOP WORKS. IT IS A MANUAL TOP THAT GOES DOWN AND BACK UP QUITE EASY. AFTER PUTTING IT DOWN THERE IS A NICE TONNEAU COVER THAT GOES OVER THE FOLDED TOP….MAKES FOR A VERY SLEEK LOOK. THE TOP FOLDS DOWN COMPLETELY IN THE AREA BEHIND THE FRONT SEATS WHERE THE JUMP SEATS WOULD HAVE BEEN.

VERY LOW MILES – 7279 AS OF TODAY MONDAY 5-25-15!

AIR BLOWS ICE COLD, WAS CONVERTED FROM R12 TO THE NEW R134a COOLANT TODAY MONDAY 5-18-15!!

>THIS IS A FULLY LOADED 4X4 EXTENDED CAB RANGER PICKUP THAT WAS PROFESSIONALLY CONVERTED BY ASC INTO A CONVERTIBLE PICKUP AND SOLD THROUGH FORD DEALERSHIPS

I HAVE HAD THE TRUCK FOR SEVEN YEARS BUT I HAVE NOT DRIVEN IT IN THE PAST FOUR YEARS

I TOOK IT OUT TODAY FROM HEATED COVERED STORAGE AND IT DRIVES AS NEW…NO PROBLEMS AT ALL. THIS TRUCK HAS A NICE RUMBLE IN THE EXHAUST WHICH EVERYONE LIKES!!

PLEASE CHECK OUT ALL PHOTOS AND IF INTERESTED IN MORE PICTURES I WILL SEND YOU A LINK TO MY SHUTTERFLY ALBUMS
IF YOU DRIVE THIS PICKUP YOU WILL BUY THIS PICKUP

NO ONE ELSE WILL HAVE ONE SO EXPECT ALOT OF LOOKS!!

I HAVE ORIGINAL PHOTOS SHOWING THE COMPLETE CONVERSION OF THIS PICKUP FROM THE BUILDER…I ALSO HAVE A RARE ORIGINAL SALES BROCHURE

Please note that this is one of less than twenty examples commissioned by the Ford Motor Company and built by ASC Corporation.
With less than 7,300 miles from new, this custom convertible pickup truck is nicely optioned with a five speed manual transmission, custom wheels, driving lights, and every power option. Original dealer brochure.

MARC R PERRY
THEHISTORIAN

586-731-5549 Before 9:00pm EST
Photos:
Click the photos to enlarge – click the arrows to load more