Bug Out – Defined:
A phrase being heard more commonly these days is 'bug out'. To 'bug out' means to leave in a hurry. It's also said to be a British military term that means to "move away from your current location very quickly (often under fire) because your position has been compromised by the enemy".
More and more people these days are starting to think about preparedness and survival. Natural disasters have caused people to have to flee from their homes, and there is always the risk of man made disasters and terrorism.
Not sure what I'm talking about? Consider these events that have happened around the globe:
Natural Disasters:
Hurricanes

Earthquakes

Fires

Floods

Tornadoes

Ice Storms

Snow Storms
Other Disasters:
Fukushima Daiichi nuclear plant meltdown – Japan

Evacuations due to gas leaks, train derailments, or other critical incidents
Terrorism & Riots:
911 U.S. Terrorist Attacks

1992 Los Angeles California Riots
Here's some photos for a refresher: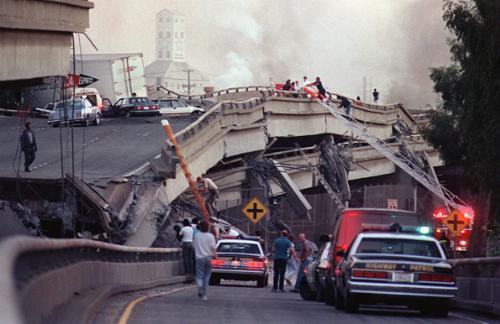 (Earthquake)
(Tornado aftermath)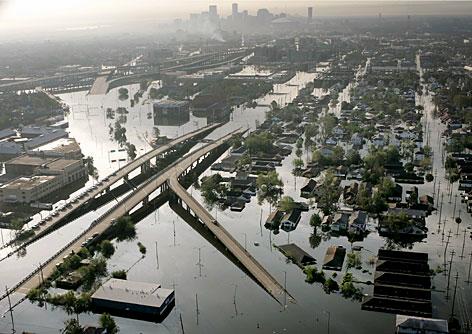 (Hurricane Katrina aftermath)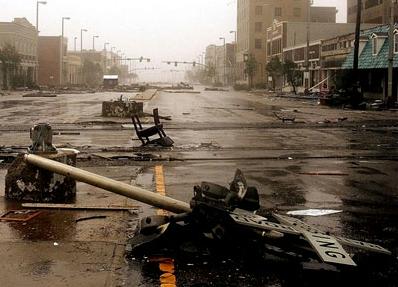 (Hurricane Katrina aftermath)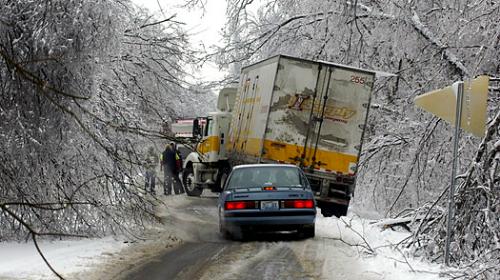 (Ice storms)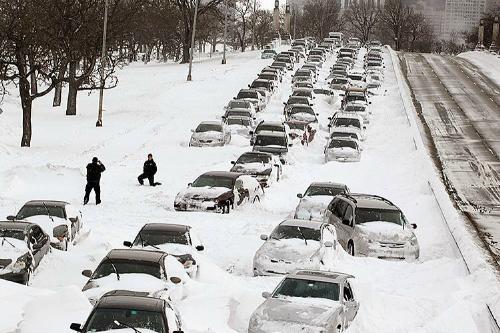 (Chicago snow storm – 2010)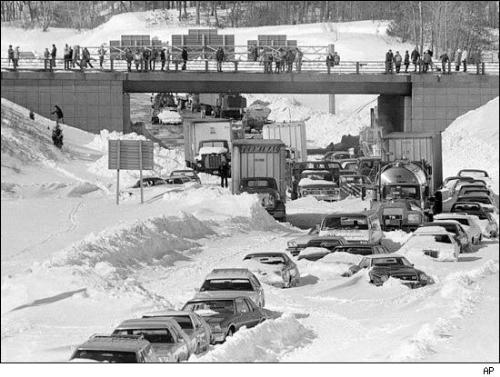 (Blizzard 1978 – Northeastern U.S.)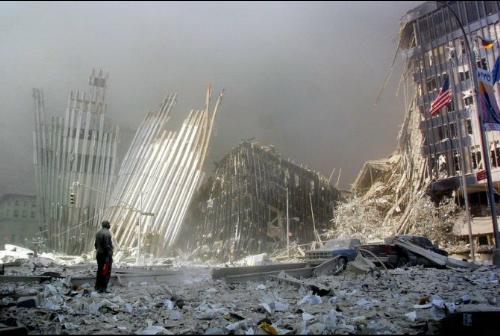 (New York terrorist attack aftermath)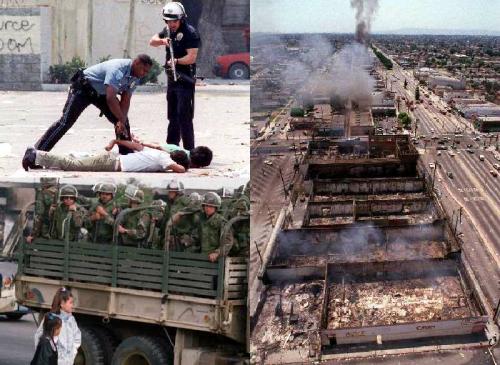 (1992 Los Angeles California Riots)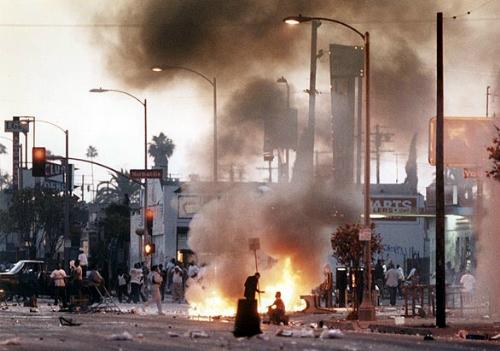 (1992 Los Angeles California Riots)
Bugging Out From Weather Emergencies:
Bugging out and surviving weather emergencies is probably the most likely situation you will find yourself in. Whether it's surviving in your vehicle because you became stuck in bad weather, or you're trying to leave before the forecasted weather hits. If you live in a coastal state where there are threats of hurricanes, you could find yourself having to leave the area before the storm hits. Do you have enough fuel in your vehicle to get through all the traffic trying to leave?
(Traffic trying to leave Houston Texas before hurricane Rita)
What about snow? Are you prepared to survive in your vehicle if you get stranded in the snow?
Civil Unrest & Rioting:
Since 2006, there has been an increase in riots and civil unrest as a result of the fallout from economic collapse. From the United Kingdom, to continental Europe, to the Middle East and North Africa, almost every corner of the globe has experienced social dislocation. The United States is also suffering from a poor economy and people dissatisfied with the government.
There is a threat that we could have civil unrest here in the U.S. and the government has been making plans to deal with it. If you're in an area where there is a large civil disturbance, you could find the military coming in and scooping people right up off of the street and placing them in detention camps.
You only need to look back at the Los Angeles riots to be reminded of why you should leave the area. If a riot started where you live, are you prepared to leave in a hurry? Do you really want to stay in the middle of all the violence?
Electro-Magnetic Pulse (EMP) And It's Effects On Vehicles:
It's important to talk about EMP's and how they effect vehicles. EMP's can be caused by a nuclear bomb detonation, or by man made EMP bombs.
When detonated, an EMP weapon produces a pulse of energy that creates a powerful electromagnetic field capable of short-circuiting a wide range of electronic equipment, particularly computers, satellites, radios, radar receivers and even civilian traffic lights. It Since EMP is electromagnetic energy traveling at the speed of light, all of the vulnerable electronic equipment in the detonation zone could be affected simultaneously. The EMP may couple with electrical/electronic systems to produce damaging current and voltage surges.
A 1.4 Megaton bomb launched about 250 miles above Kansas would destroy most of the electronics that were not protected in the entire Continental United States. During the brief return to atmospheric testing in 1962, a 1.4 megaton nuclear weapon was detonated over Johnston Island at an altitude of about 250 miles.  The effects of EMP were observed in Hawaii, 800 miles east of the detonation.
Man made EMP bombs could be set off by terrorists in largely populated areas that could create localized damage.
EMP's can destroy a vehicles electronic ignition systems, and ignition chips are also vulnerable. Because of this, newer computer controlled cars may stop running, but older points type distributor ignitions, and many diesels up to the mid 1990's that didn't have electronically controlled ignitions, may still run.
Also, the early Ford Duraspark ignitions, which would likely be damaged by an EMP, would be pretty simple to replace (fix) compared to a computer controlled vehicle with a lot of electronics and sensors.
It is important to note that an EMP blast would likely blow all of the fuses in your vehicle.
With this being said, you may want to consider a bug out vehicle with an older ignition system that would be easier to repair if it were damaged by an EMP. On an older Ranger or Bronco II, this may mean keeping a spare ignition module, voltage regulator, and fuses in a safe storage container. 
A galvanized metal trash can could be a very effective electromagnetic shield.  The interior of the body of the galvanized metal trash can should be lined with some material (cardboard) to electrically insulate items stored inside the container from the metal exterior. Do not place any insulation at a point where it would interfere with the electrical connection between the metal lid and the metal body of the trash can.  It would be a good idea to wrap items placed inside the metal trash can with a layer of aluminum foil.
Solar Storms:
Among all of the kinds of electromagnetic disturbances that can occur, though, it is important to keep things in perspective.  It is possible that a nuclear EMP may never happen where you live.  On the other hand, a severe solar storm that will destroy most of the world's power grids appears nearly inevitable at this point. An extremely large solar storm, though, would induce geomagnetic currents that could destroy a substantial fraction of the very largest transformers on the power grid (possibly over much of the world).  If this happened, electric power loss due to a large solar storm would be out for a period of years and possibly decades.  Unlike nuclear EMP, such a solar storm is an eventual inevitability.
Are You Prepared To Leave?
So what if the time comes that you need to 'bug out' and leave your home? Is your vehicle ready? What kind of vehicle will it be? Do you have supplies to survive when you leave?
Choosing The Right Bug Out Vehicle (BOV):
Will you have a vehicle specifically set up as a BOV, or will you take whatever's available? How do you choose the right vehicle as a BOV?
A good BOV should meet these basic requirements:
Large enough to transport your whole family

It should be a 4×4 (4-Wheel Drive) with adequate ground clearance

Have enough room to store 72-hours worth of food and water

Enough room to provide you with shelter
Other things to consider are:
How much fuel does it carry, and what kind of miles does it get (Miles Per Gallon)

Is it going to operate after an EMP (Electro-Magnetic Pulse – caused by nuclear bomb blasts or a terrorist EMP bomb)

Does it have the ability to tow a trailer

Your BOV should be no longer than 22 feet to allow it to fit in a single parking spot or driveway. You don't want to limit your parking options.
It Doesn't Have To Be Something That Will Survive An EMP:
More than likely, your bug out vehicle will be used to escape or survive natural disasters. Although an EMP is a potential threat, it's more likely that your bug out vehicle will be used for escaping / surviving natural disasters, or fleeing from civil unrest. Any vehicle could be your BOV, although some people purchase vehicles with BOV in mind.  
Vehicle Examples: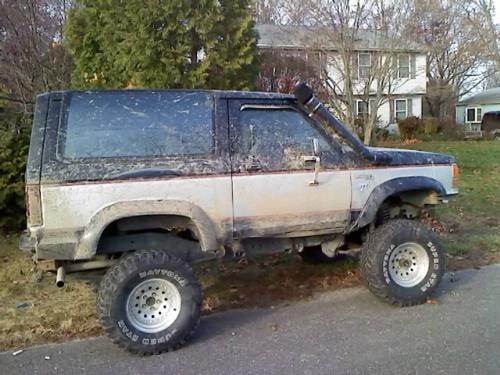 (Ford Bronco II)
Would you use a Ford Bronco II? It's a small vehicle that would be easy to get through traffic with. It comes as a 4×4 with a V-6 engine that could be ran as, or converted to a Duraspark Ignition (no computer) or points type distributor ignition to make it EMP tolerable. It would only be ideal for (2) people even though it seats (4). It may not provide room for supplies for all (4) people, but has adequate room to store 72-hours worth of supplies for (2) people.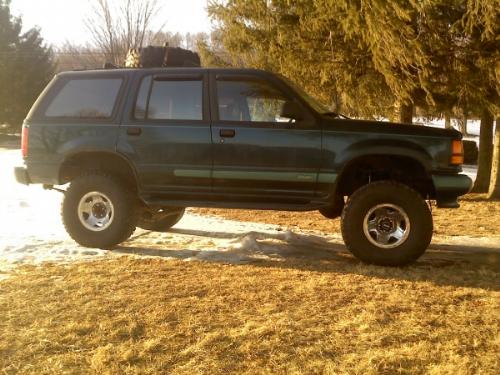 (Ford Explorer)
The Ford Explorer can carry (4) people with room in the back to carry 72-hours of supplies. It would not survive an EMP though unless you swapped out the engine. It also comes as a 4×4 and would get decent fuel mileage.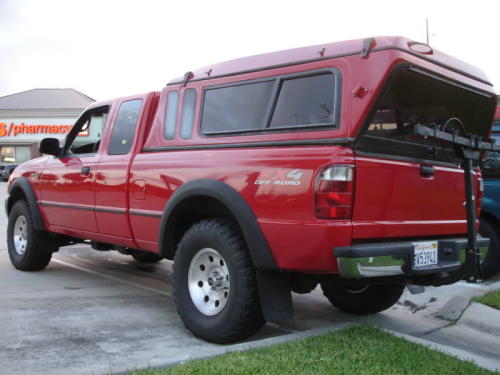 (Ford Ranger with a camper shell)
The Ford Ranger can carry (2) people comfortably. The extended cab could carry (4) people, but the rear (2) jump seats aren't that comfortable. With a shell over the bed, you could use it for shelter to sleep in, and would have room for storage. You can get it with 4×4 and a 4-cylinder or V-6 engine. It would get good gas mileage, but the newer models wouldn't survive an EMP. An early 80's model with a 4-cylinder or 2.8L V-6 could run on a Duraspark ignition or points distributor ignition. Also, there were a few diesel models available in the early 1980's.
(Wildernest Camper on Ford Ranger)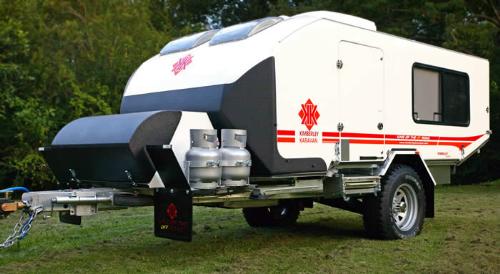 (Small camper)
A small camper like this could be setup and ready to go at a moments notice. Note that it sits higher and offers more ground clearance and better departure angles (rear bumper won't get caught on anything) than a traditional camper.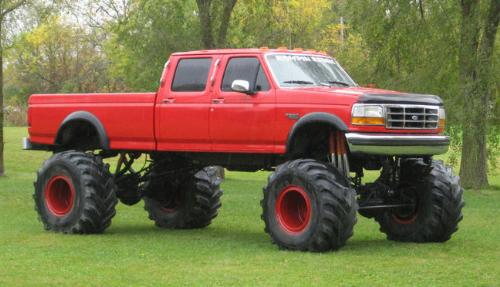 (Ford F-350)
A big truck like a Ford F-350 could get over most obstacles if built correctly. These vehicles don't get very good mileage but are powerful. They could be had up to 1994 with a 7.3L IDI diesel that uses a mechanical lift pump (fuel pump) and no real electronic ignition system to survive an EMP, or you could build one with a V-8 and Duraspark or points style ignition.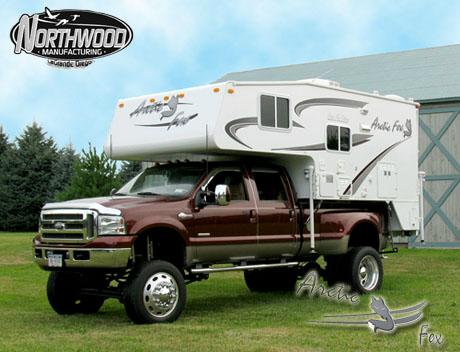 (Truck camper)
Your fullsize truck could use either a shell over the bed for shelter, or a camper like the one shown above.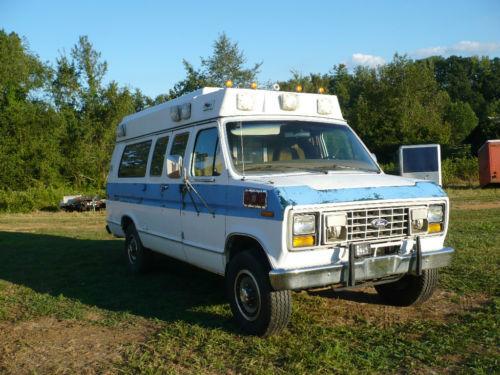 (Ford E-350 Ambulance)
How about an old Ford E-350 1-ton ambulance with either a 460 V8 or a 7.3L diesel? Same as mentioned above about the F-350 trucks, but these vehicles would allow you to have shelter and build it like a camper, with the benefit of not having to get out of the vehicle to enter the rear.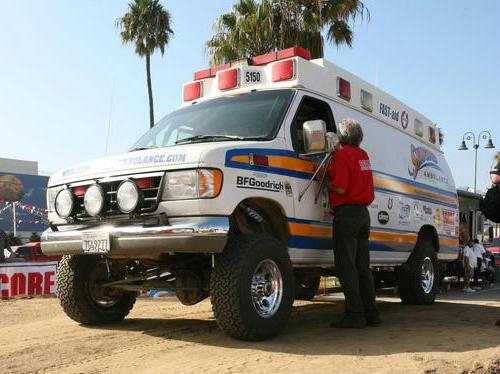 And you can even get them in a 4×4 model.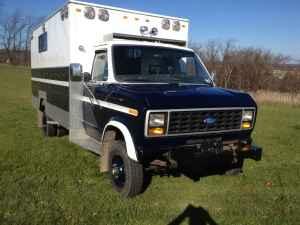 This 1-ton Ford F-350 Quigley 4×4 ambulance/box with a diesel could be a great platform for a camper. It's strong enough to pull a trailer behind it as well.
The Sportsmobile is the ultimate vehicle for bugging out. It's a 4×4 van with a camper conversion built to be capable of traveling off-road.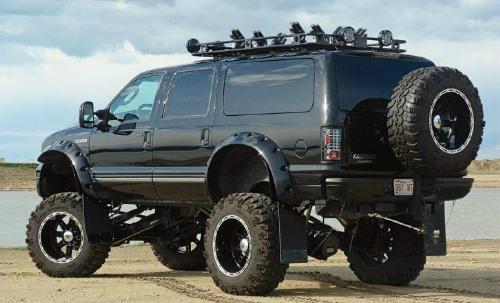 Ford Excursion (above) and the Chevy Suburban (below). The Suburban's can be found cheap with parts readily available. They each come with either a gas or diesel motor and have plenty of room for (4) people and supplies. They can be a lot harder to stop and flip over by an angry mob as well.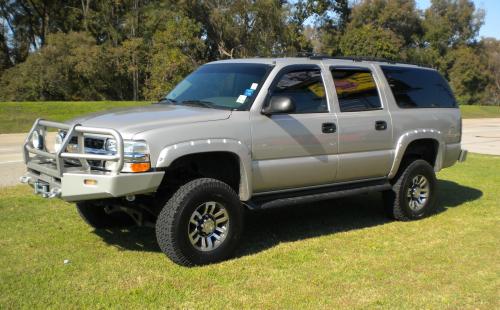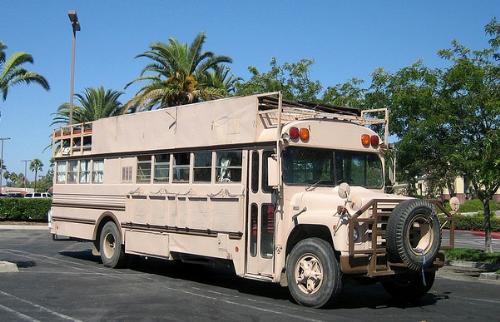 (School bus)
Maybe an old school bus? Think about it. They're cheap, basic, strong, can carry the whole family, plus provide living space, and could be hard to stop by anyone wanting to stop you on the highway and rob you.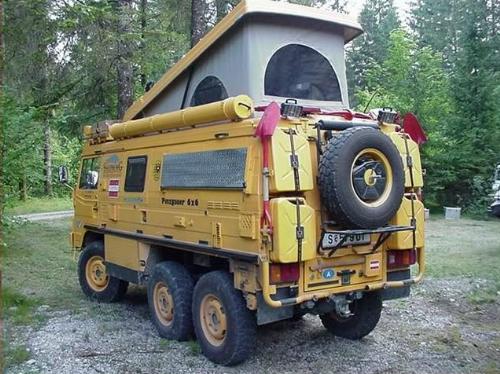 (Pinzgauer 712K)
If you're looking for the ultimate BOV that can handle difficult terrain, you should look at what the military uses. They need vehicles that can cross difficult terrain during a war and hold up to the abuse.
The Pinzgauer first generation model (710, 712) was produced until 2000 by Steyr-Daimler-Puch in the city of Graz, Austria. It was, and is in use in many armies around the world like Austria, Switzerland, United Kingdom, Saudi Arabia, Thailand, Albania, and Bolivia.
Both the 4×4 and 6×6 models can tow 11,023 lb on road; and 3,968 lb, respectively, off-road. It has a range of over 249 mi on one tank of fuel, or nearly 435 mi with the optional 125 liter tank. The first generation Pinzgauer is available in both four-wheel drive (4×4) (model 710) and six-wheel drive (6×6) (model 712) versions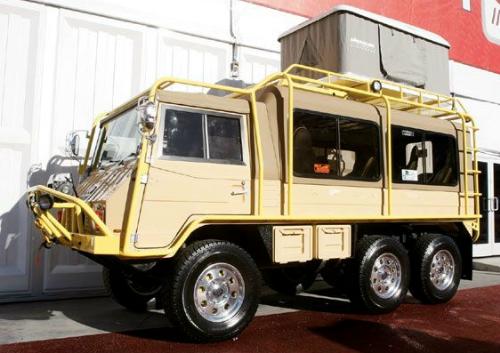 The Cool Factor of this '74 Pinzgauer 712 is off the charts. Built by the team at Off Road Logic, it features a Volkswagen 2.0L four-cylinder TDI turbodiesel engine, five-speed enclosed driveline, 6×6 all-wheel drive, on-the-fly lockers, Dick Cepek custom Hummer wheels, Toyo Open Country 33-inch tires, and a custom exoskeleton. Inside, it has a slew of mods including Race Craft suspension seats. All this and great approach, departure, and ramp-over angles, too.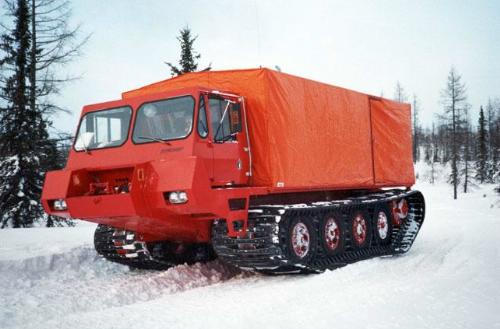 (Tracked carrier)
This tracked carrier is going to go pretty much anywhere you want it to. Imagine having a camper body on the back? Or a metal container converted to a camper?
What Should You Pack?:
So you have your BOV and your ready to leave. You need to make sure you have:
3-day supply of food

Water (1-gallon per person per day)

Personal hygiene items such as soap, shampoo, deodorant, tooth paste & brush

Toilet paper & towels

First aid kit & any necessary medications

Sleeping bags

Flashlight (extra batteries)

Lighter/matches

Battery powered AM/FM radio (extra batteries)

Cash (Credit card and ATM machines will not be working if power is out
Example:
Food:

MREs for 3 days

Instant Cereal

Instant Hot Chocolate

Food Bars

Shelter/Bedding:

Tent

Rain Poncho

Space Blanket

Wool Blanket

Sleeping Bags

Water:

Water Purification Tablets

First Aid Kit

Sanitation:

Toilet Paper

Soap / Shampoo Toothbrush / Paste

Personal Hygiene Items

Heat/Light:

Pocket Hand Warmers

Matches / Candles

Propane Stove

Fire Starter Kit

Flashlight

Gloves

Misc. Items:

Extra set of Car Keys

Credit Cards and Case

List of Family Physicians

Special Items for Infants, Elderly or Disabled Family Members

1 Gallon of Water per person per day

Communications:

Battery Powered Radio

Extra Batteries
You can also check out www.ready.gov for more useful information.