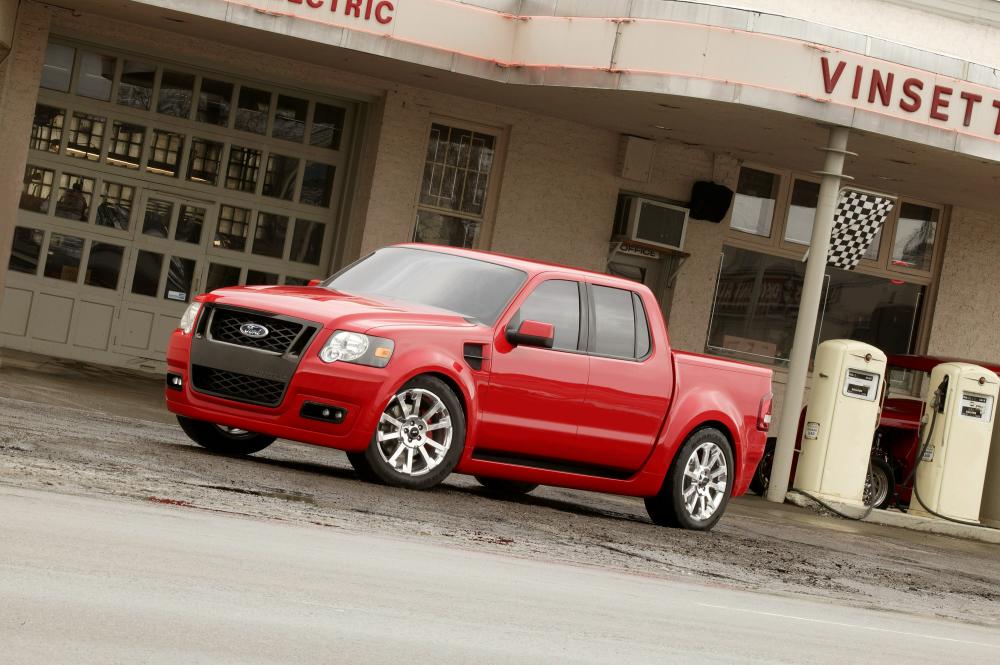 This truck was introduced at the New York International Auto Show in New York March 23, 2005.
NEW YORK, March 21, 2005 (Ford has put this vehicle on hold 02/03/2006)
At a special New York International Auto Show preview event for journalists last week, Director of Advanced Product Creation and Ford Special Vehicle Team (SVT) Hau Thai-Tang said that the Ford Sport Trac Adrenalin is going to "turn the performance vehicle market upside down."
Making its debut at the 2005 New York International Auto Show on Wednesday, the Adrenalin is, according to Ford, the world's first high-performance sport-utility truck (SUT). The truck being shown is a "teaser" preview of the production version due out in 2007.
"We're looking to take Ford performance to an entirely new market segment with the Sport Trac Adrenalin," said Steve Lyons, vice president, Ford Motor Company and president, Ford Division. "Adrenalin is designed to offer a unique combination of performance and functionality never before offered in the 'go-fast' market."
The Sport Trac Adrenalin follows the Explorer Sport Trac concept, which debuted at the 2005 North American International Auto Show. The "slammed" appearance and large wheels and tires on that Detroit show car was essentially a preview of what SVT had in mind for Adrenalin.
"The high-performance truck market is big," said Grant Guzowski sales representative at Capistrano Ford in San Diego. "Ford dominated this arena for years with the Lightning. Now we're seeing a lot of people modify diesels to boost horsepower. But I think the idea of SVT is to have lighter-weight vehicles. That's one reason to do the Sport Trac than the F-150 — a lighter vehicle is always better than a heavier vehicle. We do have a huge following of people who own and love Lightning, and they all have the intent to wait for the next high performance Ford truck."
Larry Webster, technical director of Car and Driver magazine, agrees and said that using a lighter vehicle like Sport Trac as the foundation for a performance truck is smart.
"Weight is the enemy of performance," said Webster. "I thought the first Sport Trac had some good design touches. If the Sport Trac Adrenalin works as well as it looks, it should be good."
The Sport Trac Adrenalin's power comes from a supercharged 4.6-liter, 32-valve DOHC V-8 engine derived from the 2003-04 SVT Mustang Cobra. The engine produces 390 horsepower and 390 pounds-feet of torque. The Adrenalin concept also has a six-speed automatic transmission derived from the Lincoln Navigator — the first use of a six-speed automatic on an SVT vehicle.
Another SVT first is a full-time all-wheel drive system that splits power 40/60 front/rear.
"A longstanding problem with sport trucks was their ability to 'hook up' from a standing start without excessive wheelspin," said Jay O'Connell, SVT chief vehicle engineer. "This AWD system will help the SVT Sport Trac Adrenaline launch with authority, putting the power down through all four tires at the same time."
To make sure no one confuses Adrenalin with a conventional Sport Trac, there are SVT signature fog lamps, stylized front and rear fascias, and an aggressive "black chrome" grille and grille surround with matching headlamp bezels. Inside, four bucket seats have more thigh bolstering. Unique red leather seat inserts match red leather interior door trim panels. The instrument panel has white-faced instruments, an SVT design hallmark.
Adrenalin features short- and long-arm front suspension, and a trailing-blade independent rear suspension (IRS). SVT-tuned shock and spring rates, as well as upgraded front and rear stabilizer bars, are designed, according to Ford, to provide more aggressive and more controlled driving dynamics.
"Ford SVT has long been renowned for its 'chassis wizards' who deliver balanced, agile handling, even in the full-size F-150 pickup," said Thai-Tang. "Considering its smaller dimensions, lighter weight and fully-independent suspension, the Sport Trac Adrenalin will rival the handling of some performance cars."
Performance isn't the only draw. Engineers increased Sport Trac Adrenalin's exterior by nearly five inches in length and two inches in width. There is 30 percent more cargo space over a conventional Sport Trac, too, thanks to a wider bed and taller bed rails. Towing capacity is estimated at 6000 pounds. And like in any Sport Trac, there is seating for four, also making Adrenalin a practical vehicle for every day use.
"Like it did with the SVT F-150 Lightning, SVT forces a rethink on the entire performance-truck market with the Sport Trac Adrenalin," said George Ayres, SVT sales and marketing manager. "Ford invented the sport-utility truck, known as the SUT. Now we're pushing the performance envelope while still retaining the kind of utility that makes people buy an SUT for in the first place."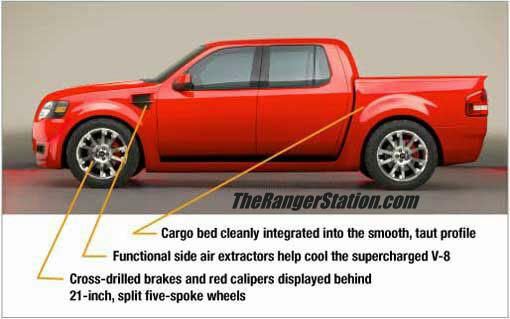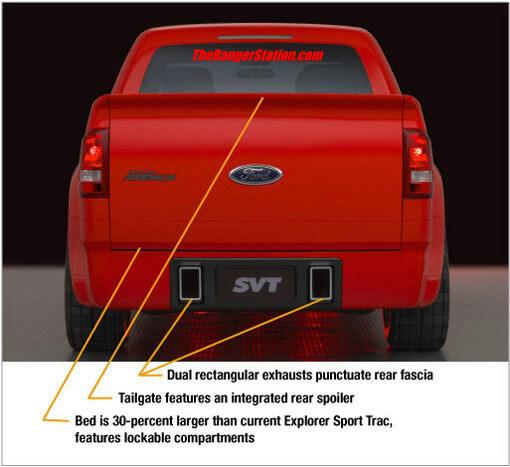 Square exhaust tips, integrated in the rear roll pan, are tuned to emphasize the bark of the 390-hp, supercharged Sport Trac Adrenalin.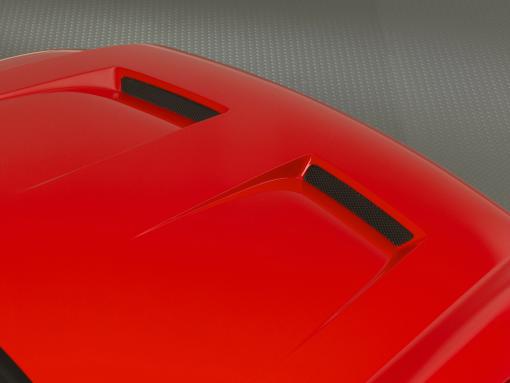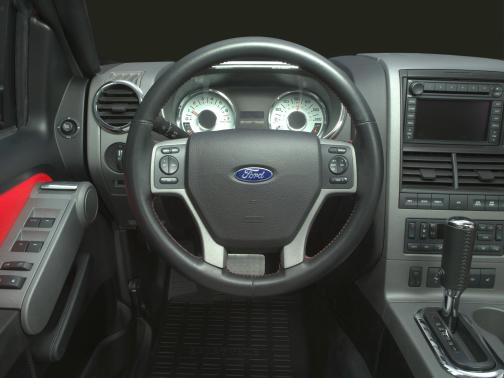 Adrenalin's instrument panel houses easy-to-read, white-faced instruments, a design hallmark of Ford SVT.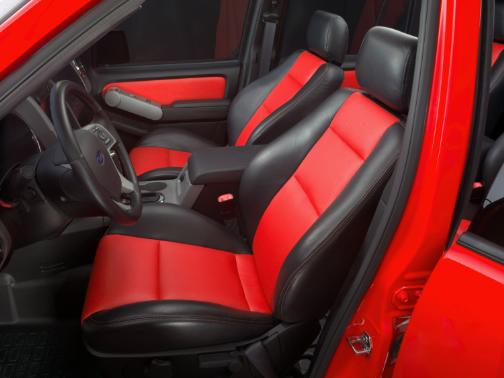 Adrenalin's sporty yet comfortable interior invites spirited, long-distance driving in the world's first high-performance sport-utility truck.
More Photos:
Click the photos to enlarge – click the arrows to load more.