By Jim Allen
(From Off-Road Adventures Magazine)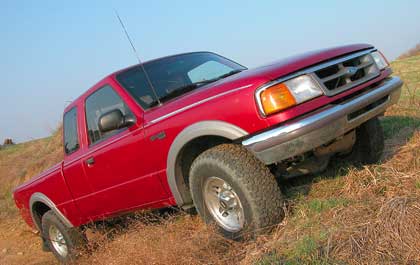 It has a set of nearly bald BFG All-Terrains, so we didn't ask much and didn't expect much on the trail, even after we corncobbed the broken front hub and malfunctioning transfer-case shifter motor. Stock trail performance is, well, stock.
Meet the 1996 Ranger that'll be transformed before your eyes. With just over 143,000 miles, it was purchased on the cheap from eBay with a double handful of glitches, but nothing that mattered much considering the changes to come.
Lots of you are on the buildup trail and hunting for the right parts to make your rig as capable as possible. Where do you start and what will you end up with after that pile of hard-earned cash dwindles to near nothing? Maybe we can help. We're going to walk you through the buildup of a truck — from purchase to virgin trail run — and show you how the products were installed and what we gained by installing them. What's interesting is that, instead of installing everything in a shop with pro techs, much of the installations were done by the vehicle owner. Jim Oaks is like most of you — he has basic wrenching skills, some useful experience, a decent toolbox, and he's smart enough to read directions and take his time. He deferred to a couple of pros along the way, but the majority of installations were his own.
You'll see Jim's budding fabrication skills come to fruition in the form of bumpers, light bars, and racks.
Though we're dealing with the Ford Ranger, Oaks' personal favorite, the basic concepts work for every rig: make improvements in traction and clearance, and you increase performance. Add safety and trail convenience items to match, toss in personality upgrades, and you're set with a gnarly, stylish truck.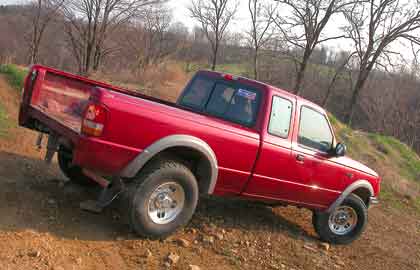 The eBay Ranger
Having built and wheeled a 1984 Ranger for many years (see "Practical Ranger," December 2003), Oaks was specific about what he wanted. Being familiar with Ford TTB Rangers and knowing the tweaks, he began looking for a last-of-the-breed 1996 TTB. These rigs combined the great 4.0L V-6, Dana 35 TTB front axle, 8.8 rear axle, and A4LD automatic with the more stylish lines of the newer body style. Because it was going to be a major buildup, Oaks didn't necessarily want to pay for a perfect rig. He found the truck, of all places, on eBay.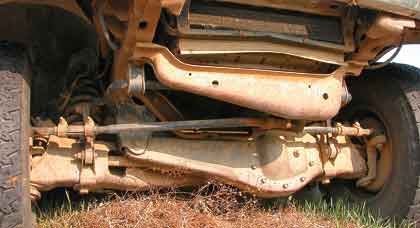 Ford's TTB has long been the source of admiration and angst. When correctly tweaked, it's not far off a solid axle, and it's way better than true IFS. The Dana 35 outfit is strong and works out well for light rigs. It has a reverse cut ring gear and 297-sized u-joints.
Overall, Oaks was happy with his purchase and the low price. The only mechanical problems were with components due for replacement anyway. Cosmetically, the Ranger's interior was a Petri dish of filth. Oaks decided to tear it out to replace it with the interior of a similar rig purchased from a wrecking yard.
1992 Ranger SuperCab Specs

Engine:

4.0L V6, SFI

Power:

160 hp @ 4400 rpm

Torque:

225 lbs-ft @ 2800 rpm

Trans:

Automatic, A4LD

T-Case:

BW-1350 Touch Drive,
2.48:1 low-range

Axle, Front:

Dana 35 TTB

Axle, Rear:

Ford 8.8 (28-spline)

Axle Ratios:

3.73:1

Wheelbase:

125 in.

Length:

192.7 in.

Width:

66.9 in.

Weight as Tested:

4,220 lbs (w/2 passengers,
full tank, and some gear)

Mfr. Curb Weight:

3,310 lbs

Fuel Capacity:

20.5 gal