Original Poster: Ranger44
Disclaimer: The Ranger Station.com, The Ranger Station.com Staff, nor the original poster are responsible for you doing this modification to your vehicle. By doing this modification and following this how-to you, the installer, take full responsibility if anything is damaged or messed up. If you have questions, feel free to PM the original poster or ask in the appropriate section of The Ranger Station.com forums
This is a guide to installing a Saginaw power steering pump on a Ford Ranger. The Ford version of the Saginaw power steering pump was available as a Heavy Duty option on some models and is available aftermarket as a heavy duty replacement on others.
Application Chart:
FORD BRONCO (1978 - 1988)
FORD F-100 (1978 - 1979)
FORD F-100 SUPER CAB (1978 - 1979)
FORD F-150 (1978 - 1979)
FORD F-150 SUPER CAB (1978 - 1979)
FORD F-250 (1978 - 1979)
FORD F-250 SUPER CAB (1978 - 1979)
FORD F-350 (1978 - 1979)
FORD F-350 SUPER CAB (1978 - 1979)
Part Numbers:
Cardone part # 206244
Napa part #NSP 816795
It isnít however a direct replacement on a Ford Ranger. The pump was designed with the same even 3 hole bolt pattern and install is straightforward. Installation requires a grinder and/or a dremel tool to clearance the bracket. This pump can be made to fit 2.3, 3.0, and 4.0 brackets. Iíve personally installed this pump on a 2.3 and 3.0 which are both shown. The best 4.0 bracket to use is the full circle style used on earlier 4.0 brackets (I think 90-92í, the 93+ have a gap), as they offer more support after clearancing the bracket. The original lines also fit this pump.
I went in and asked for the HD replacement for a 1979 T-Bird. The original pulley fits and works with this pump. The original T-Bird pump was identical to the plastic Ranger pump.
Advantages of this swap include: Silent steering! (NO MORE WHINE!), better cap, metal reservoir, and the option of rebuild kits.
Comparison of pumps:
FRONT:
Notice on the front, how the Allen bolt heads that hold the bracket to the front of the pump follow the standard saginaw pump offset pattern.......must have added the bracket to fit fords even spaced pattern????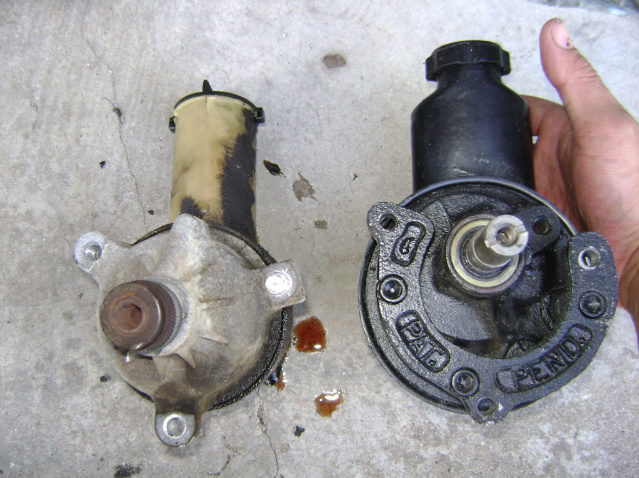 REAR: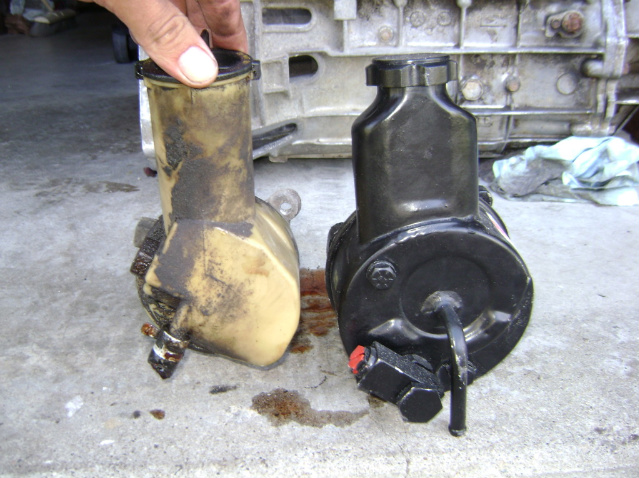 SIDE: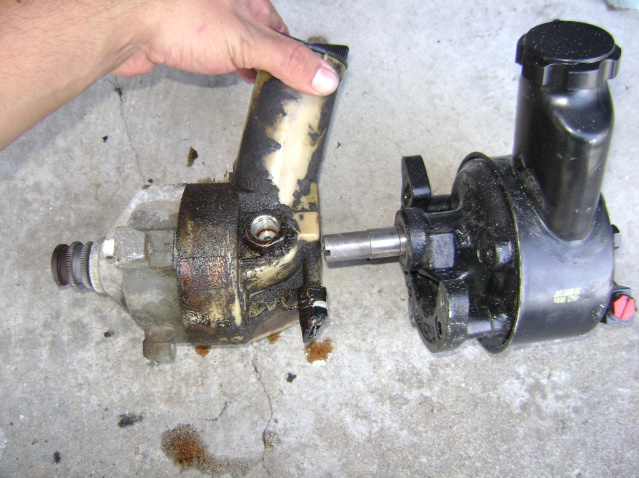 TOP: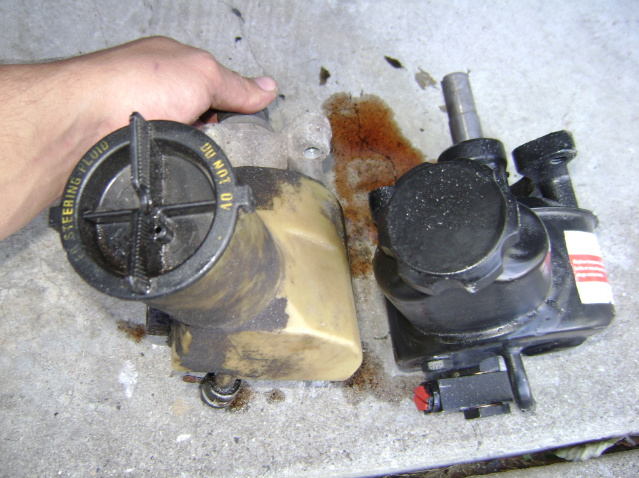 Desired 4.0 Bracket:
This is a reference picture to the early 4.0 Bracket I was referring to earlier.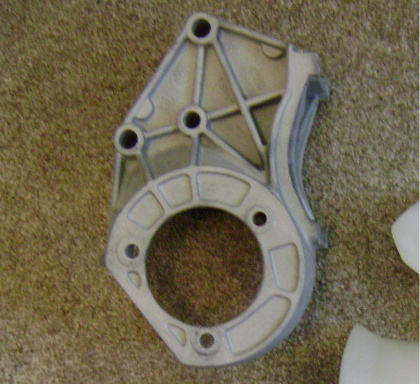 Modification of the bracket:
Shown is a 3.0 V6 bracket.
You'll need to cut down the ribs, and just touch up the walls of the bracket.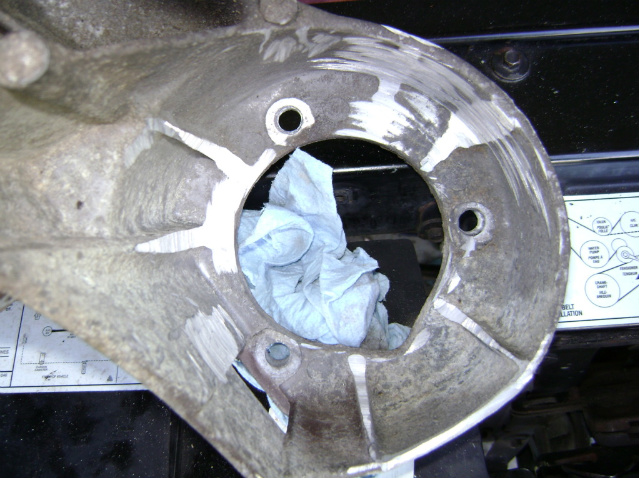 You may consider cutting a notch into the bracket to clear the pump.
Bracket Painted and pump fitted to bracket: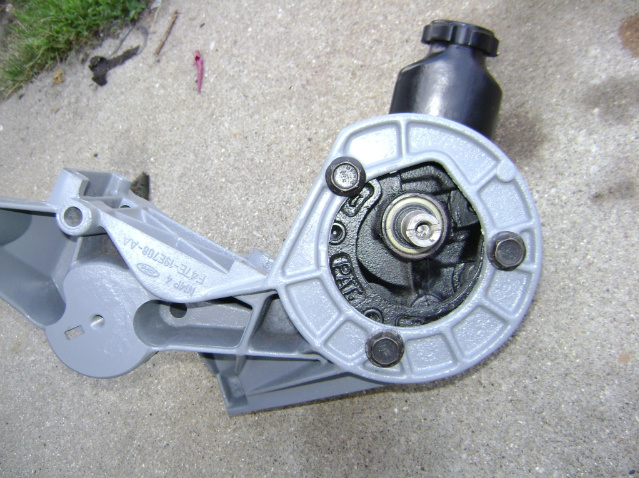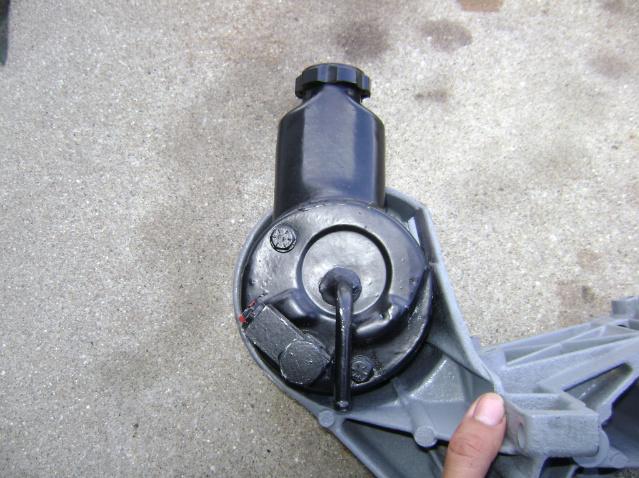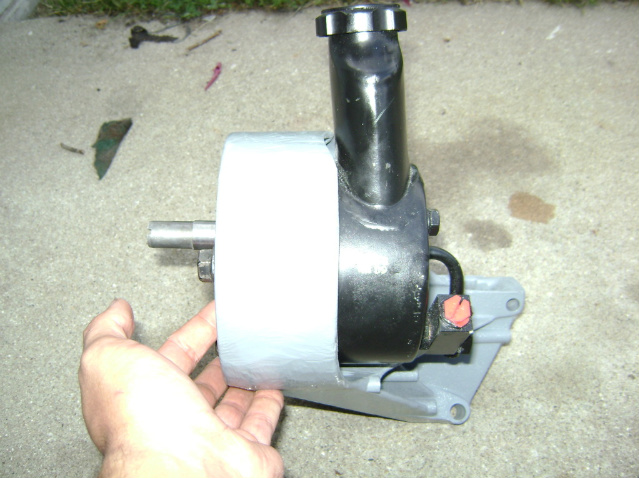 Installed on 2.3: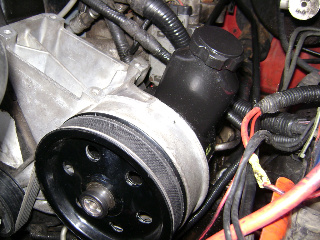 Hope this is helpful. Feel free to ask questions as they will help contribute to the article.