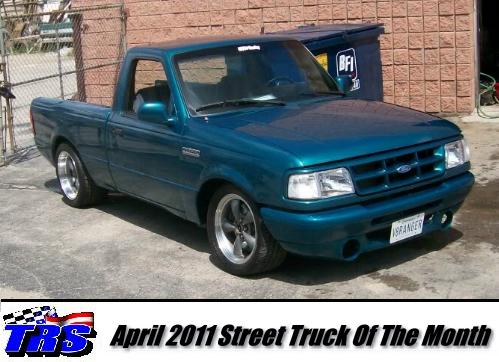 Owner:
sohc86-06
Vehicle:
1994 Ford Ranger
Specifications:
306 V8 with Trick Flow heads, Edelbrock intake, Professional Products fuel rail 24 lbs injectors, 70mm Edelbrocke MAF, BBK cold air intake for fox body Mustang, under drive pulleys, 7-quart deep sump oil pan.
T5 manual with center force dual friction clutch, 13" Mustang Cobra front brakes, 11.5" Cobra rear disc brakes crossed an sloted rotors. 4-5 drop 17/9 275/40/17s' Bullits up front, 315/35/17 deep dish Bullits out back, '06 Ranger emblems and tail lights.
Click
HERE
for more photos and details.